Phuket Adventure Part 2 (Activities): Phuket Shooting Range + Mor Mu Dong + Massage
The previous Phuket trip I had with Beilin and Yan Wan was filled with water sports, island hopping and shopping at night market. But this ADVENTUROUS trip was really an experience filled with a basketful of things I never thought I would have tried if not for this trip.
First up, Live Shooting with REAL GUN!!!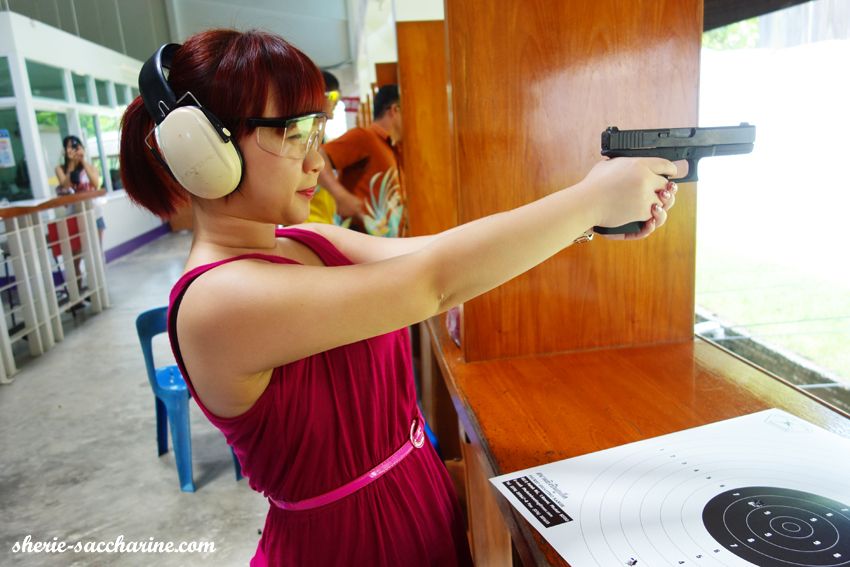 Our first stop before lunch was
Phuket Shooting Range
, the first shooting range in Phuket, where they provides training from indoor accuracy training to outdoor combat courses.
The centre was filled with super long bangs of the firearms and it's really terrifying!
It's doesn't help when I was facing this scene when I enter the place... (*no ill-intention*)
That's how we feel even when the ear phones are up!
After a few minutes of physiological adjustments, we were off to choose our arms!
We were told that the Caliber .22 (Short-Long) has very minimum impact and isn't exciting at all. So we choose the Caliber .45 at 990 baht ($42) for 10 bullets.
The target board were swung to 15 yards away and here we go!!!
Females are required to be seated with both elbows on the table while men stands.
There were a total of 10 bullets, but by the 2nd bullet was shot, I felt like giving up!
The impact of the shot was horrifying and the piping hot bullet shells were flying everywhere! I couldn't imagine how people can put a bullet through a living thing when shooting a piece of target board is terrible enough..
But well, after the 10 bullets, I made it with a 33% accuracy. If you wanna have a benchmark of the accuracy, I saw a man (who has definitely served his NS) got an accuracy of 21% with the same gun!
Survivors of Caliber .45!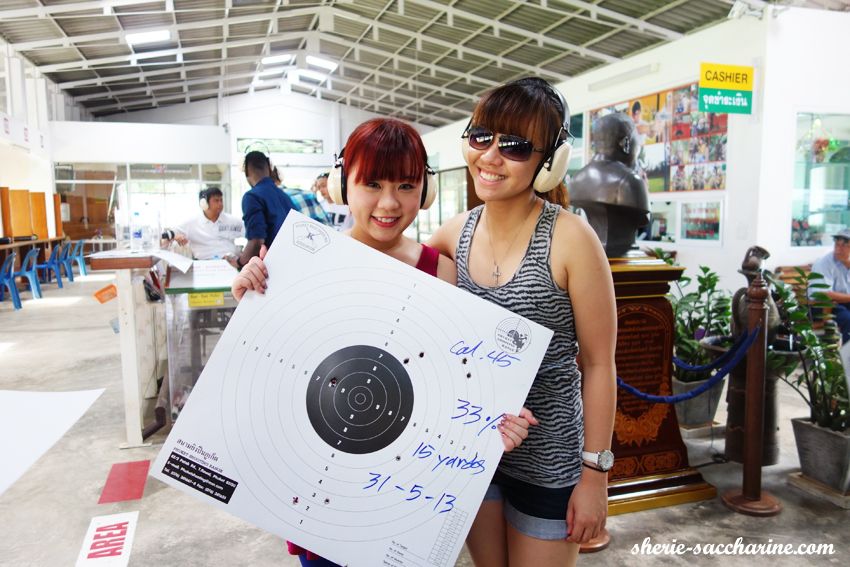 Get your hands on some live shooting at Phuket Shooting Range!
82/2 Patak Rd. Ampur Muang Phuket 83130
Email: info@phuket-shooting.com
Website: www.phuket-shooting.com
_______________________________________________________________________________
After the shooting, we are off to
PORNTHIP
with our sore palms!
Like typical tourists, we were brought to Pornthip to buy some local delights!
Somehow, I believe that the shop was set up to slaughter tourists with high prices, because those snacks can be bought at supermarket (Big C) and Family Mart at a much lower price.
Cashewnuts when it's still on trees!
After the shopping, we had a random group shot with the suffocating cute fish mascot!
So the people are hungry, stomachs are growling!
Mangrove Dining at
Mor Mu Dong
!
One of the top 10 great local seafood restaurants recommended by
Phuket101
.
You seriously need an experienced local driver to bring you around secluded place like this! I will share the driver's contact in my last post, so stay tuned!
Technically, it's not a restaurant, it's like a Hut with dining area.
credits: Willy Thuan from Phuket101
The hut is surrounded by Mangroves, but the view wasn't magnificent when we were there as there hasn't been any wet weather for awhile.
As irrelevant as it seems, I love Marilyn Monroe!
We ordered lotsa food like Tom Yum Soup, Fried Sotong etc. but I was too hungry to shoot them all!
Here's some yummies!
We spend around $10+ for the stomach filling lunch!
Address: 9/4 Chao Fah Ta Wan Aok Road, Chalong Subdistrict, Mueang Phuket District., Phuket Town, Phuket, Thailand (near Phuket Zoo)
*address is hard to find, hope this is accurate enough!
Mor Mu Dong has even appeared on Bizarre Foods!
After lunch, it's Massage Time!
Damn unhealthy I know, please don't learn from us.
Leelawadee Massage!
We spent 700baht ($30) for 2 hours Traditional Thai Massage which provides us with shiokness and painful-ness!
We were getting cracking here and there and at one point it was so comfortable that I fell asleep drooling. Haha.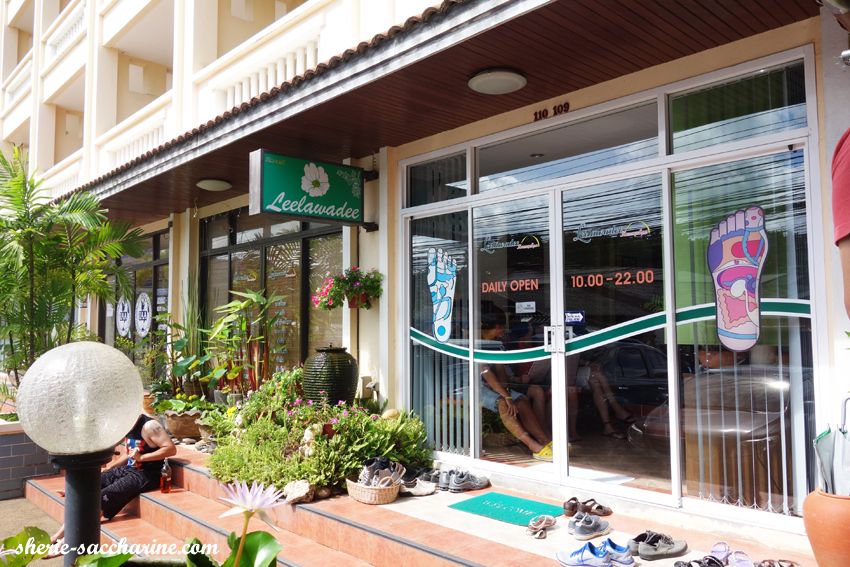 Simin gets complimentary shoulders massage while waiting and the rest is just censored.
That concludes thet DAY-time activity of Day 1!
Next up!
PHUKET FANTASEA!