Pampered by Art Of Beaute Beauty Workshop!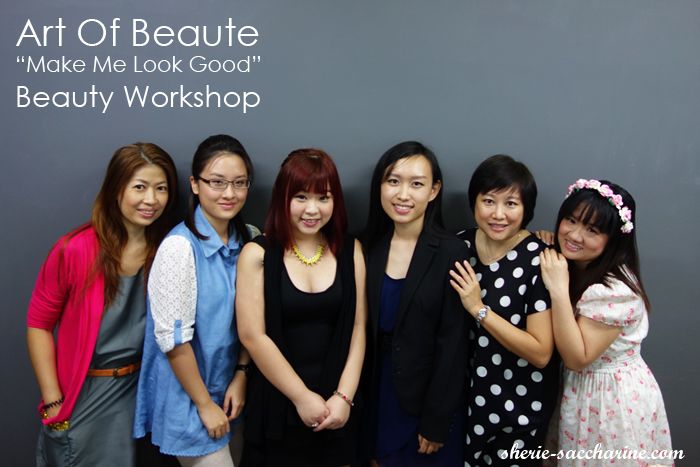 Yay! As the title suggests, I was invited by Art Of Beaute to attend their Beauty Workshop with my Anna Dearie last Saturday! All thanks to
Susan
who referred me to Jorina, our beauty trainer (owner of Art Of Beaute) for the workshop.
All things are well prepared before our arrival!
Pretty bin, clean make-up brushes, vanity mirror, essential oil burner and... pretty pink hairband for everyone!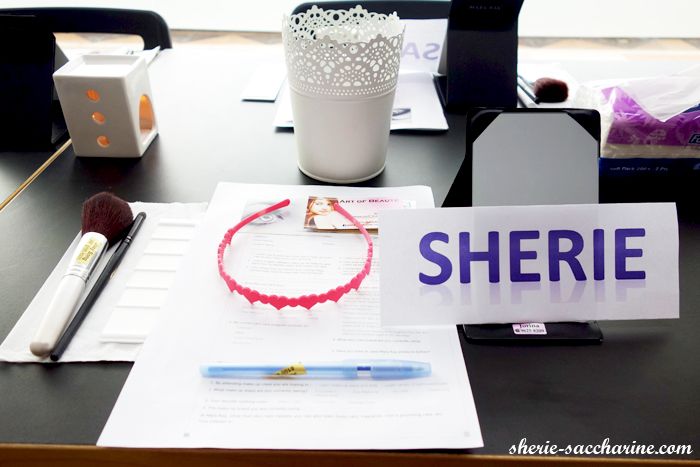 Jorina will be using Mary Kay's products for all her skincare and make-up workshops.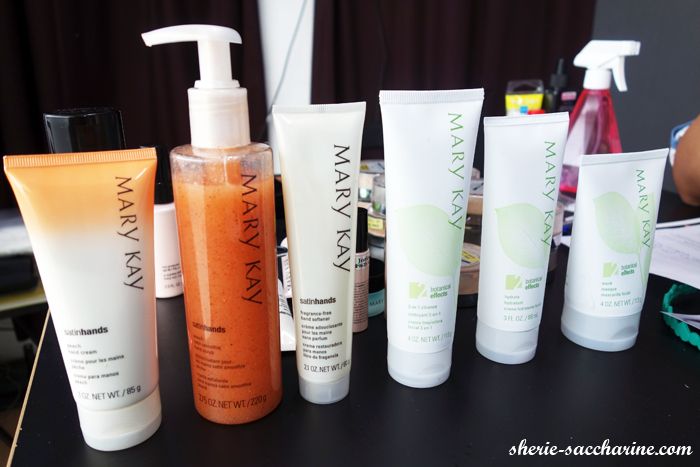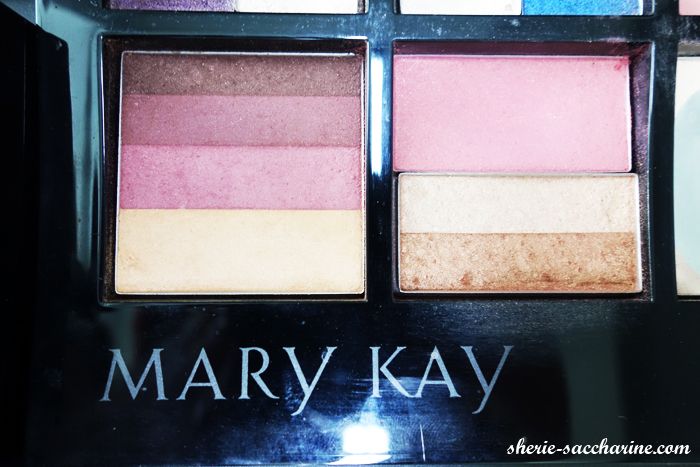 Here's Jorina explaining to us what we will be doing for the day.
Look at her excited smile, this tell us so much about her passion for beauty!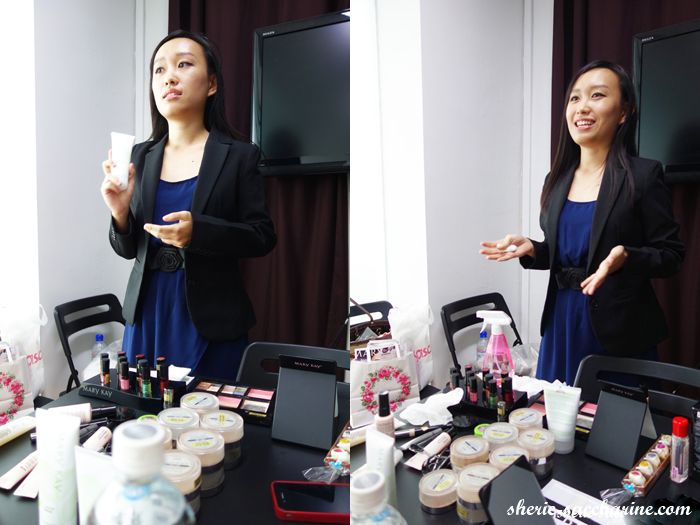 First step of our pampering session begins with the exfoliation of our hands!
Many people (including myself) have neglected pampering our hands who have worked so hard for us in our daily chores, and we have never spare a thought for its well-being.
Keeping it smooth and line-free always succeed in making you look younger then you already are! Imagine a young looking face with wrinkled hands? Failed.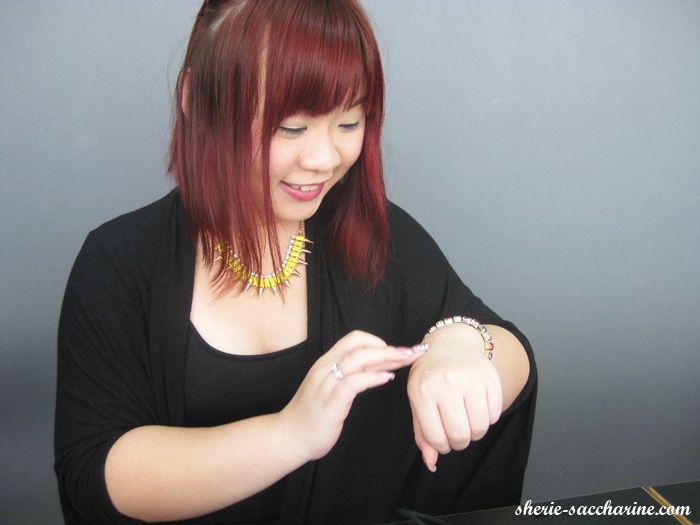 Upon realizing the importance, Anna started to focus on her exfoliation works.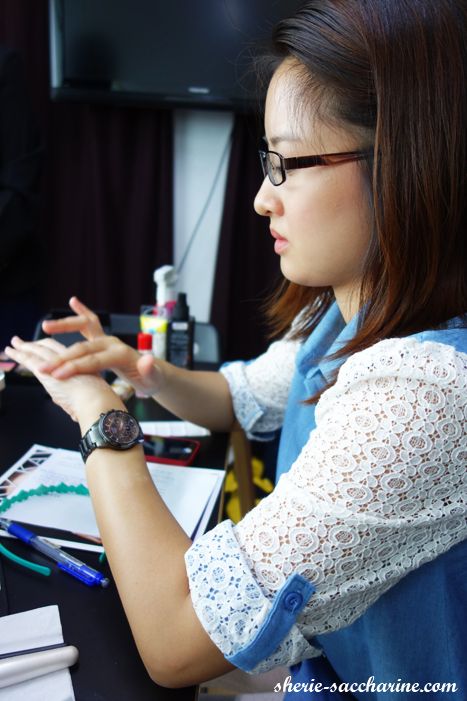 Here's Susan's turn!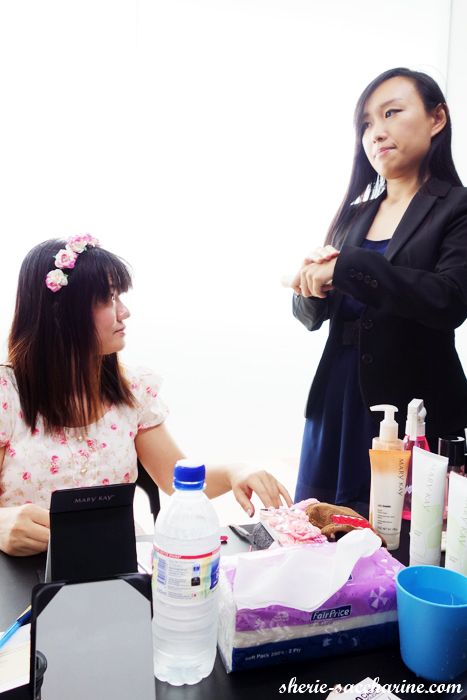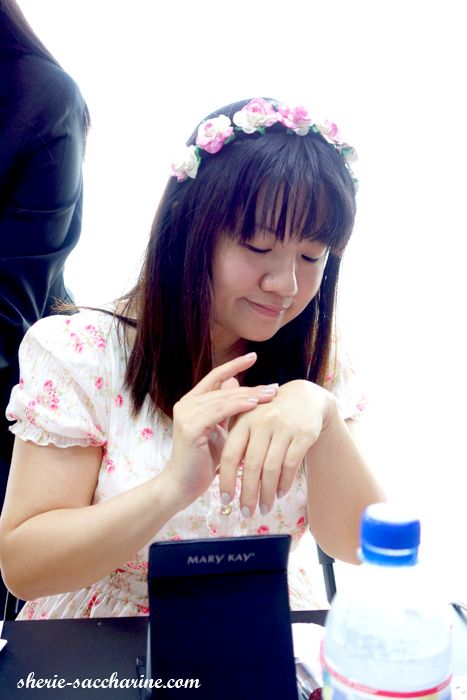 Here are the happy users of Satin Hand exfoliation mask.
I don't know whether it is the lighting or the mask, our hands look fairer than the arms!
Next is the most horrifying part for me and Anna.
THE REMOVAL OF MAKE-UP!!!
Just look at her reluctant face!
But honestly, who can tell the difference before and after her make-up is removed if I didn't tell you so?
But beware, I'm going to reveal my bare face too in a while! Oh, please don't judge me! =X
Second step in the workshop is to apply eye mask and facial exfoliation mask.
Look at the generous amount of exfoliation beads in the mask!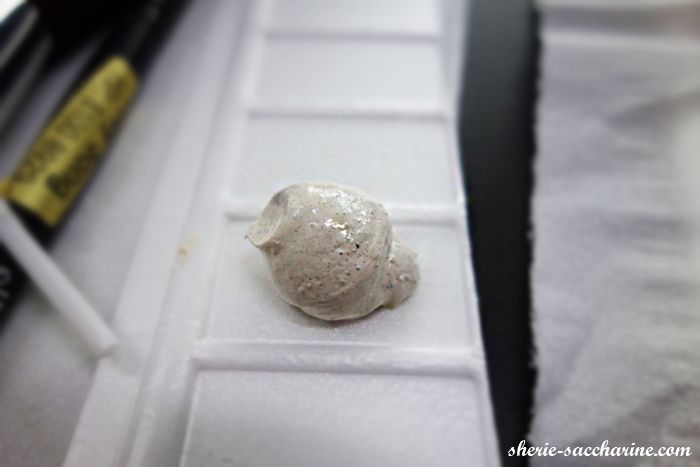 Phantom
of the Oppppperraaaa... is here...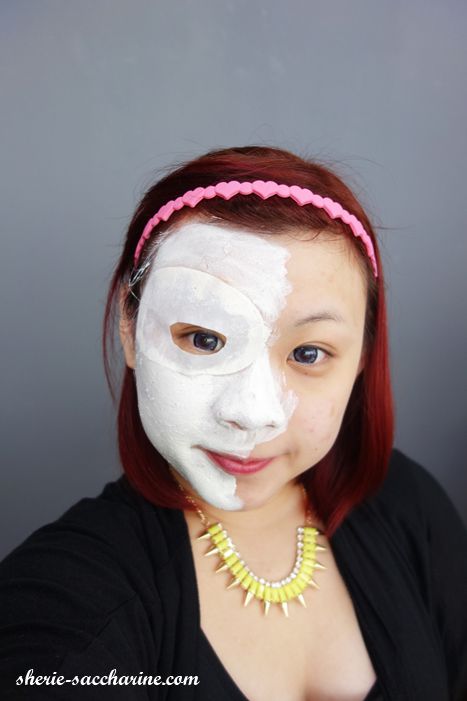 Phantom herself with Missy Kitty!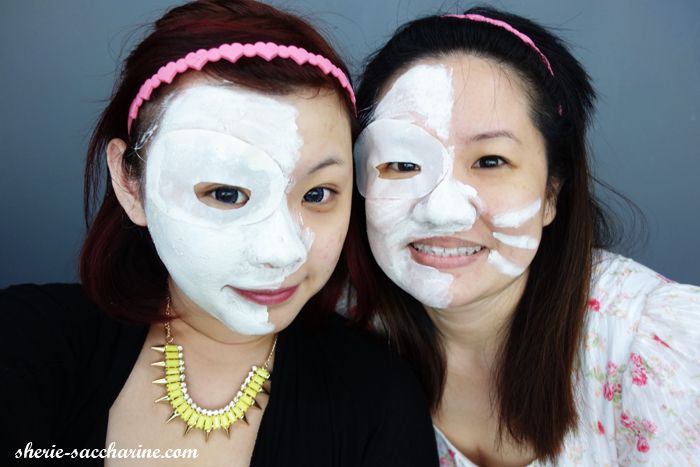 Moving on to lip mask! The lip mask is said to remove dead skin and reveal the natural colour of your lips!
Only the lucky lower lip gets the good deal cos the upper lip is used to tell the difference.


After about 10 minutes, it's time for us to remove the masks and face the moments of truth!
And the results!
B E H O L D !!!!!
No photoshop was done on the differences. If there's no difference, I won't even post this up, am I right?
(
OMG! Can't believe I finally exposed my make-up less face. Arghhhh... Embarrassing die me.)
Now, we shall move on to my favourite part.
The MAKE UP!
Even before we reached the venue, Anna already told me that she wanted to be the demo model. So to help her out, I volunteered her. Hehe.
You gotta face the audience, Dearie.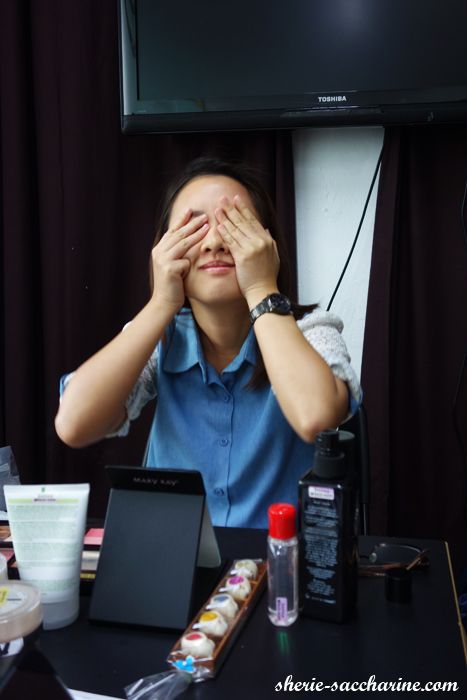 Be careful when you pose for my camera, you will never know how many people get to see it! Haha.
Jorina assisted Anna in priming her face, apply mineral powder and eyeshadow on half her face.
So here's Susan's view of Anna and I diligently doing our make up!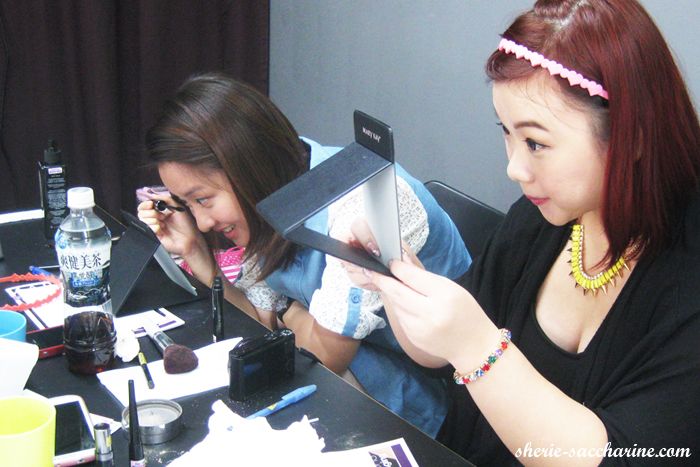 Tadah! Here's the confident Anna after make up!
In her hands is our early bird gift from Jorina. Such sweet gesture!
Here's the BFF!
Sorry Dearie, I'm obsessed with looking good that day. But you just happened to...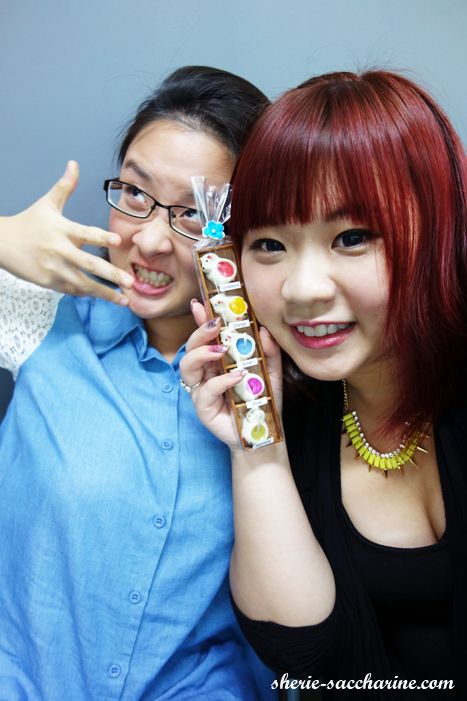 Here's myself and Susan, after our satisfying skincare and make-up session!
When asked about my favourite product, I'm torn among so many of them!
But I figured that, if I have to choose one, no.. I'll choose two.
My favourites are the facial exfoliation mask which gave me more that I could ask for, and the eyeliner which has a short hard brush that's so easy to glide on and it's washable during my warm shower!
I have been to quite a few Beauty Workshop organized during my poly days and part of my banking grooming classes, but none of them are as personalised as Art of Beaute's, where all students are being well taken care of.
I have to thank Joey and Jorina for the wonderful workshop for the ladies!
Joey is Jorina's mentor, and she has been very helpful during the workshop, giving us tips and guidance on the skincare and make-up regime.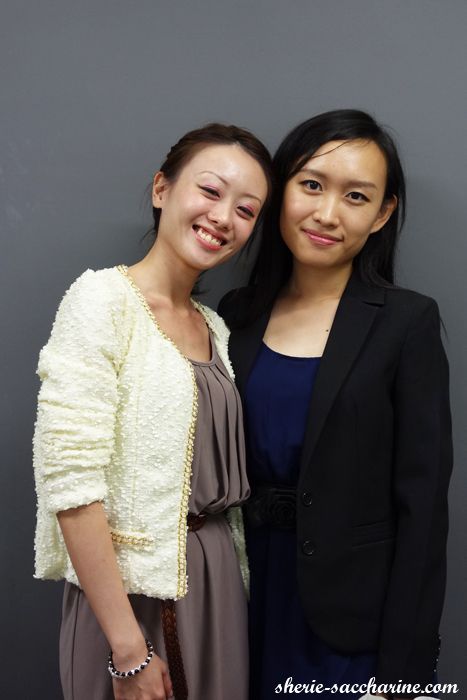 Pretty ladies with Joey!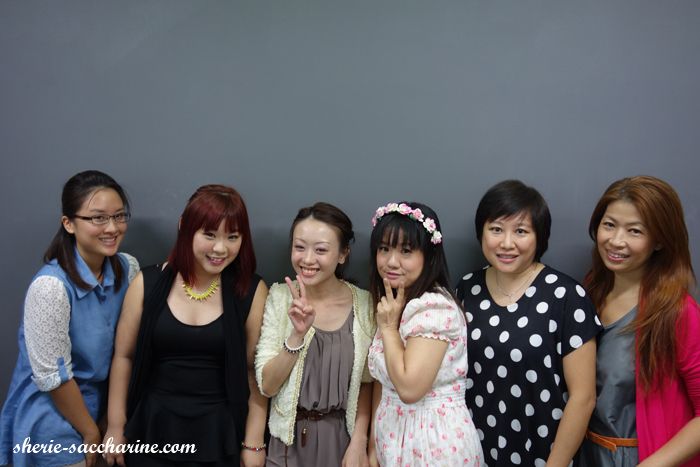 LIKE my page for daily updates!