Nakhon Kitchen (Bedok North)
Last Monday, my colleagues and I decided to pop by Nakhon Kitchen at Bedok North for lunch!
The 8 of us drove to Bedok and we were lucky! No Queue!
Michelle happily looking at the menu!
There's 8 of us, so naturally, we ordered dishes to share!
Look at the masculine waiter doing his 7 rice stunt!
If you can't do it, then give this man some credit!
Thoughtful paper towels provided and 4 chilli to choose from!
Happy peeps ready to tuck in!
Cheryl decided to be the odd one out and ordered her favourite Phat Thai! My favourite at Thai restaurant too!
Phat Thai ($5)
I love Phat Thai with generous amount of peanuts and chilli flakes! The lime is big and you can see that the prawns are soooo succulent!
Our dishes!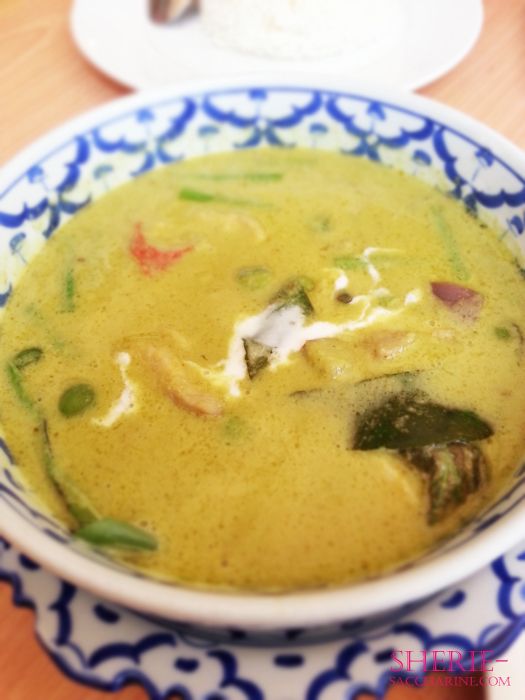 Green Curry ($8)
I hate Green Curry!!! Cos the last attempt at Thai Express years ago really caught my tongue on fire and made me full from the iced water!
BUT... This Green Curry is an exception! For a non-spicy eater like me, the curry is mild enough to make me eat in peace and tasteful enough to make me "drink" the curry and eat them with rice. The chicken in the curry are tender and fully infused with the curry and coconut milk. You may choose either Beef or Prawns in replace of Chicken too.
Stir-Fried Chicken with Cashew Nuts ($6)
This is the kind of dish that won't go wrong. Crispy fried tender chicken with mild sweet & sour sauce, just like our Chinese sweet & sour pork! Furthermore, the cashew nuts are crunchy!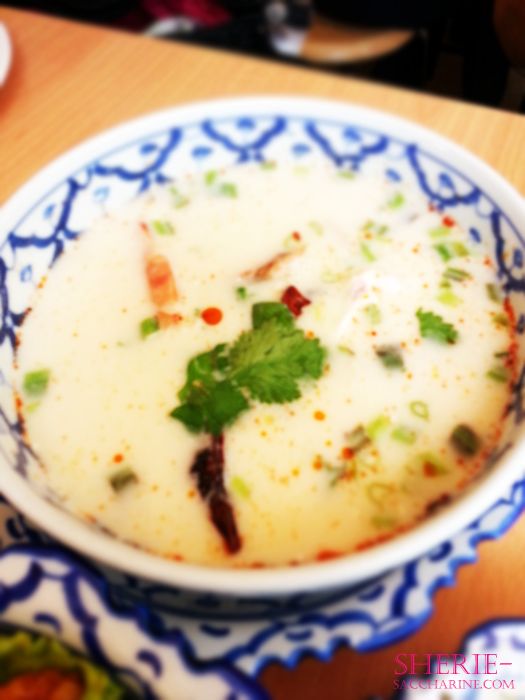 Seafood Tom Yam Soup ($6)
Same verdict as the Green Curry. I love how Nakhon Kitchen has just the perfect level of spiciness that suits my taste bud! This is not too sour like other Tom Yam, so guys are welcome to try this dish too! BUT.. I guess I was too unlucky, the squid taste like a piece of tasteless rubber with no Q-ness at all! Bad bad bad..
Stir-Fried Kang Kong Belachan ($6)
Nothing special about this Kang Kong. I prefer my Zi Char style Sambal Kang Kong. There is not much flavour from the Belachan, and the veggies are too oily.
Stir-Fried Kai Lan with Mushrooms ($6)
The kai lan is cooked in Chinese style, nothing special.
The Pandan Chicken is a tad too dry due to the long cooking time. I find that there is a lack of juiciness and tenderness in the meat.
Last but not least, the most expensive but also my favourite dish!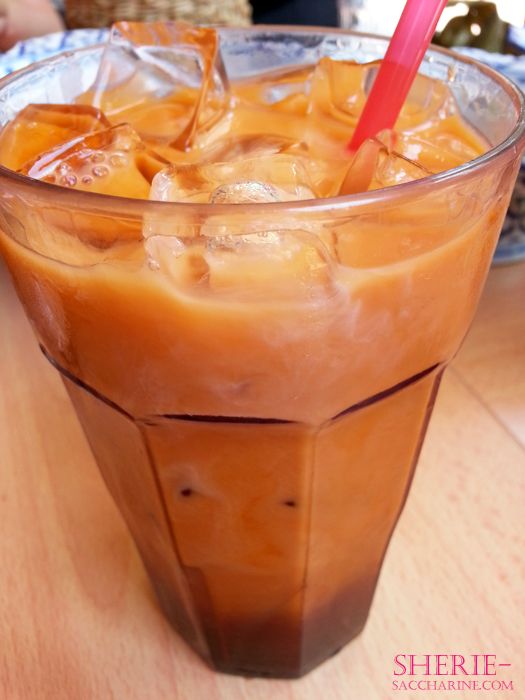 Thai Iced Tea ($3)
Another must-have for the milk tea lovers! This might too expensive for a cup of tea but where else can you find authentic Thai iced tea in an affordable restaurant? But for small eaters, it is advisable to share your tea as it might be too filling for you after a hearty meal!

Thai traditional dessert!
Sweet Tapioca with Coconut Milk ($3)
I was sceptical about this dish 'cos I though it will be too sweet! But the tapioca is "chewy" and not too sweet. Guys will definitely love it too.
8 stomachs filled to the brim!
Moment of truth!
Each of us ended up $15.10 poorer and I was severely blamed 'cos the Prawn Cakes I ordered were the most expensive dish ($3 per piece)!

Nonetheless, we enjoyed our trip there!

If you want to have a hearty lunch like us, visit Nakhon Kitchen at:
Bedok North Avenue 3
Blk 136 #01-166
Singapore 460136
Operating Hours:
Mondays to Sundays,
Lunch: 12.00pm till 3.00pm
Dinner: 5.30pm till 10.00pm