Kheng Nam Lee Teochew Porridge
Okay, Alex has been searching for the famous Havelock Teochew Porridge for very long. So with my magic fingers, I found that particular shop through Google!

After almost a month of procrastination, we finally get to eat it! Read on for our humble verdict!

As we are in Queenstown, we travelled by SBS bus 64 and alight at a street across the shop. We walked for about 7 mins through the HDB flats to reach the stretch of food places and restaurants. My god, there were hell lots of yums there! Gonna explore it one by one next time.

Anyway, this is our destination!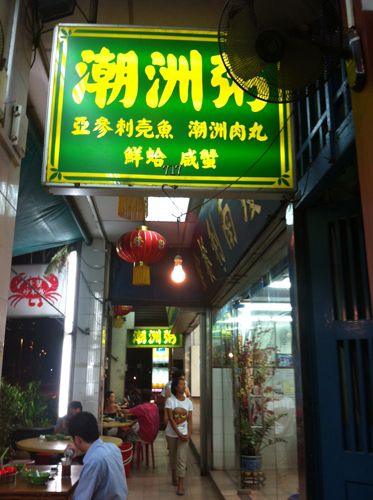 We arrived there at about 9pm so there wasn't much crowd. As it is opened till 5am, this is a great places for the nearby clubbers to dilute their alcohol with porridge!
The empty restaurant!
Although the place is air-conditioned, I still feel humid in there. Guess the air-con is ain't strong and the fans wasn't blowing in our direction. :(
Next, the spread!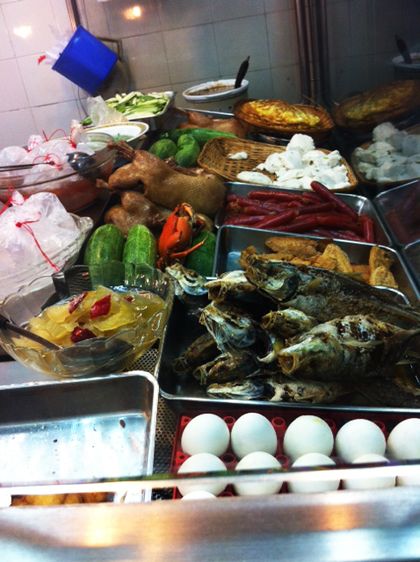 I don't deny that they have a variety of choices, but the two of us had a hard time choosing what's suitable for our porridge.
So here's the five dishes we have.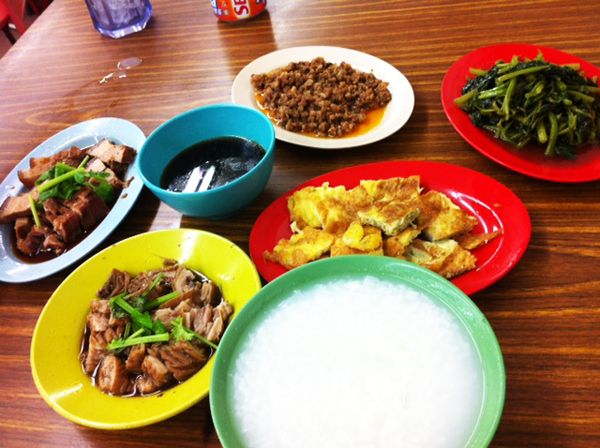 Porridge texture is not bad, how bad can the porridge be right?
First up, my staple in almost every rice/porridge meal. Egg!
I thought it was the Cai Po Egg! End up it's normal fried egg. Not salty enough for me, but Alex do like the texture though. So I guess it's subjective whether the egg is good.
Veggie. Another hard to fail dish, not bad to eat with the porridge. No complaints for this one.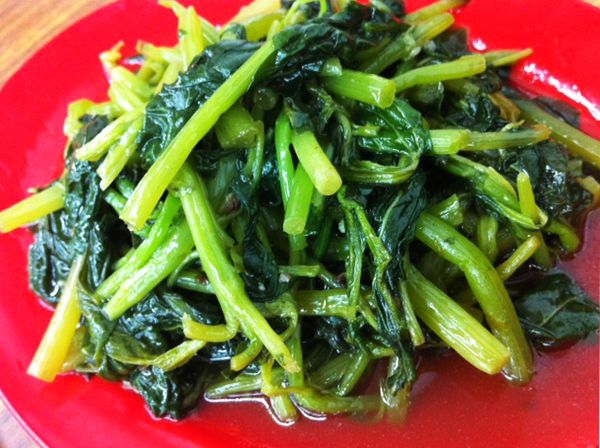 Lor Bak, braised pork.
Not salty enough again, I guess most of their dishes is blander than the ones outside. So it'll be good for people who wan less salt in their meals. On the side note, the texture of the skin is Q (chewy) and the meat is soft (most of the pieces). But I want it more salty!!!!
Pig Intestines, Da Chang.
BAD, VERY BAD!
I guess the chef cut the intestines into smaller pieces to make the volume looks fuller. But it is really very bad on the texture. It is not Q at all, and taste a bit unfresh to me. :( Why I so suay..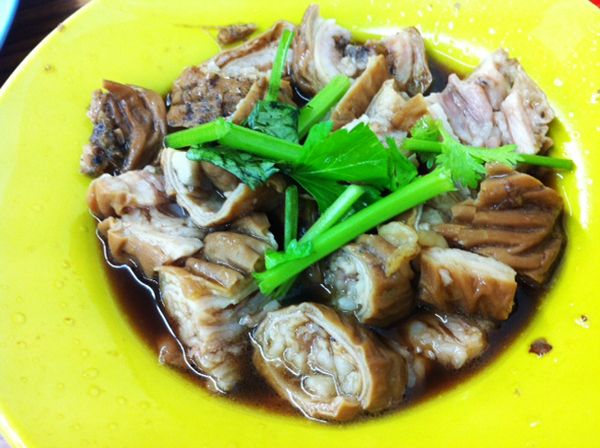 Last but not least, Bak Chor (minced pork)!
Finally something salty!!! Thank god, something for me to quench my salty-less taste bud! The meat was not bad, but a tad too much flavour of the bean paste. But if you like it like Alex does, the one might be for you!
The chili was not so bad, so I guess it helps to add a little flavour here and there, so we managed to finish everything.
Usually Alex will get his second helping of porridge when we dine at Bukit Timah, but only one bowl this time. Guess it's not worth getting too full from the food here.
Damaged of the meal: S$19.50 (include 1 can drink). The person never even count! When he was billing the table of 5, he took a while to ask them what they had, and calculate. But for us, he just came over and said "S$19.50!"
I think anyhow count de loh!
So my verdict: Although it is near Queenstown, I think it is more worth it to have the Bukit Timah Teochew Porridge. Most satisfying and value for money. But if you are hungry after your clubbing, this is a good place for you! Any food will taste better than alcohol right? Haha.
If you would like to visit this place, here it is:
717 Havelock Road S169643
Nearest MRT: Tiong Bahru
Opening hours: 10 am to 5 am
Share with me where is your favourite Teochew Porridge place!