SPRING CLEAN YOUR WARDROBE!
It's less than a month to Chinese New Year! Are you excited?
I know some people don't really celebrate the traditional CNY visiting with family, but it is still an annual event to SPRING CLEAN your house! Girls out there! Are you troubled over how to spring clean your room this year?
After so much shopping in the past 12 months, your wardrobe must be bursting again! Every girls will have the chance to walk up to the wardrobe and says:
WHY DO I HAVE NOTHING TO WEAR?!!!
Meanwhile, your innocents clothes are screaming " I'm here! Wear me! I'm NEW (BNWT)!!" in your ever bursting wardrobe that looks like this..
.
.
.
.
.
I do feel helpless at times too. There is simply too much clothes in the wardrobe and having too much blacks in the OL's wardrobe is worst, you dunno where to start tidying up!

How I hope we can have walk-in wardrobe like this..
Mariah Carey
Mariah's Manhattan apartment house her wardrobe room which is 12,000 square feet and keeps Mariah's 1000 pairs of shoes and Louis Vuitton luggage. She even has her own hairdressing salon with a full time hairdresser and make up artist just in case she fancies a blow dry or needs a bit of blusher putting on or something!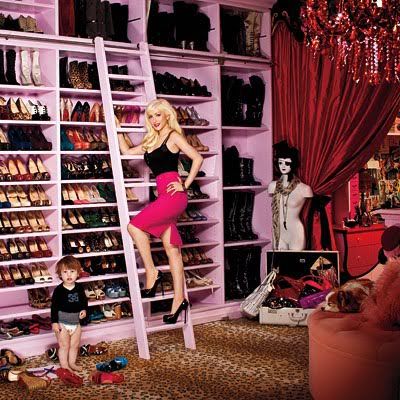 Christina Aguilera
In Christina's Los Angeles mansion she has two expansive wardrobes. All the shoes are grouped by designer - Louboutin, McQueen, YSL. A very girly, theatrical looking wardrobe. Leopard prints carpet!!
Eva Longoria Parker
Desperate Housewives actress Eva's 133 square foot wardrobe in her Los Angeles apartment houses her special collections of Louboutin espadrille wedges, fifty pairs of jeans and a small white dog sitting on a hatbox.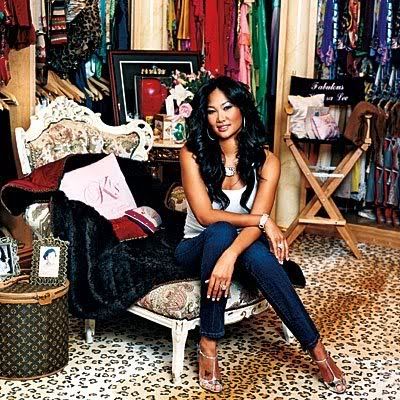 Kimora Lee Simmons
Ex wife of Def Jam founder Russell Simmons and head of Baby Phat clothing, Kimora's Saddle River, New Jersey residence houses a staggering 5,000 square foot closet (41 x 5-room HDB!) with five hundred pairs of jeans and thirty five custom made Hermes Birkin bags ($15,000 avg x 35 = $525000= 1 nicely renovated 5-room flat!)
Hilton heiress Nicky's 1950's ranch above Sunset Strip has two couture filled walk-in closets with lots of Chanel, Manolo and Louboutin shoes and over two hundred handbags!
Olivia Wilde
Olivia's wardrobe at her townhouse in Venice, California was designed by her Godmother, LA Gallerist Laurie Frank. It has cedar lined walls and the centrepiece is a 19th century mirrored dressing table and two mirrored cabinets from Anthropologies. It houses Olivia's large collection of red carpet dresses.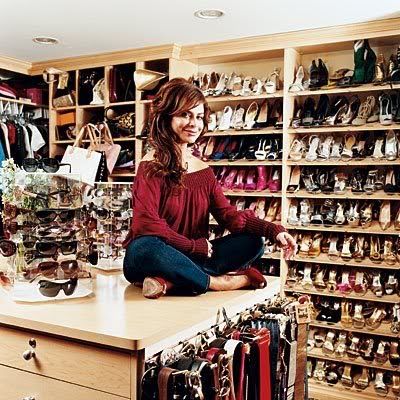 Paula Abdul
Paula lives in the San Fernando valley. Her wardrobe is 5000 square feet... another ridiculously large shoe collection! And a racks of sunglasses.
But most of us do not have that luxury to house the whole 5-room flats worth of clothes into our 1 wardrobe, so we have to face reality and do some
soul searching
Spring Cleaning!
Here's how!
STEP 1:
Remove EVERYTHING in your wardrobe for a start. You are going to spring clean the whole wardrobe, not just tidying up, so you have got to be heartless, when necessary.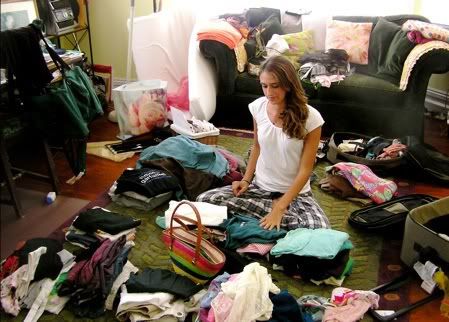 Keep your clothes into 3 piles, 1 to keep, 1 to store for winter trips and 1 to donate or trash.
Fashion is not just about trends, classic pieces are essential in your wardrobe as well. Pick out c
lassic pieces that you wear all year long like white t-shirts, timeless shirts and skirts, cardigans or your favorite jeans. Evaluate trendy seasonal items to determine if their time has passed. Consider ways to make use of pieces before you reject them, however. Even outdated prints can be eye-catching when layered under solid, classic jackets, or match with other classic shirts, jeans and accessories.
STEP 3:
You may be the frequent traveller to Japan, Europe, Korea during the Winter, but that just happens one season of the year, so store these bulky winter sweaters, scarves and boots in boxes that you can stack in the back of your wardrobe or borrow your parents' storeroom if there's still space so that you can store your 2012 shopping spree in the extra space you have just found in your wardrobe.
If you have not worn something for at least a year, you are NEVER GONNA WEAR IT AGAIN! Unless they are classic pieces as mentioned previously. If not, they are not meant to be your wardrobe anymore. If a dress or pair of pants no longer fit properly, have them altered or get rid of them. Avoid keeping items "just because" or simply because they're cute or they are still new. If you won't wear them, they don't belong in your wardrobe.
STEP 5:
Take a look at your accessories too, are they piling up in plastic bags that you have yet to clear up after the Season Sale?
Organize scarves, belts, hats and gloves, for example, to remove damaged or outdated pieces.




LAST STEP:



ORGANIZE!!
Do some planning before you place everything back into your wardrobe. Estimate the space you gonna need for each section.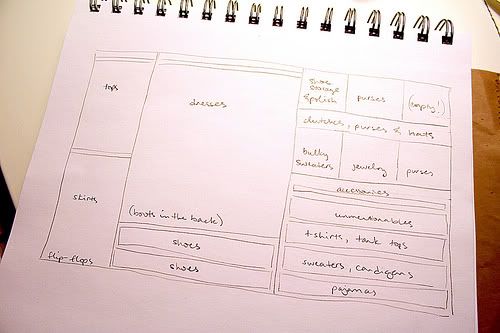 Buy closet organizers to keep your wardrobe wrinkle free and easy to access. Have them in place before you put your clothes back in the closets after spring cleaning. If you have a tall closet, for example, add shelves to eliminate the three-foot high stack of sweaters that falls over whenever you retrieve the one on the bottom. Find hanging closet organizers or stacking units to make use of the space between hanging clothes and the floor.


Suggestions: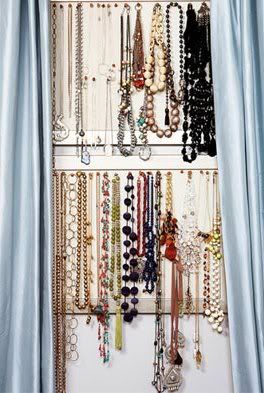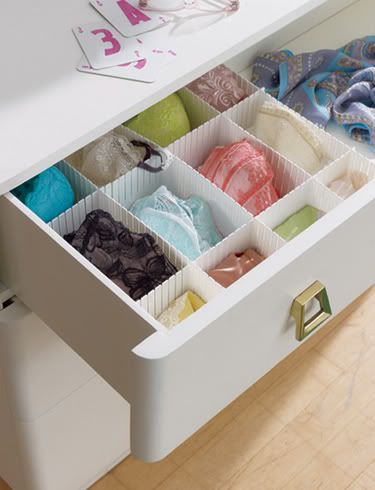 Hope you can get clean and beautiful wardrobe like this to welcome the wonderful Prosperous Dragon Year!!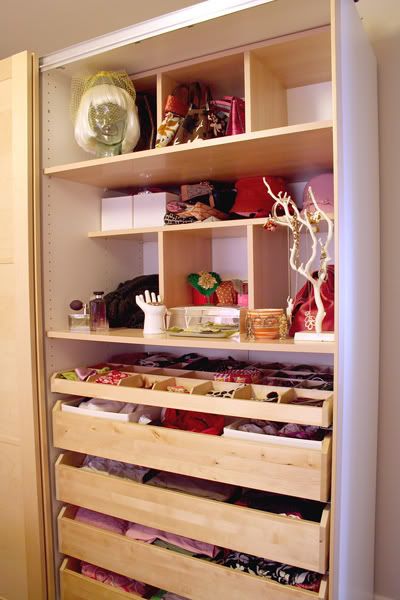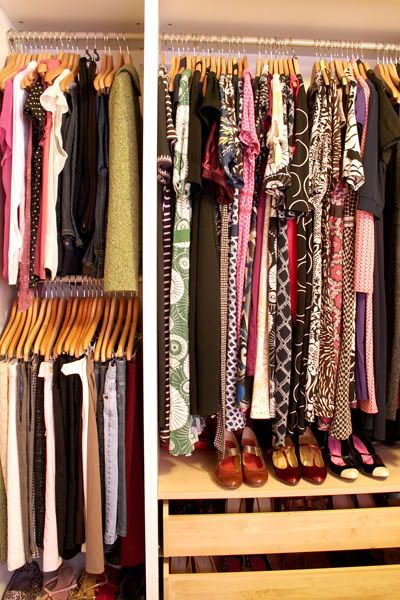 HAPPY NEW YEAR!