So excited to announce what's the hottest this Spring (actually falls from March to May) right off the runways of the world's Fashion Capitals! Wearable fashions are filtered for you, so you can be showered with trends instead of sweats this SPRING!!!
1. One Print is NEVER ENOUGH
We know that Leopard has own us this season, but behold! Prints this Spring are going bigger and bolder, exceptionally tropical! Although the reptiles and leopards has fall into their deep sleep, Spring has much more other prints in stored for you!
Birds
,
zebras
, food,
florals
,
digital
images, ornamental designs, futuristic prints… the list goes on…
Mary Katrantzou, Christopher Kane, Dolce & Gabbana, Commuun and Peter Som Spring/Summer 2012 (Getty Images)
To keep things in this day and age, the more conservative fashionista may opt to pair a loud
printed blazer with a simple black top and pants. But we say, embrace the trend that was the big pattern story of the runways — sashay down town in vibrant, swirling, head-to-toe patterns and you're bound to turn heads.
Celine, Proenza Schouler, Issey Miyake and Gucci Spring/Summer 2012 (Getty Images)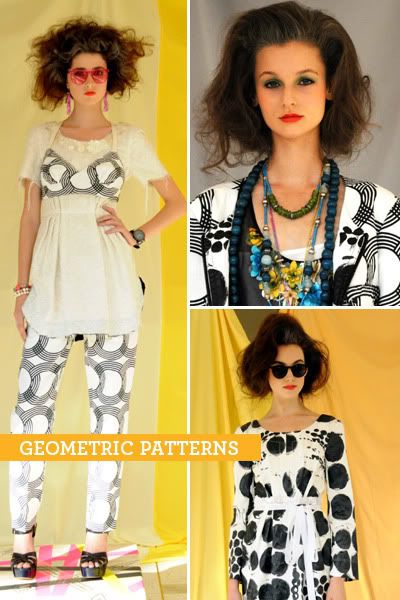 3. Poppy Pinks and Tango Tangerines!

If wild hues and sophisticated prints just aren't your thing, fret not — we have your back (and front) covered. From
sorbet shades to pastel hues
and super sweet peaches to
pretty pinks
, this spring gives off a sense of airiness with its range of muted tones. Pick a prim skirt suit or a girly dress with lace and ruffles; look low-key, ladylike and lovely all at once. 14 February or not, love is in the air.
Louis Vuitton, Valentino, Dolce & Gabbana, Prada and Carolina Herrera Spring/Summer 2012 (Getty Images)
And if you haven't heard, colour forecasters have a new squeeze for 2012 — a radiant red-orange aka Tangerine Tango. Invest in any LOD (Little Orange Dress) and hey, you're all set for the year!
Doo-Ri, Steven Alan, Sophie Theallet and Christian Dior Spring/Summer 2012 (Getty Images)
4. The Peplum Diva
The statement skirt steals the spotlight again. Continuing as a trend from last season, the
new peplum
— introduced in a smaller and sleeker version this Spring — saw its
exaggerated flounce reduced to a light ruffle around the waist. Whether worked into a classic shell top, pencil skirt or sheath dress, the touch of volume on chic, wearable silhouettes accentuates curves and adds interest to a piece instantly. And why not? We get to ditch the belt too.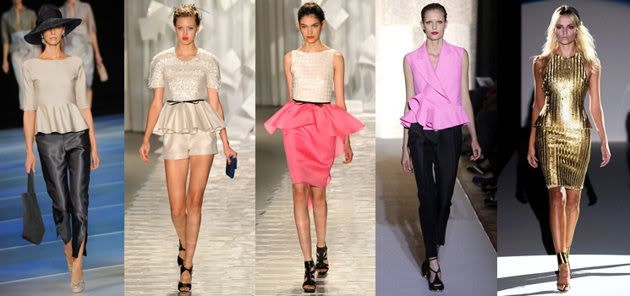 Giorgio Armani, Jason Wu, Yves Saint Laurent and Hakaan Spring/Summer 2012 (Getty Images)
For a different look, modernise the '20s style by opting for a drop waist silhouette.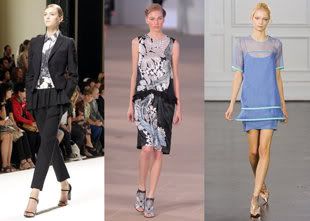 Dries Van Noten, Preen and Charlotte Ronson Spring/Summer 2012 (Getty Images)
5. Sports star
From jersey sweats to metallics and silks, the sporty vibe has been elevated to sophisticated places. This season's
athletic style
doubles up as smart wear with its pieces more tailored and refined. Bodycon dresses, luxurious hooded sweatshirts and track-style bottoms with heels or
booties are the key items to keep!. Pair sporty signatures together to create fresh, new combinations, then off you go.
Rag & Bone, Alexander Wang, Stella McCartney and Versace Spring/Summer 2012 (Getty Images)
Information extracted from Yahoo, Chictopia, Style.