Bitches in Turi Beach @ Batam!! (Part 2)
Sorry for the delay..
To busy with new photolog, (Yet to be done nicely) and chilling out with people and being bored but just no heart to blog..
Heading to Ho Chi Minh this 11-15th Sept for my Birthday! =)
~~~~~~~~~~~~~~~~~~~~~~~~~~~~~~~~~~~~~~~~~~~~~~~~~~~~~~~~~~~~~~~~~~~~~~~~~~~~~~~~~
14th August 2010
The long awaited breakfast!!
On the way there pretty PQ took the pretty pool..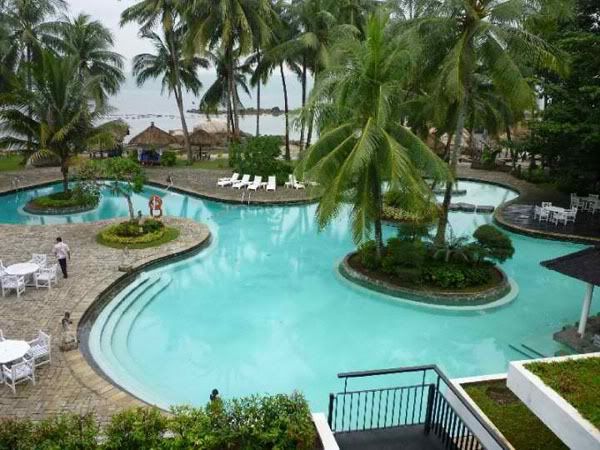 Our breakfast hall..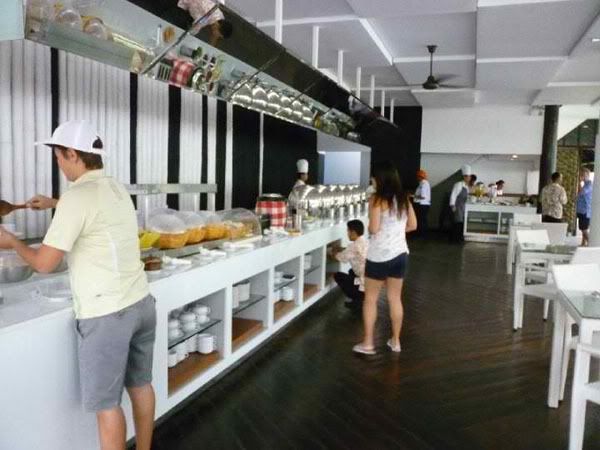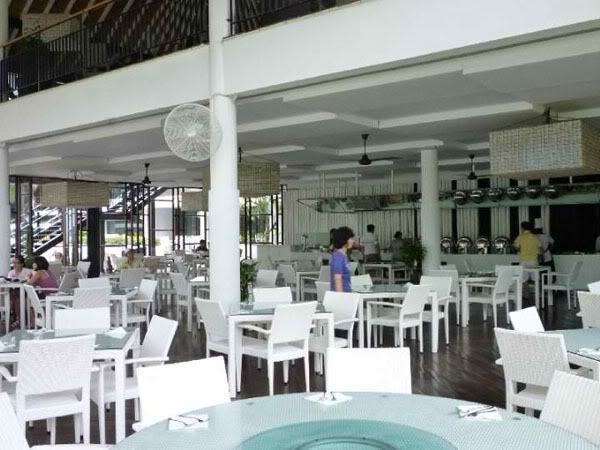 As usual, queuing at the egg stattion..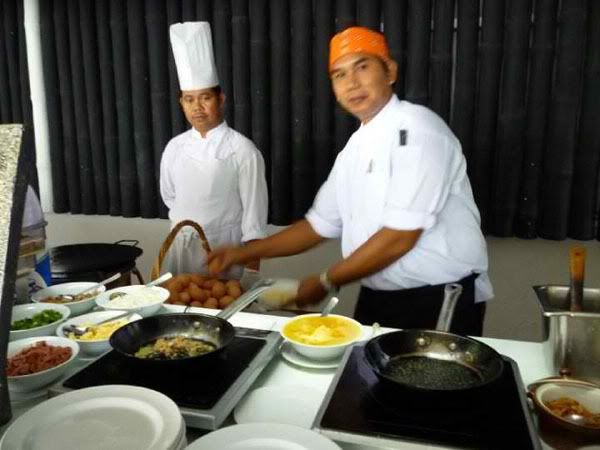 Happy girl with soooooooooo many eggs!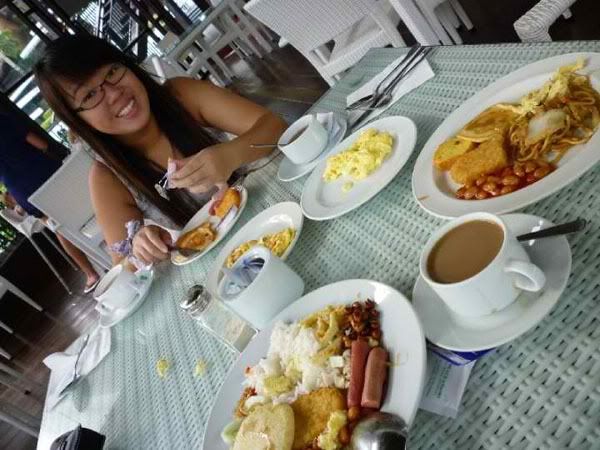 As we talked, clumsy PQ suddenly spill her cup of coffee.. -.-"
Dunno what thing scare her..
After the "main meal", we all had cereals.. Feeling like a kid again!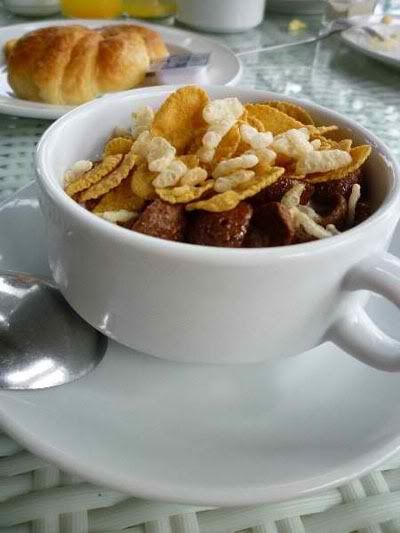 I wanted to shoot her but she say she was too "ugly" to be taken..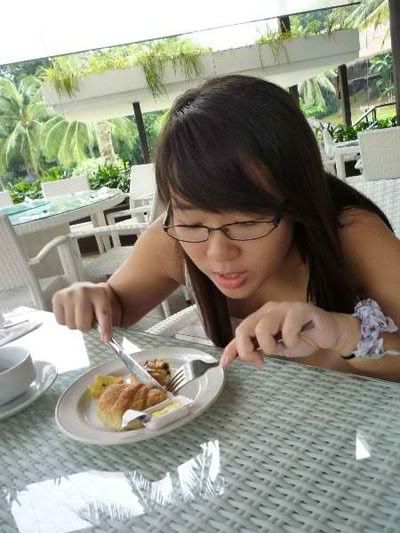 But when PQ wanna shoot,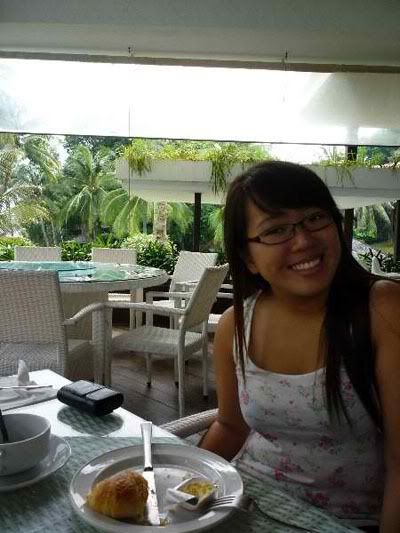 So unfair!!
Bei's "Adidos" branding after watersports the previous day..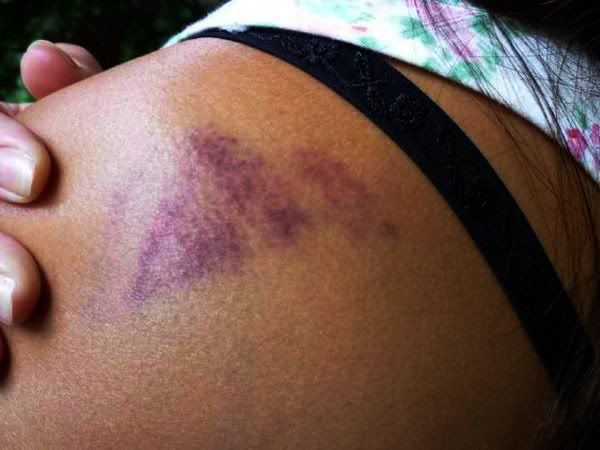 We concluded that I might be the one causing it considering I hit her when we fell off the Banana Boat. Hehez.
We went off to walk around and swim after which cos PQ decided to give up on Parasailing..
Xiao Yun and boy arrived around 12+pm which ends our swimming session (which we have Cornetto Ice Cream in the pool, shiok experience)and went back room to swim while the couple waited for us in the restaurant because their room wasn't ready as well..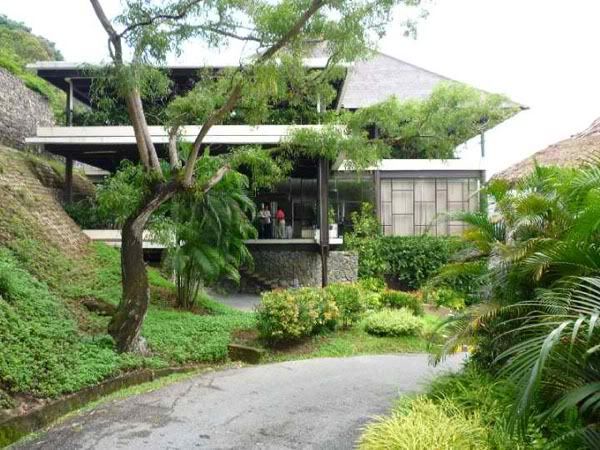 After shower and ready for lunch!
See her pissed off face again!!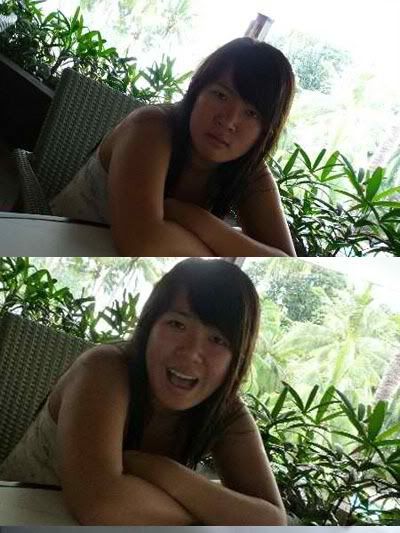 So happy playing with my camera..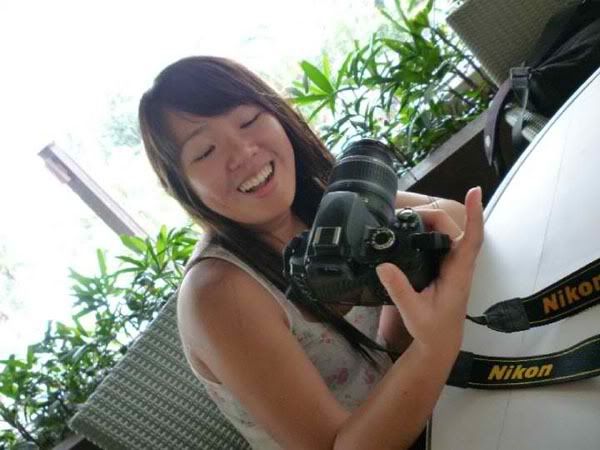 The awaited couple..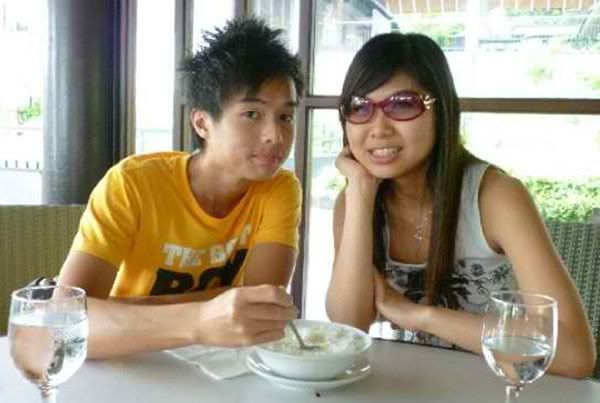 Acting sweet..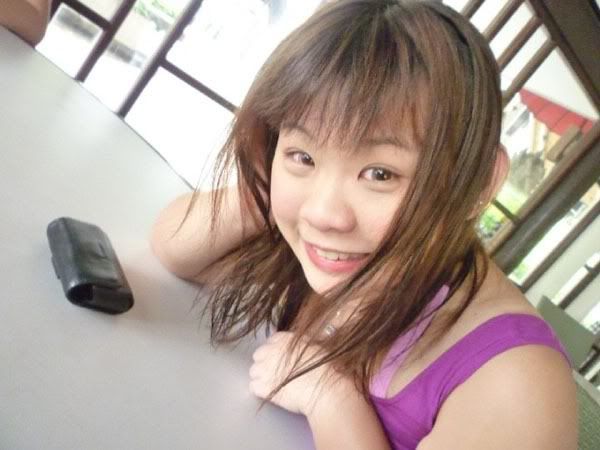 When we arrived, the couple already done with their lunch so they went back to prepare for their watersports..
Bei's and my lunch..
Disappointment..
I guess PQ's wasn't that satisfying also..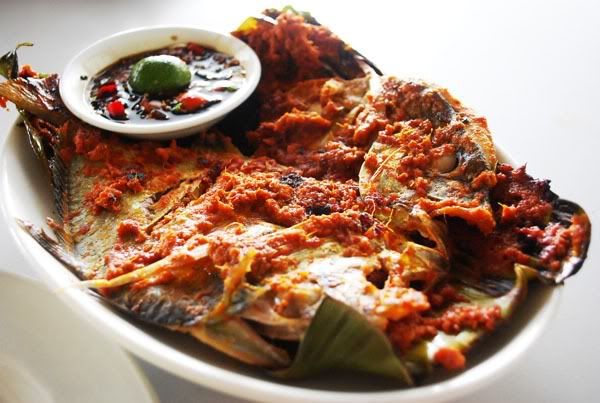 Lunch was bad and dessert got short changed cos whatever they need to add in for us, they didn't.. So we just have syruped (we reminded them for the syrup somemore -.-")
ice ball with jellies..
After lunch..
Lying down under the shelter with Bei looking at the sea while PQ went back to the room to drink her tea..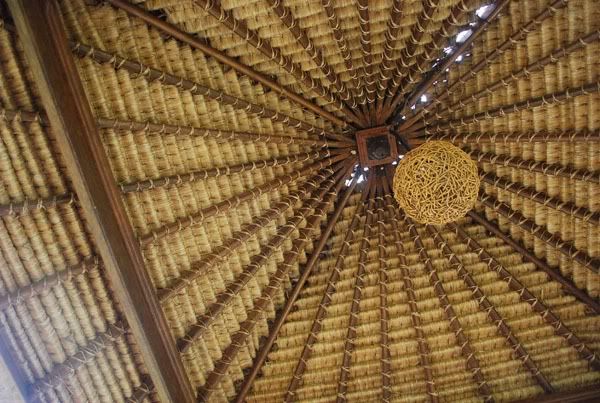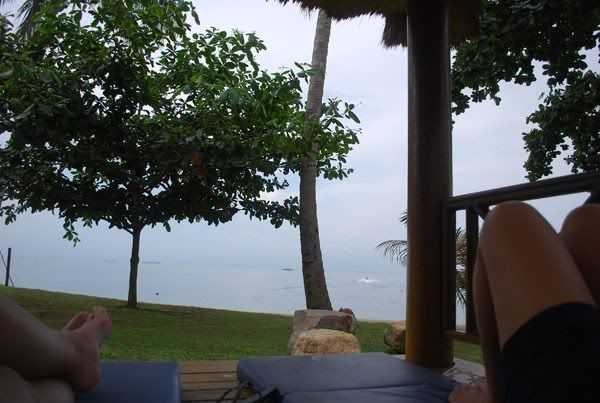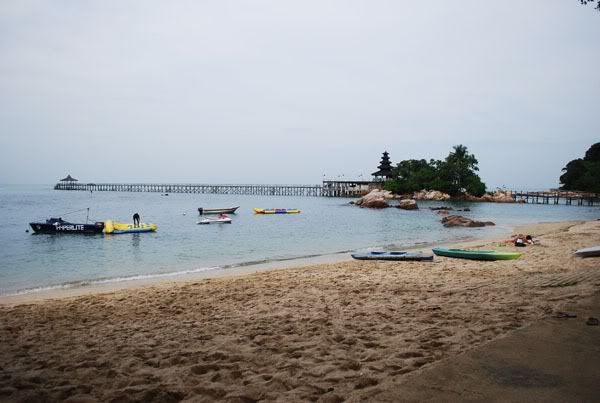 Didn't see the couple at the sea so we decided to walk back to the room to wait for their call to head out to town at 4.30pm!
Ready!
Heading out!
I'm an embarassing kid!
We were driving out of the resort about few hundred metres away le ba, den I realised I forgot to bring my wallet!!! So we drove back and I ran back to get my wallet for the room, went to bathroom and ran back to the cab again.. -.-"""
The steep road..
Their roads are damn scary.. Steep slopes up and down continuously. Be glad that you are living in Singapore okay?!
Their marketplace..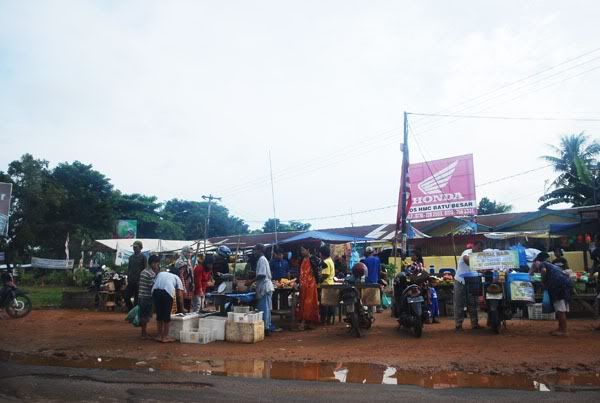 So sad that we didn't get to experience that..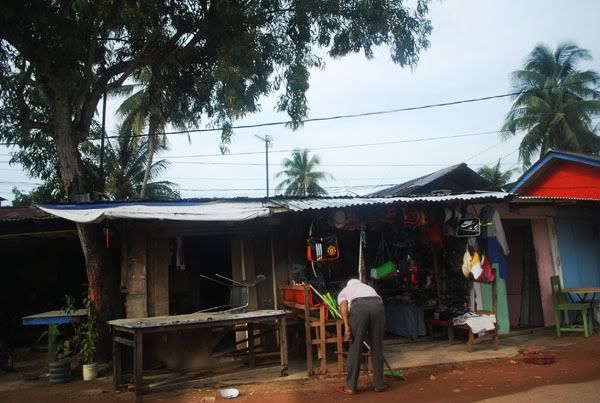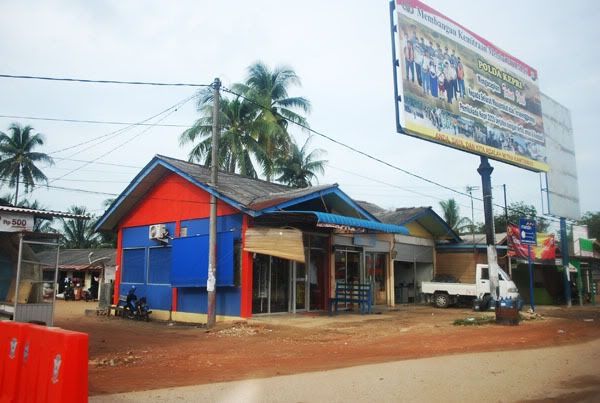 Along the way we saw pushcarts selling fireworks, didn't thought of buying at first but when we went back again at night, we couldn't find them anymore!!!!!!
Massage Time!!!
Reached the place around 5.40pm, late for our appointment.. Bei, PQ & I went to massage while the couple go walk walk..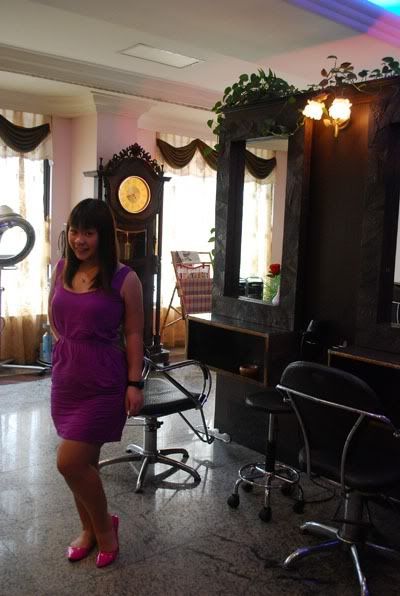 Excited about the session cos it's our first time!!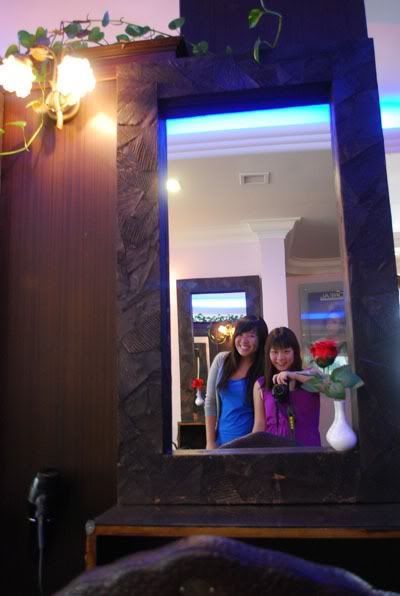 Bei & I got in the double room while PQ went to the single room..
1. We stripped
We were very shy to exposed everything but the lights was off so still quite okay.
2. Massage
Even the boobs, PQ was given a choice so she didn't get it. Maybe the massage therapist don't wanna touch her boobs.. Hahaz.. Bei got the face massage but I didn't.. =(
3. Sauna
I though I heard the therapist (dunno hw to spell the short version -.-") saying, "If too hot, add water." So Bei & I went in naked with a hot towel and she warned me not to peel =p
She asked if it was too hot so she added water and it became hotter!! Sweat literally streamed down my body.. Well, sorry first timer ma..
4. Scrub
Everywhere! Even boobs and armpit.. But Bei very sad that she didn't get the armpit scrub.. So inconsistent!!
5. Bubble bath!!!
Went in naked went Bei, lucky the bubbles are thick enough.. Hehe.. We scrubed each other's back, chit chat, talk cock..
Lucky YW never come, if not PQ bath with Bei and WHAT CAN I CHAT WITH YW?!
Wahaha.. =p
6. Moisturize
We wore a Batik rode and sat on a "holed" stool.. (Tried drawing in paint, but I wasn't never good in art so forget about it!)
7. Holed stool
Below our "XXXXX" part, a joss stick thingy burns below us and it was quite scary.. Hahaz..
8. Cam whoring!!
The therapists gave us ginger tea (yucks) and a slimming pill to consume and waited for us outside while we changed. So it's time for shoots since we didn't before the session!!!
Abit embarrassing to show this.. Hehez..
I'm not that short okay! I'm seated!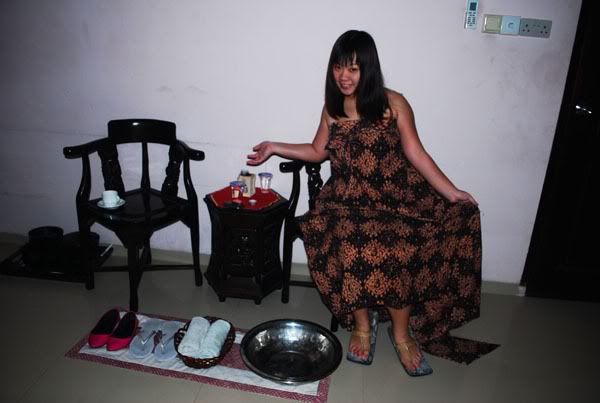 I never even ask for Bei's permission, but she look so pretty and slim here so hope she doesn't mind =p
Guess how much the bill came up to?
S$94++ for 1.5hrs for 3 ppl!! That's like S$30+ per person and in S'pore, you can't even get this good deal for a foot massage or pedicure.. Hahaz..
We hired a cab to find the couple and hired another cab to search for our Zhi Char dinner place!!! Search for at least 15mins or more round and round the place..
The driver wanted our business so he said he would come back for us 1.5 hour later.. And the way he used to make us rmb him? His long pinky naill.. About the length of your middle finger!!
Dinner!!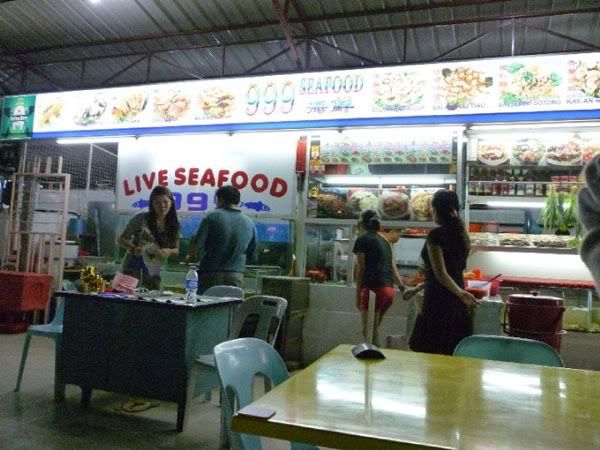 The place..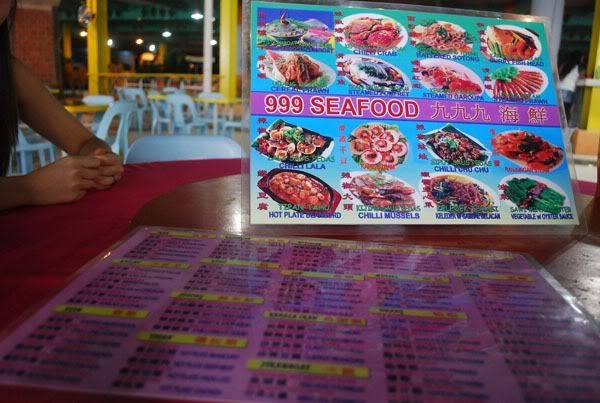 Cos there was no pricing and we didn't order straight from it too..
Useless Menu..
After our orders..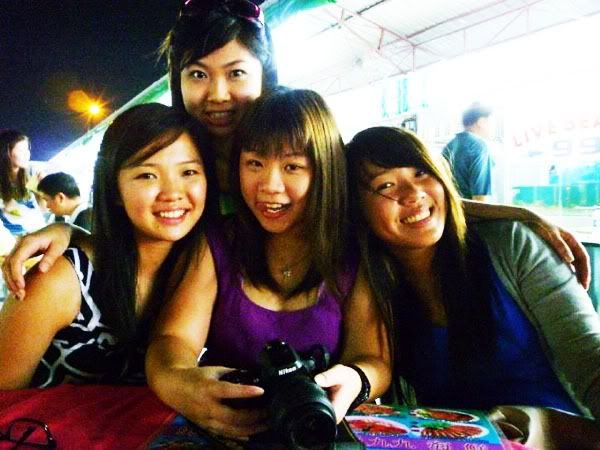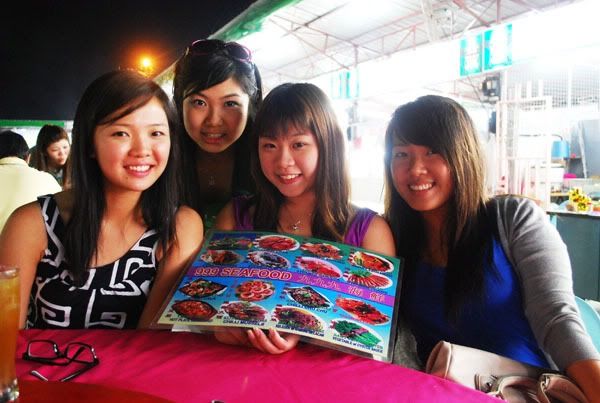 What else except shooting..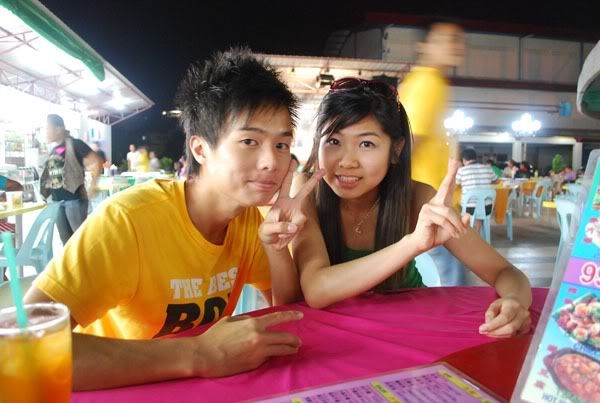 Foodies!!
Thai Sauce Fried Chicken..
Spicy Lala..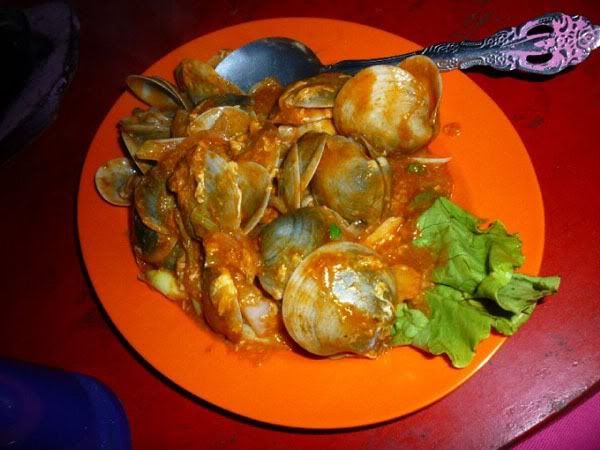 Teppan Deer Meat..
Cereal Prawns..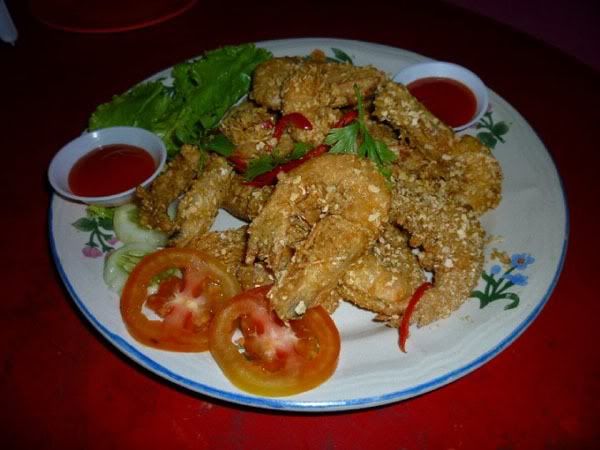 Awful Kang Kong..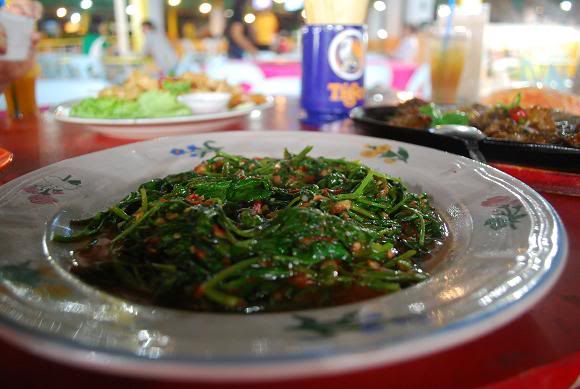 And Tom Yam soup, no photo taken.. Dunno why..
And this dessert was "free" I guessed cos it was not ordered..
You know how much it cost for all these?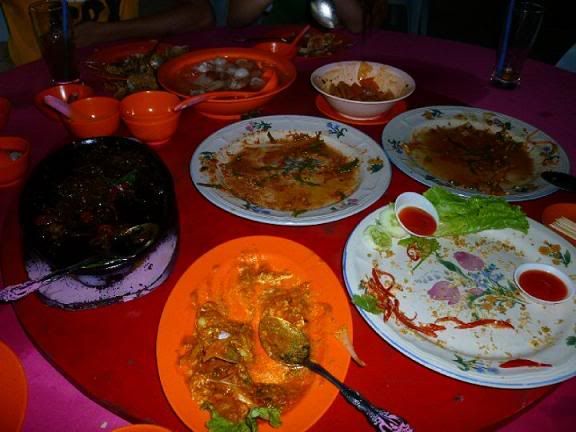 $36!!!!!!!!!!!!!!!!!!!!!!!!!!!!!!!!!!!!!!!!!!!!!!!!
Amazing =O
Boarded the cab and the drive drive us a long way to search for the fireworks! ( Sincerely cos it is not a metered taxi)..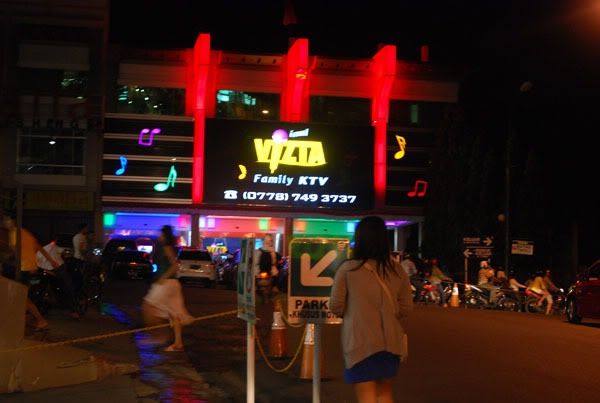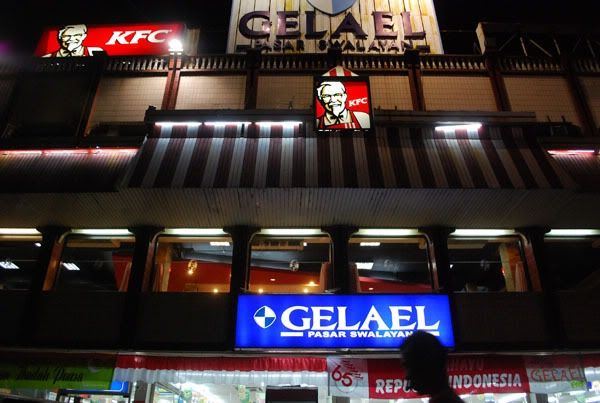 Well, really can't find.. So we have to go back to the resort ='( (Paid him extra $5-6 i guess for small appreciation) Cos not enough small notes le.. Hehez..
Reach the resort for group shots!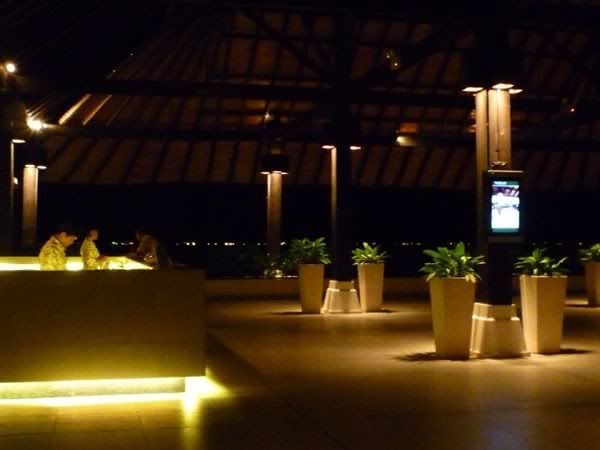 Romantic Ambience.. What you see is what you get =)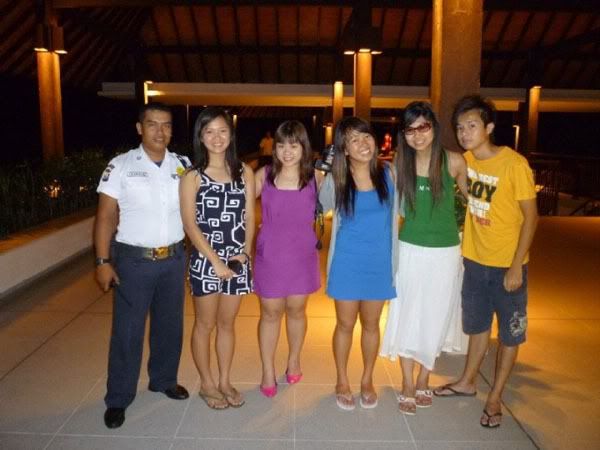 With the security officer.. You can see that we are a bunch of colourful peeps! =p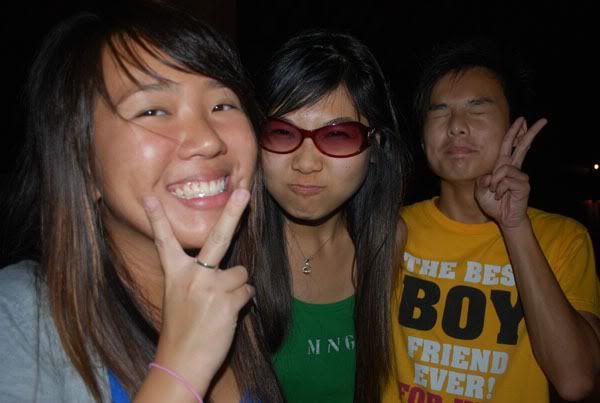 Heading back to room..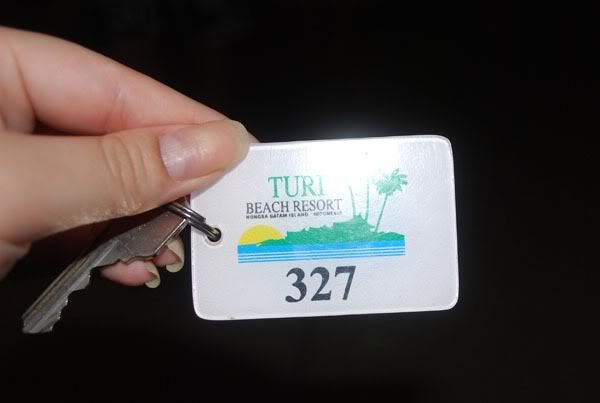 To prepare for nights out!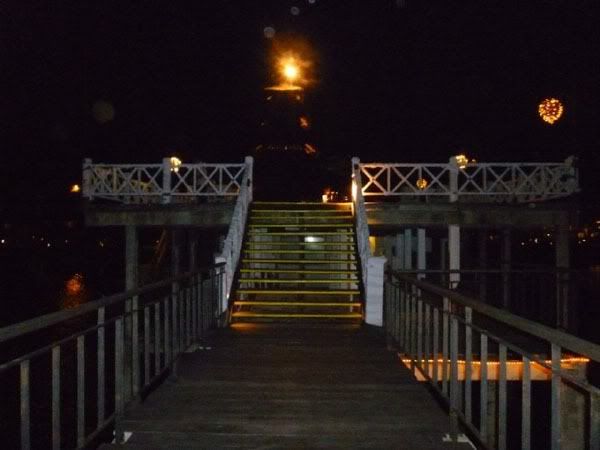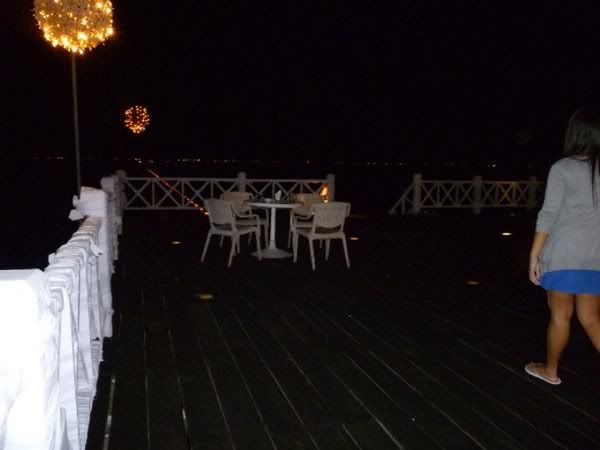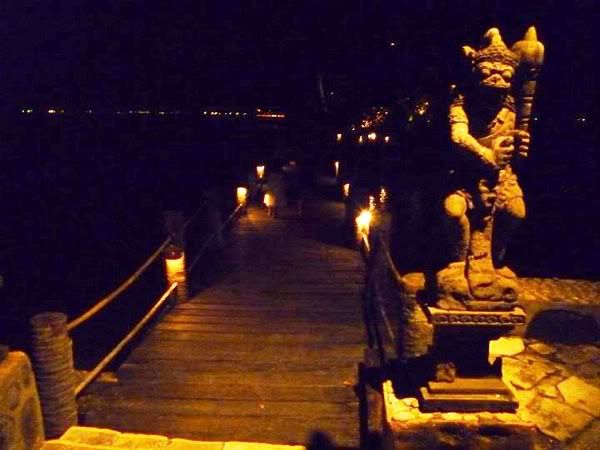 We didn't take much photos.. We just walked all the way to the "pier" and enjoy the breeze..
After that we went bar to play pool awhile and head back to bath and watched "Wo Cai".. By that time, PQ is falling aslp already..
Good night Day 2!
~~~~~~~~~~~~~~~~~~~~~~~~~~~~~~~~~~~~~~~~~~~~~~~~~~~~~~~~~~~~~~~~~~~~~~~~~~~~~~~~~
Good morning Day 3 Messy Room!!
Happy girls..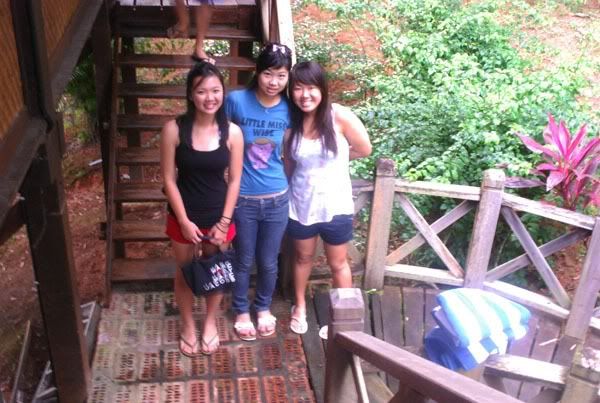 So the plan is, breakfast tgt. The couple head for resort's spa at 9.30am while the 3 of us tour around and swim.. After massage, they join us for watersports yet again!!
Breakfast!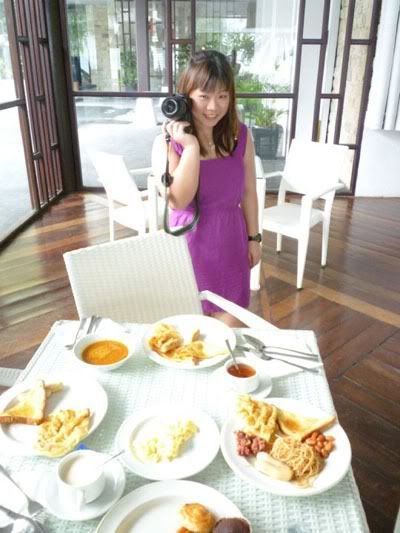 I mean this one..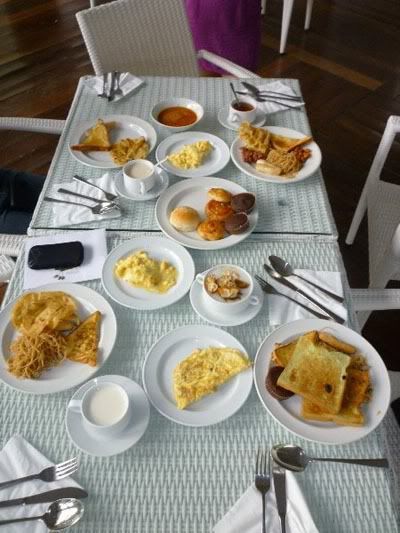 Bitch
Beach Tour!!!
The spoilers.. Dunno what they doing to the beach! Bitch! Beach!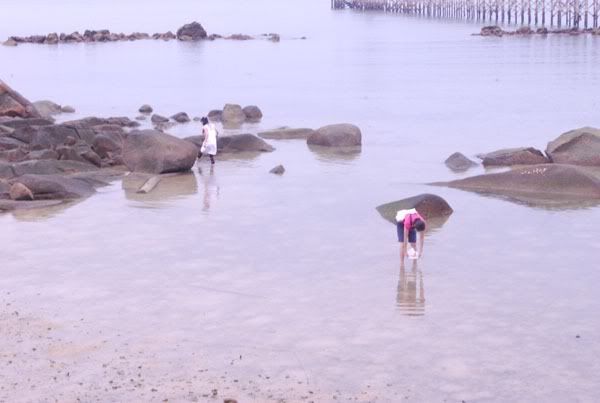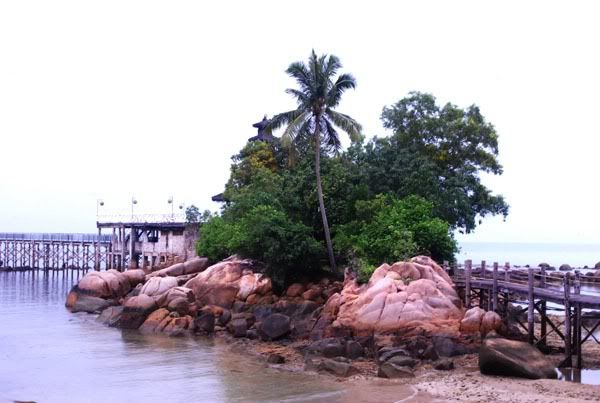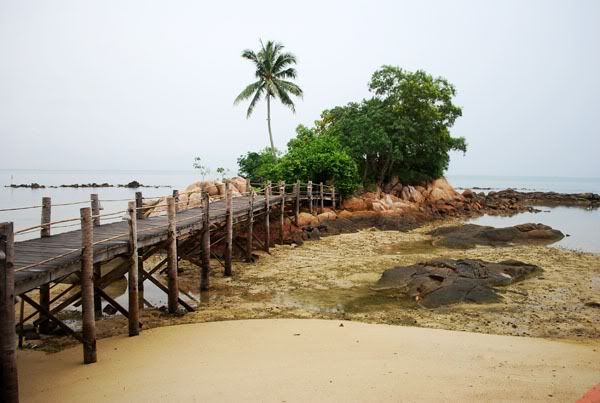 All randomies..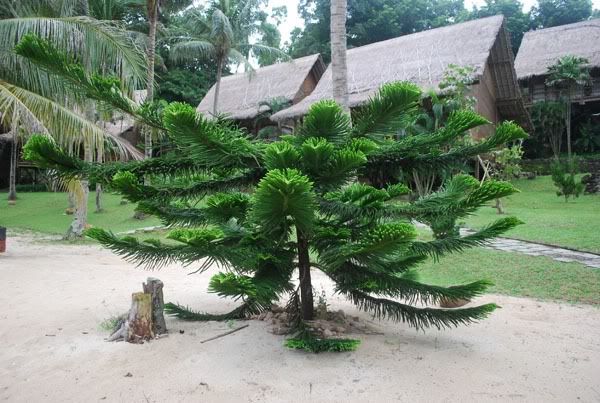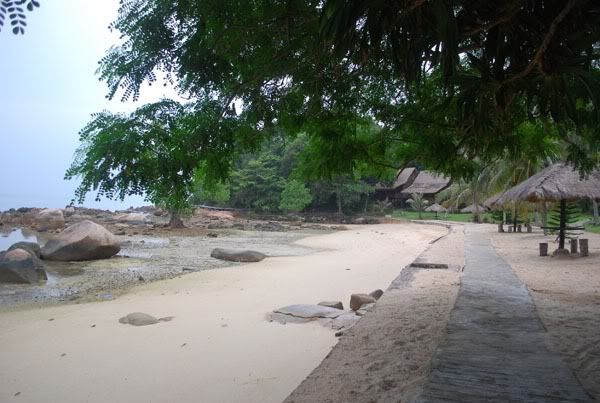 Dunno whether she's bored or tired.. Hehez..
Not bored!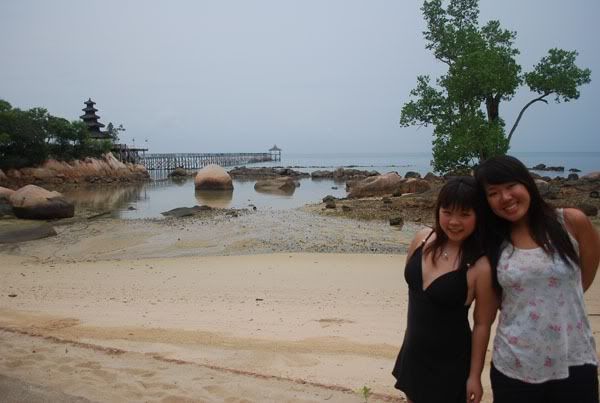 Too lazy to change so I walked around in my swimsuit.. Wahahaz..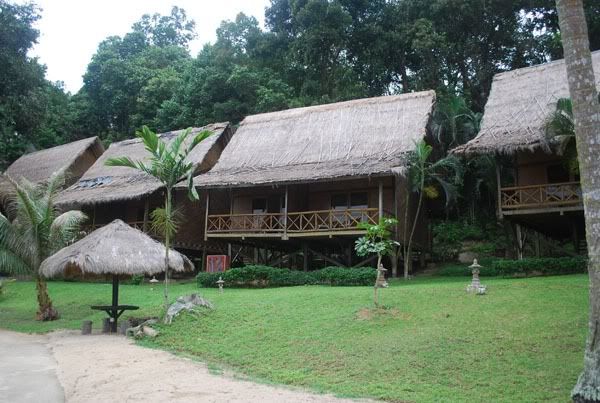 ~~~~~~~~ It started drizzling at about this point ~~~~~~~~
Interesting rocks..
Bei didn't get any postcard so I suggested this! Hehez..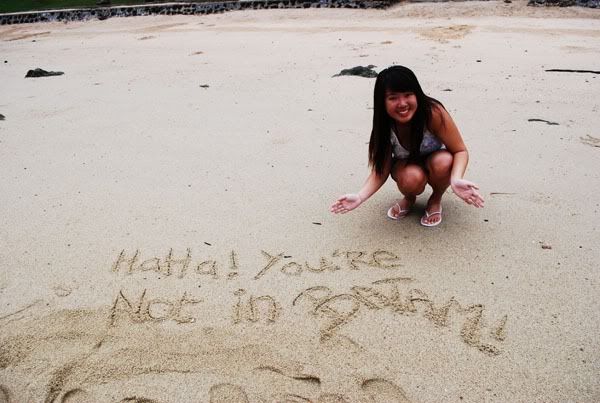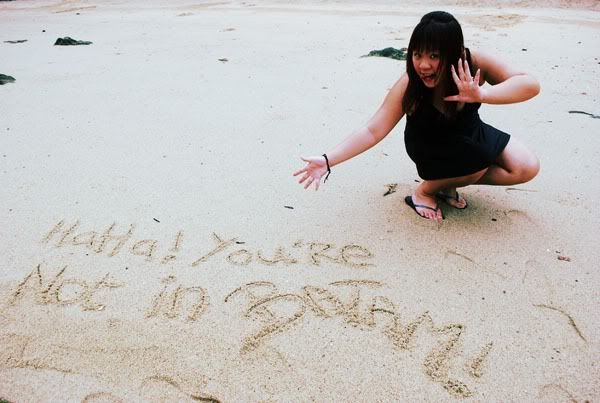 Cute idea for postcard right?! =P
Cute idea for a lamp too..
Cute idea for shooting the "Overhead" bush (Well, I dunno how to name it)..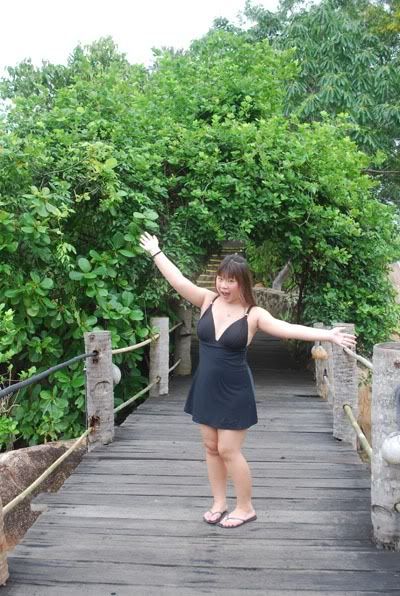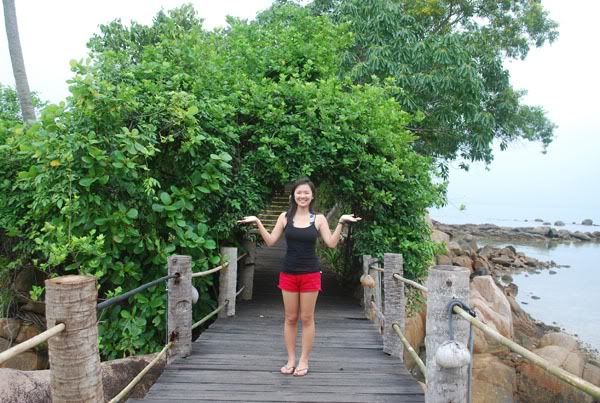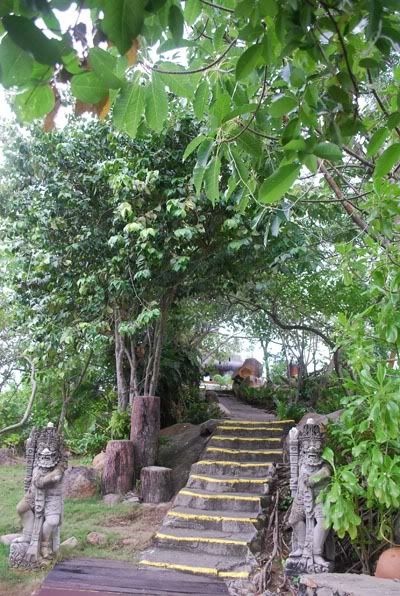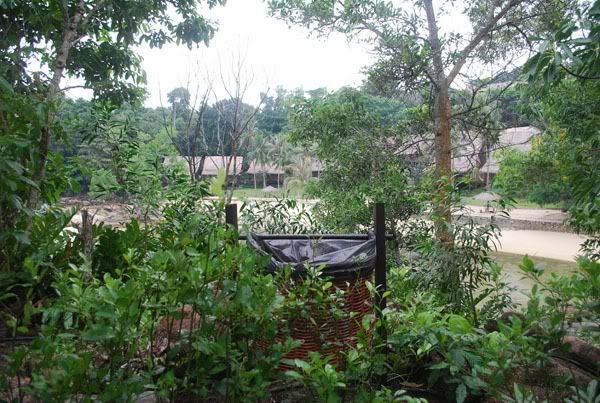 This is the long path to the "pier"..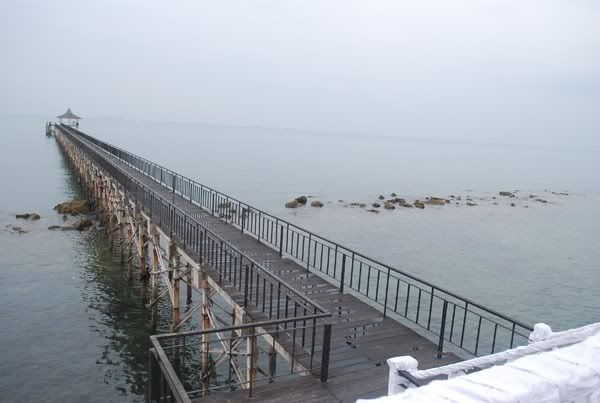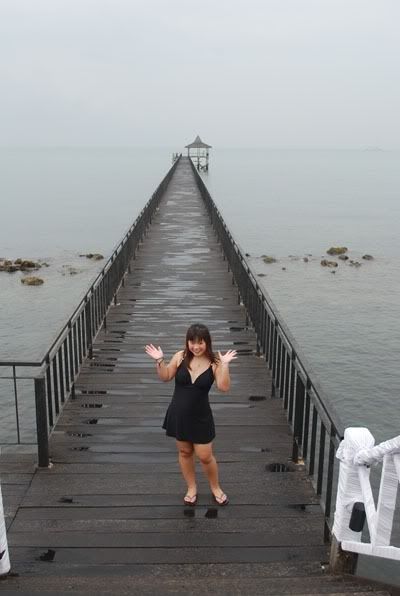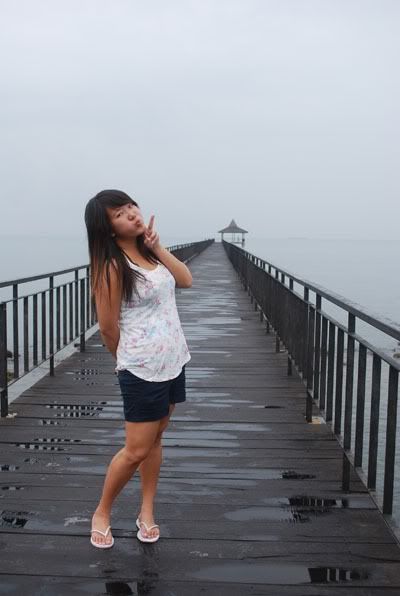 The "hut" looking bar..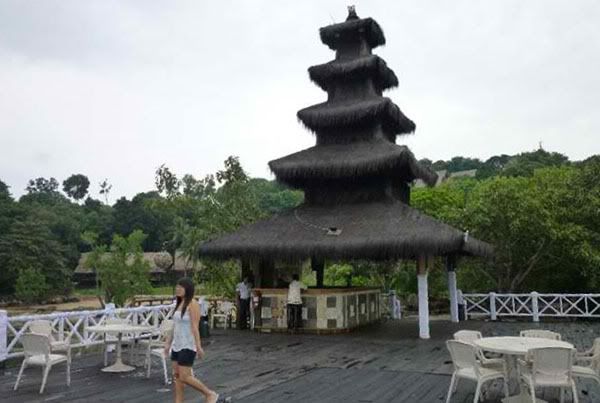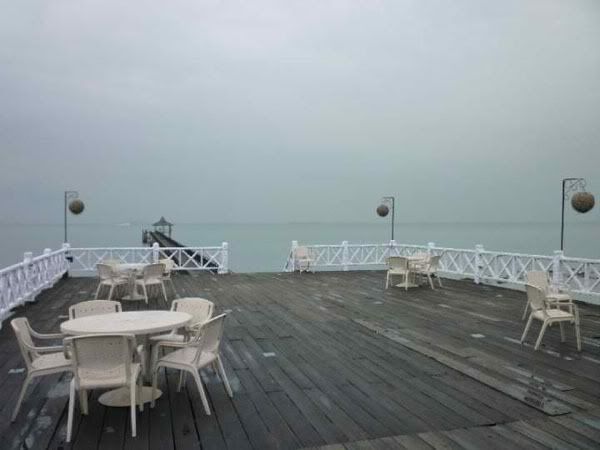 The hut from afar..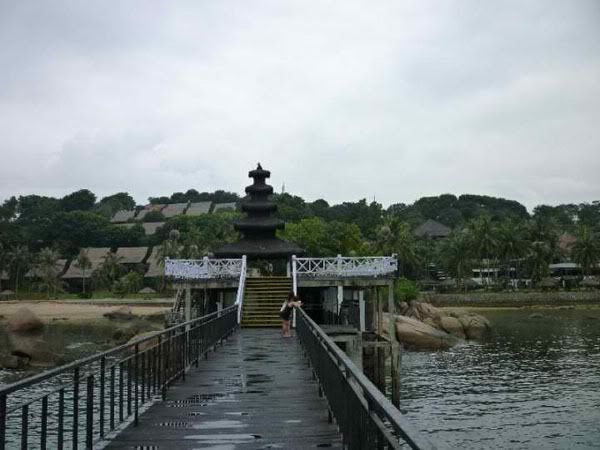 The hut behind her..
Too bored so we went back to swim!!
After the couple are done with their massage, we went to play flying fish!!!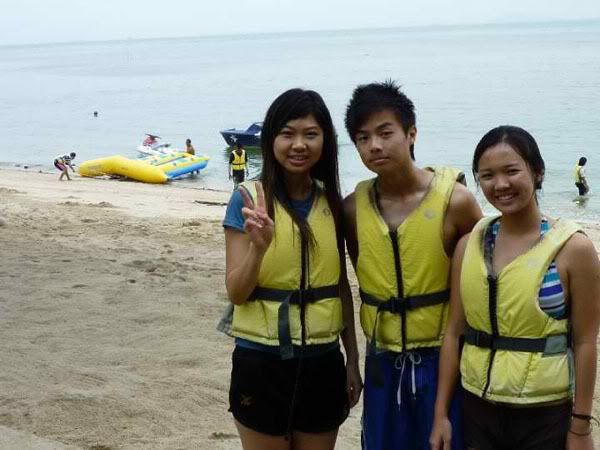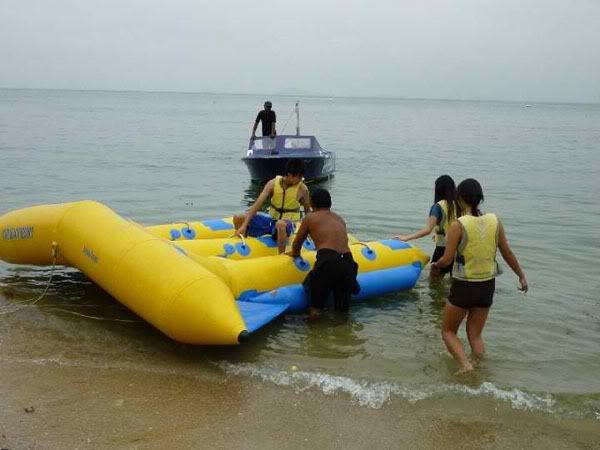 Yeah, and this is how high we all flew!!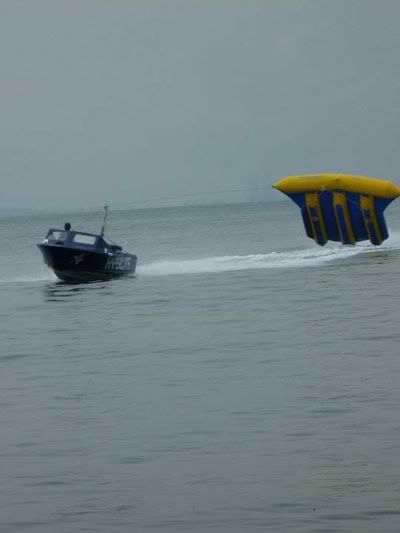 Bei & I are bitches, you know that!
After the boat stop, confirmed that it stopped. Bei & I quickly tidied up our hair!!
It's hard to photoshop messy hair you know.. Hehez..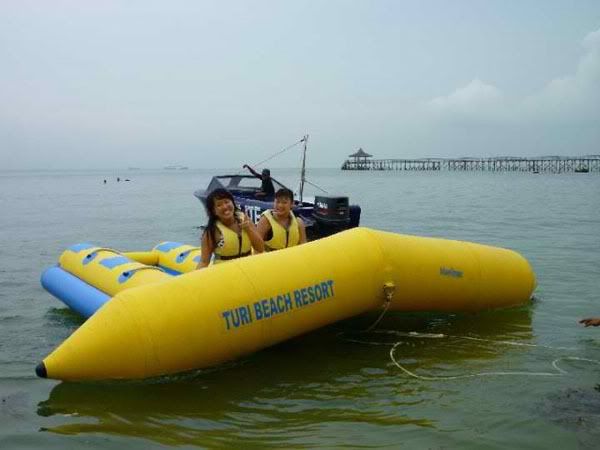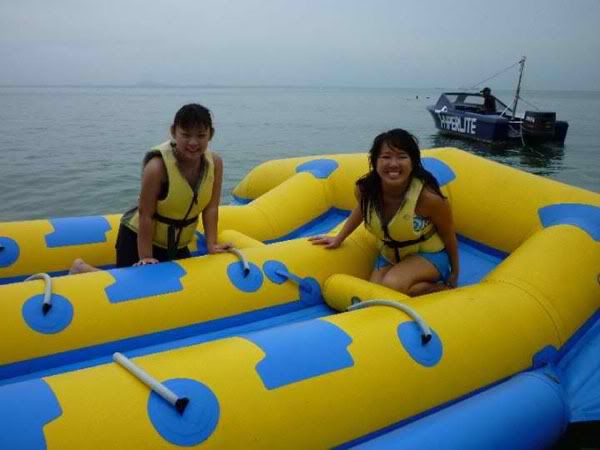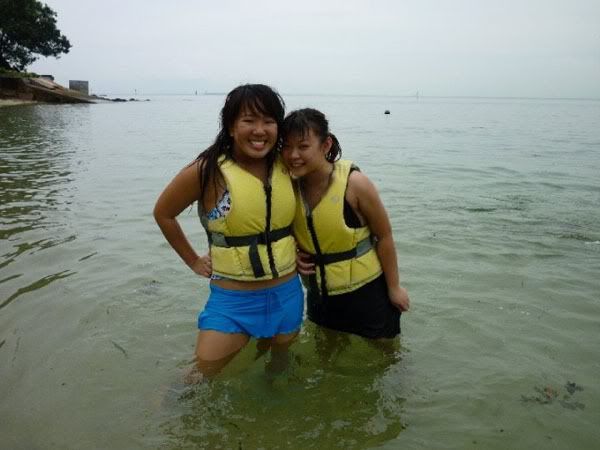 Make it easier for me to post these.. Hahaz..
The group photo that was not professionally taken..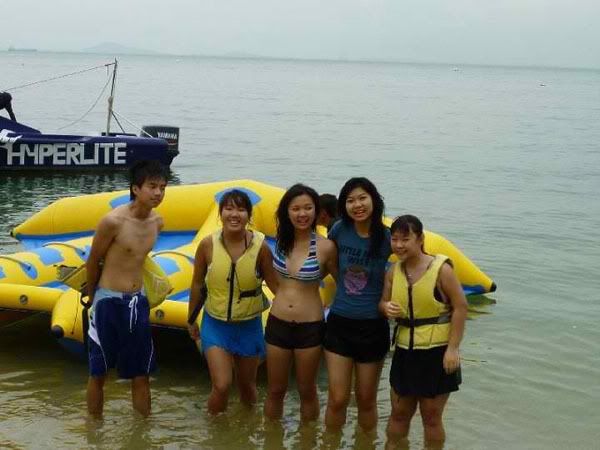 My fren who saw this photo asked me, "Where is he staring at?"(Not me obviously)
Wahahahaz.. Shhh...
He kena traumetized by the ride cos while all of us were lying down on the ride, he was sitting on it! Hahaz.. He's good enough that he didn't puke.. =P
Hope this wakes him up!
After that, rushed back to shower cos we need to checked out by 12pm!! But not surprisingly, we were late and there was a long Q!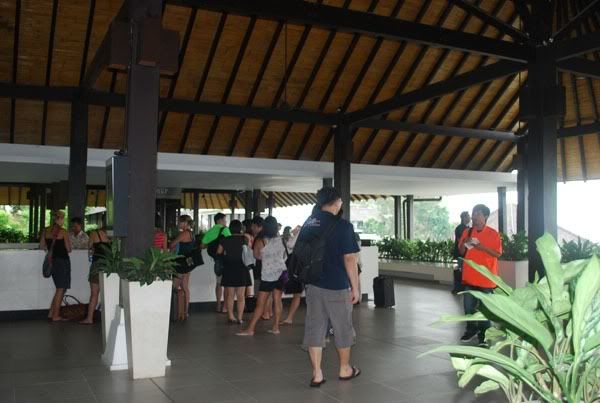 When we are done, it's almost 12.30pm so the auntie (other tourist, mother of the boy who stepped on my bag!) came to asked the tour guide/hint us that it was wayyyyyyyy past 12pm cos they are taking the 2pm ferry..
In the minibus, the guide told us that we were be arriving the ferry terminal in 40mins.. The aunite's 2nd son (about Grade 3-4)mentioned, "We would have reached there by now if not for...." he was stopped somehow..
Actually I don't give a damn.. So I continue shooting..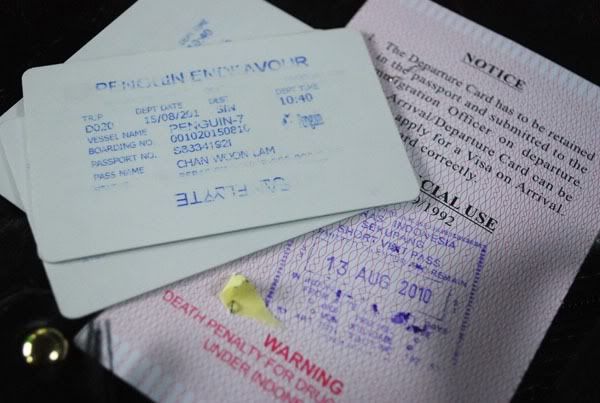 I didn't realise our timing was printed wrongly for the 3 of us.. 04.10pm became 10.40am.. Wahaha..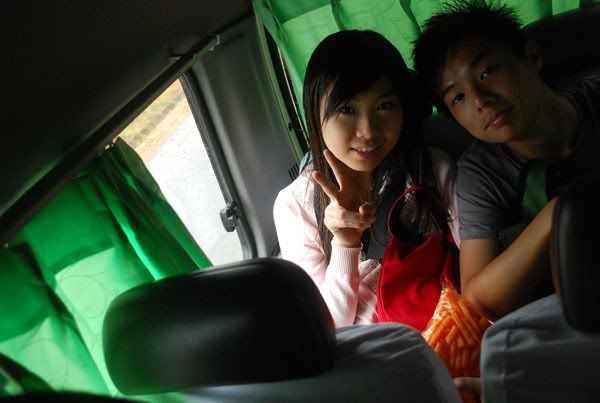 I even got stared by her youngest daughter (about Grade 1 I guess) when I alighted at the terminal! >=(
NVM..
Cos we are going to have A&W!!!!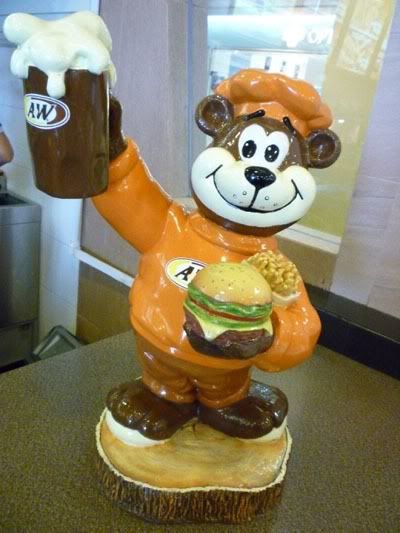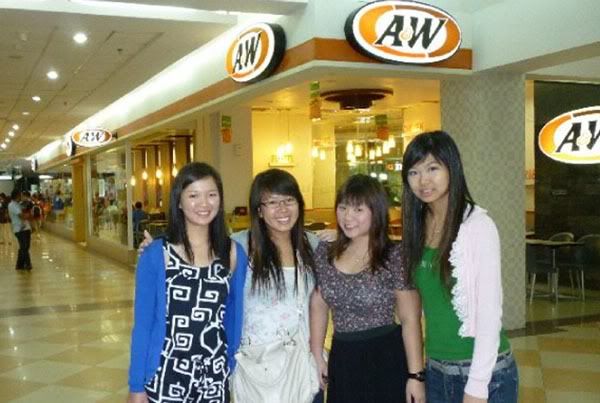 I was sooooooooooo excited that I ordered myself so much floats! =P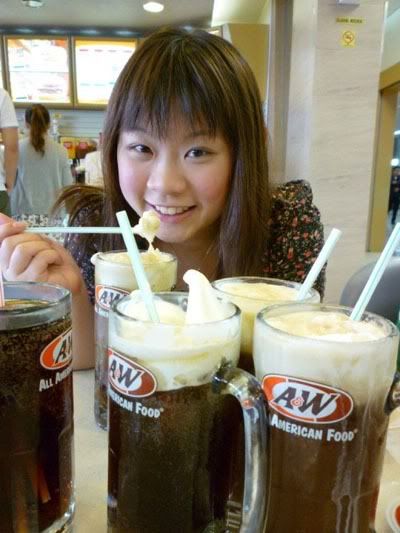 Smallllllll chicken!!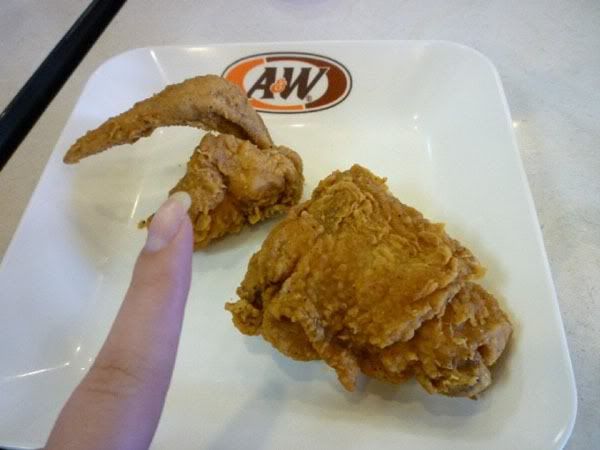 Index as comparison.. Hehez..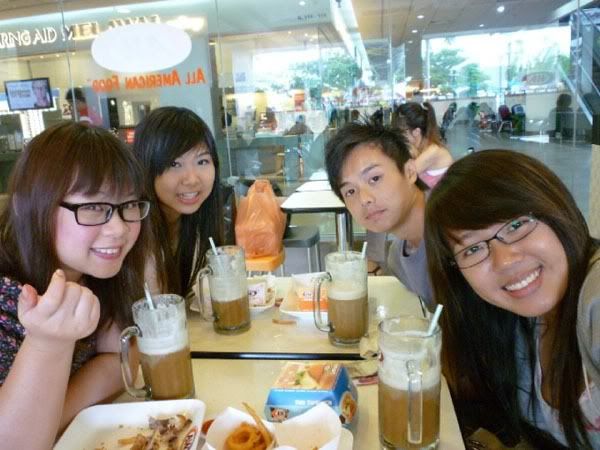 Groupie..
Unglam and nerd and dum and idiotic looking photo No. 1! (still got NO.2 ltr)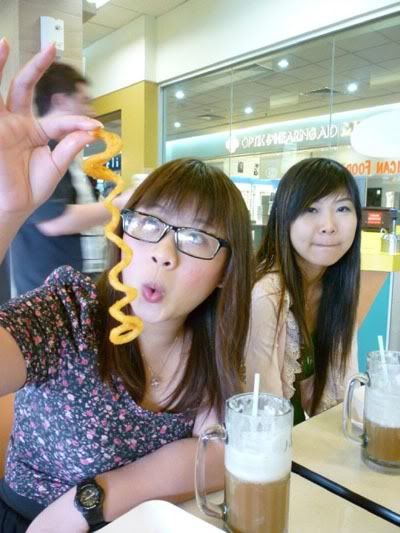 Although it was small, we were too full to eat the waffle ice cream..
The ulu mall which did not even sell a single postcard..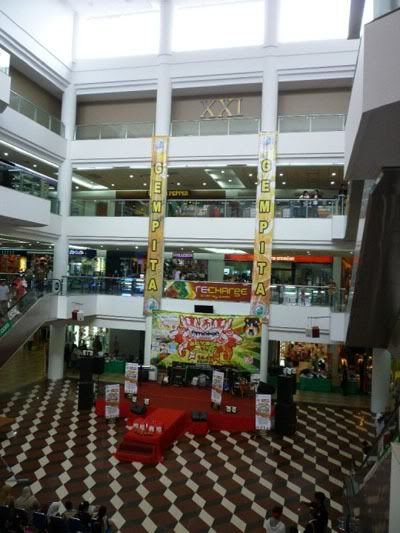 Nothing better to do..
After that we headed to a cafe for teabreak.. Hehez.. Dead beat really..
But still doing what we are best at!!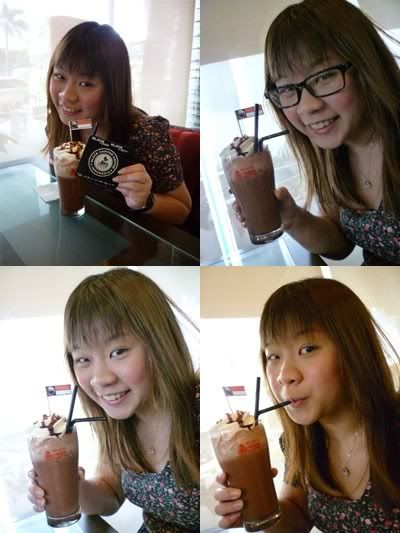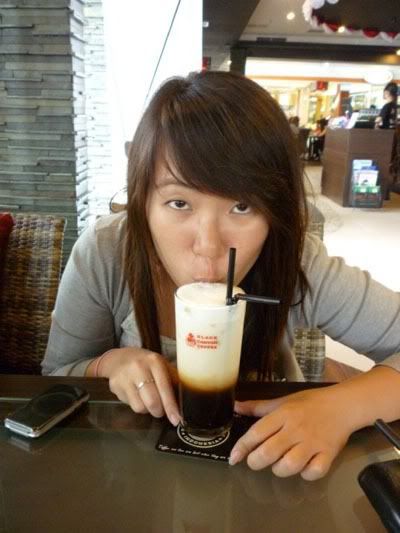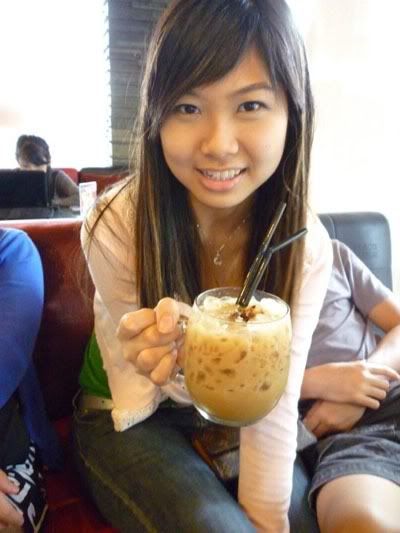 Unglam and nerd and dum and idiotic looking photo No. 2! (told ya! Purposely de okay.. Hard to photoshop it not unglam also -.-" )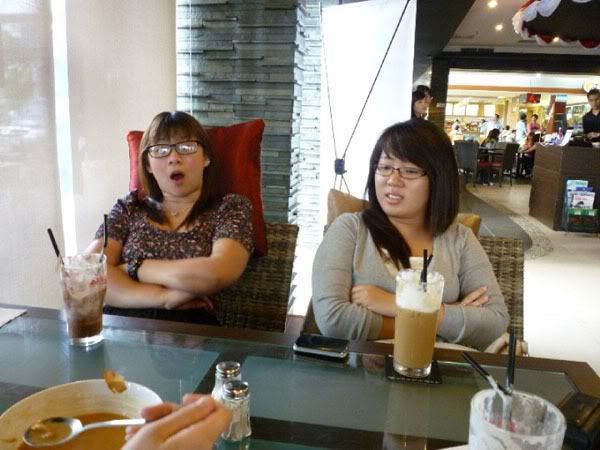 It's 3 O'clock so we rushed to the terminal! (We thought need to rush!) But we end up sitting there for an hour -.-" In between realising the wrong timing on the boarding pass..
At the place, we were calculating how much we owe each other.. I started with $150 in my wallet and after calculating for meals, cabs, massage and whats not, exchanging coins and notes here and there.. I ENDED UP WITH $150 AGAIN!! CREEPY!!
Waste time!! Hahahahaz..
On board!
Qiaoing my ka on my luggage..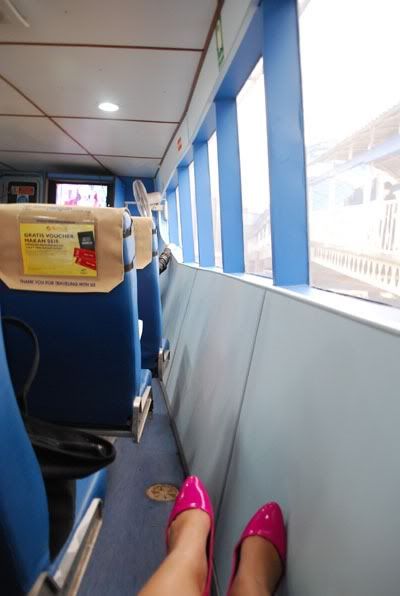 Dead beat people..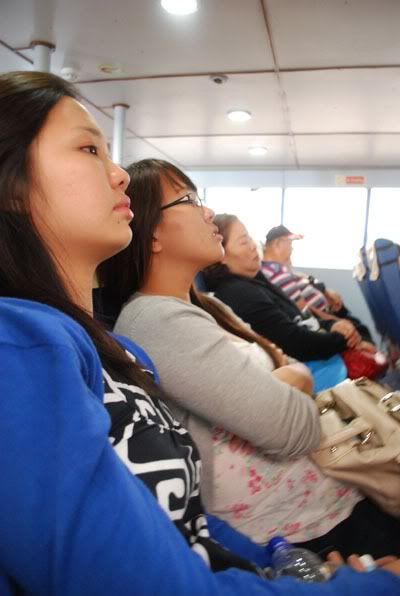 Reached Singapore with my oily Kueh Lapis bought from Tour Guide (NOT NICE!!), my red luggage and black bag..
Bought Baileys Original at DFS..
Total spending:
Hotel+ferry = $184
Massage = $32
Awful Kueh Lapis = $11.50
Hotel Expenses = $101
Meal + Cab = apppx. $10
Total: $338.50
So now you don't have to enqiure me again =)
Yawn... So long winded..
Haven even pack for Vietnam, I have never travel for more than 4 days before so I dunno what to bring for a 5D4N trip and I dunno got luggage anot.. Hahaz..
Tadahz..
Blogged from 9.35am -.-"