I'm 22 years and 19 days old today!!
Well, on 10th Sep which is also (coincidentally) my lunar birthday, my sweet darlings celebrated my birthday for me on a kite and Picnic trip at the Marina Barrage!!
I brought my kite and sandwiches to Tampines so that YW can send Bei and I to Barrage to meet Simin there.. But I forgotten to bring out the thread with the kite so have to buy one extra one =(
On the way still lost our way at Marina and drove to Vivo.. =p So guilty I nv tell YW where to pick Darling properly. Sorry dear..
Reach the hot paradise!!
The auntie and mama carrying our picnic foodies while Simin waiting for me to finish taking this photo and carrying my own stuff =(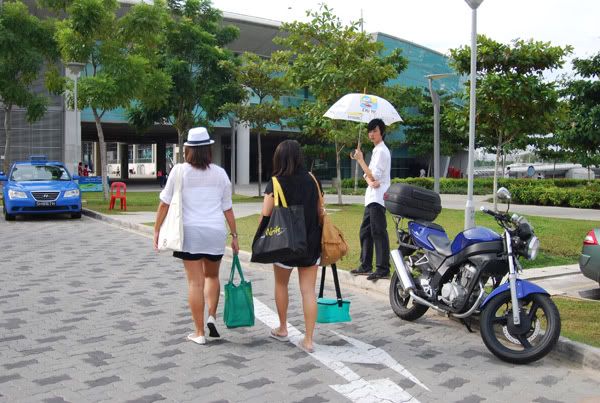 YW saw this photo on Facebook and clained that the guy looking at them.. So Bei say maybe cos the wearing the same series of clothes. Hehez..
It was a Thursday afternoon but it's still crowded with "free" peeps..
Kites flying high already..
I hate this slope so much.. Steep and make ppl sweaty ='(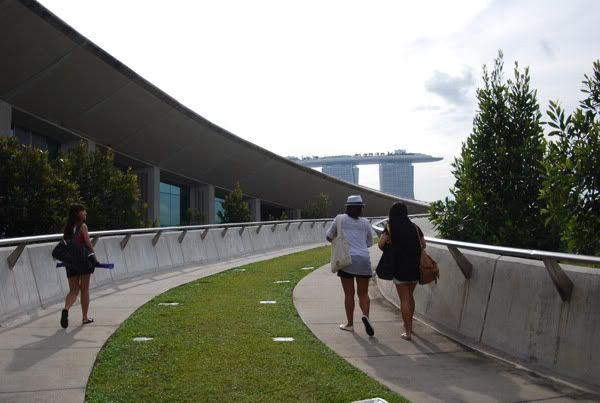 But also give me opportunity to shoot from different angles..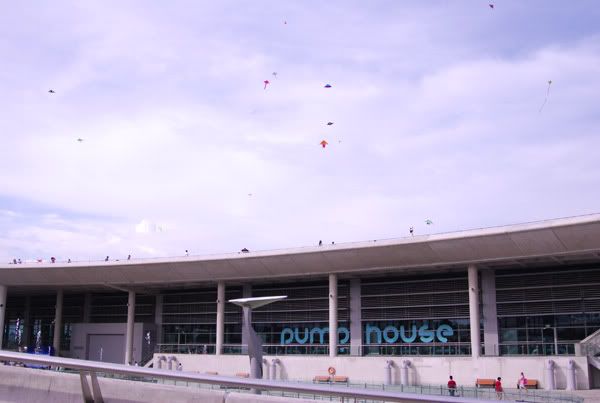 Finally reached!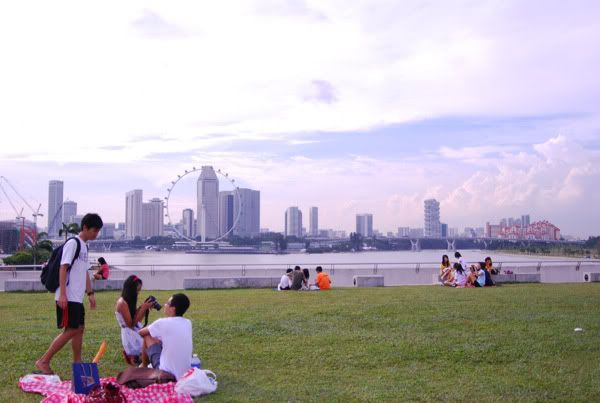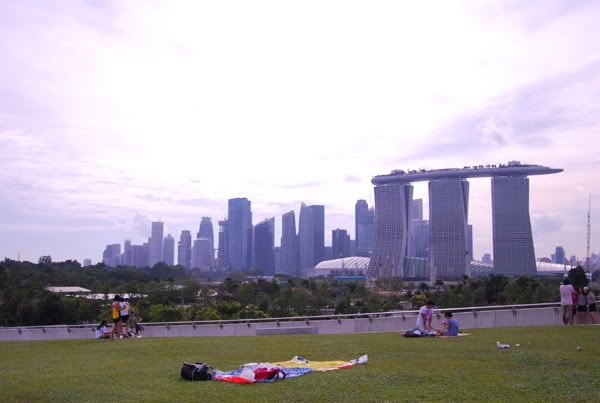 The sweet girls preparing for the picnic while Simin already wanna fly..
Bei and YW seems so excited when I tell them I wanna buy kite blah blah blah, but when we reached there, only Simin and I interested in flying and they were like our mummies preparing picnic for us.. Haha..
When we are flying kite, the two cam whore were cam whoring WHILE preparing the picnic..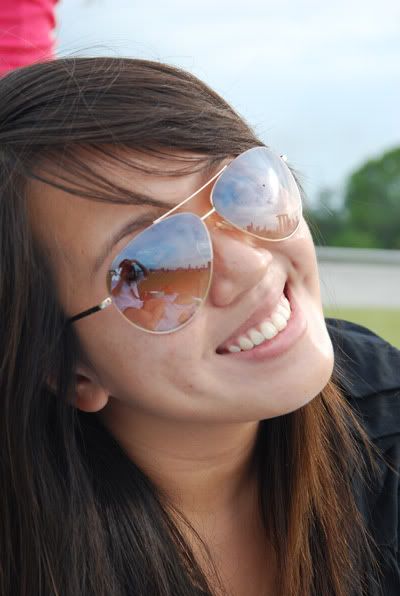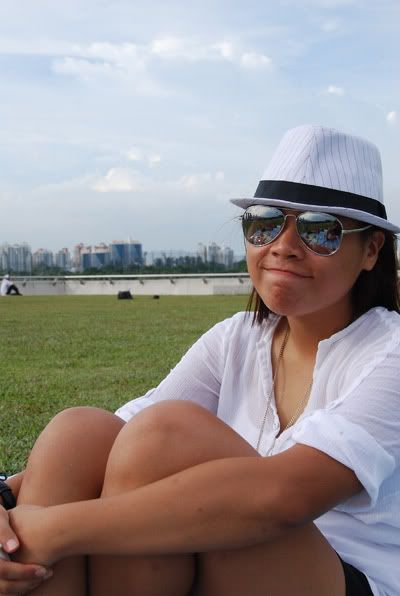 Our turn =)
Simin Darling is really an expert in flying kite! Within minutes and up my kite go!
It flew further and further.. So when the kite was stabled, we keep the thread "thingy" zipped in the bag off to picnic!!
Foodies!!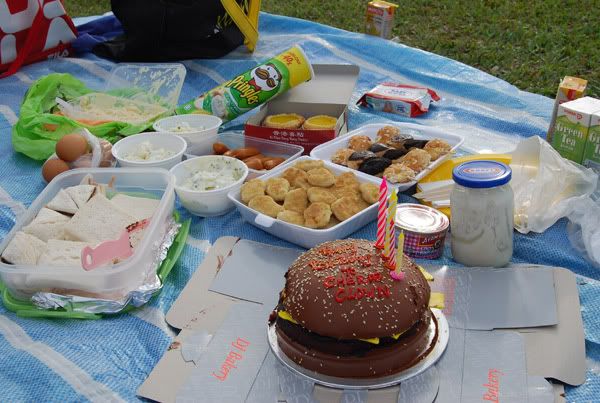 My surprise birthday cake!
See the defaced side of the cake? Bei said I was the culprit who threw the cooler sideway when I helped to carry it. Because all along I thought they were just packet drinks. =p
YW is always so pro in taking food. Hahaz..
I think rest of the photos are taken by them, I'm so lazy that day.. Only wanna have fun.. Hehez..
Dun close the browser when you saw my photos ah!
I'm so demoralised after looking at that day's photo, fat till like dunno what.. So photoshop save the day.. =(
Here it goes..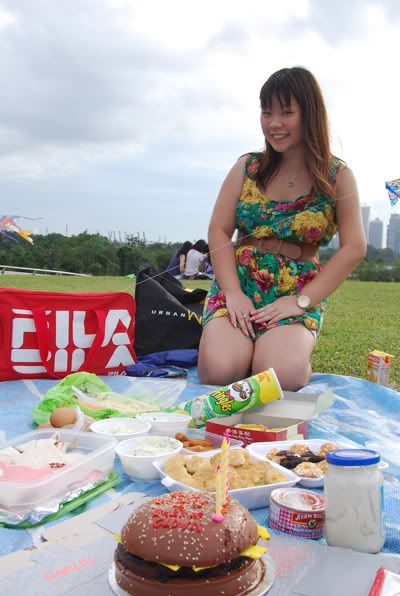 Yummylicious!!
Busy eating halfway through and one idiot tried to fly his "POWER RANGERS" kite and tangled our thread! ARGHHHHHH!!! Damn stupid so Simin went to help out..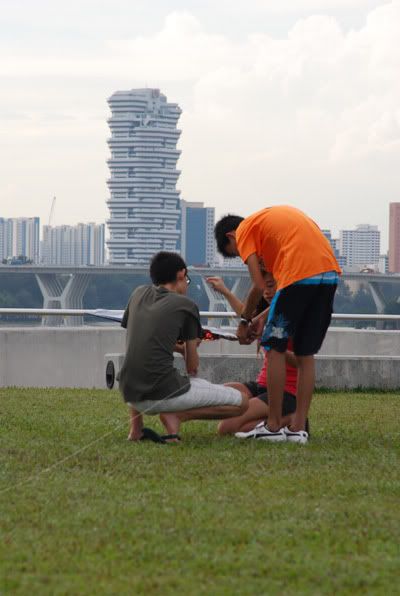 After the first tangle, he still try umpteen times to fly below our kite! DUMB!
So poor darling have to re-fly the kite to its optimal again..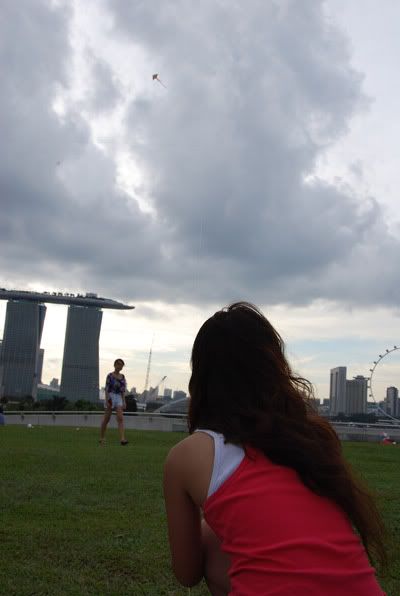 Cloudy weather..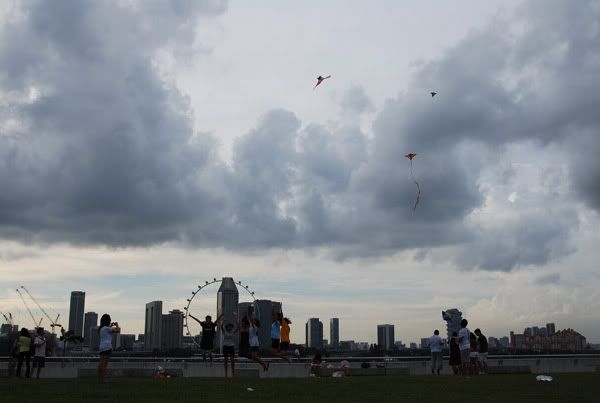 Strong kites in the lousy weather..
ope
Lazy to fix this properly.. Sorry..
The new version of "Say cheese...."
"西瓜甜不甜?"
"甜!!!!!!"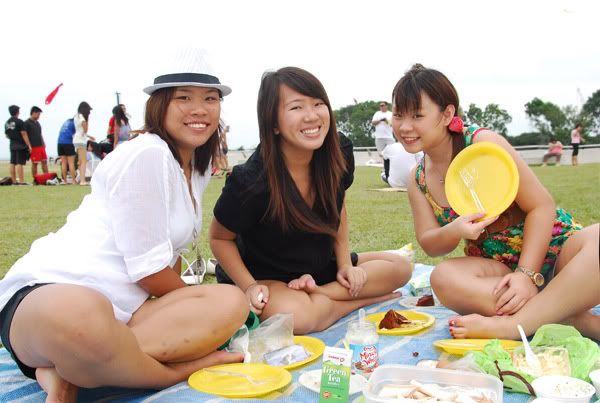 Yellow plate to save my effort of photoshopping the arm.. Hehez..
It started to drizzle at this point and the 3 little girls beside us went off..
They are so pathetic!! They came earlier then us but the kite kept dropping down, in the end, they just go home with a none flying kite.. Haha.. So sad!
Unlike mine..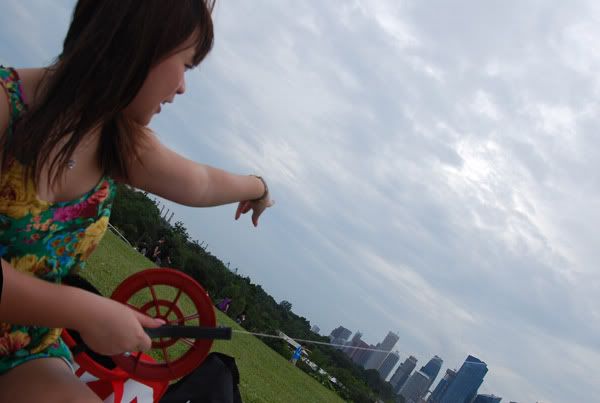 "You see! So high!!"
YW tried the high feeling too..
The poor couple who chose a bad day to shoot their photos..
Night falling into a beautiful shade of blue..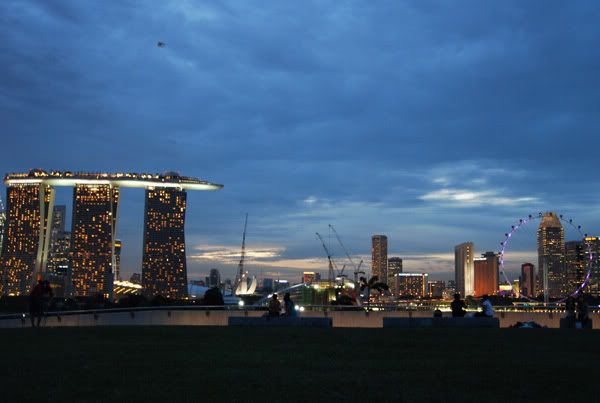 But we are playing Monopoly deal! How are we supposed to see in darkness?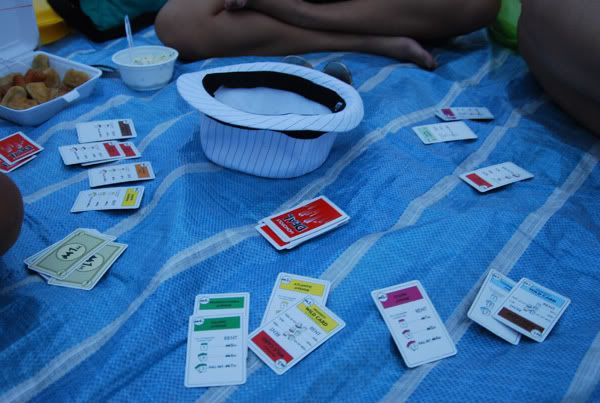 (When it's still bright..)
Ah, luckily YW bought her tripod!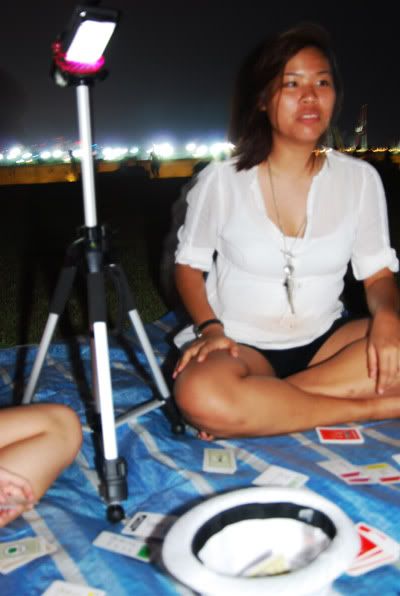 1. Tripod
2. 2 Cherie's + 1 Simin's rubber band
3. Flashlight app in YW's iTouch
Haha.. Cool hor?
But we still have to use our hp's light in order to differentiate the colours on our card..
(Not that my kite in still in the sky)
Testing out my too bright for a flashlight.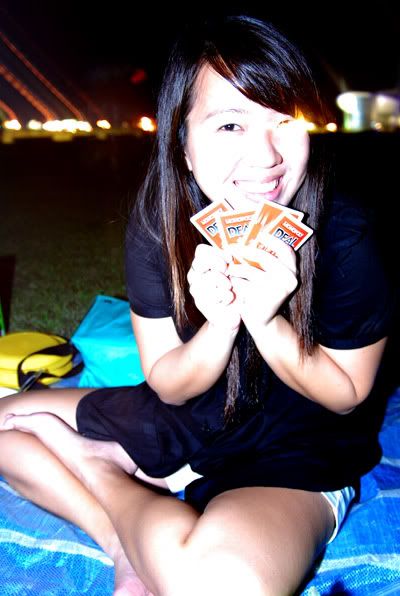 We play countless rounds but I still didn't win at all!! So we took a toilet break and I was asked to win before everyone could head back!
I finally won so we could start packing up and get ready for photoshoot once again!
The trendy LED kite..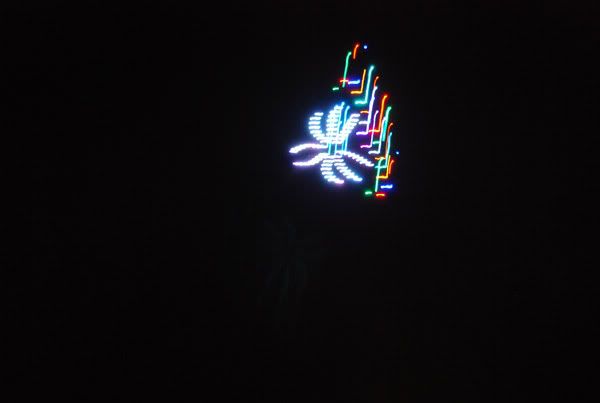 The wind at night was so strong that you just throw your kite and it would fly high high into the sky..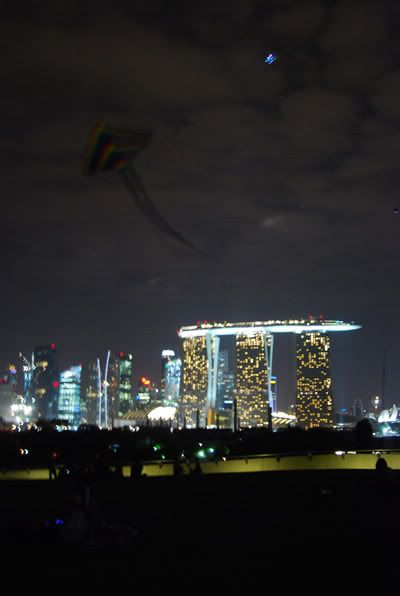 Attempting to shoot using tripod..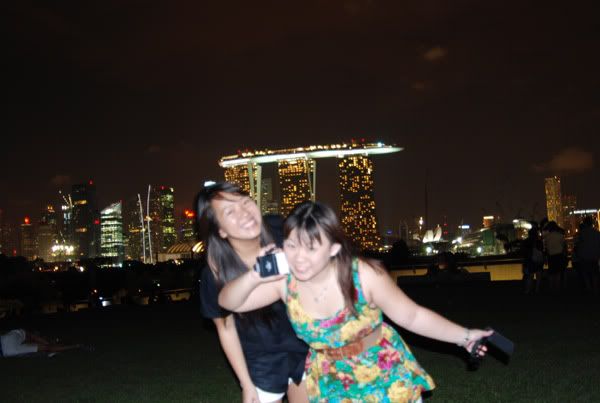 Darling trying to make the kite stay in the picture..
Attempting to frame them up literally..
Nighty..
This photo marks the end of the wonderful lovely birthday celebration.. It was 11+ when we went off and no cab wanna fetch me home.. In the end, YW sent to me CQ to catch NR2.
Love you girls.. Muackz Muackz!!
Next post up on Barrage as well!!
P/S: Continue to scold me fat till I got the motivation to slim down ok? Love you peeps..