* Hollywood After Hours with the Girls! *
Warning!
IMAGE HEAVY!!! About 129 photos!! Slowly load.. Hahaz..
Met Beilin & YW at Vivo and travel to RWS by express at 6.30pm to rush in for the tickets!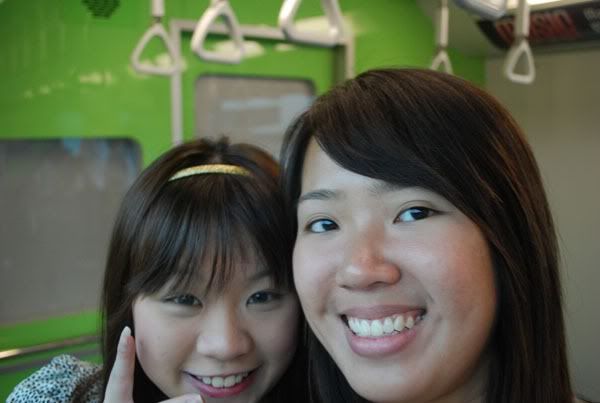 As usual, I always hide behind peeps in order to have smaller face..
On the way in..
Got this from continuous shots..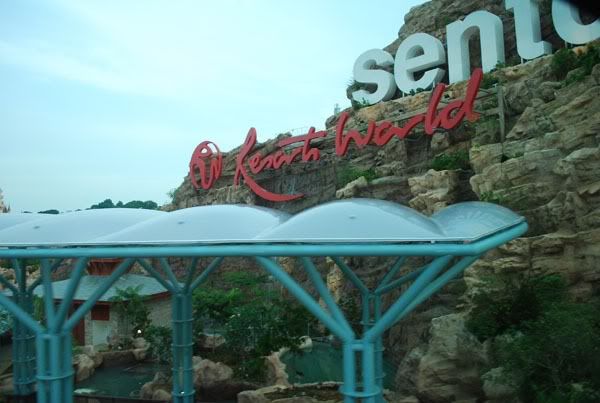 The long long Queue!!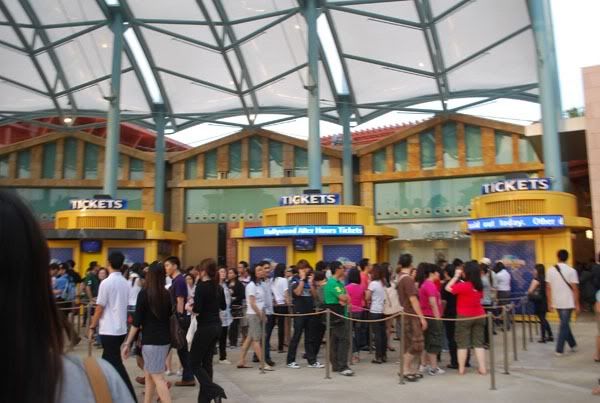 YW Bullying Beilin cos I was to lazy to help her carry her tripod (which is damn useful!)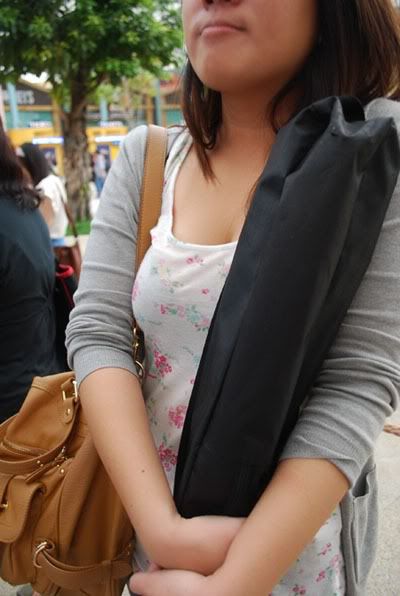 See my "small" face again!
Kena scold like hell! So in order to please them, I posed like this (without photoshopped) I think quite cute.. Wahahaha...
After purchasing the tickets and waiting for 7pm, we cam whore with the GLOBE!!
Yw took for us and I took Yw's..
\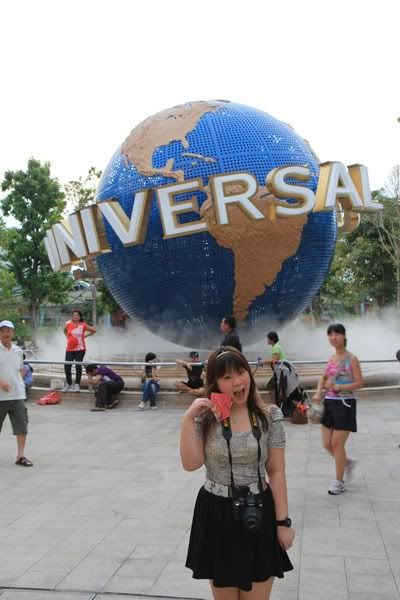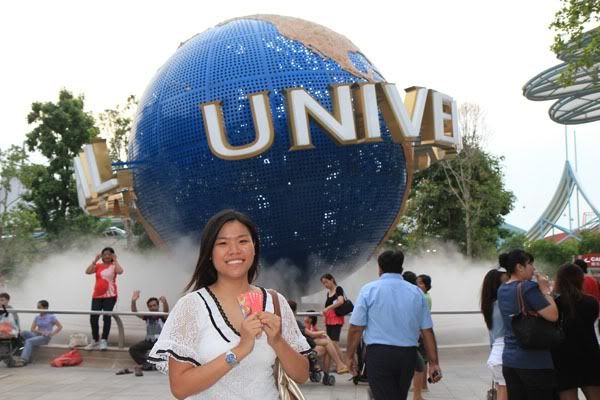 YW's keeping the tickets because her 22nd Birthday is printed on them!!
Finally minutes to 7pm!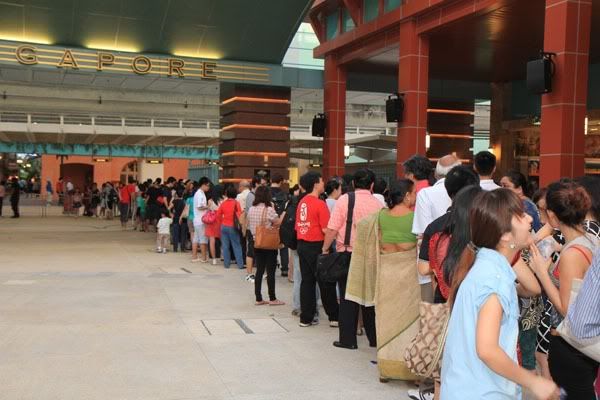 Anxiously waiting for Ayuni to arrive!
v
While waiting, wanted to shoot YW's & Beilin's cleavage secretly..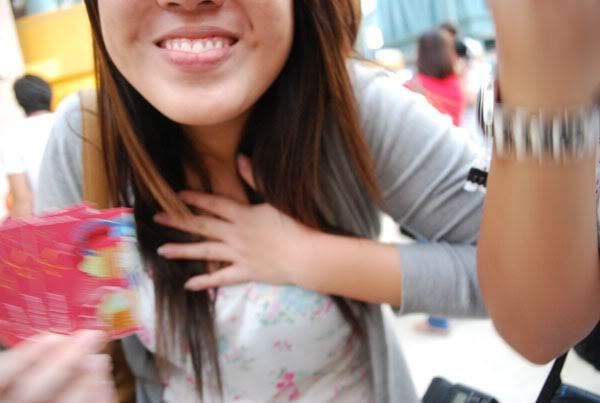 Failed for Bei's and succeeded for YW's.. Of cos won't post here la.. But you guys can bid for it if you want.. When I get a gd price, I'll show you.. WAHAHAHAHAHAHA..
The girls shouted excitedly when they saw him on the wall.. -.-"
Ayuni arrived soon after!
The 3 of us is having our first visit while YW is on her second trip. (But she dunno the place well! >=( )
We were very excited so shoot whatever we saw!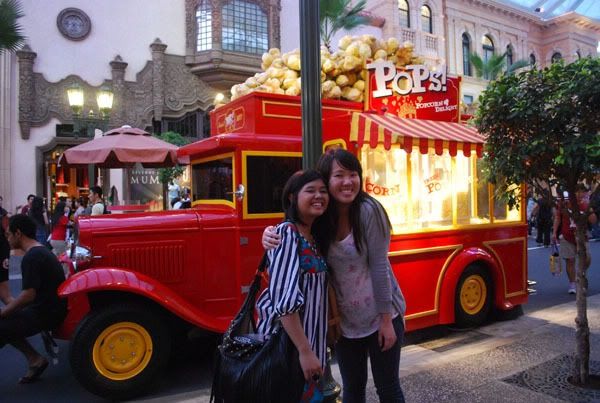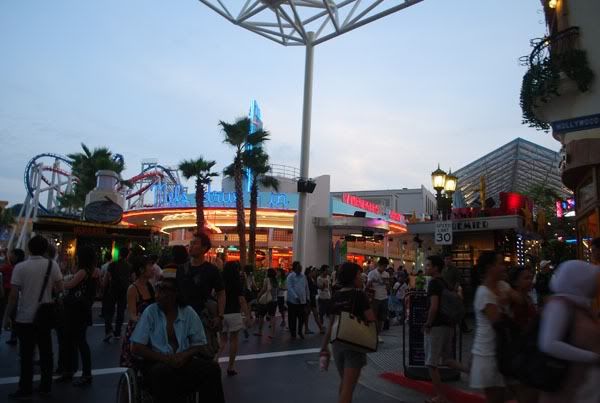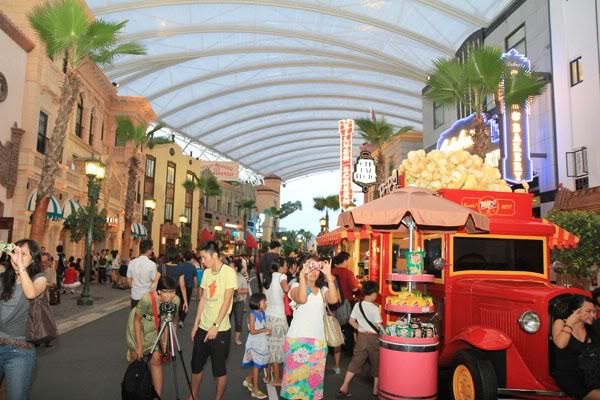 We kept asking YW for her help to shoot us.. Hehez..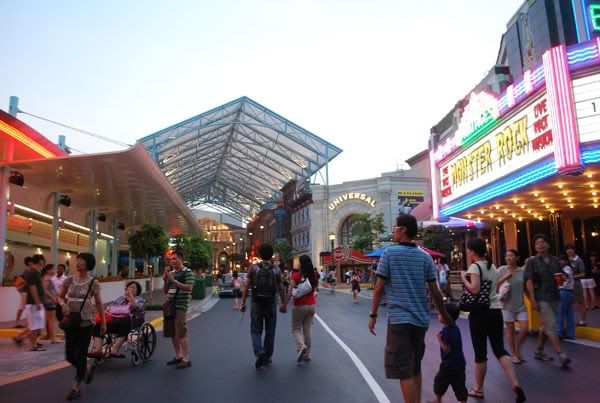 See the perfect combi of the round moon and weird tree.. Eerie feel..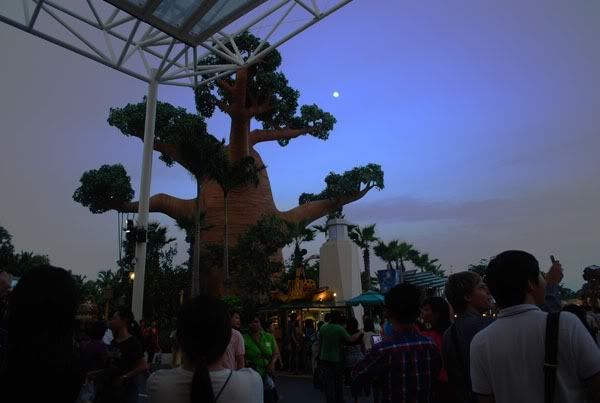 The Mel's Cafe we wanted to have our dinner!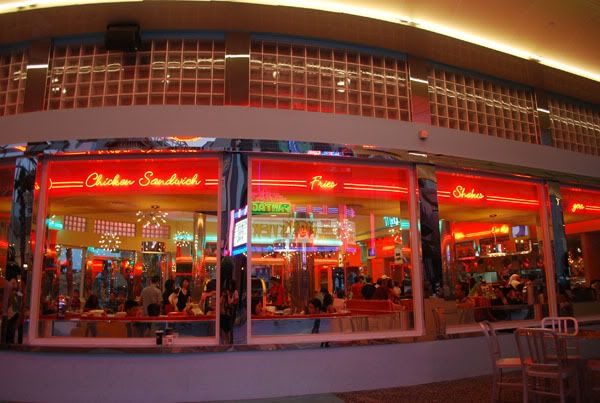 Posing with the Vintage Piece outside..
Minahrawkz..
After seeing that it's actually a fastfood restaurant, Bei & I were disappointed cos we wanted to treat the two a better meal to celebrate their (Belated for Ayu) Birthday..
So we searched and settled down with Pizza..
When Bei, YW & I went to check out what meat they use for Pepporoni and Hawaiian, this helping auntie waitress come to our "rescue".
In chinese..
YW: What meat is this? (pointing to Pepperoni Pizza)
Auntie: This one don't have meat, only tomato and cheese.
YW: This red thing is what meat?
Auntie: This is tomato (pointing to Pepperoni) and cheese only.
-.-"
YW gave up and asked the "chef" instead. Turned out, both Pepperoni and Hawaiian uses Pork. So we orderd Tandoori Chicken.
They ran out of salad and gave us a "plate of soup". (Which I think was diluted Pasta Tomato Sauce!!!!)
A restaurant that destorys USS image to the tourists I think.
Happier Girls which nicer Restaurant..
Presenting USS Logo to you =)
The pizza is so HUGE!!!
Not big enough? Let me prove to you!
.
.
.
.
.
.
.
.
.
.
.
.
.
.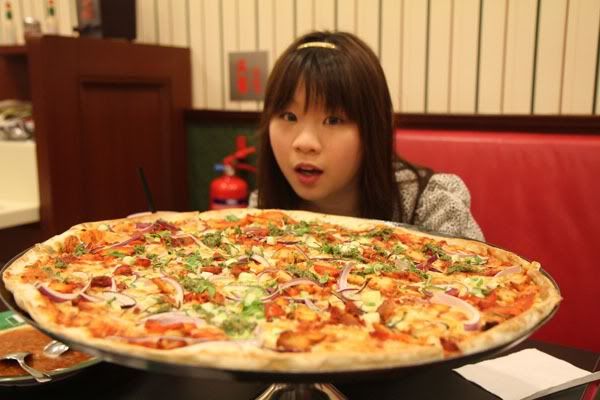 So Shocked so shocked! Haha..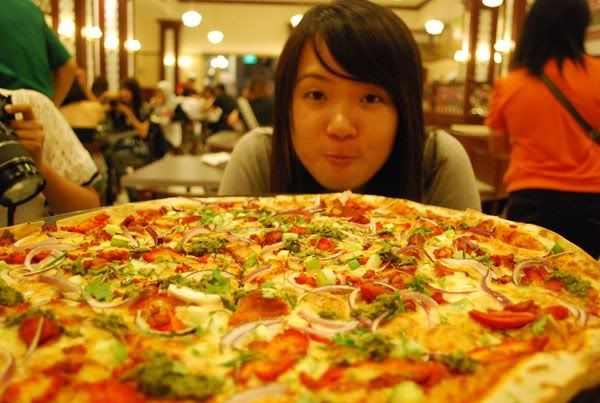 There is this uncle Waiter whom I think that job scope is very easy. His job is to walk around the Restaurant taking group photos for the patrons and surprising them with grated cheese bottles. -.-"
Still doesn't come out nice after much practices =(
Nom Nom Nom Nom Nom Nom Nom Nom Nom Nom Nom Nom Nom Nom Nom Nom...
After dinner, return to the street..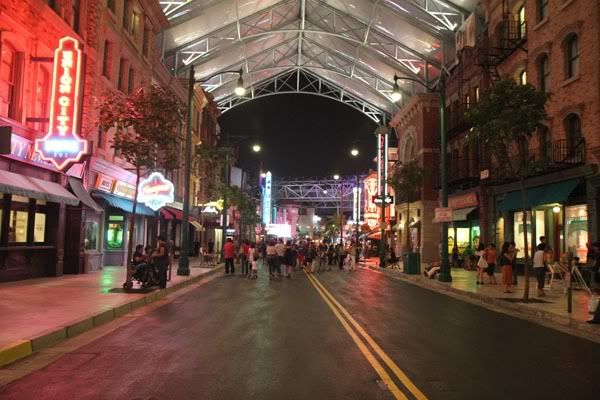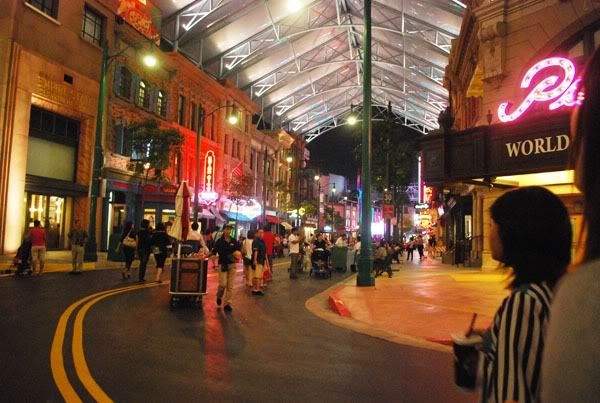 The "Suborndinate Court" look alike..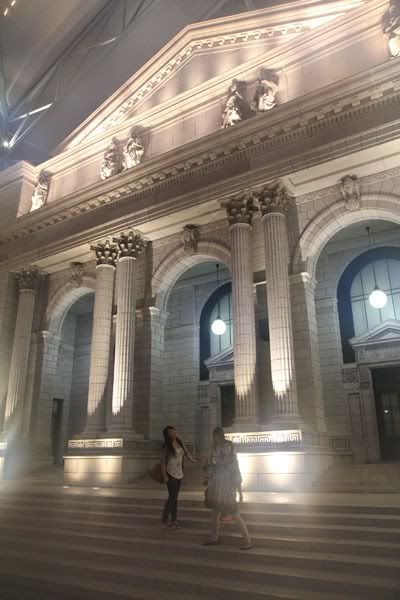 After 2 photos, Beilin start to Complain!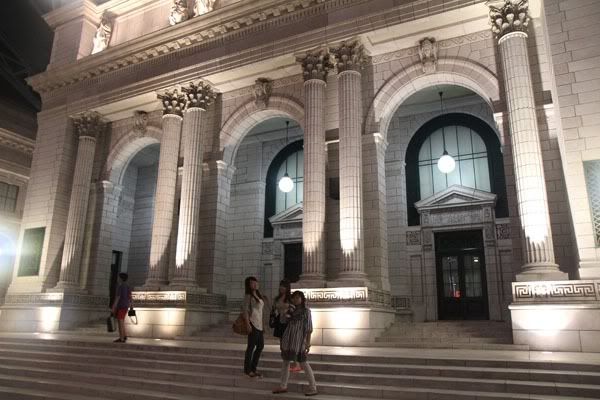 "So small how to see who we are?"
She forgot to realize if our heads are big enough, we can't see the background. =P
"Ya right!" Leo says..
Some shots with decent head size. =p
YW wanna be model and make her own portfolio..
So Act..
Pretty Women..
Scary Woman!!
Leo & us..
Regretted forgetting to pose with the Taxi!!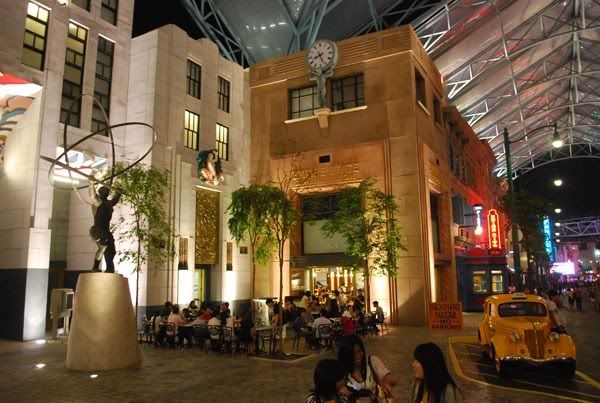 Back on the street..
We walked down the street why is there Pharmacy there and failed to realise that those shops are fake!
And I helped to fix the road too! =P Fat I know!
I was too embarrassed to pose nicely cos 2 stranger girls were staring at me!
Traveling down the alley..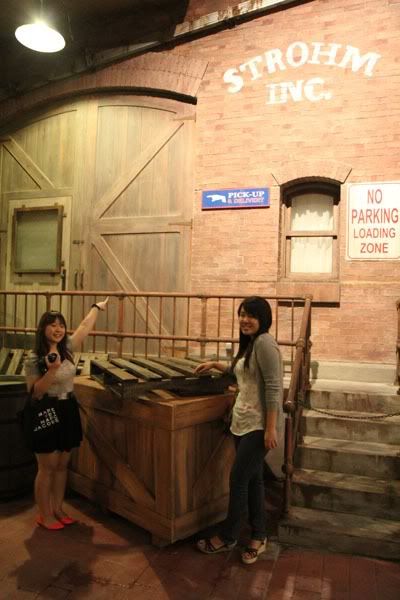 YW says this photo seems like it's telling a story, sad one that is.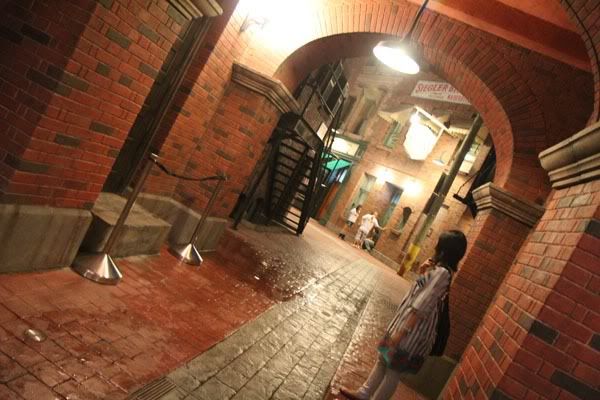 The EPIC one..
I posed ridiculously till so tired and tried to rest and they took this half past six one. -.-"
Nice and eerie place..
Eerie cos while we were walking in, recordings of "Alarm ringing", "Baby Crying"" and "Morning Preparation" were played. So scary lah the cries =S
Took a few photos without tripod. Nice okay!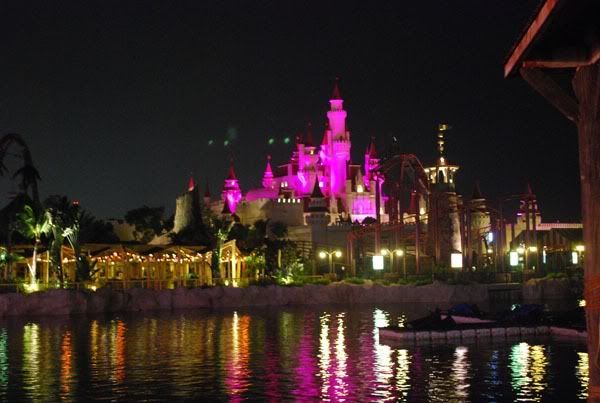 From YW..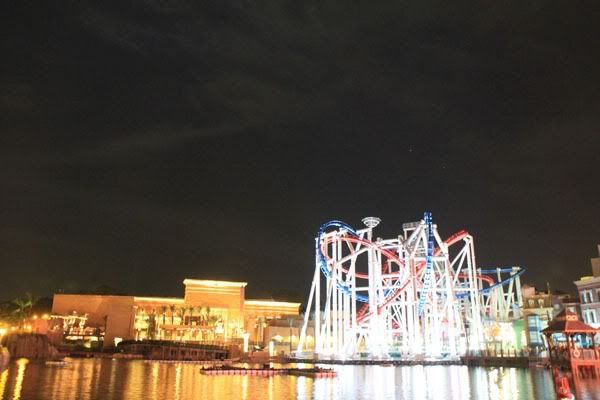 They posed for this while I'm still shooting the castle and I missed it =(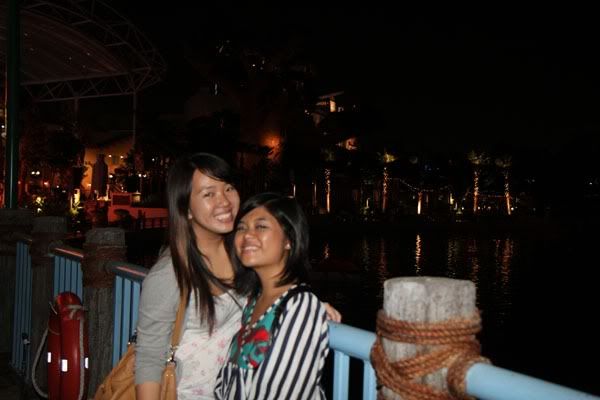 Wanna see my unglam face when shooting?
.
.
.
.
.
.
.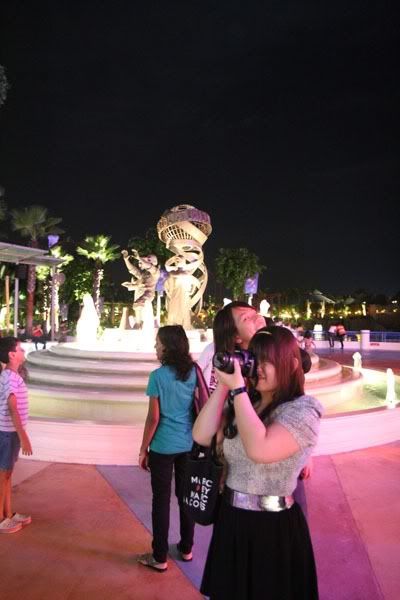 Hahaz.. UNGLAM right! Fat and frowny..
Some bummer blocking the view..
Ya, that's you Bei..
Testing shot for YW to adjust the tripod and I like it!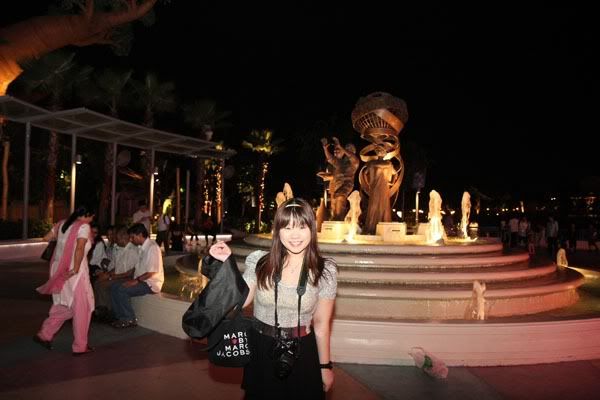 The first photo by the Tripod!
Picture perfect right? She should bring it out more often!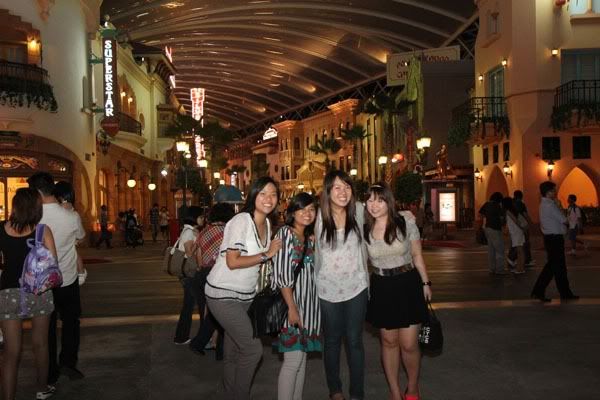 I love group photos!!
Shiny hairs..
Look at the scary hanging puppet on the tree.! Scare the hell outta me when I saw it there!!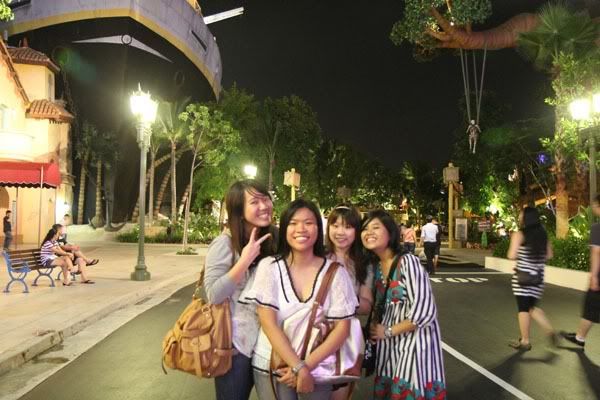 In turn, we always sacre YW with this!!
Love us la! Hahaz..
MADAGASCAR!!!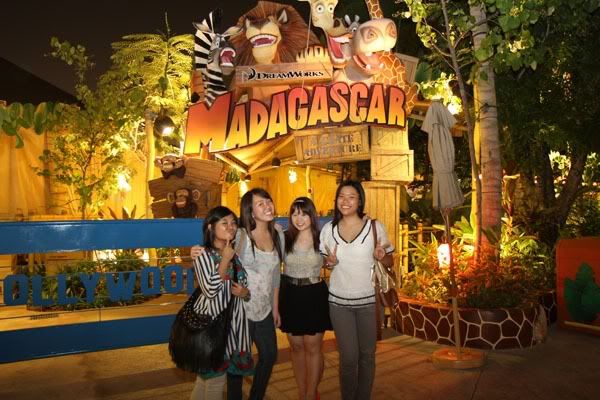 We waited for a bunch of Chinese who are hogging the place, so when it's our turn must make use of it to take more!
We tried to imitate the "Roar" look but greedy so second shot!
I wanna sabo Beilin to be the only one doing the roar but Ayu obviously missed the moment to smile for the camera.. Haha..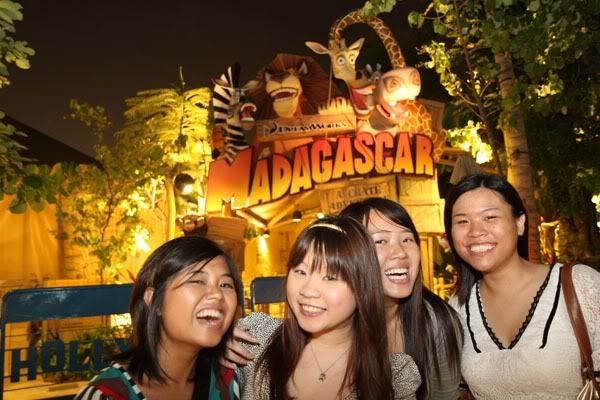 So bored while waiting for YW to adjust her Camera to the right angle.. Hehez..
Behind the scene shot..
Damn pretty hor!
Gloria's stall..
Rushing for 9+pm to see fireworks and wanna do last minute shopping so we hurried with the photo taking session..
The camera crew..
Went to buy stupid stuff to prove that we've been to USS! Hahaz..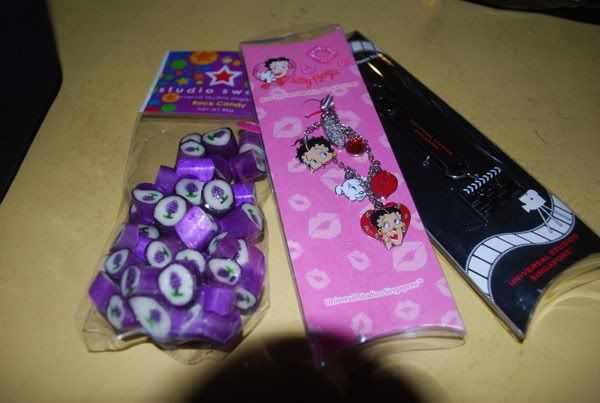 Run here and there.. Bei & I wanted to buy cakes for them so we lured them to find seats for the fireworks while we literally run for the cakes and drink!
Bei say don't expose where we buy the cake so I'm not telling you! Wahahaha.. Secret..
Rushing to see the show..
The girls really like their cakes.. I think they are damn nice too!
Only minutes before we buy the cake, we know that YW like Shreks cos she bought a "S" pen.
So this cute Shrek Babies are for her..
Colourful layered cake to match her bubbly personality!
I can't help it but they are too nice so I...
A few pathetic photos I got from my dummy Camera..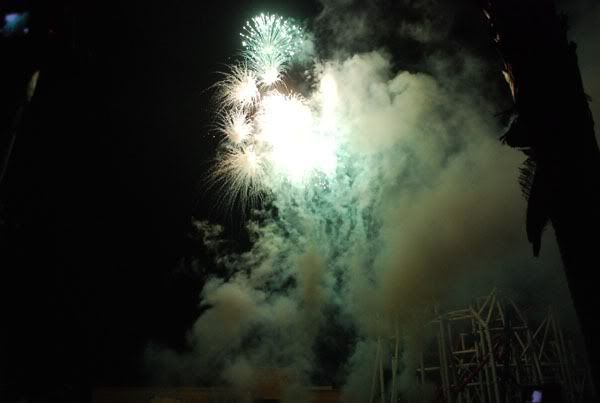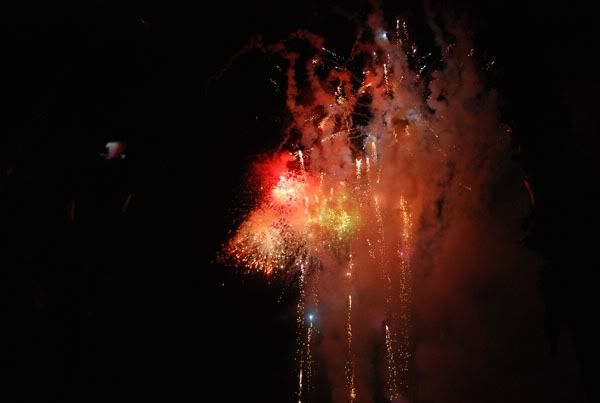 Spectacular full 5 minutes of sparks!!
Video of the fireworks from YW's "HD" cam..
So happy with it and we reluactanly head back to the entrance/exit..
I asked for this photo to be taken!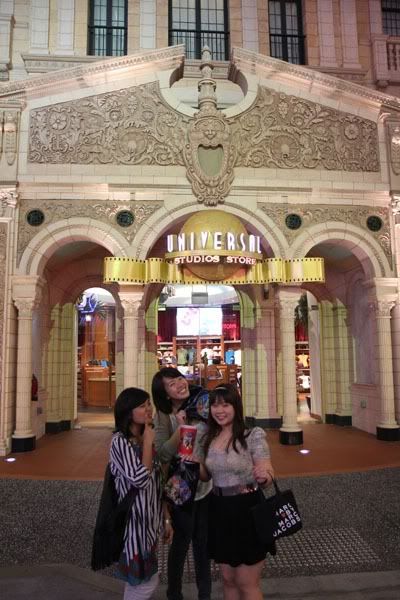 Love their shop!
The Shrek themed shop that YW missed! To think that she visited USS for the 2nd time!!
Goodbye Hollywood!!!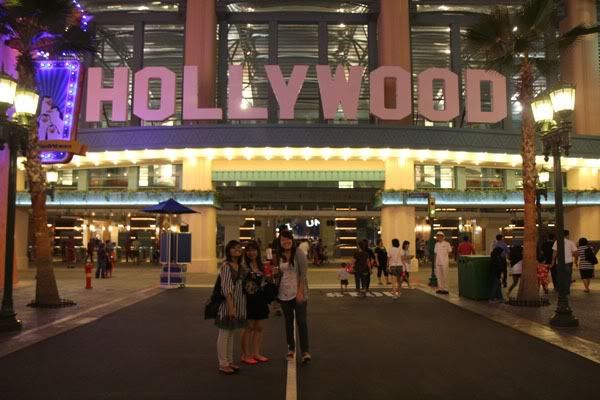 But there's still Night USS Globe for us! Hehe..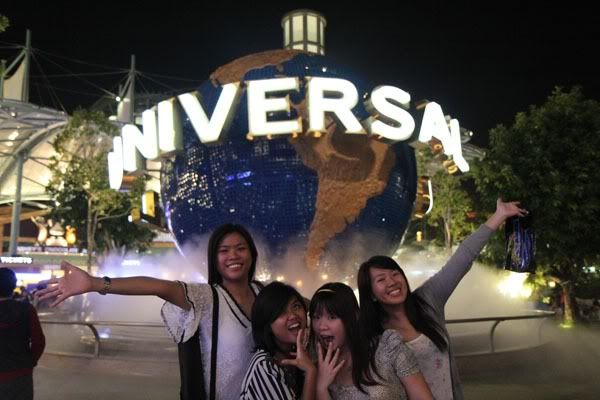 Perfect Wordings even using Tripod! We very professional right!
Forced YW to help me take this shot for the huge comparison btw closing and opening. Hehe..
The crew taking some commercial shot I guess!
Wanna be part of them too.. Hahaz..
GOODBYE RESORT WORLD!!
Hope I will have the determination to blog about 304 JB Adventure! Wahaha..
Nights!
MUACKZ..
Love my friends =)