* Belated Beilin's Birthday Post *
Heyo! I know some people must be complaining about the lack of posts and is pissed that her photos are not up yet..
SO HERE I AM!!
On 23rd June (Ya, more than a mth ago), Bei, YW, Sarah, Ayuni & I went to Holland V (YW fetch Ayu, Bei & I from Bedok) for Dinner!
On the way, Birthday girl..
After finally reaching..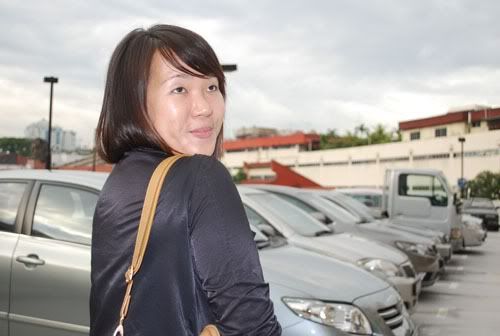 Admiring the car park filled with..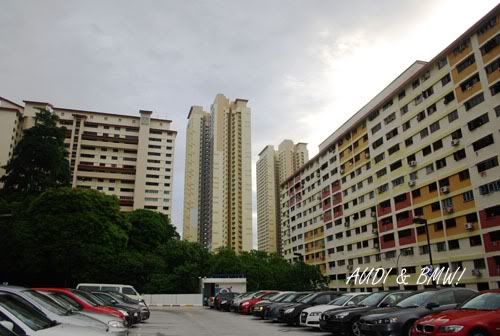 Wanted to take a nice photo of them traveling down the stair but only YW interested to hog the space in my shoots..
See.. (You will actually notice it in the next few posts ahead..)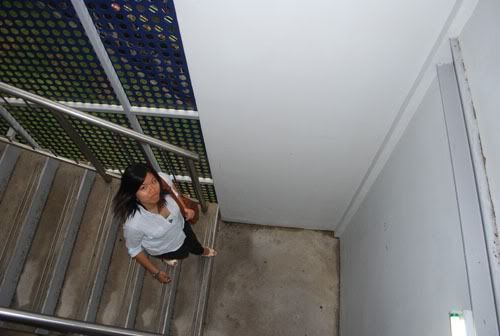 Initially, we wanted to have Dim Sum buffet but due to some reason, we didn't. So we decided to see see look look around what other alternatives are there for us.
In search for the destination while waiting for Sarah..
(Pardon for the poor edit)
I miss the WC days.. =(
We found a restaurant we "thought" was interesting.. But after veting through the menu, we lost interest..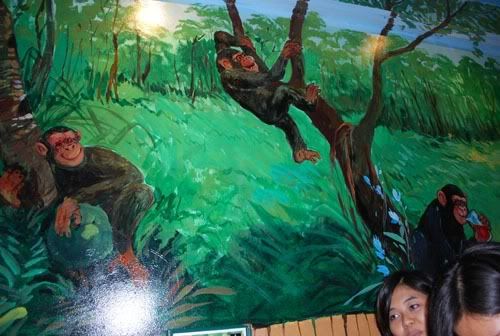 Look at us.. Not interested at all!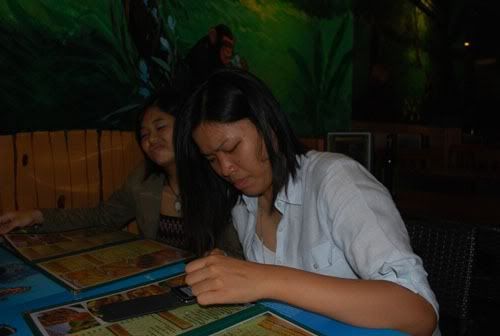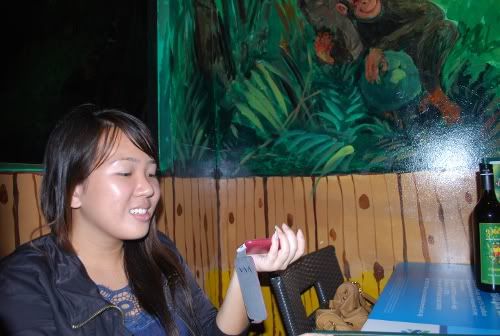 After NOT MUCH discussion, we stood up and left!!! Disgusted.. Hahaz..
Evening already..
In the end, we settle down with NYDC! Wahahaha, all the way to Holland V for it.. -.-"
At least we found peace..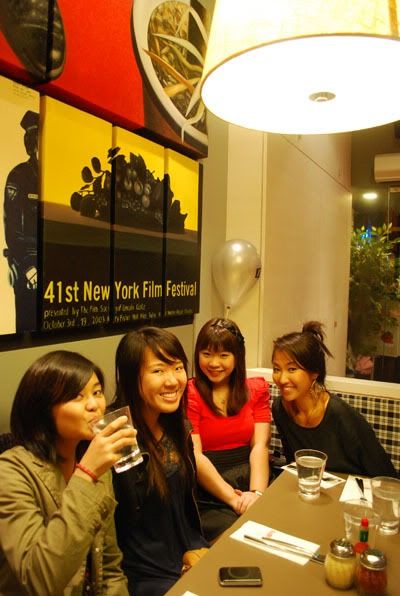 See, we are happy!!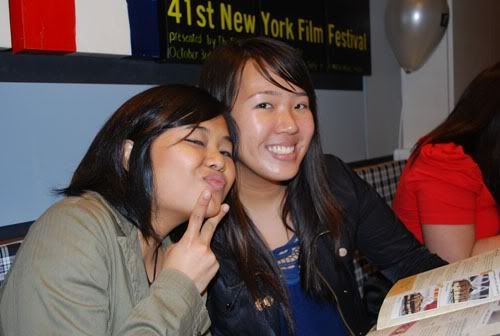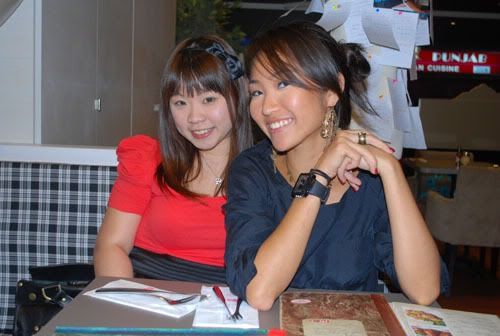 Foodies Arrived!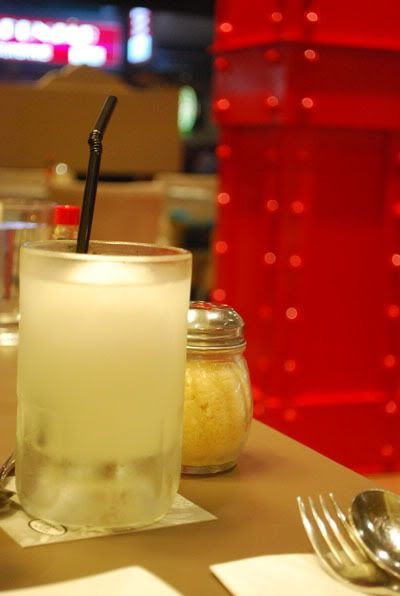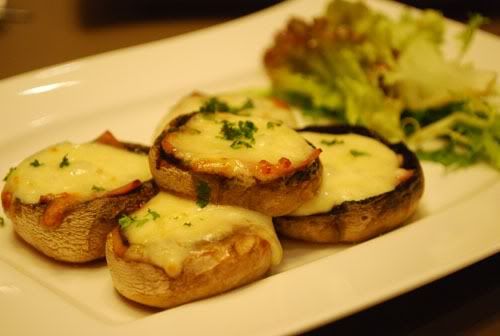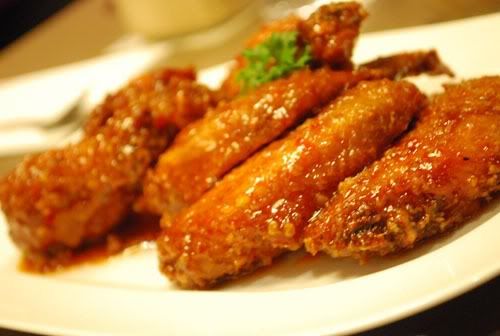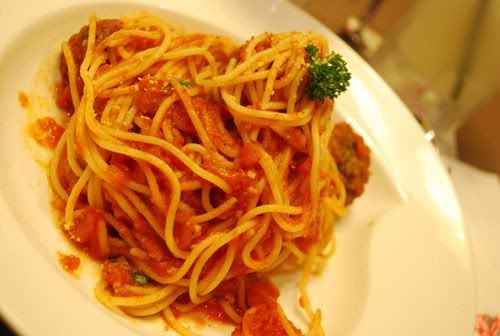 Although full from main courses, we wanna sing Birthday song with a yummy mudpie!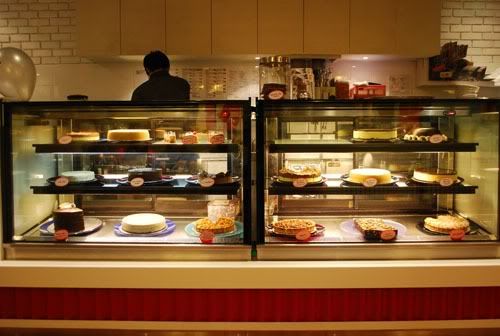 Tadah!
Bei trying damn hard to get picture perfect..
1..
Trying to comb with bare hands..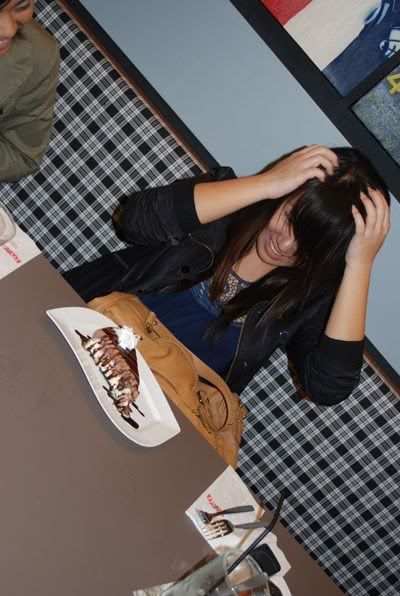 2..
Getting help from reflection of my phone..
3..
Picture Perfect!
Finally! Our turn!!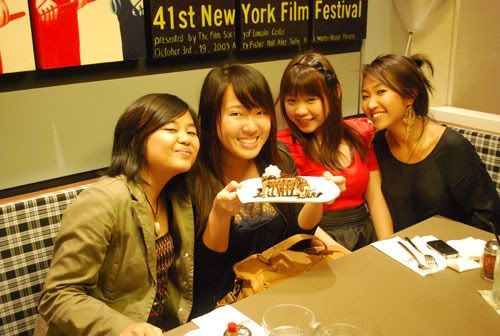 Everyone satisfied!
I think we were discussing about traveling together.. But due to our busy schedule. It's gonna be "306 Vacation 2011!!!"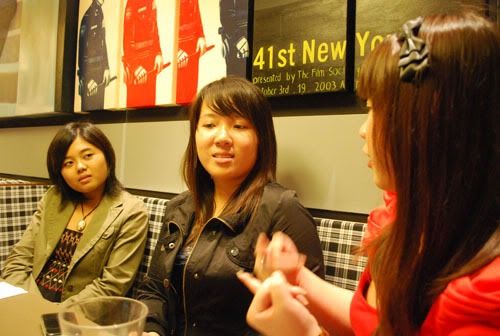 Yan Wan : Can't travel till found a job
Ayuni : Busy with work and school
Sarah : The other side of the globe all the time
Wei Lun : Overseas studies
Beilin: Available during sch holidays only
Cherie : I'm okay with anything anytime!!!
We were quite shocked that YW will be feminine enough to possess red nails! So here she is with her proud nails and "cute" pose!
and proud of her dog tag too!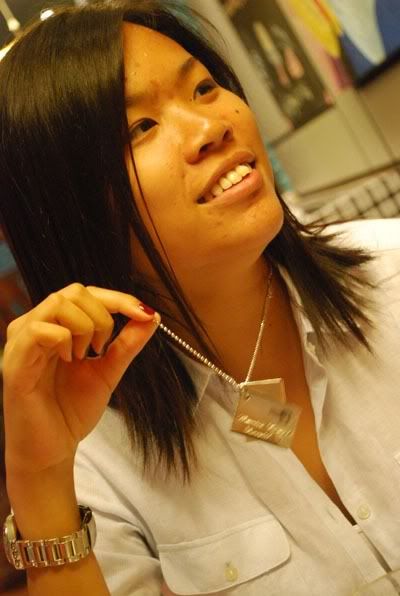 Ended the dinner at 10+pm and the start of WC match! Slovenia vs England!
Outside NYDC is a pub showing WC using big projector screen! YW & I were so excited..
On the way to the carpark, we heard "Goal!!" at the nearby coffeeshop so we RAN down the steep slope risking our lives on the road to catch the replay.. A 30+ yrs old guy was amused by us and said, "Wa, so exciting ah.. I also want to see!"
Wahahahahahaha...
Upcoming post~: USS & JB trip with the girls!