* Christmas & KL Day 2 * Part 1
Before leaving S'pore, I stupidly thought that I could earn money from changing the cheap cheap US dollars so I ended up with 3 currency in my wallet till now. Dunno when I have the RM200 in my wallet de. Hahaz..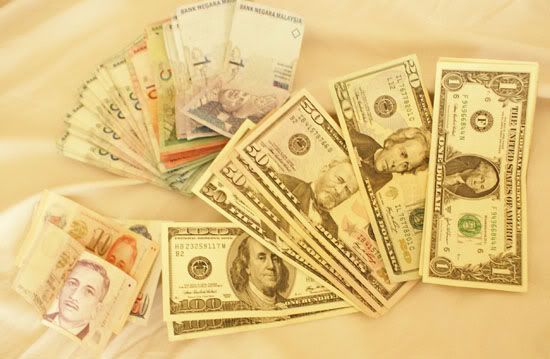 It's the usual cam-whoring session before the outing and I woke up at 12pm lo. Wasted the morning hours. Hahaz..
Colin complained my make up was too exaggerating because of my eyeliner.
After looking at the mirror I also damn shocked! So I quickly wipe away them retake the photo. Wahahahaha..
Whoring..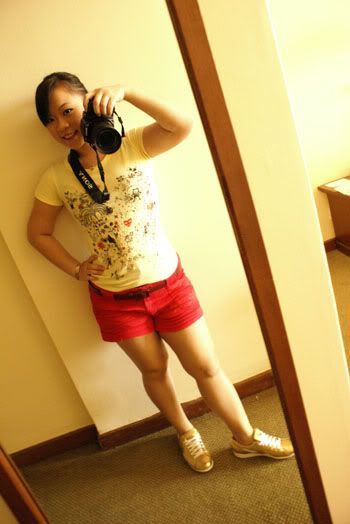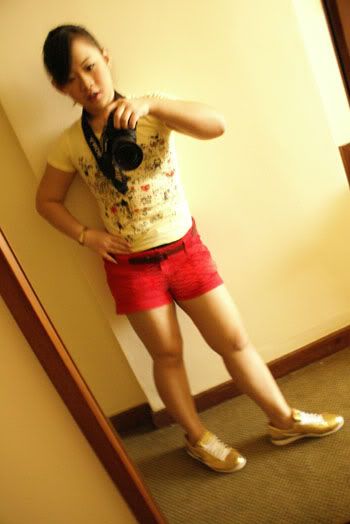 Must make use of the natural lighting again =)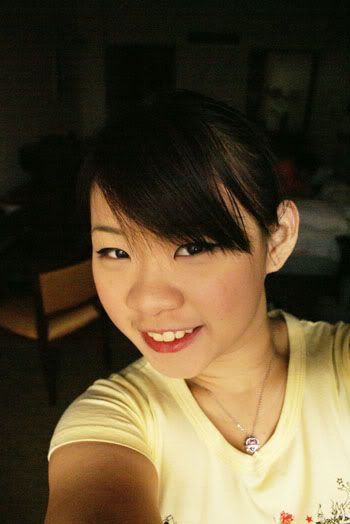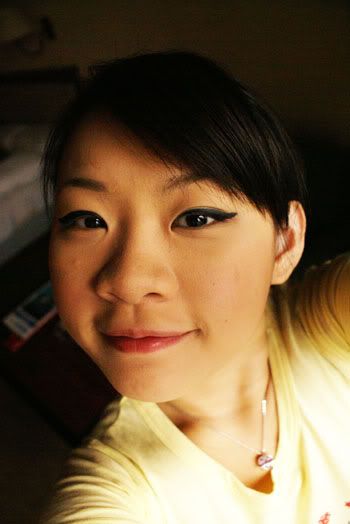 I swear I never edit these act model photos lo..
Act cute..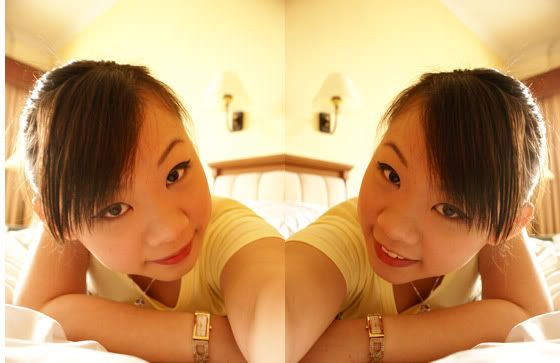 Went up to top floor to check out the swimming pool..
Didn't have the chance to try out cos no swimming costumes =( I wanna buy!!
Went out for lunch and surprised to find a perfect coffeeshop to try out local food!
But due to some idiotic MacBook cocked up incident, I deleted the Bak Gu Teh and Cha Siew Chinken Rice (ya, that guy ate the same food for two meal!) so only left photos for the shop. But the nice old retro tiles photo also gone!
But food will be up on 3rd day too! Hehez..
My Fav other than VW =)
Nice reflection from mirror-like marble pillar.
Sucky reflection when taking with Colin. Hehez..
On the cab to Berjaya Times Square. I think we spent RM 100++ just on cab lo. At least 4 cab trips a day.
While I was ransacking for my specs in the bag, I realised that I've forgotten to bring it!! Duber sadness cos I'm gonna be blind for the day.
In case you did't know, Times Square has the Malaysia's largest Theme Park with 7-storey High Roller Coaster!!
The Theme Park Map..
The supersonic roller coaster!!
Tracks floating above shopping malls.
Never in my life I think I will ever try roller coaster other than the not so dangerous, not 180 degree turn indoor RC I tried in Genting when I'm in primary school.
So Colin asked me what will be a good enough reason for me to try it out.
I said "If I know I am going to die tomorrow."
Hahaz..
Kids area.
Finally getting the tickets after "examined" the park.
Consider cheap for a theme park right? Entrance tix exclude Haunted House, not interested in that anyway. Hahaz..
Anyway, we only tried two of the games which only kids are interested in and already freaked me out!!
Yeah! I'm taller than 4''6 so I can play most of the games!
Although just finished the Bak Gu Teh, I still feel like having some dessert like Ice Cream!!
They serve big ice cream here in Cosmo =)
Choo Choo tracks..
''STOP!!"
Twist ball machine (Anyhow name it 5secs ago)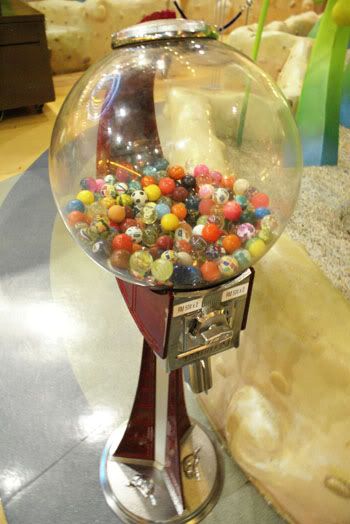 Have to wear his "doesn't fit at all" specs around the park..
Hehe, love this photo, look so small and innocent =)
This one too!
Impossible to bring the bag, specs and camera for the rides, so have to find a lucky number locker to safekeep them! Found a locker that is same as my unit no.! 03-168, it is also on the 3rd floor!
Scary enough to scare me off..
So here are the two that we tried..
3times for this.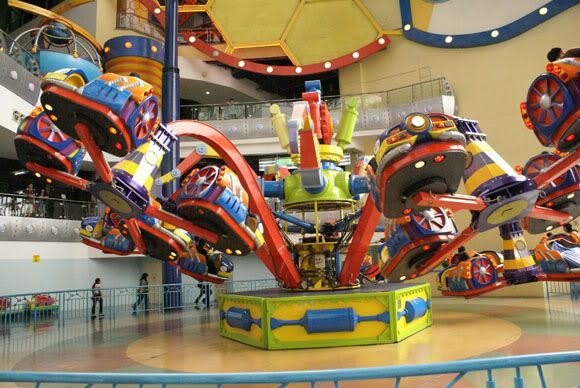 It looks totally harmless! But I screamed and freaked out on it and that explain my excitement tolerence in theme park. Don't ever date me there okay? =)
Twice on this.
It seems harmless too! But the spins got faster and faster and faster and we are being thrown to the far left of the seats and my neck hurt for 2 days! -.-"
And their RM3 waffles are damn nice with 2 toppings! Mine was peanut butter and chocolate! Fattening but NICE!!
This photo shows that we arew done with the rides and walking around for photo taking. Hahaz..
Isn't this seahorse oh my godly cute? I want one although it would be growing mushroom in my room! =(
So I tried the game but damn cheater loh..
I got 24 =(
No prize at all lo. At least medium to get the smaller seahorse! And I saw it on someone's luggage at the bus terminal when we are going home!
Giantic kangeroo..
Mascot, got the real mascot during my queueing for the ride but I got no camera with me =( I was thinking of hugging it for a nice photo.
We sat on the Choo Choo Train..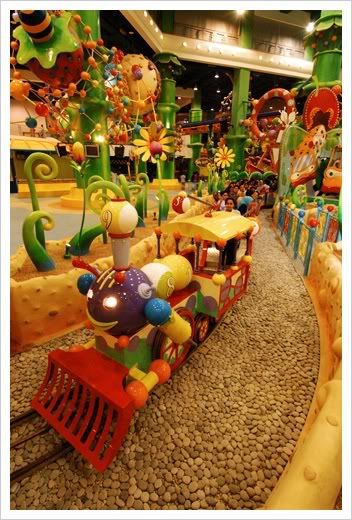 With the UV lights, my pretty shoe =)
Finally remember to take the hearty bench in the park =)
That marks the end of the Theme Park experience!
SHOPPING!!
I believe that about 10% of the shops there are selling this!
I saw a cute coin purse selling at RM29. Thought it was expensive so never buy! But now I'm damn regret!!!!!!!!!!!!!!!!!!!!!!
Sobz.. Cos fake de RM29 thought buy le also no use ma. Sobz..
First shop.. Hehez.. Take secretly de that's why not nice =(
This is better =)
Right angle for a secret photo. Hahaz.
Saw this outside the toy shop!!
Merry Christmas!
There should be a photo of a alien kept in a bird cage outside a cosplay shop damn eerie de. But I think deleted le. Sobz..
My bro's favourite Bear Brick!
Hunted for the day!
Went to the convenience shop and this fridge freak me out with the sudden hand. Hahaz.. Stupid!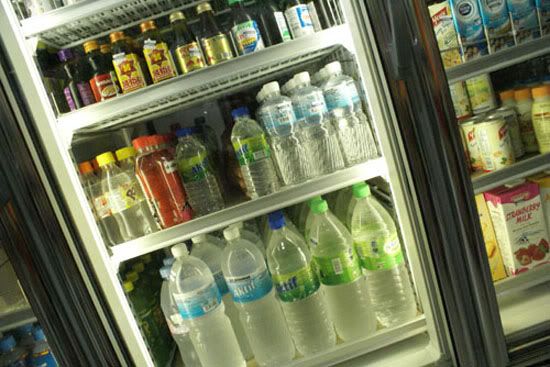 I wanted to try their monorail so pursuaed him to take with me a few stops den cabbed to KLCC! =) I spent the whole of 2 days to find a perfect shoe to buy for my brother. Missed out nice one at KLCC and Pavillion so went back KLCC to find again! Hahaz..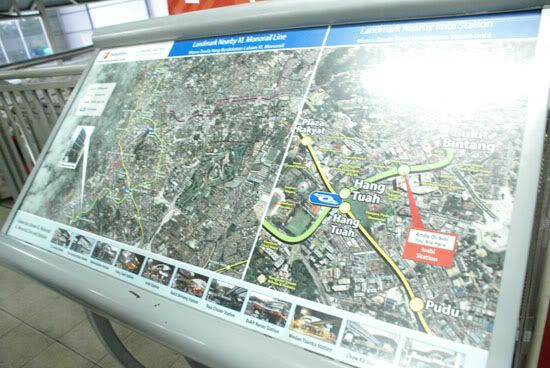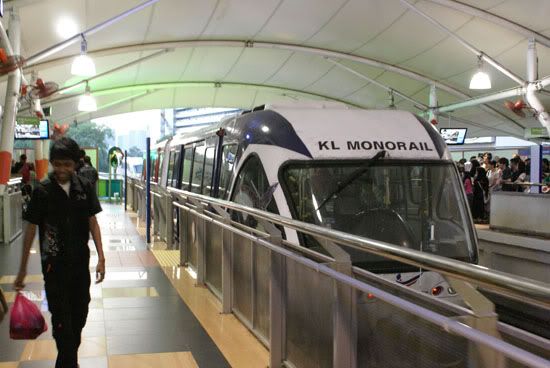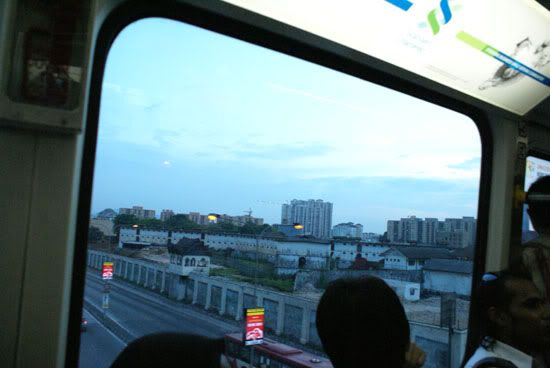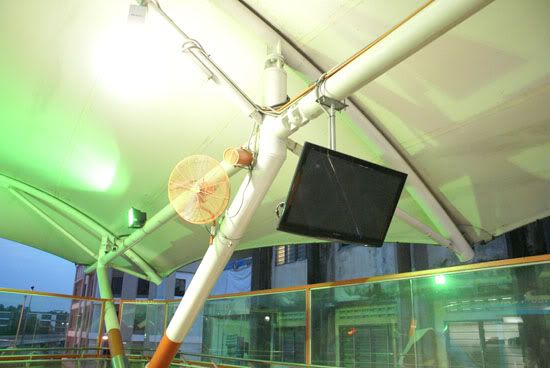 After we reached KLCC, Colin first attempt to call back home. Anyway, he tried few times for 2 days also no one picked up. Hahaz.
The shoe that Size 9 went out of stock for 2 places!!
So I got the black one instead..
Chinatown!!
This looks like the S'pore Chinatown.
We got Toni & Guy, they have..
We walked through the Pasar Malam that sells mostly imitated goods for less than 10mins and we decided to leave the place. Colin eye witnessed a pickpocket just in front of him!!
So went out of the street to eat dinner =)
Claypot rice!!!
Very nice sia!
Still salivating now.. I am hungry!!
The oh so spicy stingyray..
Yum Yum till we finished the whole thing!
Even 7-11 also got imitation! Hahaz..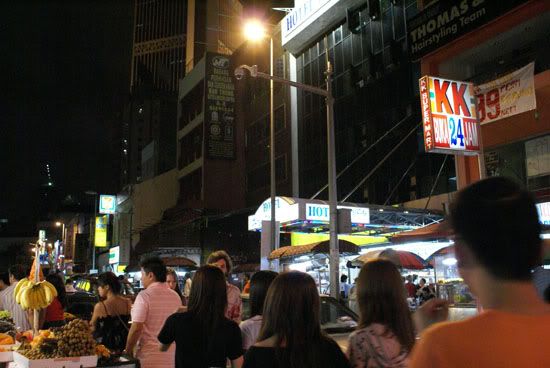 All their 7-11 like have free rental like that! All duper big, with space for dustbin somemore!!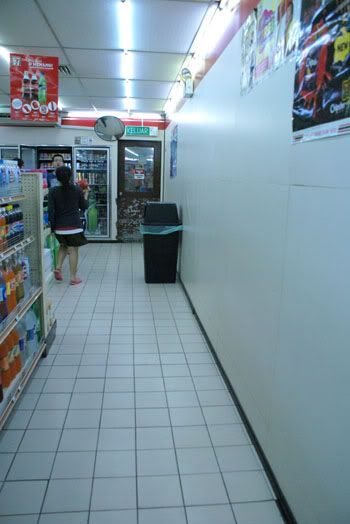 Hunted for the day!!
Stuff for my sweetest bro =)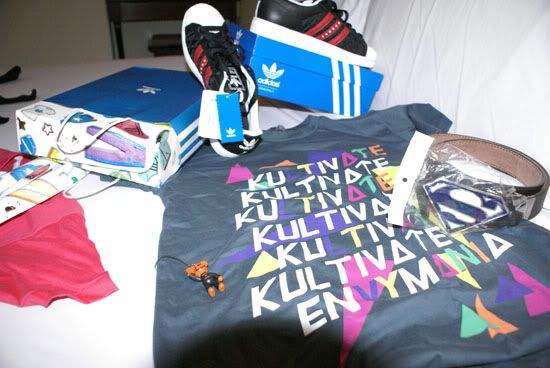 The nice nice night scenery that Colin uses life to take! =p
Nighty KL!!
Till then, last day of KL!
P.S: I spent the whole day writing this! Include my lunch, dinner and nap time =)