Baby! I finally post this up!
Last last Sat 28 November, BF and I went to our exotic S'pore Island's Pulau Ubin!
Although you people may think that it's a boring place but to us it's a whole new experience cos it's the first time we have some outdoor activity other than the bicycle ride at ECP long ago. =)
PS. Yest was our 5th Monthsary=)7th Dec, I used 2 days to blog.
Let's start with the new "pier". After Nasi Lemak we went to take our "boat".
And the bridge that I used to fancy in Secondary school still remains.
You only need to pay $2.50 per trip to get "OVERseas"! Why not?!
First photo with our face. Finally took a photo tgt with our geek short sighted specs.
Scenery on the way.
FINALLY! After maybe 10min? we arrived at the Island Ubin!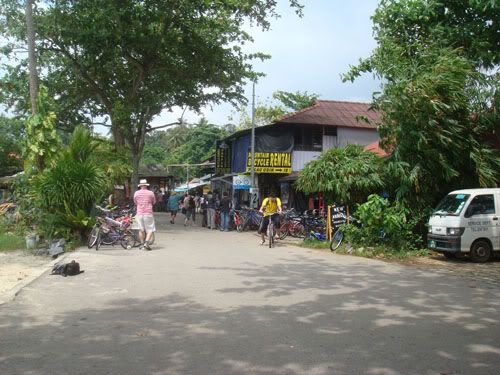 Welcome!
Sorry NG!
"WELCOME TO PULAU UBIN!"
Into the island..
Minimal upgrading..
Childcare centre style art work.
The stage that look like my primary school first classroom but I couldn't found the photo online. =(
First thing first!! Rent bicycle. As usual, we rented the double cycle as I'm noob in cycling but I guess even if I can ride I won't wanna risk my life cycling in Ubin. Later you'll see why. And it's impossible to explore the whole island without a bike!
Our bicycle rental shop!
This is our ride for the day.
Before we go off, although we have different faith, we still went to the "Da Po Gong" there pray abit for safety since we are stepping into others' territory.
Off we go!!
Happy BF!
Let's start to explore the island with our mini ride..
Cookie Monster.. Dunno why so big! Haha..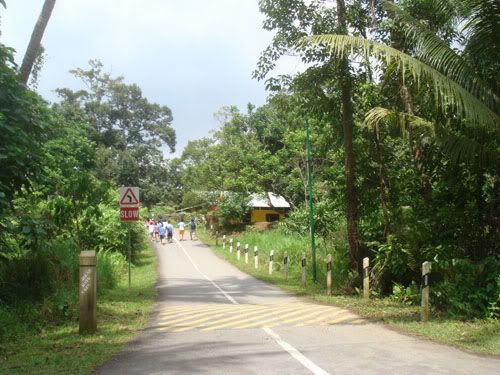 Starting to get tiring but tired still have to snap =)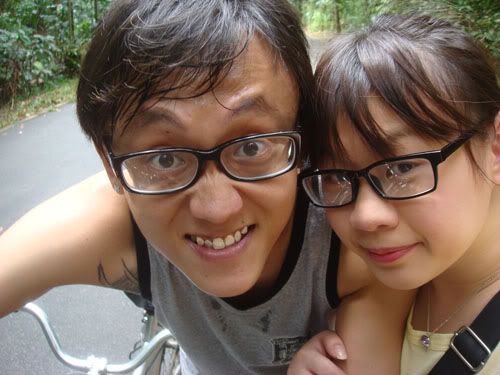 Oh ya! I'm damn stupid, I dunno what to wear so I wore my flats and spoil it! =(
Because the roads are like this!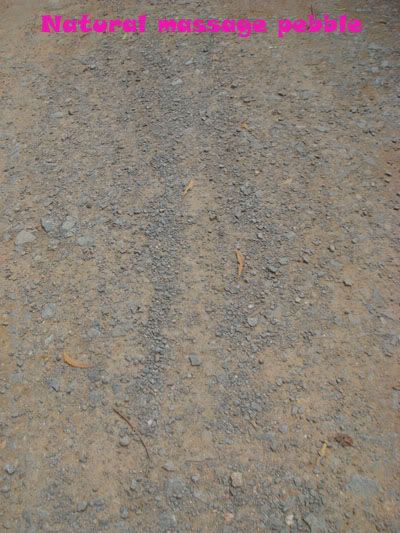 Getting deeper into the nature..
Scenes you will never see in the city!
We came to this, let's called it a "lake".
We were not suppposed to cross over BUT sone fking chinese from another country went to tear down and damage the fence! Damn bad behaviour! Spoiling our environment!
After much riding, we stop at the steep slope and walk up to explore more.
At the top of the slope, we saw the first animal on the island!
WILD BOAR!!!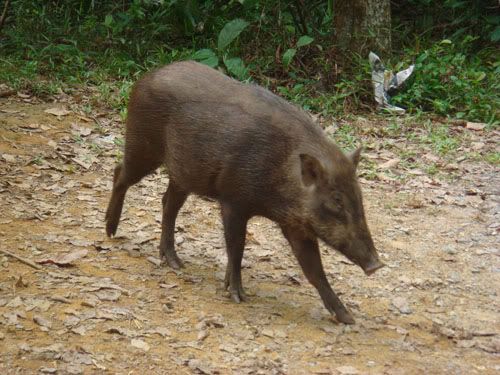 So exciting cos it's my first time so near an animal, even stray dogs also not so near.
A caucasian fed it an apple and the islander said that it might be its first attempt to eat an apple! =)
We have to park our bicycle aside before we can explore the inner part of the island and go to the viewing tower.
Tall and huge trees everywhere!
Rocky road again and the ground is wet and slippery after the rains few days in a row and it remians me of something.
Wahahaha..
Scary well, no one knows how deep it is. Ewww....
LET'S GET TO THE TOP OF THE WOR.. I mean PULAU UBIN!!!
I think it is about 6 storeys high or higher cos it looks damn scary!
Walking down towards the tower.
View from the top..
Take a photo with the typical tourist's pose..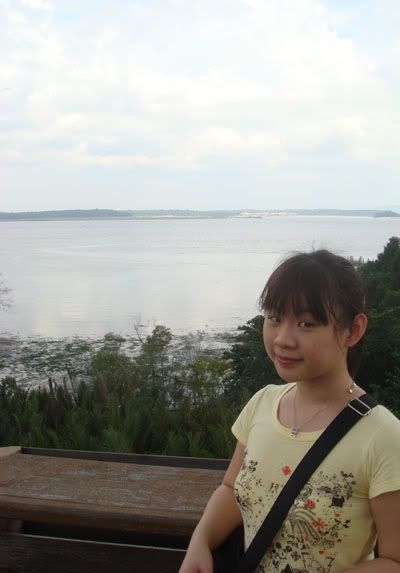 Don't forget to make monkey faces!
Maybe our face scared the sky thus it starting crying seconds later.. =(
We try to hide under the shelter halfway through the stairs and started to turn unglam...
We tried to use his towel as a smaller shelter in the end he decided to make it his head gear.. Hahaz..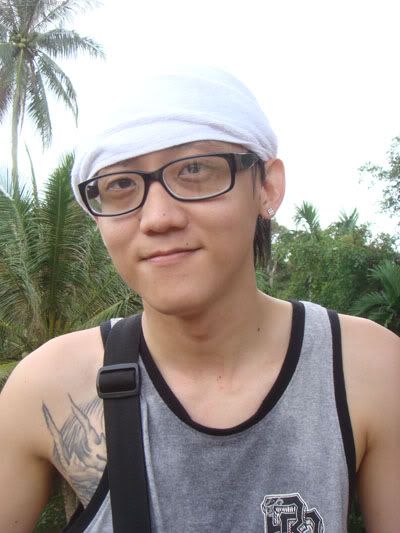 Here's the real tak glam one. Dunno what got into me to post this to let you gys see =(
Following is a series of scenes from the mother nature!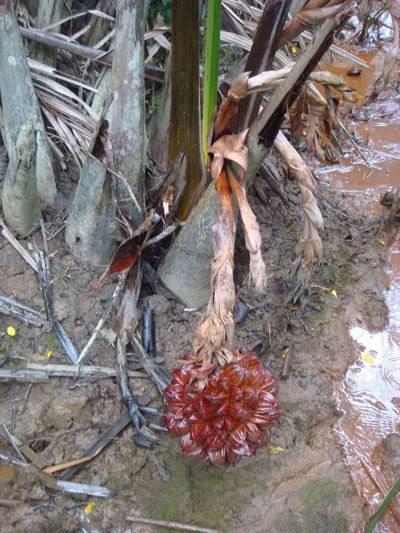 Mudskipper!
Some crabbies..
Seems eerie..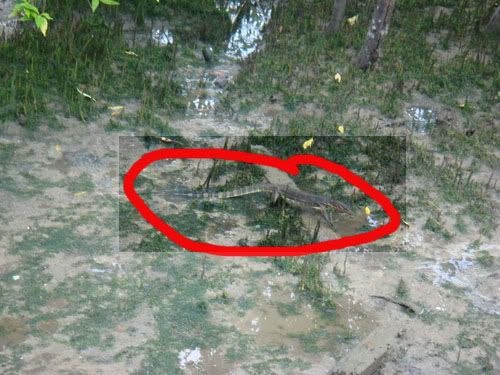 BF say this tree look like it came out from "Lord Of The Rings". I never watch so I can't judge.
After alot of searching, I'm not sure whether is it this one.
Is it? Please Advise. =)
Little monkey, scare to go over. Got tramutized by monkeys at Sentosa before. Ewww..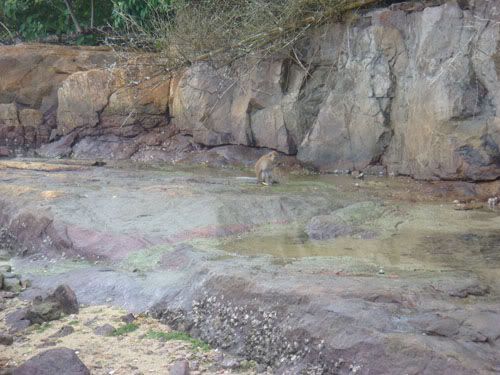 We came over to this nice viewing place to face the sea and what's more important, we can cam whore here!!! =)
Fly me to the clouds...
BF laughed at my inability to jump higher. =(
So pissed that I decided to swallow the tree for him!!!
We walked back to take our bike and bought H2O to drink and we saw this on the waY..
Being the toilet queen, it's weird that I don't feel like going to toilet that day.
Reason 1:
Not only it looks dirty, it got no water.
Reason 2:
At the other side of the island, the toilet lights was operated by solar panel and I don't understand why it's damn dark in there.
Reason 3: I'll show you later =)
Big sunshine..
PS. BF haven call me today =( @ 9.50pm. US 7.50am.
Don't believe this signboard, it's just lead you to an ugly beach. No Orchid at all!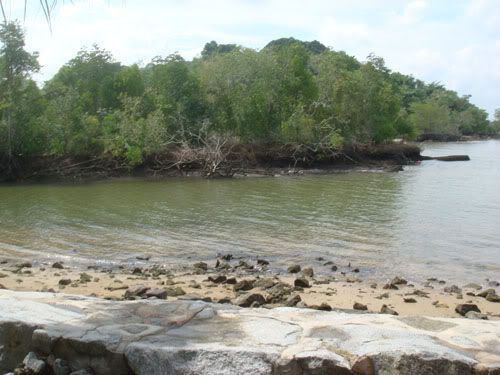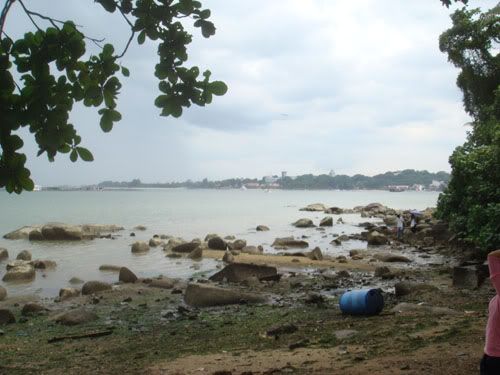 WanLin <3 WeiJie =)
Emo BF..
After that we ride off to the starting point for him to grad some coconut juice. I had coconut for the whole 3 days before the trip so not very excited plus not chilled. =(
We saw the Suria actor who acts in Police & Thief..
Hehe..
After resting for 20mins, we continue the island adventure..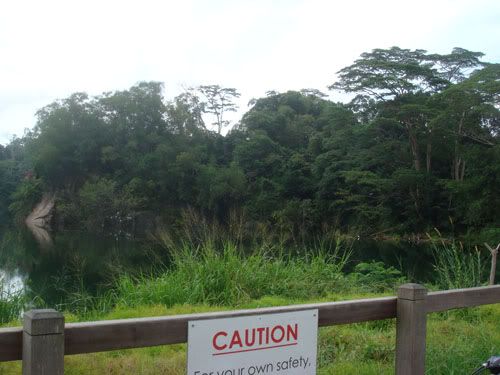 Tall Trees!
Ermmm.. I dun wanna spell out what this look like ok?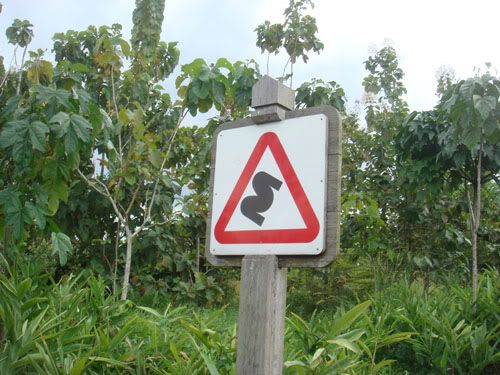 In the middle of the steep slope up the bicycle trek.
BF playing with the trek, I'll be a burden to him if he carry me along. Haha..
After rounds and rounds to find back the AH MA Drink Stall, we came here..
Reason 3 for not visiting their toiet:
Cos I'm fat and I dun wanna drop into the water!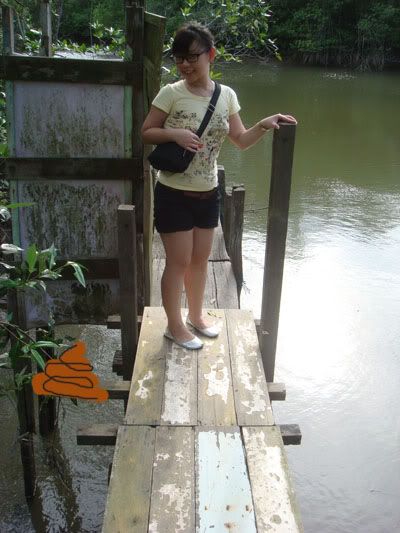 The kind of toilet that my mummy used to describe to me back in the days of her hometown, Pulau Tekong.
Do you dare to step in there? Just walking there alone is making my hairs stand.. -.-"
Dunno it's curse or what after this photo, my camera dead and the rest were taken by his IPhone..
Sky at the other side always looks better..
WE NEED DINNER!!!
Chose the seafood "Zhi Cha" near the entrance and quite pricey..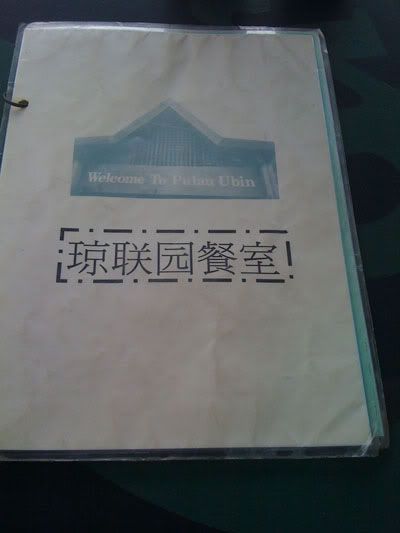 Christmasy Cola..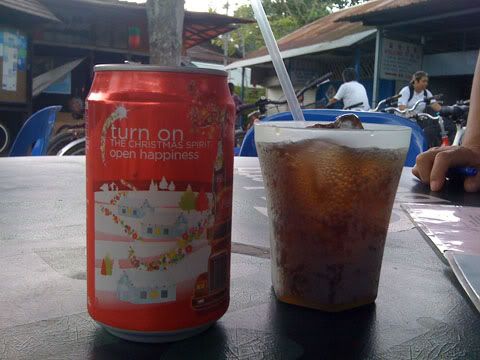 FOOD!!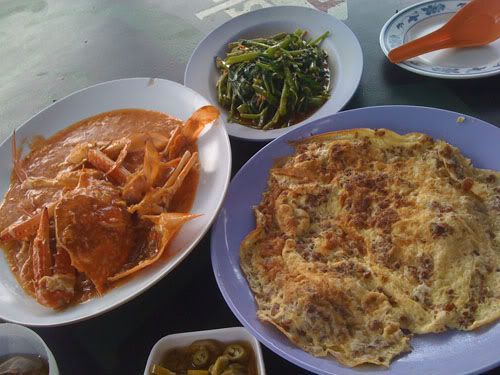 So hungrrrryyy...
The bill came out to..
So we when around to snap a few photos while waiting for the boat timing..
Mailbox for islanders to say hello to the city people!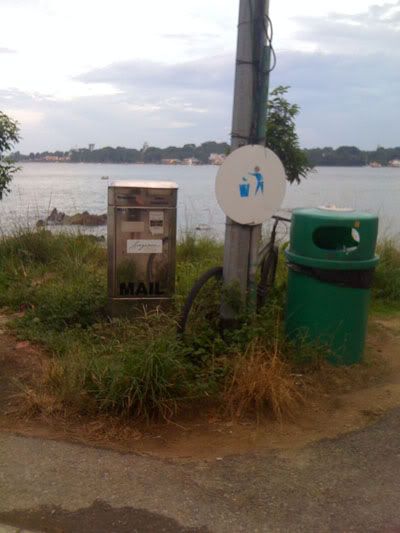 "Have a.."
Take 1..
NG!!!
Take 2!
Yupz.. We have had a great day!!
The following photo really look like the photo my daddy took in the 1970s. Wahahaha..
Bum Bum Bum board the boat..
We reached Changi again! After we changed, BF wanna pic pic again..
Dunno why BF like this photo so much that he put it as his wallpaper, I look ugly lo.
Night scene..
This marks the end of the post FINALLY!!