My Sec Sch Friend! Lystra!!
Monday finally met up with Lystra after soooooooo many months even though we live onli 12 blocks away.. Hehez.. So happy meeting up with so many friends!
Saturday meeting Dearie Anna after her papers and Daryl after which! =)
Anyway, I went to my brother's school to buy his textbooks and I told him I wanna withdraw money in case the bookshop dun haf nets.. But he say will have de lahz.. IN THE END! REALLY DUN HAVE!!!
So I walked about 5mins to the S'pore best Bank's ATM to withdraw money.. When I went back to the school, the ridiculous "caught" us.. He asked us what we were doing there and I told him we are going to buy textbooks.. He asked why didn't we wear uniforms!!! Hey, who in the hell know that buying books need to wear uniform?! Stupid school rules lo.. I mean if you want him to wear can la, but pls state in the booklist lo.. Den he asked wth I'm a student there, I told him I graduated (POLY) le and he thought I was 14!!! (I'm abit happy actually) Hahaz..
Afterwhich, we went lunch and I went to Lystra house and help her very little on her project paraphrasing.. I miss the times of doing project with 306 loh!! =D
Den we ate her mum's home cooked food! ( I love home cooked food!)
And I first time took a Polaroid!
I guess now I look at the pic abit regretted the one I chose.. Hahaz..
We went to Wdls Centre (custom there) to buy her Bananas at Sheng Siong, in the end, they were OOS!! So we bought fattening biscuits and walk around and after that we went to CWP..
I guess everything was fasted.. Lystra have a new Ripcurl wallet that she paid $40+ for and I really like the design and thought of secretly go buy a identical one and who knows! We found a nicer one at the push cart in CWP!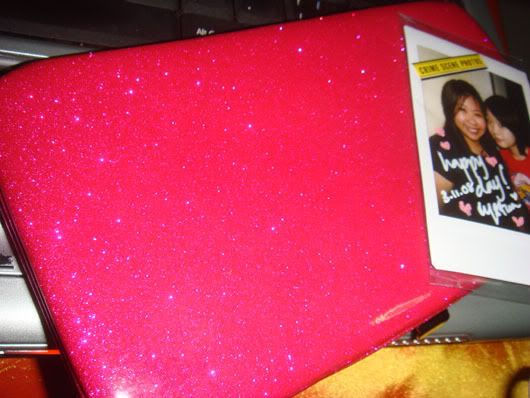 Michty Matchy with my glittery nails..
Isn't it adorable and bimbotic and barbie-dolly? I'm gonna use it for work den can look at it every lunch time..
My colleague who is 26 also think it's nice lo.. I thought she will find me childish and lian.. Hahaz.. Even the auntie who is talking to the uncle whom I bought a Minnie Mouse notebook from commented my wallet was cute!
Uncle: She say your wallet very cute!
Me: Thank you!!! =D =D =D
Den I also bought a super act cute lanyard at Mini Toons! =D
Love everything.. I still admire my wallet every now and then when I watch TV! Hahaz.. Super psychotic!
I'm going to update my organise cum diary le.. Byes.. =)
Misses all whom I love! =D