My Dearie of 3 Years! Anna!!!
Randomies:
4 coincidences that happened to me these few days..
1. Cousin HQ asked me wth I know this ger called V in HTM and said that she is his ex.
The next day, Lystra asked me wth I know V and said that they are in the same uni course.
2. Lystra got a pretty Ripcurl red wallet that I felt like secretly going to buy an identical one and on that day itself, I found a replica.
3. Kenneth told me about Banana diet and I went to find out about it.
The next day, I told Dad about it and he said that the newspaper of the day commented that Banana diet might not be feasible for losing weight.
4. Supposed to meet Daryl last night after Dearie and last minute he got bball training, so I went back home.
Daryl called me at night and said he was in CWP, and that was exactly the same time I reached Woodlands!
Tell me about it man! Hahaz.. =D
Saw a sweet thing my unromantic Dad did this morning at 3+am.. I saw him making milo and thought he was hungry.. So I asked him, in the end, that milo was for my hungry Mum who is in the mid of her beauty sleep.. Hehez.. He woke up just for that!
*************************************************************************************
Yest was my last day at branch before going to internal dept, so must leave some memories ma.. Hehez.. =P
I won the last "Sweet Heart Campaign".. Some fortnight campaign that let staff show their appreciation to their colleagues.. =D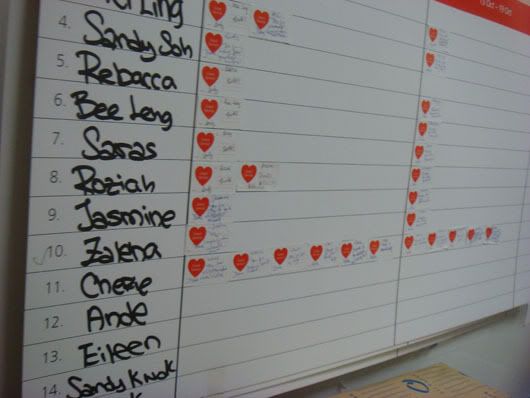 Even that board also I help to do up de lohz.. Hahaz..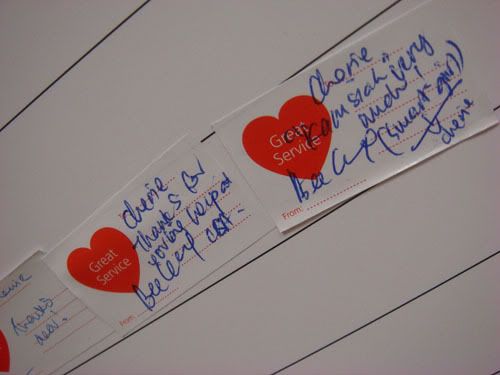 Anyway, I met Dearie at Jurong after work and took train down to Somerset.. I bet she misses me very very much cos she gave me a big hug with teary eyes when she saw me.. Hahaz.. Alright, abit dramatic.. She gave me my belated birthday pressie and I'm so super touched! You shall know what is it at the end of the entry!
Reached town and was considering what to eat but Heeren new f & b level is disappointing! I wonder why they didn't close the mall down since it doesn't have any appeal to shoppers and diners anymore! It was a Saturday and it was empty!!!!
So we walked allllllllll the way to Paragon for Ding Tai Feng.. =P
I put my pressie and bag on the floor cos we were at the 2 seater and there's no place for our belongings.. But the nice waitress brought me a "baby chair for my bags"..
Hehez.. So sweet, I even performed a magic show for Dearie after lunch.. =p
Dearie eat very little lo.. So we only ordered Xiao Long Bao and Red braised beef noodles to share.. Hahaz..
I thought xiao long bao will be much faster than the noodles lohz, but the noodles came almost immediately..

I kept telling Dearie's the noodles taste like the instant noodles that Rong's gave me from Taiwan.. Even the beef taste the same.. Should go Taiwan buy alot back next time.. I tik it's less than $3 there.. Drools...
Dearie's true feelings..

The chef came with the xiao long bao in front of the table, open the "long" and exclaimed, "Oh, the effect not very good, I changed another for you".
He went off and came back only 5mins later after WE FINISHED THE NOODLES!
Actually not very nice la, not quite worth the price lo.. Hahaz..
After that accompanied Dearie to the Ladies, in the end, she's too shy to take pic with me loh! Sobx!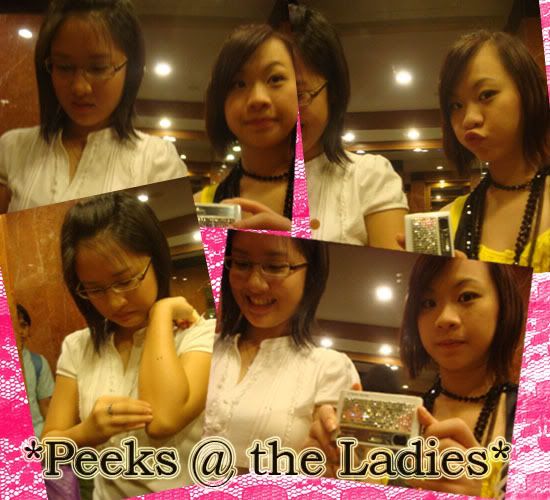 After Paragon & Tangs, we went to FEP in hope for.. Ermm.. Dessert, in the end, I can't find that damn dessert shop and the directory wasn't updated loh! Missha still there loh..
Dearie's feet is painful from the heels and I'm wearing only flats.. Yet I got both feet's toes cramped!!! So in the end, settle down for toast..
Dearie find my wallet cute as well =D And she want to pose it as a mobile.. When it was my turn, I reli couldn't do that dummy actions in the public.. Hehez..
Saw so many girls couple in town.. So sick of it already.. Actually I'm quite trendy also right, I did went for what's in trend.. Hahaz.. But it seems like normal couples are more exculsive now.. Hahaz.. So I'm back with guys.. Hahaz.. =p
Being early bird, Dearie and I went off our seperate at 9+pm..
Met Daryl at CWP's taxi stand for a small chat as he was rushing for his clubbing session and he sent me home on the way.. Hahaz.. It was fun catching up with him.. Never really talked to him since 16 or 17.. Hahaz.. He was my first bf at 14.. =X
Hope can catch up again another time ba.. Hahaz.. =P
Went home excitedly to unwrapped my pressie!!!!!!!!!!!!!!!!!!!!! =D =D =D =D =D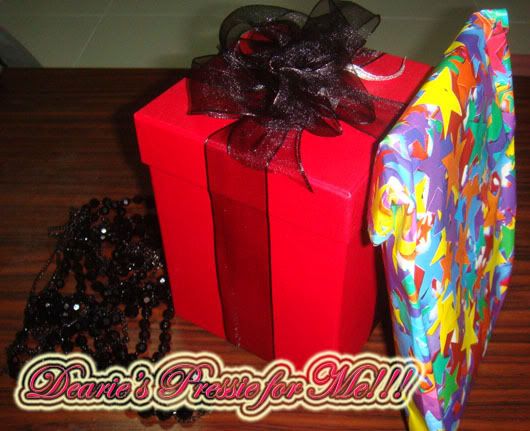 Cutie and sweety!!!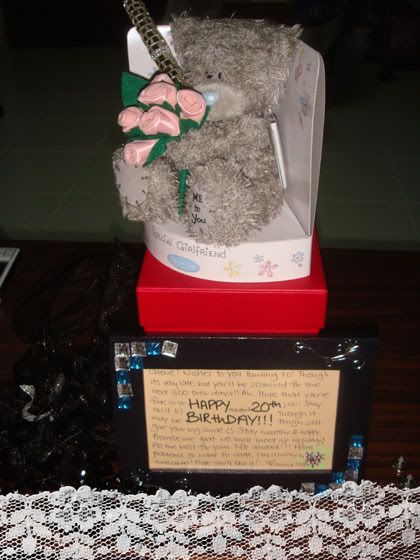 Can you see it? Special Girlfriend! That's what Dearie and her Babe bought for me.. Hehez.. So sweet of them.. I used to have another one but gave it away.. Should have kept it to make them a pair.. It was with a Big Red Heart.. ='(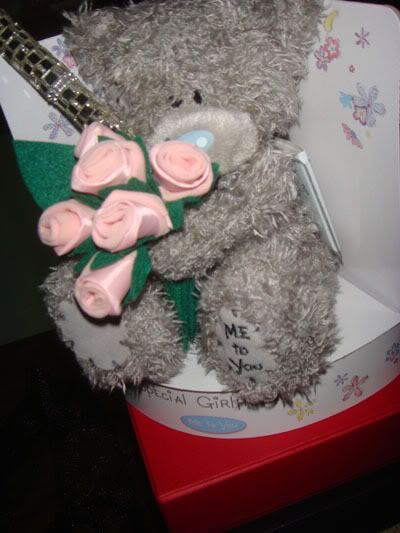 It even came with a mini storybook..
How can I not cam-whore with them.. =)
Dearie's pen is even better than anyone's Mont Blanc! =D
\
Yeah! Tomorrow's going town to work!
In the future will have to wake up earlier, pay more for transports, food, clothes and increase in travelling time!!! Good and bad.. Hahaz.. Gonna see the nice people tml le.. =D Till then.. When? Dunno.. When I Have pics to share.. Hahaz..
PS:
Thurs: Patrick pfm treat me and Sandy pfm to Jack's Place.. Alot of adult topic in the mid of meal and I felt really uncomfortable! And coincidentally, saw dad and brother in Popular so I went home with them..
Fri: Cutie Bing Hong, future pfm was attached to branch for 1 day and we talked alot at counter till my colleagues and manager teased me that I couldn't work properly with him around.. Hahaz.. I did a few errors.. 10 cents and write till 50cents.. And despite being there onli for 1 dae, he clicked with us pretty well and even treat me and the Cisco guard lunch! The cisco was so touched.. So I treated cisco eat his favourite Papaya.. Hahaz..
Hope to see BH again! =D