For YAN WAN!! 306 Outing!
YEAH! YEAH!! YEAH!!
Triple Yeahness!!!! It has been soooo long since the 5 of us meet up after YW left for Aussie.. Sobx..
First was onli Bei, Ayuni and Me, then Wei Lun said he could join (Beibei's surprise) and Sarah came along too!!
And when Beibei came to meet Ayu, WL and I at the station, she didn't realise WL was there until I mention him!! She totally couldn't recognise him!!
Evidence!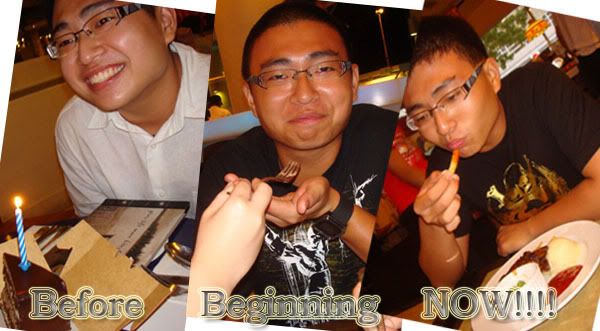 Wei Lun spell FIT!!
When we reach Marina Square, Sarah who haven reach asked us to choose a place where all of us haven tried before, but in the end, we followed Ayu's wish and went into SWENSENS!!
Sarah took out the Pressie YW have for us!!
So sweet of YW!! She chose my card according to my likings for Pink and Crystals!!!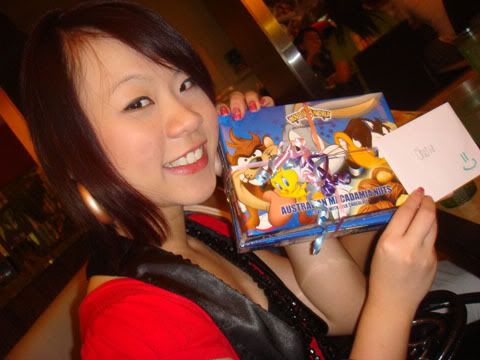 But Beibei very pissed about the Beetle and when YW called, she complained angrily about it! Hahaz.. Den when we say if we wanna write something back for YW what fonts should it be? Disney? Den Beibei say, no need so nice la, she's just Yan Wan.. Wahahaha.. YW, you see your gd fren.. Hehez..
The chocolates!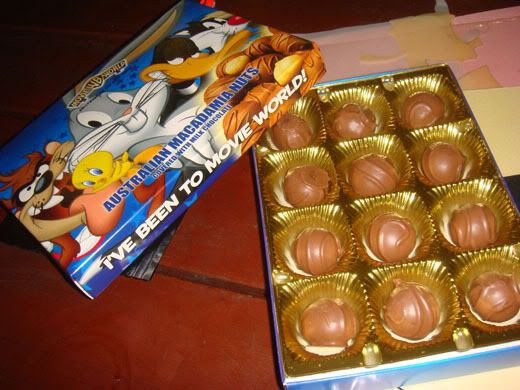 I was telling them each of us can be a character of Looney Tunes on the box! But there are only 5 of them, so I sacrifice lo.. I'll be the chocolate.. Hehez..
YW's Favourite HSM is on the menu and Beibei do everything and anything just to make her jealous!
Beibei was thinking wth she should start working at Swensens in order to keep their HSM tee! Hehez..
While waiting for the food, the urge of endorsing began again when I was admiring Sarah's accessory..
Other randomies while waiting..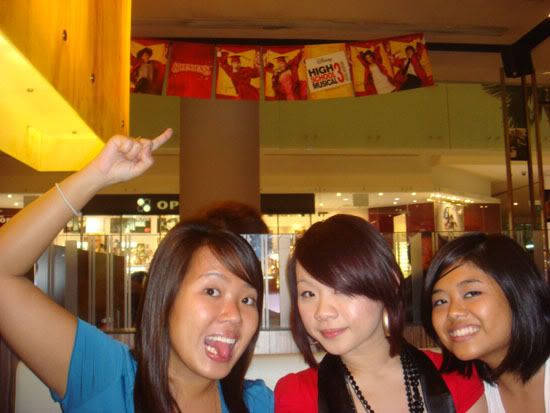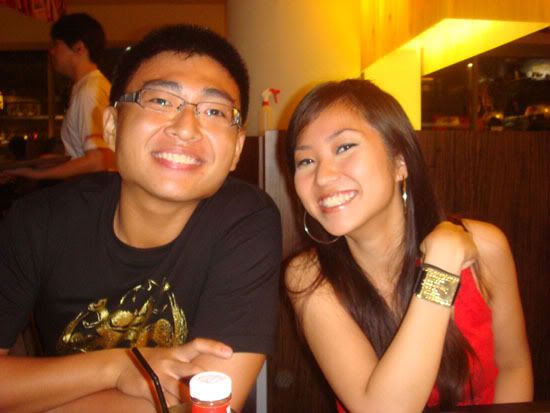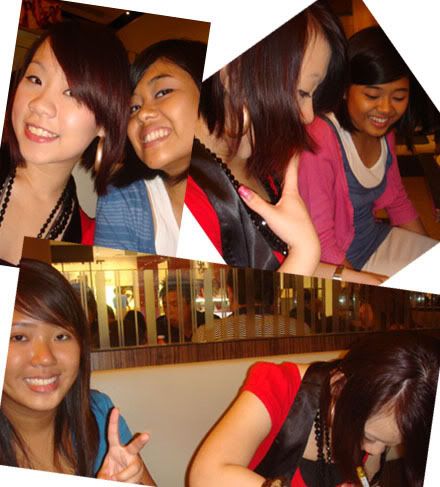 Food Served! My burger is super nice! Wanna try again next time! Hehez..
But WL and Sarah's servings was even better!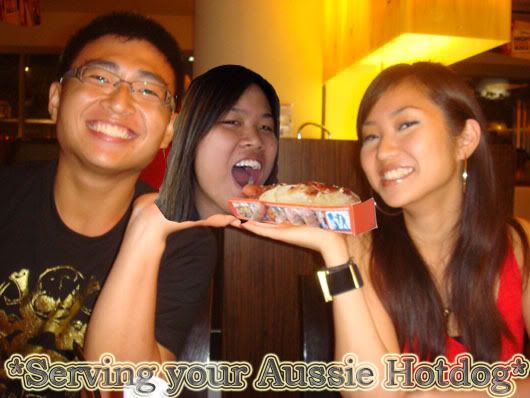 Duncha love it! =P
Despite the ugly facial expression, wanna show you guys YW's long distance call to us!!!
She's at her Halloween Party and when we asked her what her outfit was, she was like acting mysterious and asked us to view her blog.. She even told WL "Dun worry, it's nth sexy!"
Wahaha.. Then I asked her wth she knew what Sarah's theme for the party was..
Answer!!!! Make up remover! She LOL immediately lo.. The rest didn't thought she would react to it so fast.. ( We told Sarah before at YW's stayover that she could join Halloween as long as she don't put on any make up! =p)
Yan Wan's costume! Really nothing sexy lohz.. So disappointing la! Hahaz..
When we left Swensens, I saw this board and thought that YW will be happy to be photoshopped next to Zac.. Hehez..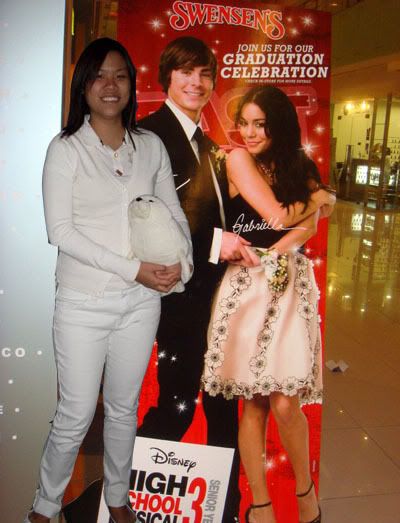 Afterwhich, we were too full for dessert so we went over to Esplanade roof terrace for sum pictorial fun!!
Munching chocolates..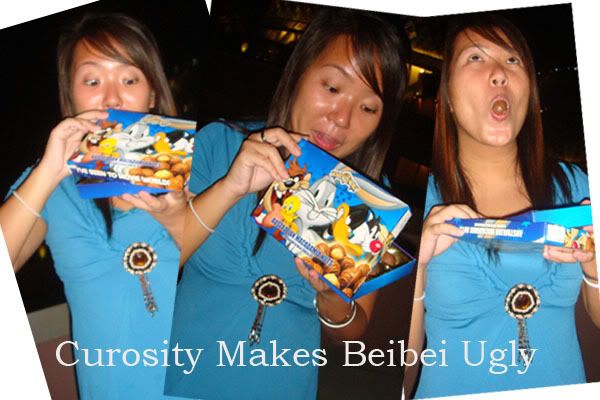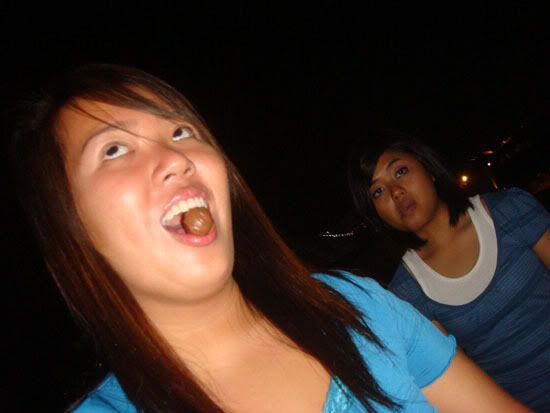 We tried so hard to take a group pic and I trial and error so much self timer but really failed very badly!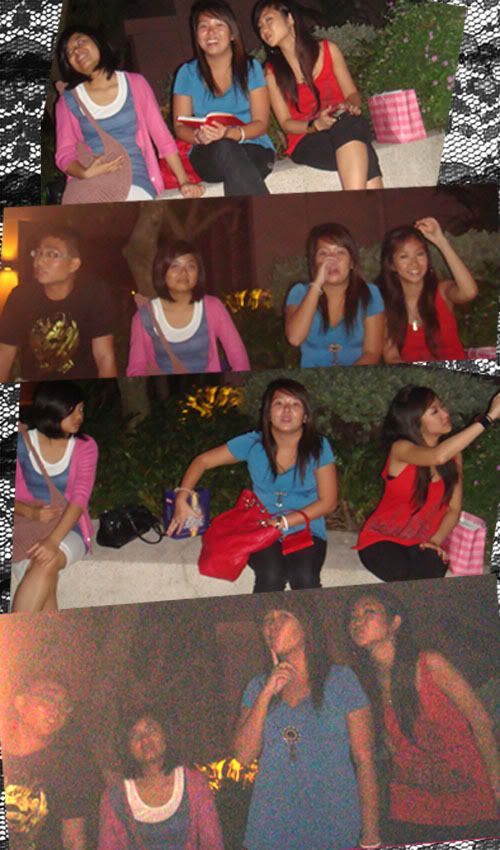 I even tried wth us squatting will be better.. Hahaz.. =p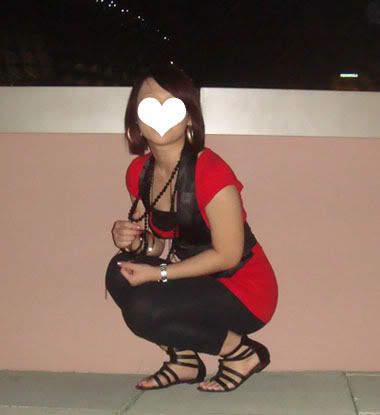 In the end, we found out that using "zi pai" method is the best!
Take 1!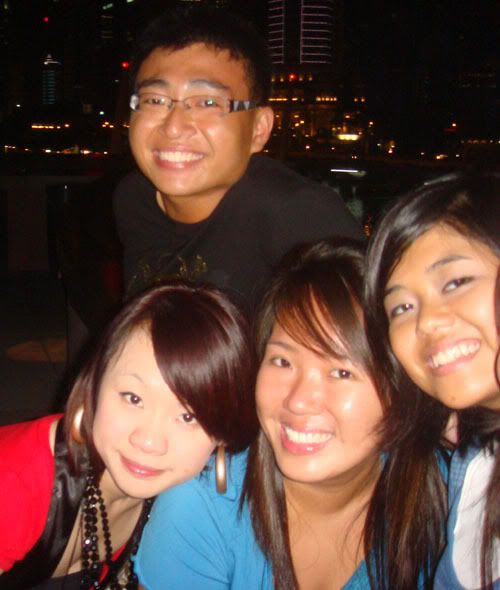 Take 2!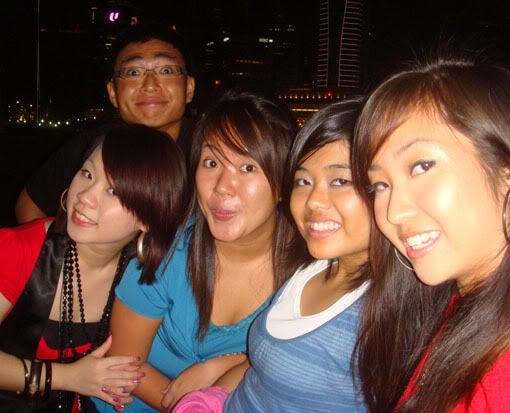 Then, inspired by WL, we started to take act emo pic..
Well, I'm not emo lahz, so I'm confused.. Hahaz..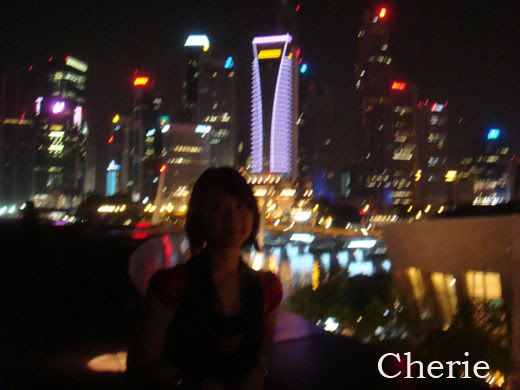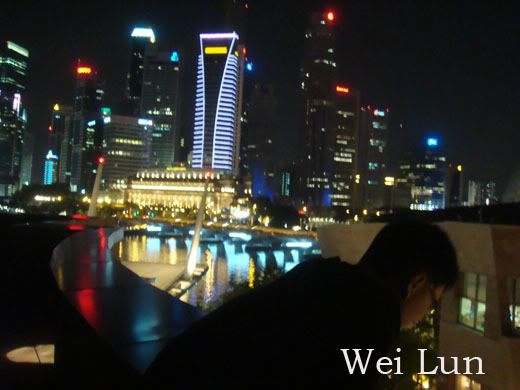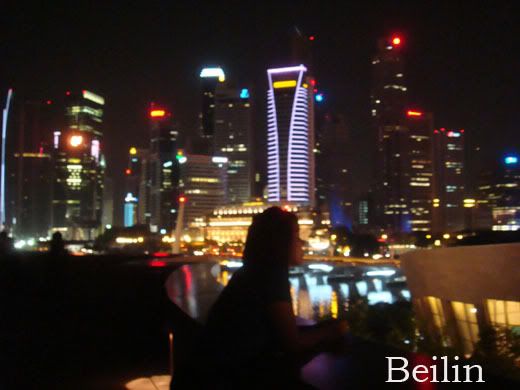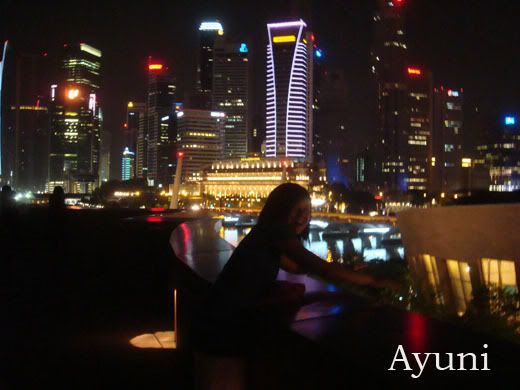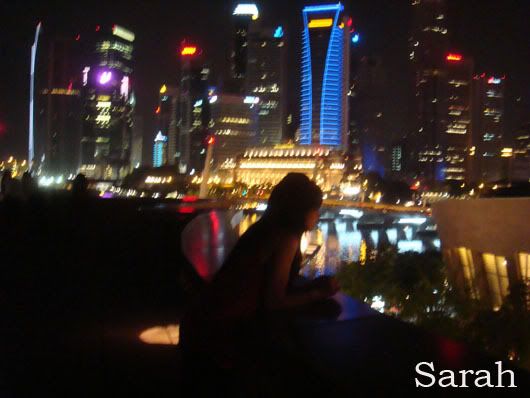 Then, we wanted to go Timbre for a drink, but after a super long walk, we found out that it was fully packed and had a long Q outside! But fortunately, WL told us that he have to left soon to meet his friends and Sarah got an early flight the other day, so luckily, we didn't get to went in.. Hahaz..
So we went to Beibei's SMU for a drink.. Vending machine drinks.. Hehez..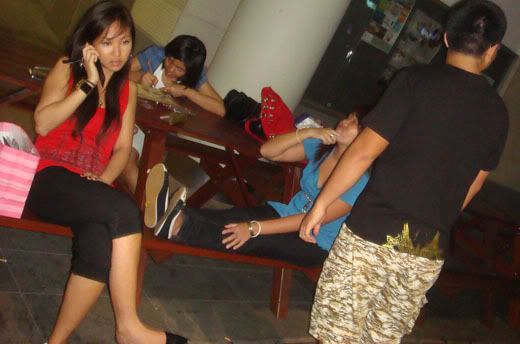 The "ang ang buay hai lang" twins..
It was such a coincidence that we had the same combi.. Hahaz..
The "blue blue ocean blue" twins..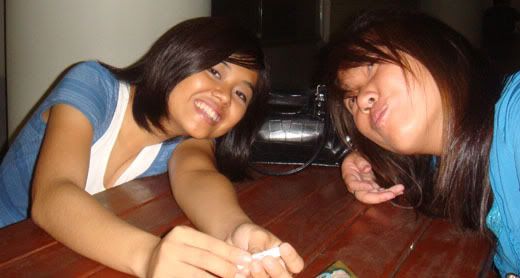 My favourite pose of the night!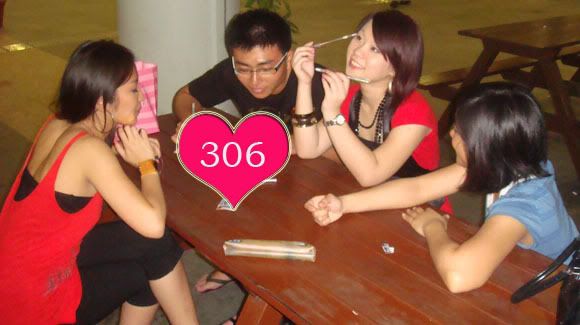 I like canot ah.. Hahaz.. I tik cute mahz.. =p
And when I saw the following pic, I was exclaiming to Beibei that I couldn't recognise myself without the body.. I mean I'm till not used to me having short hair.. Hahaz..
On the way back to the station, we saw this scary art piece outside Raffles City with a big picture on the building wall and 2 blue and red plastic viewing "containers" beneath it..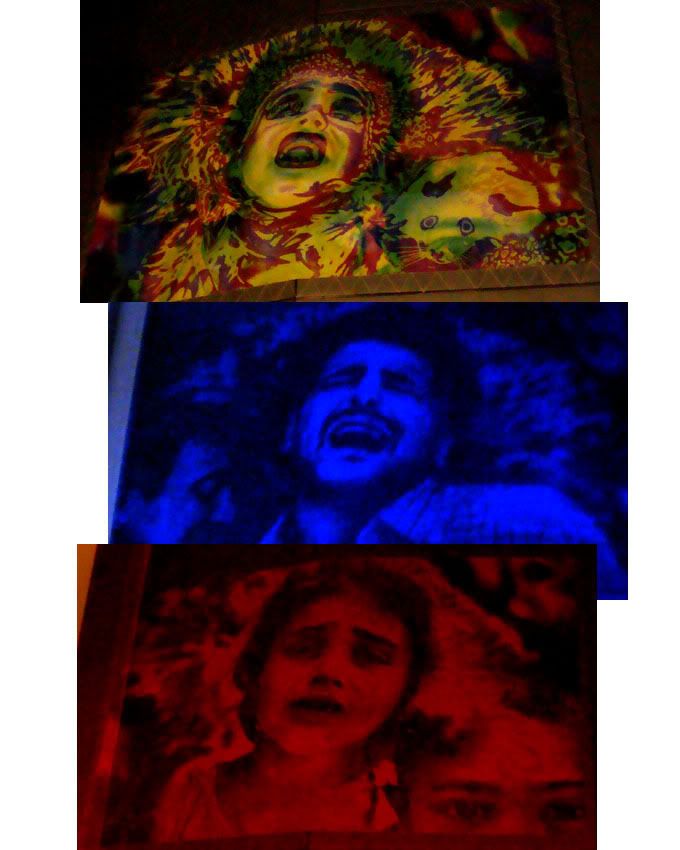 We ended the journey at 10+pm.. As usual, I took my red line alone.. ='(
Tml I'm meeting someone who live 12 blocks away from me but no time for me girl!! After soooooo long lahz..! Her new look..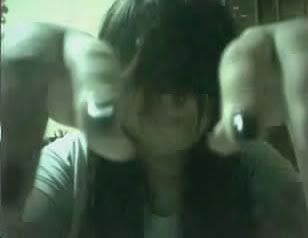 Hope you still can sleep well tonight! Hahahahahahaz...
Starting work on Tuesday! I can't imgaine my holiday is ending! Kinda used to the slacker's life already.. =)
I'm contented and happy! Not letting anyone bring me down.. =P
PS: I spent like 1.5hrs on this entry lohz.. Whew..