Another Cherie-less blog entry.. But I changed my profile pic so that you guys can rmb hw ugly I look.. Hahaz..
Yest was a long Saturday.. Hahaz..
Work from 8am to 2pm, after that met Glen to go Mustafa and planned to buy perfume, desktop speaker for my brother and DKNY watch at the end of the month when I get paid.. Hehez..
After which, I met Sun Wukong to Orchard and she tot she could bring mi to play pool but that dumbass didn't know it was close..
(When I view Sam's blog just now, I was shocked she blog abt yest faster than mi!!!)
We went to Paragon's Gucci and I literally pulled her in lo tt timid ass..
You see what she blog..
*********************
Met Cherie after training and town-ed...
Cherie pulled me in to Gucci...
and that is my first time going in to such high class place?!
i never wanted to go in please...
because im wearing a INK bag!!
not even a NIKE!
tsk tsk...
get out as fast as i could!
Phew~
slacked at Gelare...
cherie "tou pai wo" and edited this!
she say i look like "sun wu kong"!
what the hell la!
i look so ugly in those picture!
stupid 2 megapix cam! WAHAHA!
*********************
I wanted to bring her to DFS cos she dunno what is it and I reli want to window shop there loh, but tt idiot xiao mei mei wanna drunk n slack so we went over to Gelare.. (She dun even noe wat's Mustafa when I told her to mit mi there.. -.-")
I regretted not bringing my camera.. I really forgotten lohz.. Hahaz.. So I hafta rely on my hp camera and she still mock at me lah..
This is how ugly she is, but she looks better in real life lahz hor Samtina? Hahaz..
And I made her do this!
I got my own "handmade" Cherie.. BUt my initial plan was to do this myself and tt stupid ass nv take any pic of mi.. Hehez.. So the ugly pics of her above are for revenge purposes.. =)
Met her till 10pm and off she go to meet her gf and I went to meet my other fren.. Hahaz.. Was feeling unwell but still went to check out the movie slots in The Cathy anyway..
Watched 4bia at 2am and before that was drinks at Coffee Club..
Oh Ya! I also went Mustafa for the second time in the day.. Hehez.. Cos my fren wanna find some LED touchlight and in the end empty handed again.. Hahaz..
4BIA!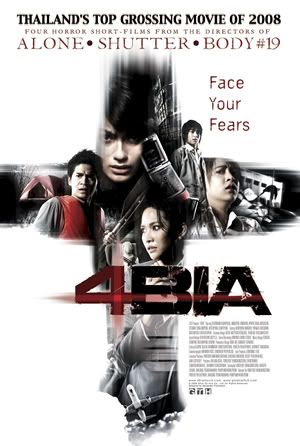 Watch the trailer here and when I saw it again.. The fear comes to me again.. ARGH!!!
http://www.moviexclusive.com/review/4bia/4bia.htm
I admit that it was scary la! Even my fren was "stunned" at a few scenes.. It was made up of 4 dstorypart and after a article I read on MyPaper, I decided to watch it.. But when it comes to the 2nd story, I told my fren that I wanted to go cos it's very scary lah.. And I reli canot take the pressure of sitting in the cinema watching it! But I still finished the show but I'm glad that I didn't saw the last part where the big head ghost face appeared on the screen!!! Hahaz.. My fren is still frightened by it.. And I kept have those movie images in my mind lo.. Nice plot for a few scenes and storyline.. Hehez..
GO WATCH IT!!!
After that was slacking at Henderson Waves awhile and it's realy a nice slacking (lepak) place.. I heard it's most beautiful went there's full lights up of the "waved" top.. We left when we saw alot of uncle and aunties starting their morning walk-a-jog and we know it's time to go home.. So I reached home at 6+am.. Hahaz..
Big Heart's Campaign!!
Nobody know how to spell Cherie! =)