Met Beibei alone todae! I guess this is the first time me and her went out alone! But still the same, we slack and chat not like what other girlies might do tgt--shop!
And I tik this is my most efficient night to be exactly blogging about something tt happen TODAY! Cos there are onli a few pics so quite easy to edit and upload.. Hahaz.. =)
We met at Tamp for her popular shopping and "dessert" at Cartel.. Quite disappointing though..
I dunno why recently so suay lo.. That day went to eat Harbourfront Pastamania and I paid $12 for sucky food.. My Miso Mushroom was super salty and my fren's Carbonara was dried and bland.. Nv ever go to Pastamania again.. We left 3/4 of the pasta there.. Disgusting!!!!!
Thinking of orders..
Beibei say recently she look ugly in pics so she didn't want to cam-whore.. Liars lo..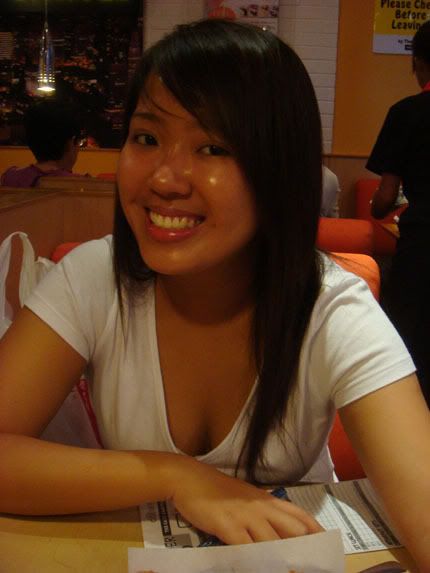 Yan Wan and Her going to have a "who have a deeper cleavage" war! Hahaz..
I guess I already start to "Ren Ming" and don't really care if I upload ugly or fat or unglam pics on my blog le.. I'm going for my natural look.. Hehez..
Before the start of our meal..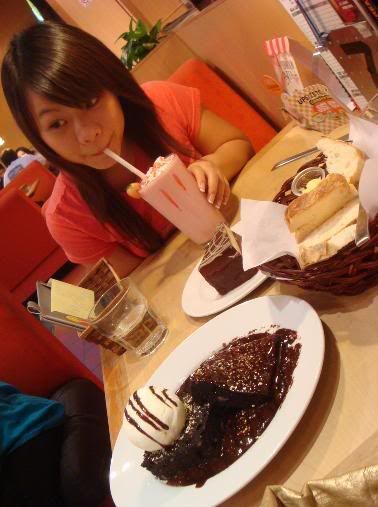 Happy slurping my strawberry milkshake..
Proud of having huge portions of brownies..
And as the meal goes.. We were sick of the sweetness and started to dream of having fries and other fried stuffs.. Hahaz..
Beibei: "Eewww.. I guess I had enough!"
The leftovers..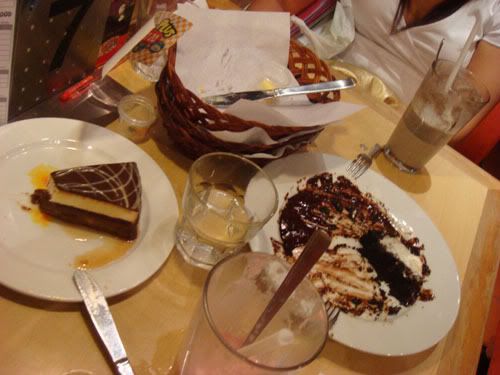 Despite being full and such, we rather ate the 3 baskets of bread n butter than eating the disgusting cake (Jamica Banana Rum) & drinks.. I wanted to go there eat cheesecake de lo den Beibei saw the rum cake so I change my order to that and a HUGE REGRET!! I guess the brownie alone was filling enough.. So we ended up with 1/2 food left again.. Hahaz..
Random pic I took last Saturday when I went out with OCBC girl Jiayan.. Hahaz..
I'll definately blog more often.. =) Cos I'm a free woman now!!!