The Start Of Being A Working Adult!
Working spells fun for me for the past one week!!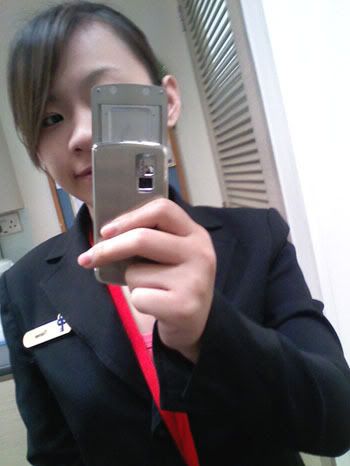 MONDAY!
It's my first day of work on Monday and it is just the start o ffun and more fun.
I had my orientation with my wonderful batchmates which consists of 20 other outstanding who have survived the straining interviews which rejects 1500 candidates.
I met up with my in-charge, the business manager who is a really friendly and interesting guy.. I talked to him like a fren and even suan him about forgetting what I said when I told him how I get to know Irene. Irene was my 2 yrs senior in HTM and she was working in Meritus and she was juz a hi-bye fren den and I guess it's fate when I met her again during the interview.. =)
We have briefing on the details of the job, nice buffet lunch while standing and having causual talks with the manager and interesing game after briefing which ended at 2+pm which was 2 hrs b4 time.. =)
Tuesday!!
It's a all new environment for me when I went to the bank brach at Marsiling which was a walking distance from my house! I can save on my freaking transport fee for the next 8 mths of working there after my training.. Hahaz..
The people are really nice there as my manager had told me.. I was attached to the teller and they reli have an interesting work scope if they have a super positive working attitude! But I slept at 4am the previous day which made me dozing in front of the queue!
Bad thing: I doesn't own any access card to the ele-magnet locked door and I got locked out so many times whoch was damn bad!
Wednesday!!
I was attached to the "May I Help You" counter and I get to answer customer's enquiries and that got me alot of job satisfaction! Hehez.. I get to explaing things to them, preparing documents for them and update their passbook! Hahaz.. So satisfying and although I didnt slp well for 2 nights, I didn't feel sleepy! Thanks to the coffee in the morning.. Hehez..
And I enjoyed so much that I didn't go for any lunch break! Hehez..
A customer walked towards me and look at the sign behind mi and said,
"Yes, you can help me!" Hahaz..
And I even saw my sec sch fren's brother there.. =P
Thursday!!
I was attached to the financial manager, my future position! Hahaz.. They are 3 guys in the team and they are in their 20s and early 30s which are not old.. I was shy at first cos my senior who taught me things first was quite a charming guy (but married) but I leant alot lo.. The other two came to disturb us.. Hahaz..
So I get to know them and they are very very fun and interesting people.. One of them explained to me about the savings and insurance plan and I'm getting it once I get my pay! Hahaz.. =)
My manager finally came to the branch and he explained to me about the culture and what he expect fromme in the office and he think that I looked as if I was unhappy about my job cos I don't have any expression on my face and I just spoke a few words.. Den he asked me if I would like to go for lunch then I told him I'm not eating.. He thought I was on liquid diet that's y I didn't eat.. Hahaz.. But in the end, he drove me nearby and treated me Botak Jones and their fish & chips is reali quite nice lo.. Hahaz..
Den we juz chat like frens la, den he tell me that actually I'm very sociable and easy to talk but why I look so expression-less in the office! Hahaz.. He told me that the bunch if people in the team loves to sing! Wahaha!! I'm joining them the next session! Hahaz.. But dunno when they organising again sia.. Hehez.. =D So glad to have met so many fun people in the branch!
Friday!!
I was attached to the branch supervisor.. Forgot call what le.. But mostly she at the back office doing paperwork and both of us didn't get enough sleep the previous night which led us into yawnings during work! Hahaz.. I reli doze off lo.. I wanted to go for 1 hr break slping de but juz dun bear to leave my workplace.. Hahaz..
Den I started to discuss about LV, Burberry and Gucci with 2 female colleagues.. Hahaz.. So friendly co-workers.. I'll be happy for my 8mths attachment here! Hehez..
I'll be having my training next Monday le.. Guess that's when my stress level will start to increase.. Hahaz.. Jia you! Jia You!
Oh! Btw, Friendster's horoscope is always so accurate for me! Juz as I was telling my fren from OCBC about my boss, I read this from frenster..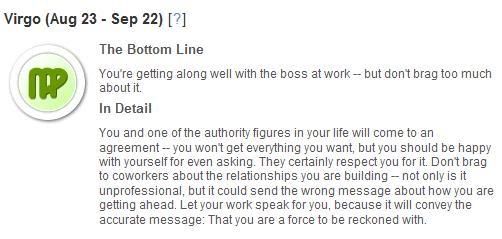 I'll stop bragging about it! Muackz.. Love ya guys so much!!