Temasek Polytechnic Graduation Ceremony 2008!
WOOOOOOOHOOOOOOOOOOO!!!!!!!
I got my diploma! Muackz..
MY DIPLOMA IN HOSPITALITY & TOURISM MANAGEMENT..*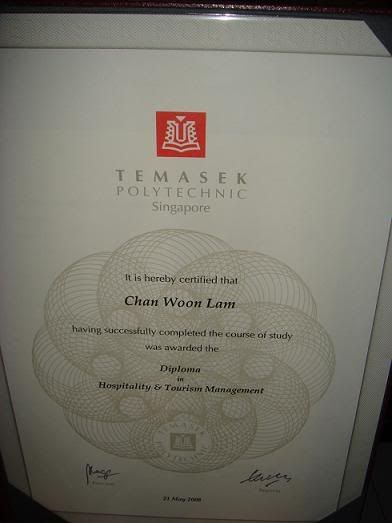 Thanks to all my fellow course mates, lectures and friends that been through these happiest and most meaningful 3 years with me.. Wednesday was the day that we were rewarded for our hard work!!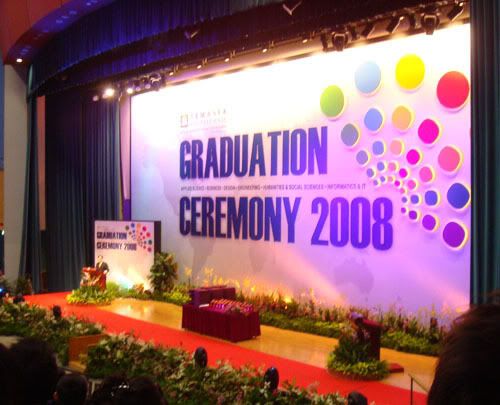 My seat card..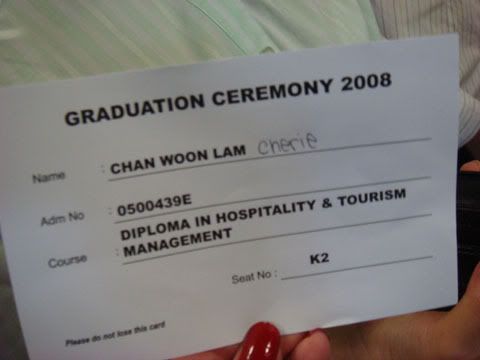 First thing first, I went out to TP first cos slow coach mama haven even bath when I was running late.. When I reach the school's bus stop, I saw a person's backview totally like K! I thought it's her lohz.. But the hair colour not the same..
She's quite cute and shuai at the same time.. So I noticed her abit during the ceremony and she's from Retail Management! Her name is!!!! Yvonne Lim Yi Wen!! I was so shocked..
Here's her during her turn..
Hospitality & Tourism Management occupied 2/3 of the Graduands and our cheers and claps were the loudiest, and with "Enthu" girl like Audrey who led us to cheer, the results is wow!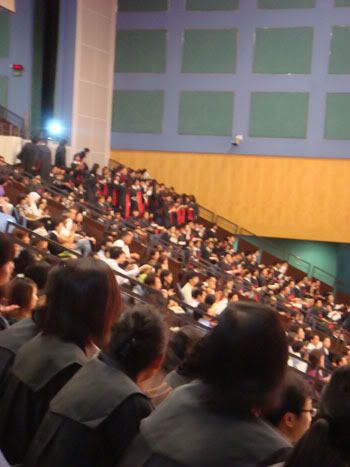 These are the people who achieved the Diploma with Merit and With Tourism awards and etc.. With medals.. So proud lo.. =D
Den after the graduands, Lee Kuan Yew and all rounders awards were given out to 5 outstanding TP leavers..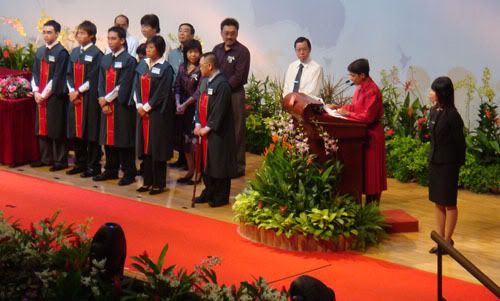 They were with GPA of at least 3.93 and the ger gt 1515 CCA pts and the uncle at the right is someone with amazing determination who gt his Diploma in his 40+..
After the ceremony..
Parents!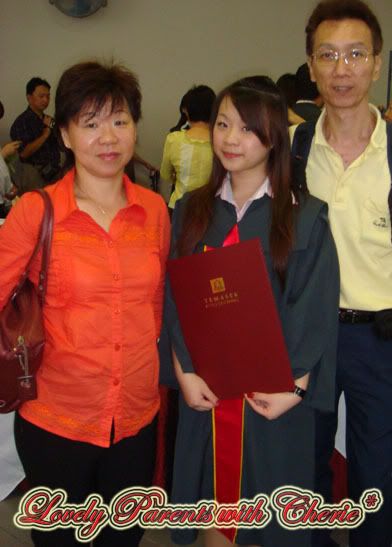 Photos with my beloved Poly Mates!
Ade, Anna, Yan Ni, Stella & Samuel.. ( Not in sequence)
Samuel used to be my crush in Year 1.. Hahaz.. Cos he's always late for lectures and so attention seekers la.. Hahaz.. I onli get to tok to him in Year 2 cos of Anna.. =)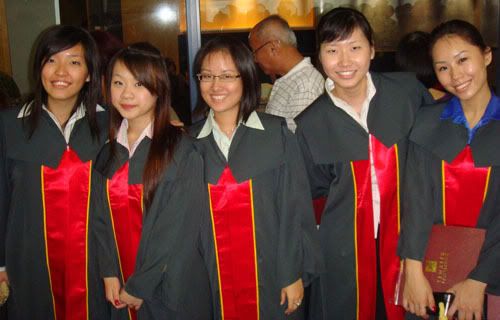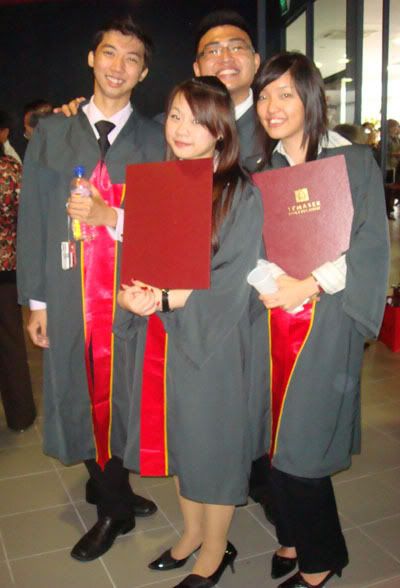 307 Peeps! Didn't get grp pics cos sumhow sum1 always missing at sum pt of time.. =P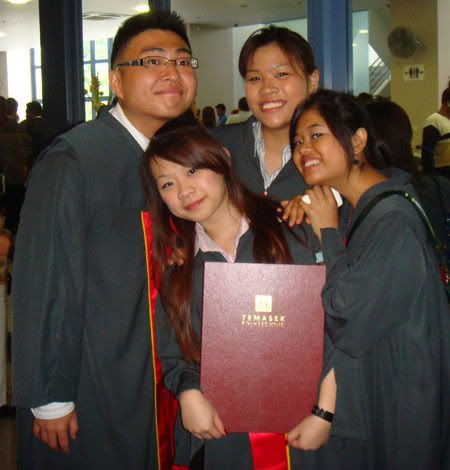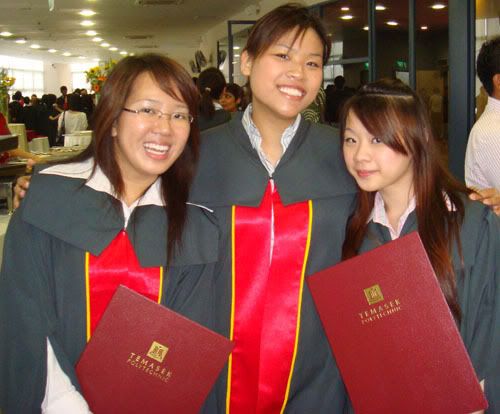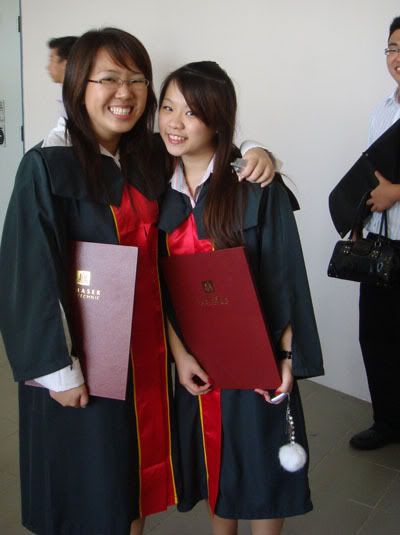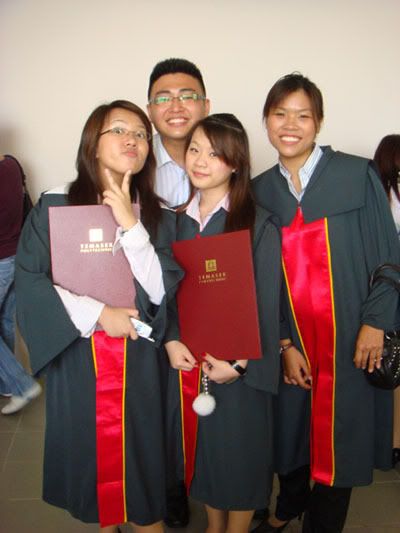 Hui Ying! (I cropped me away cos I was ugly)
Year 1 Hui Ting and Sui Lan!
Ade, Keng Kee and Ivan..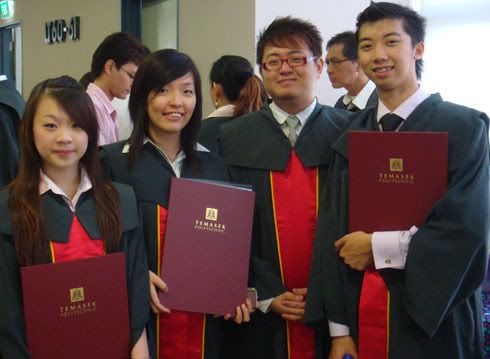 Accidental nicest pic!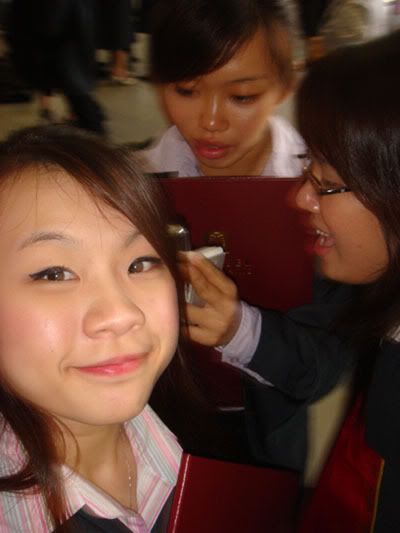 And lastly.. This is what Simin Dear asked for..
Cheers!!
1 MORE WEEK TO DBS!
LAST WEEK OF FREEDOM..