Auntie's Sarah 22nd Birthday with the Girls!
On 28th of April, (notice 306 always meet on the 28th.. e.g. Feb) YW, Sarah, Ayuni and I went back to TP at around 5pm to collect our Graduation Robe! So freaking ex lo.. I spent $50 for the rental and deposit.. Haiz..
That's our dear Ayuni in Size S.. Hehez..
I wonder why they bother to ask us wear formal inside when nobody can actually see through that huge piece of clothing.. Hehez..
After that, went to salck in Business Park, a place that's missed.. Went over to fetch Beibei at 6.30pm.. Cute Beibei even took the pics of YW's Merz approaching her.. Hahaz..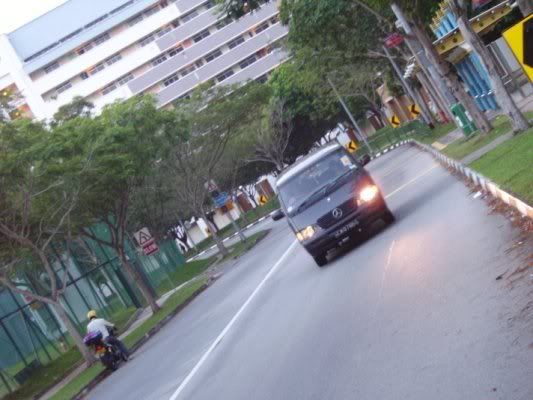 After Beibei came, it was time for pics!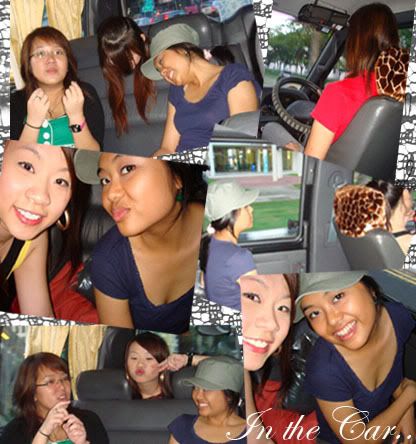 Halfway through the whoring session, someone shouted..
"I also want to be in the photos!" Hahaz.. Yupz, smarties you guess it right, that was from Miss Phangy.. Poor driver always missed out the fun.. Next time I helped you drive and you take pics k? Give me 10 years.. 10 is enough.. =D I'm so kind..
We traveled to Aiport as planned but due to the height of Miss YW's car, we parked the vehicle at T1 and we skytrained to T2..
On da way we spotted the constructing of new Crowe Plaza.. Pretty.. =D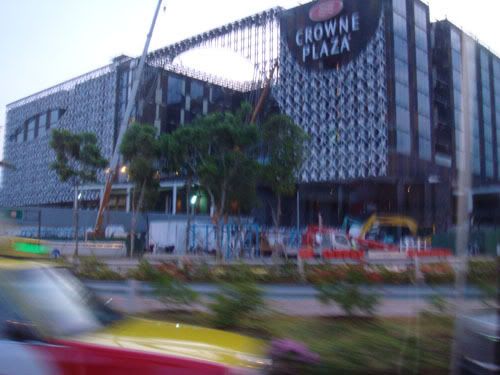 Is there a time where girls dun cam-whore? NOOOOO!!!
That's my fat face for u and Bei's full of weird expression face.. Hehez..
We settled down for Fish & Co cos that's a great place of B'dae celebration I guess, where their unique selling proposition is to cheer for the B'dae boy/girl with spraklers.. Hehez..
Our sweer Mermaid Freeze made everyone....... OHHHHHHHH SOOOOOOOOOO SWEEEEEEETTTTTTT~!!
Hahaz.. We added ice water to it in the end and it was still sweet.. Mango with carrot.. Hahaz..
Before our food came, told you already.. Cam-whore..
Miss Beibei and Linlin.. Which equates to BEILIN and WANLIN..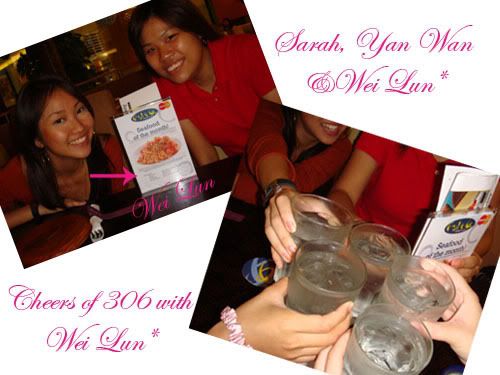 Wei Lun was represented by a tablet.. Opps! I mean the promotion menu? Hahaz.. We miss you Wei Lun.. Hehez.. Dun jealous about it Phy.. We miss you too! Hehez..
Bei and YW excused themselves to the restroom and I found out their Christmasty clothings only when they came back tgt.. Hehez..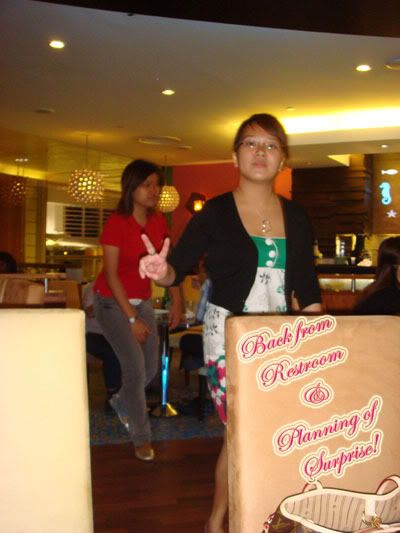 That's the time when the planned the surprise with the staffs also.. Even I wasn;t aware of it.. Hehez..
Food!!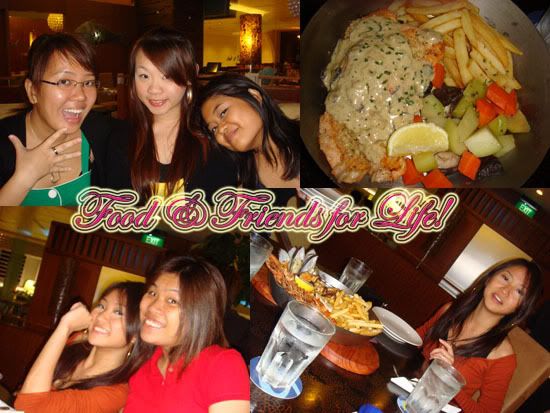 We ordered Seafood platter for two and a salmon for Bei and NY Fish for Yw and we cant reli finished everything although I ate hell lot than them.. Hahaz..
After dinner comes surprises! Hahaz..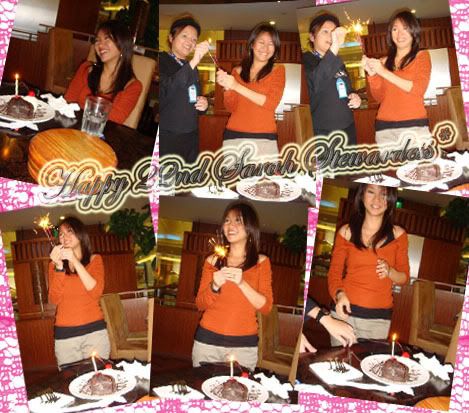 Sarah was like.. "Hur hur.. You two ah!" to Bei & YW..
To illustrate Sarah's B'dae, video presentation is the best.. Hehez..
The aftermath..
After dinner and surprises, we skytrained back to T1 to pick up our car..
While waiting..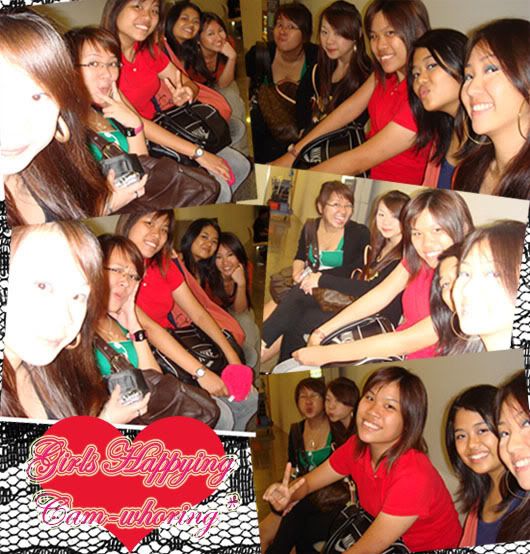 I took up the challenge of taking the grp pic with my big head lo.. Hehez..
Ended the day with a ride of YW to all their place and me to Tampine 168 bus stop.. Sobx..
So much things I wanna blog about but cant.. Do you know this kind of pain that a blogger have to endure? Hahaz.. Sad..
New frens...
P.S: After so long, finally saw Say Hee on msn which is like a yr le ba..
Den I realised, 3 yrs ago, 5th of May was the day we got tgt.. Hahaz.. Such a coincidence.. Hehez.. =D