Post 263: For Wei Lun..
306 reunite on 12th May which is a day after Wei Lun's Big 2.
As usual, YW, BL, WL & I will meet for K session first..
So WL and I met up at 1.45pm while BL & YW got themselves lost in Suntec carpark and we finally met up in Marina Sq Kbox in the end..
I made BL promise to take videos for mi and WL while we sing during the email discussion on the outing.. =X
The videos first.. Wei Lun and I sing Shin with Dai Ailing "Qian Nian Zhi Lian"..
Very bad I know but WL voice was superb.. Sorry for spoiling the song.. =P (Ididn't know why my little finger was up, too short to hold the mic I guess? Hahaz..) I was telling them, after this video up on my blog, I might not have any suitors anymore.. Hahaz.. ='( Sobx..
BL was shaking the camera to and fro in order to create the variety performance show effect.. Not very successful I say.. Hahaz.. Sorry..
Videos BL edited..
The last mins of mi playing with the mic was so "outta my mind" already, I dun even rmb myself doing that.. Hahaz..
Den I recorded BL and WL singing "Wu Ding" halfway when I was back from my restroom break.. Hahaz.. Nice singing from BL!
Do you like my captions at the last part? Hahaz..
And YW got a bug breakthrough in her singing that day.. Hahaz..
YW bought us Chocolate from Japan and the rest of us were complaining about us bringing the big bags along hoping to get huge presents and end up having shared presents.. Hahaz.. But we reli appreciate the chocolate YW.. =D We were juz folling around.. Let's wait for WL and Sarah's presents next wed! =D
The audition for Japanese Chocolate Ads..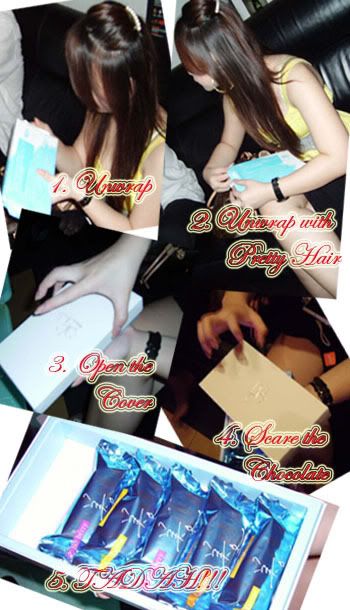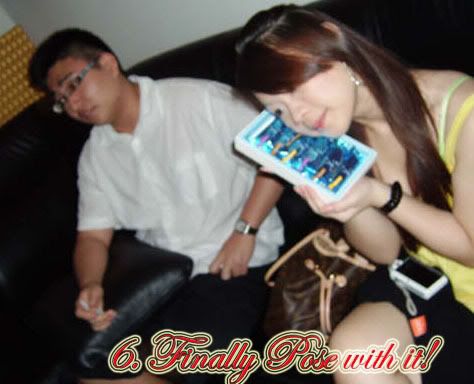 The candidate WL and Cherie..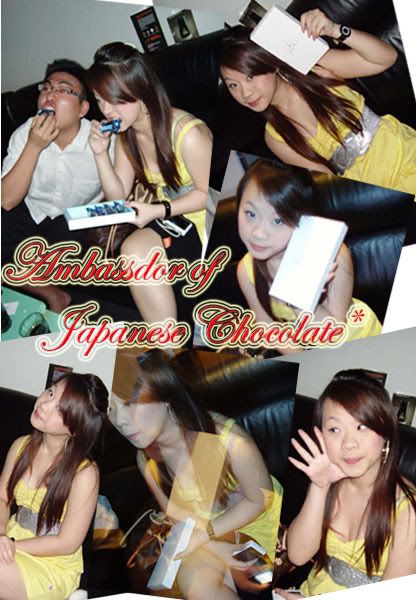 Next up.. BL, WL & Cherie.. (Cherie is the confirmed main lead.. Hahaz..)
Beilin was super high that day, I gues tt was due to her one mth tuition with Primary school kids that made her missed in young adults entertainment very dearly..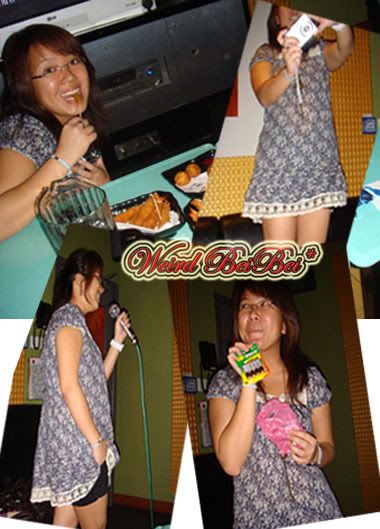 She was acting very weird..
1. She refuesed to sit on the sofa.. She was either swaying to the song standing beside me, or squatting down infront of the sofa or in between the table and the tv.. Wat does she wants seriously! Hahaz..
2. She took a hell lots of pictures of us and very little has her faces on them.
3. She had the new fetish when singing that is to put her hand in her pocket.. WHY!! (After the kneeling down incident..)
4. In order to continue taking hell lots of pictures, she brought extra packet of batteries so that her album wont stop adding when her batteries are dead..
Weird right.. She don't used to be like that.. Sob..
Towards the end, Sarah joined up and we have a group photo with her but the rest of us dun look good so in order to save our faces, I covered them up.. Hahaz..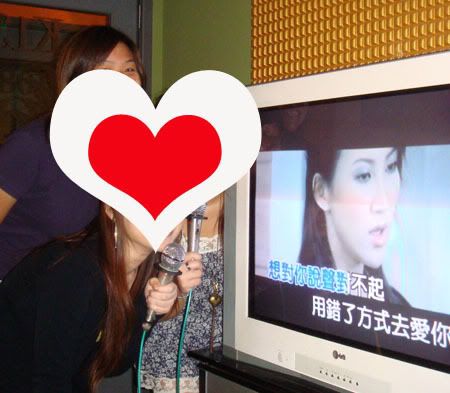 Look alike right? Coco=Sarah, Sarah=Coco.. Hahaz..
We were 4 very happy people on Monday's K session..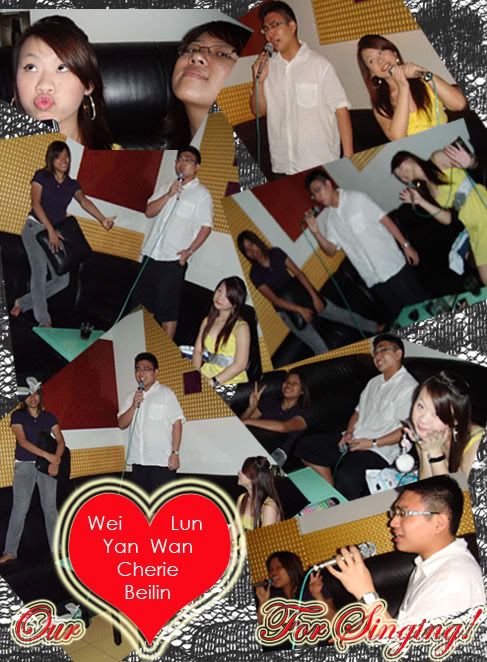 After which, at 7pm.. We met Sarah and Ayuni at Breeks and there stands a very shuai & cute manager (female) with very good complexion.. Better than the one I saw at Kbox, not my type.. Hahaz.. Ok girls aside..
Wei Lun went to the Gents at the right time, so Ayuni brought out the secret recipe cake for WL and we lit the candle as he walks back to the restaurant.. I was worried about the fact that Breeks might not allow cake from other restaurant but I dun tik they care to say us anyway..
So we sang the b'dae song loudly and heck care wth we disturb others anot, although I'm a little scare we would be irritating the others.. Hahaz..
Birthday Boy Wei Lun On his Big 2 cake.. His b'dae is the day before so from Xiaxue blog post 3 yrs ago, we are advised not to buy a whole cake as it is unlucky..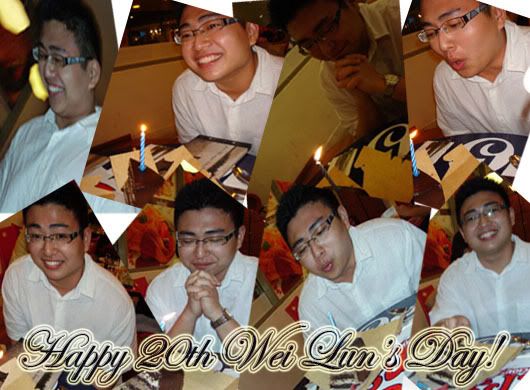 Den they food people! Beilin and I wasn't up so the food represent us.. Photograpgher have sacrifices to make you know.. Hahaz.. =D
Camera camera under tha table, tell me whose legs are the fairest of them all..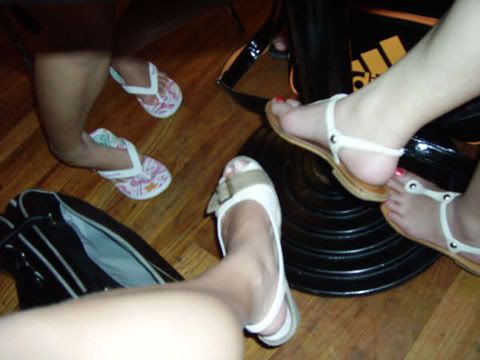 At the end of the day, Auntie Sarah will always take out her shiny card and pay for the bills and thus she would have the most cash and then find a deposit machine and put all the cash in her account again.. Weird.. She's changing credits into cash.. Hahaz..
She even took out her red marker from the multi purpose rubbish pouch to split the bill..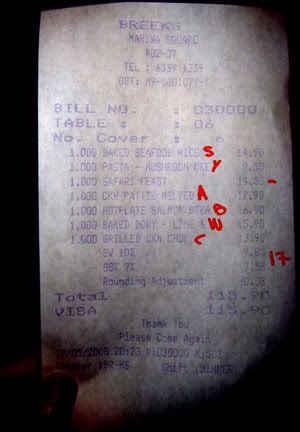 She could have treated us the meal.. Easier right? Hahaz.. Sarah you heard me!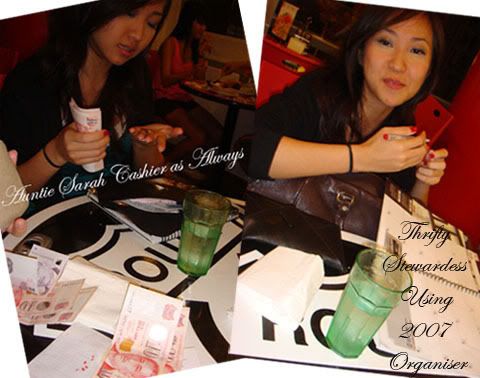 Auntie Sarah is recording the date YW is flying off from us for a year.. ='( Sobz..
Group Photos by Charming Manager!
BL's cam..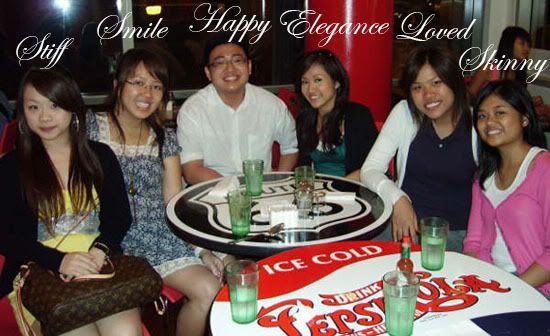 Mine..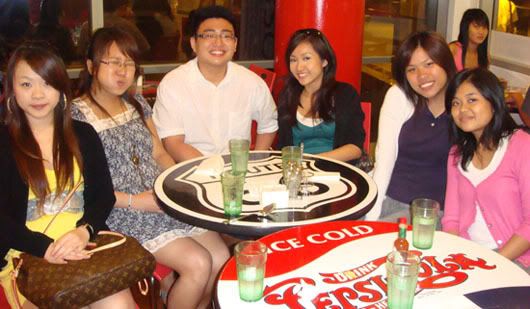 I look so stiff lahz.. Cos I was reli shy.. And you can see Sarah and YW look totally identical in the 2 photos.. Hahaz.. BL is a more professional (jing ye) cam whore.. Hehez..
Before we left, little encourgement for our dear manager..
We went off the the restroom and BL and I were the last to leave and the manager walked in! Hahaz.. I almost stalk her lahz.. =P
(When YW is at the door of the 3rd cubicle, she considered for 0.05 sec and then she decided to go into the first one, she did a very funny and dramatic huge jump as if sum1 is going to shut the toilet down!! OMG!! So damn funny at that point of time.. Hahaz. Too bad only I witnessed it!)
So after much forcing and threatening, WL and I got into YW car for about 5 mins while she sent us to Raffles City and leave us to die.. Haiz..
WL bought donuts home and off we went home on our own, seperate ways..
2 days to Graduation Ceremony!!
I haven't decide what to wear!!
Think I'm gonna get myself a new blouse le.. Sobz.. ='(
So broke!