Last Friday, 14th of March I'm supposed to meet the grp rmb? Hahaz..
Supposed to meet them 2pm at City Hall, being the Organiser, I failed.. Terribly..
YW sms us at 12+pm to tell us the change of venue.. 3pm at Harbourfront station..
So we still have time to chat on msn a little (with BL)..
What I wore..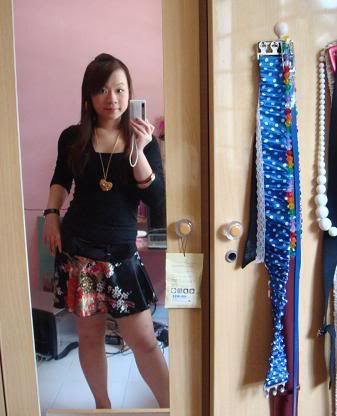 What I brought..
Only to find out the cheeky Phangy Robyn cheated us to meet her at Vivo so she could buy the "animal" slippers she had lost!
So we met at Vivo, waited for WL to cut his hair, went Harbourfront Centre to buy her slippers.. AND THE STUPID YW want us to go back to VIVO SO SHE COULD RETURN HER BOOKS! Why she dun wan to do everything at the same time? She nv even "Invite" BL and I to the restroom with her! I tik Love gotten too much into her blood!
Anyway, the pics..
WL cutting hair..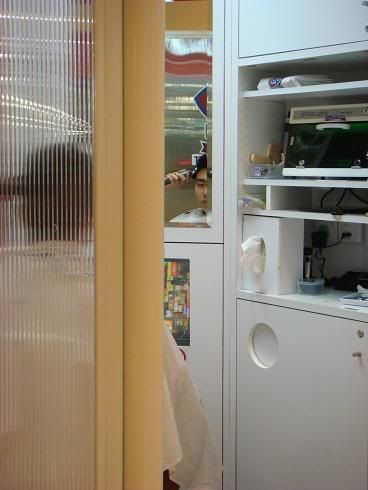 On the way to return the damn books..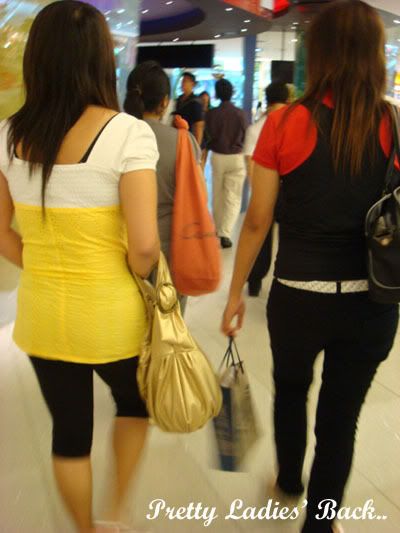 Us waiting for Robyn while she went to the restroom..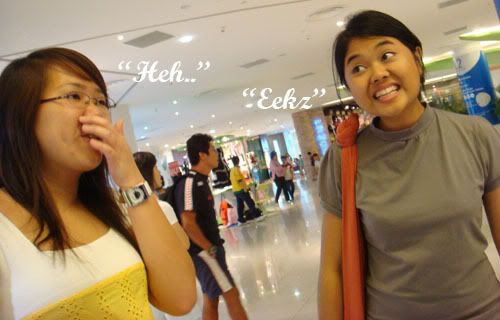 This look like sum cult praying or whatever..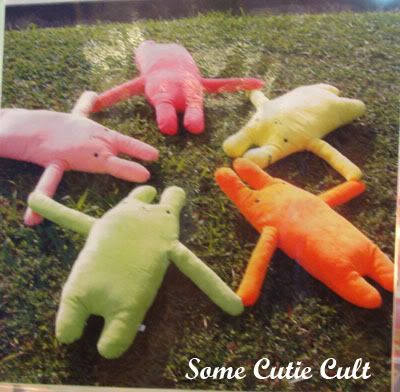 We got nth on till evening to meet Auntie Sarah for dinner, so we crapped at Gloria Jeans for a long while.. The stingy me didnt bought anything and sat there eating Oreo cheesecake while creating sum interesting videos..
Onli this is a decent one cos the other one I received from BL consist of the sensitive Scandal issue..
Other pics..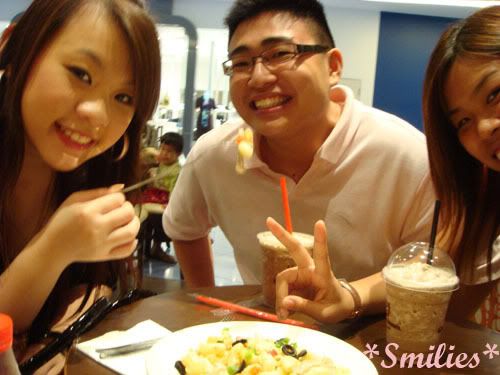 Huge Cheese Cake..
Disgusting Beilin.. =P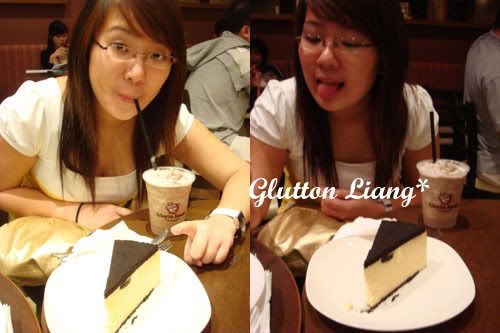 Ayuni And I..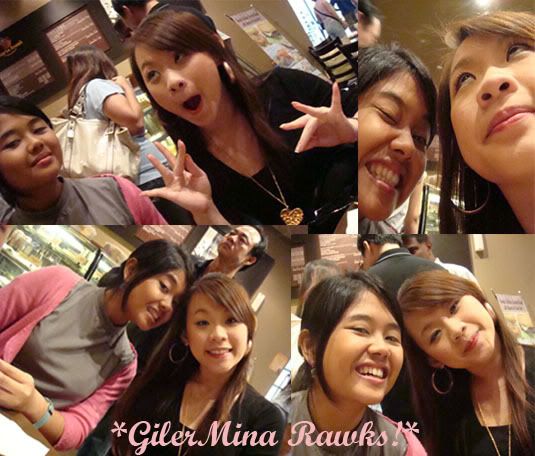 The people..
WL with his middle finger pointing out to show his 2 stitches injury.. Poor Boy..
Groupie..
After Cafe, we still have time to walk around.. Wanted to go Arcade but were drawn to Daiso instead and it just brought back memories of how they celebrated My B'dae for me when I came out from Daiso in surprise! =D
*Here*
Craps in Daiso..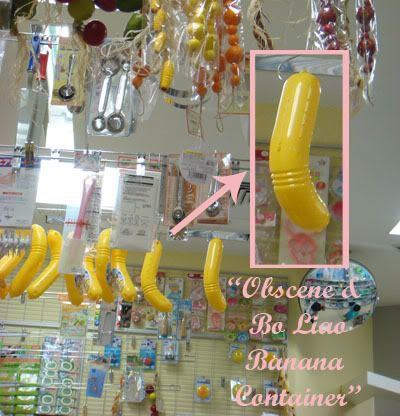 Dunno what came into us..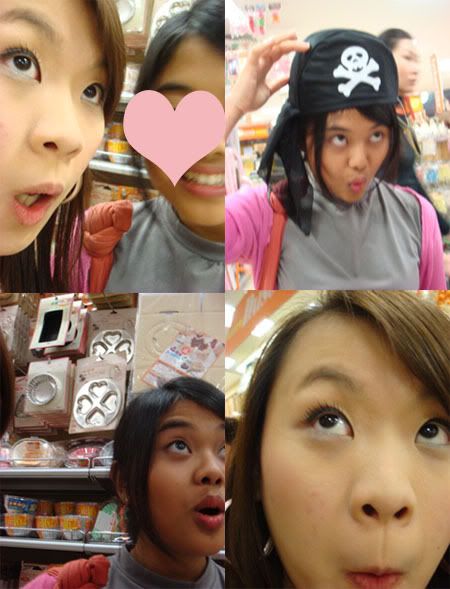 Ayuni found a lizard and I was so scare of it lo.. So we decided to scare BL with it.. =P My finger is fast right? Hahaz..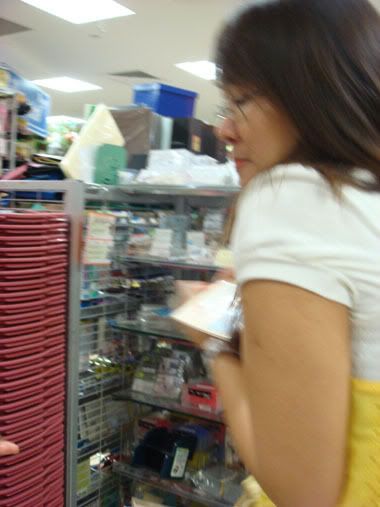 YW was hungry already so she ate the whole thing.. Eekz..
Some uselsss thing I bought there.. -.-"
When we were out, the restaurant's Mascot was outside so I tot of snapping pics of it but it's approaching our direction and I'm always afraid at this kinda stuff so I hid and only managed to get this.. -.-"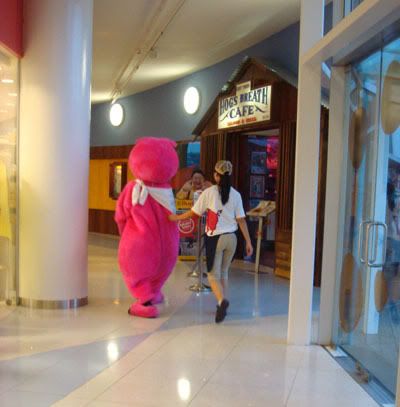 Met Sarah around 7pm? at Clarke Quay station and we were imagining her changing into another person whom we couldn't recognize after her SIA trainings.. ='(
She was sashaying towards us when she was like.. erm.. late? Dunno.. We were waiting for her.. Here she come with her low cut dress.. I tik she follow strictly to the dresscode the email had stated.. =X
We didn't know where is Fishermen's Wharf so we instructed the "mobile street directory model" to ask the Ice cream man at Haagen Daz but sadly he does not know too she Sarah stood sadly in front of the "Gossip" building..
On the way there, BL and I tried very hard to capture ourselves with the night view of CQ but failed.. Hahaz..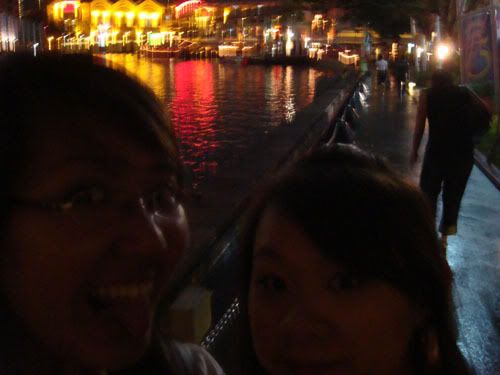 Finally we found the place and it was packed and with minimum decor..
Looking for the best choice..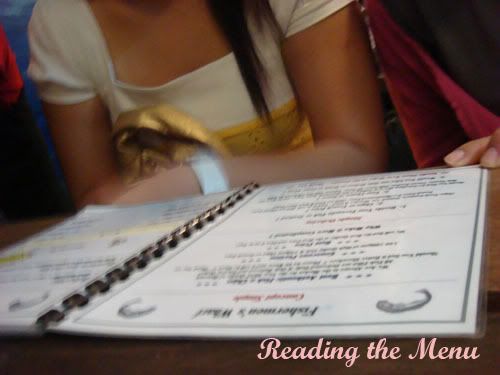 Sarah wanted to order Halibut and the rest wanted to order whats-not..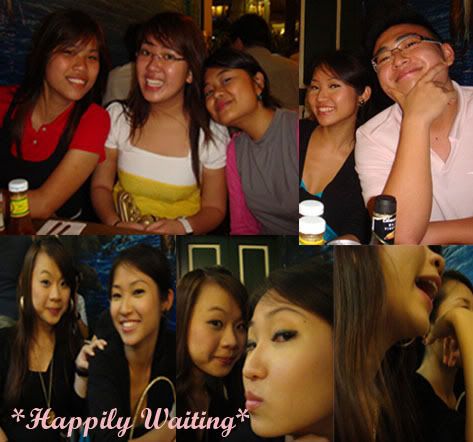 In the end all of use ordered Cream Dory Fillet and side dishes.. Hehez..
The gers..
Me with humogous fillet..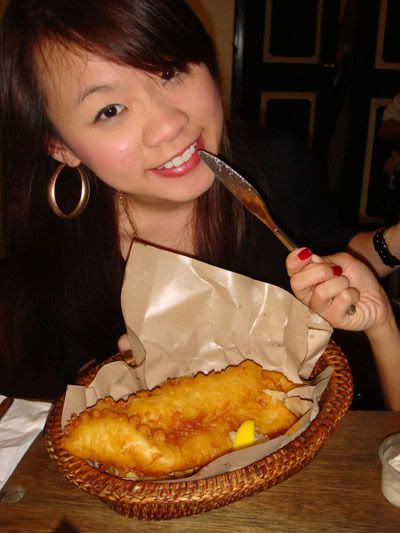 We attempted to take group pics using timer and putting it on a can top with the menu but failed la..
No flash..
Blocked BL..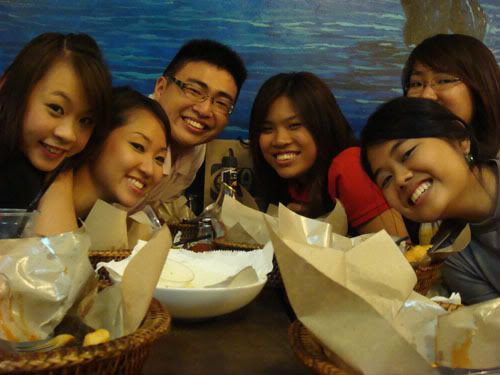 Finally, the guy beside us saw the pathetic us trying to balance the camera offered to help us but he nv tell me that I was blocked! But anyway..
We were happy with meeting each other.. And we heard that YW is flying off in July for a yr.. Sob.. ='(