After the last clubbing session on 19th June 2007, Fion finally called me on Friday to hang out tgt!
We met at Ikea, with her gf and I finally got my mirror~!!
My long awaited new member of the room!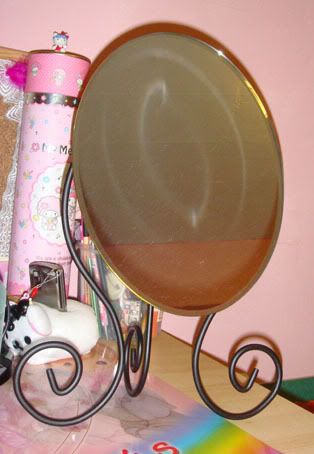 After Ikea, we headed to Shenton Way Party World and her gf is so sweet to agree to whatever she asked for.. Awww.. Sweet... =X
We watched Lee Hom's concert on the way..
Sing sing sing..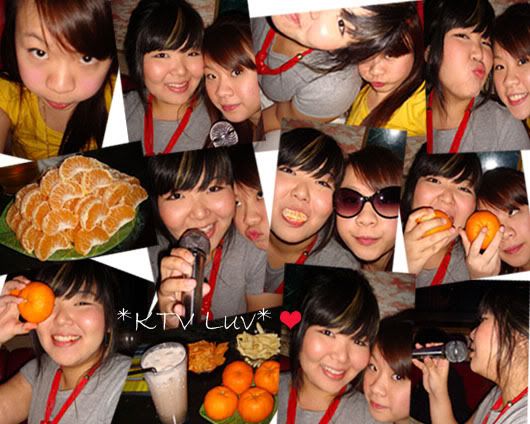 After finished singing at 10+, we went over to gf's hse and her room is so cosy.. Alot of ppl like to have their window closed and had their mood lights on.. I wanna get 1 too! Hahaz.. But my window will still be open.. Hehez..
We went to Lunar at Clarke Quay for a drink..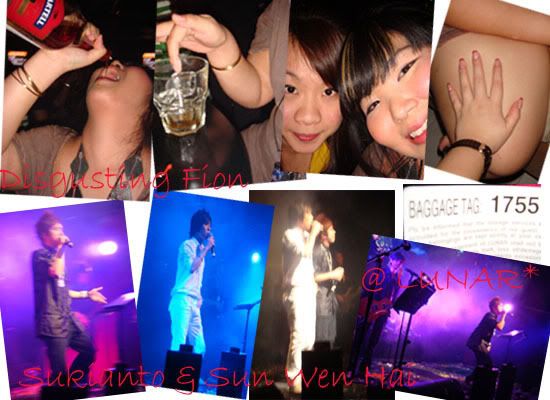 We have sum reli cute butches there and they are reli v nice ppl.. =) Although they forced me beer and martell.. Hahaz.. The place was not bad the ceiling is filled with nude portraits but I didn't managed to captured them though, bouncer in front of me.. Hahaz..
Surprisely, the singers reli sang CNY songs.. Hahaz.. One of them danced like a ge tai lady.. Suki and Wei Hai was there too! Wen Hai sang "Hai Kuo Tian Kong", a song I forced Fion to sing for me.. Hehez.. =)
We left at 3+am.. =D
It was back to school yest! I had consultation and after that was SUGARLOAF!!
The service was bad, very bad! It was service execution for the LRM students and when we reached there at 10.30am (it was supposed to be open), we asked the doorman wth we could enter.. He polietly said a "Yes" so we push the glass door open while he went to hide in the F&B room.. Simin walk down the stairs and the staffs inside told us to waot outside cos they are not ready for service yet... WTF!!!
So we went in 10 mins later with no food on rack and there was flies in the ice water we poured ourselves.. When Wei Lun finished his water in the mid of the meal, instead of asking wth he would like another cup, the waitress ask, "May I clear this?" MAking him drinkless for the rest of the meal.. Sucky.. I paid for the combo with coup and soda and te soup wasn't ready, not to mention the disgusting soda alike drink.. I waited for the soup to be ready and when I went to collect it, they supposed to serve mi hot soup in few secs, instead, I saw them pouring 4 or 5 bowls of soups and place them in the microwave!!! Making i wait in front of the counter for 4 mins b4 asking mi to wait at my seat.. WTF WTF WTF!!! BAD!!!
Anyway, with Darling around, I felt better..
I arrived at school 25mins earlier so I went to the bookshop spending $10 on sketch book and crayon! =D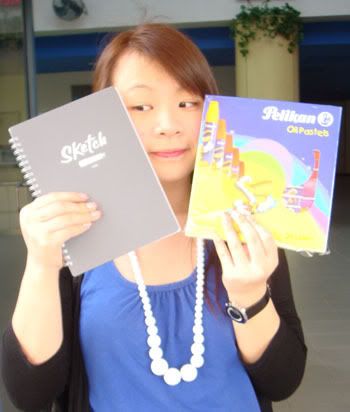 I drew my cover page and I asked WL and Darling to sign at the guest page.. =P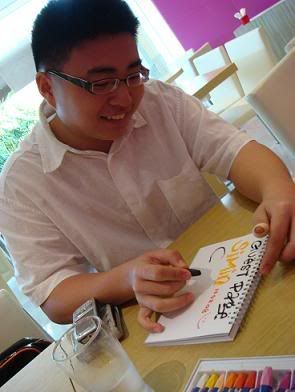 But the mindless me 4gt to take home from Darling's hse after bai nian as my bag was too small.. Hahaz..
After lunch, on the way to the bus stop, we saw computers out of nowhere and I tried to enter my blog and it works!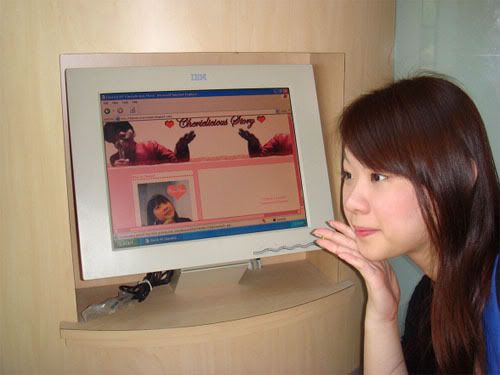 So I asked Darling to tag me and she said, we will stand 2m apart now..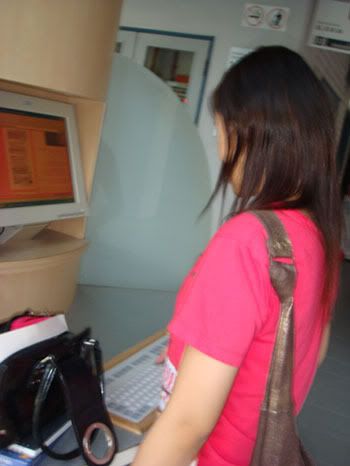 So we did..
Using the self-timer..
I ask her to blow me away..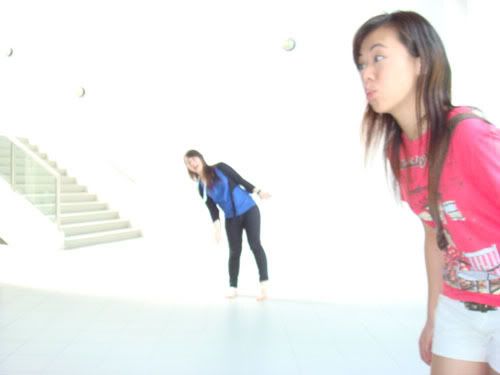 But I was too heavy for her and she needa use more strength..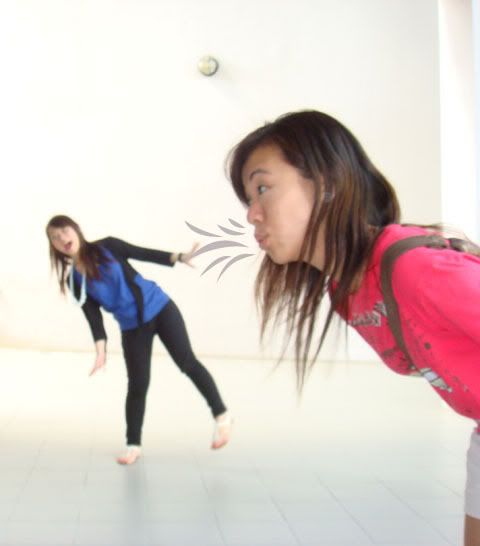 "Wah...." I lsot my balance.. =X
So we took a bus to her hse and I got reli shocked at how humogous her husky is.. Usually ppl's dog jumped and scratch my thigh but this one stand and scratch my arms and licked my lips.. Ewww... So scary..

Even the tail is huge!
After Darling's mum went to the room, she started to show mi her room and her Taz collection and we played with the largest one!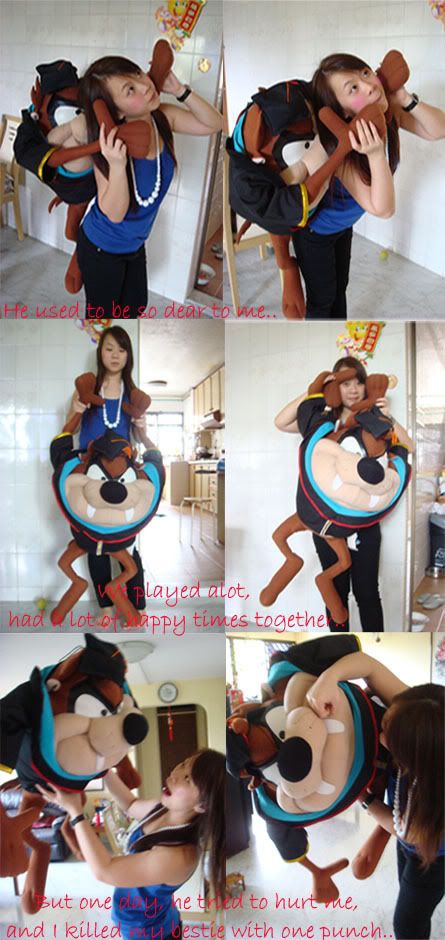 Hahaz.. I love the first two pic.. Darling say my face doesn't look smaller with Taz covering my cheeks.. Hahaz..
I believed tt Taz gt diabetes cos his body is huge but he gt skinny limps.. Darling said I shouldn't be jealous at a soft toy.. Hahaz.. But it's hard lei!
Anyway, after that I went home to slp! HAhaz..
When I lied on the bed to tok on the phone this afternoon, my eyes gt reli itchy so I washed and close my eye to rest.. When dad saw my left eye, he said it's v serious..
There was a gel like bubble covering my white eyeball.. Sob.. Part of it is still there although I tried to use ice on it.. Dad asked mi to see doctor but I'm plain too lazy.. ='(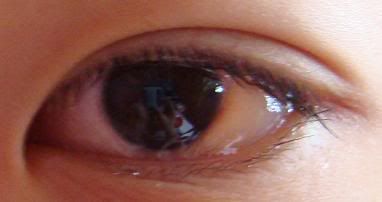 I know it's damn gross la.. ='(
Anyway, my mum bought mi these and they are reli good for my stupid skin.. =)
Enjoy the rest of the NY!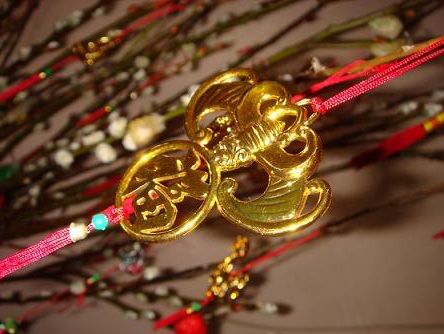 PS: I've been blogging since 3.33pm.. =p