Wow, I very free hor? Like everyday got time to post..
Since it's New Year and I'm home early, I'll bring some pics.. =)
Mum's so cute infront of the camera! I was shocked to see the 2 pic on the top row when I upload the pictures.. Soooooooo adorable.. Hahaz.. =p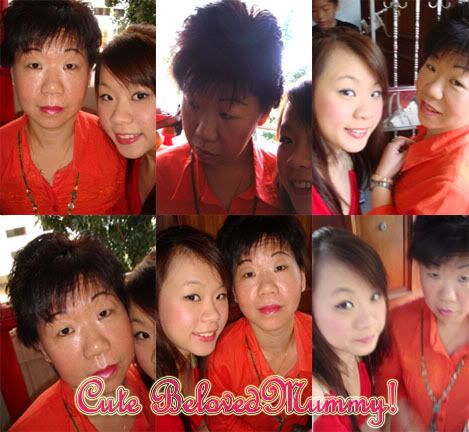 This yr mum decided to change plans and went to Grandma hse first instead and Dad will represent us to visit paternal relatives with his siblings.. Hahaz..
While waiting for the train, my bro commented on the similarities of our bags..
On the whole MRT journey to AMK station, I realised tt IMH might have public holidaes for the patients too!
The guy board the train at Admiralty with his mum or sis or whoever female beings and he started to stare out of the "windows" at the other side and started singing WEIRDLY! To the extend tt my mum was shicked and looked at him.. Den he started to ask the female being abt where's blk 124 at Jurong East and how they go when the train is going towards Marina Bay.. He started toking loudly and scare everyone including us when he stand behind me, my mum asked mi to change place with my bro in case he trys to do anything..
Then here came another WEIRD guy with loud radio speaker and at least 6 red market plastic bags full of things and "dunno real anot goldern beetles" on his right shoulder.. ( PS. I was looking at these 2 guys literally and my mum descibe them to me..)
The 1st guy sing and walked around and my brother realised that he scare off te 2nd guy and the 2nd guy went to other cabin in a lightening motion cos we are at the last cabin..
As usual, the announcement sounded.. "If u see any suspicious person or articles..." My mum said " You ah! You ah!" funnily and excitedly to us and so she follwed the instructions and started to report to the SMRT staffs trug the "Pay $5000 for misuse" communications tool..
She said there might be 1 weird man in each cabin and everyone could be calling for help at the moment.. Hahaz.. So she dropped the idea..
Of cos.............. She did not attempt to call.. =X
We got off at AMK being relief that we are safe from the weird ppl..
Den we saw ppl hanging around the bottom of the escalator looking at dunno wat..
An old was sitting with her les straight 1 metre away from the escalator..
When a few ladies asked whether she need help, she started explaining how the accident happened and I believed it's not the only time she tried to explain..
WEIRDOS... My mum says she need an ambulance cos old ladies love face alot and when she did not get up mean she really could not get up.. Poor thing..
At my grandma house, after so many years, we were early.. We were the 3rd to reach there and have our lunch before mum suggested Blackjack with 5 ppl.. My uncle, my mum, bro, grandma and me.. Imagine my mum asking my bro to join in the game.. Not the first time though.. Haha..
Den as we play, more ppl came and joined in I lost $3!!!! I was winning all the way until some faraway cousins became the banker and got like alot of BJ and my money juz gone!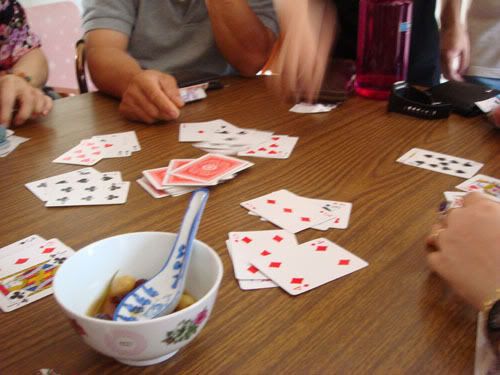 We saw alot of relatives came and they commented on how much my bro and I changed... Blah blah.. Started saying I pretty.. Seriously they were too kind.. Hahaz.. Got 1 even ask mi when I'm getting married and wth I was booked already.. Haiz.. How I wish I could tell her yes.. Hahaz.. But awkwardly I said " Not so fast lah!" Hahaz.. =X
When we went off, was shocked to see the scene we have not seen long ago at grandma's hse.. Cos we always reach there when everyine left.. I'm so happy this yr! =D
A long journey towards Boon Lay and had dinner there.. Ya.. Eat again!
Love my aunt's cooking.. Thought I could pay Dearie a visit 3 blocks away but we were leaving soon so I didn't go.. Stayed for pic taking in the end.. Hahaz..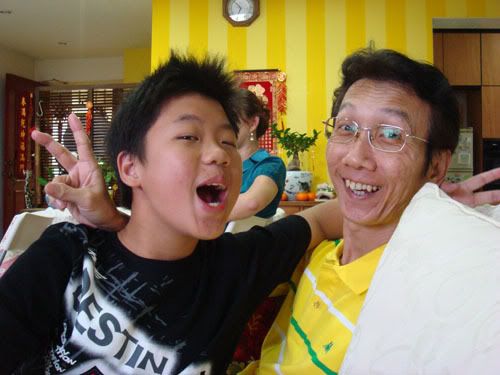 I dunno why they so happy! Hehez..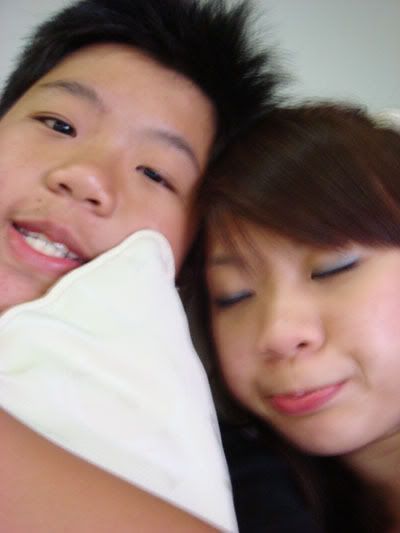 Deadbeat! And we couldf finally lied on the sofa after my uncle's family went off.. The $800 sofa is better than any bed.. Hahaz..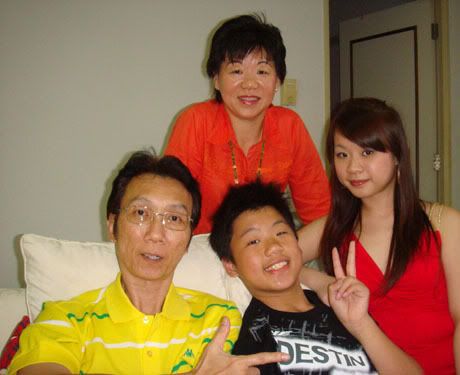 The long awaited family photo.. Although my dad forgotten to smile, as long as I look not retard can le.. Hehez.. =P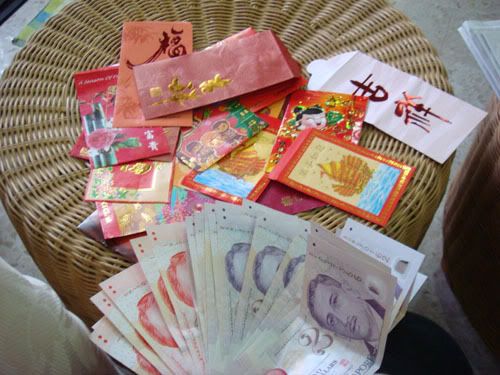 My mum asked mi to give all the ang bao packets to my aunt tts y I "hen mei you li mao de" opened up all my ang bao! Hehez..
Money is love!
My dad and bro chose to take train back and mum and I took the 1hr bus ride home tiking tt it's convenient cos it stop under our blk across our blk.. But due to me stupid smsing and mum slping, we ended up in the interchange!!! Argh!!!!! So tiring!!
Simin and I went to Naitonal Library after school last Mondae and I didn't get any info there! Waste my time lohz.. I didn't upload more pics cos I seriously took alot of fat pics of myself tt dae!!!! >=(
What's the best way to get ur berry on the restroom's door? I'm smart aren't I?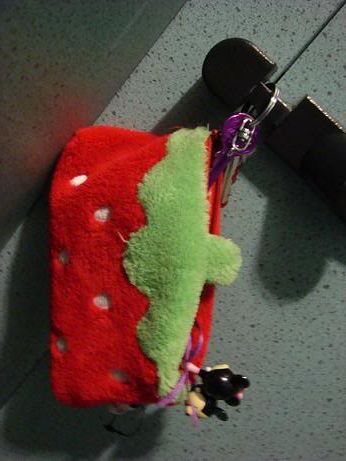 Happy New Year Again!!
Ciao.. =D