Hello.. Been a lonely ger at home these few days and since I didn't took alot of pics with Darling Gwee on Wednesday, today's post wont have a lot of pics..
Really.. Todae's post is all about arts!
Wednesday marks the last day of deadline for research paper.. And I'm gald that I finished the last assignment of my Poly years.. I've yet to prepare for tml's interview.. Wonder wat will Miss Seow asked me.. Sobz..
Anyway.. Me posing with my graduating assignment in the graduate's pose..
My designed cover page= arts..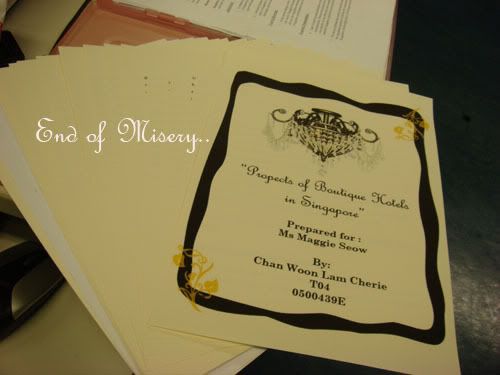 How did you guess that I handed in a piece of blank assignment?
After this assignment, and taking the last picture in the lift..
I will receive my..
Den new batch of students will overtakeour placement in school.. (Well, long ago..)
Simin excitedly said:"Hey, got ppl aso call Cherie leh.."
Me: "I hate ppl with the same name as me loh, Mine so special liao.." >=(
Simin: "Hey, aso gt ppl call Simin lei!"
Me: "Hahahahahahahahahahaha..........."
Simin: "Hahahahahahahahahahaha..........."
Den the two of us waited 25mins for 518 and headed to Cine for Sukisushi..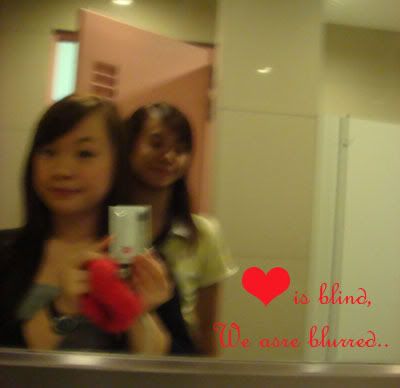 She's crazy over sashimi.. I was sick of it after 3 pieces.. And biting into raw prawn just sucks.. I felt so cruel.. EVIL GWEE SIMIN!!!!!!!!!!
We bought the same hp pouch after we bought the same top at bugis 2 weeks ago.. =P Disgusting.. Hahaz..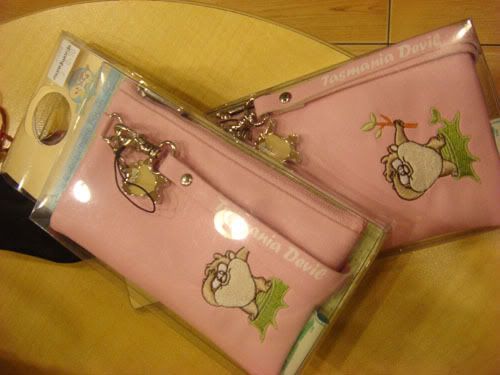 Before lunch, our eyes were caught by the 2 mid sized Taz at Mini Toons, so i went in to take a look, overlooking the bucket of big fake furry purple roses and it "gushed" out.. We I hold them up in a whole, the whole bucket dropped, messing the place with roses.. I asked Simin to pick up and while we were picking up, the shop assistant asked wth she could help us.. Dummy Darling said NO! Den she clusmily dropped half the bucket again and we were laughing very hard while picking up.. By the time we finished lunch.. All the mid Taz (2) were wrapped up ready for pick up.. Sobz..
WHY I DUN HAVE!!!!!!!!
Darling Gwee Hate ppl who like Taz like her.. I want her to hate mi!!!!!!!! Hahaz..
We went over to Far East with a very big bloating full tummy and I bought my fav!! (She bought alot of useless stuff which are uninteresting like foundation and concealer)
Belt!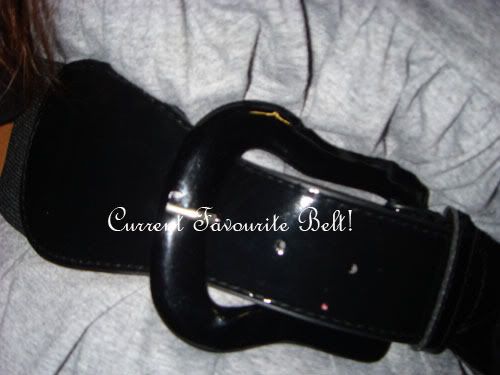 I finally found a bag I like!
Bangles..
Nice right the box, mum give mi de.. =)
After gg back to Wdls, I went to find Artistic Te Rong to take back my thumbdrive and asked him to leave his arts on my sketch book which i took back from Darling.. (Drawings at the bottom!)
When I got home, finally receive my pay! Haven bank in yet..
Below are a series of arts...
1. My desk..
After so much preparation, I'm finally satisfied with it.. =)
2. Cutie edible sweet oranges..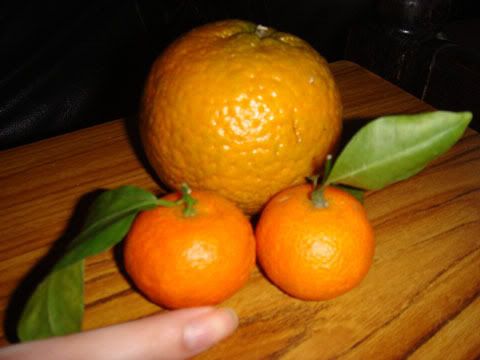 The art of contrast..
3. The art of love..
My dad sae mum requested for it since before marriage..
4. Drawings!
1st..
I was shocked when I found this when I got in back from Darling's hands.. So sweet.. =) Haiz.. But now boi boi more impt than me le lo.. Hahaz..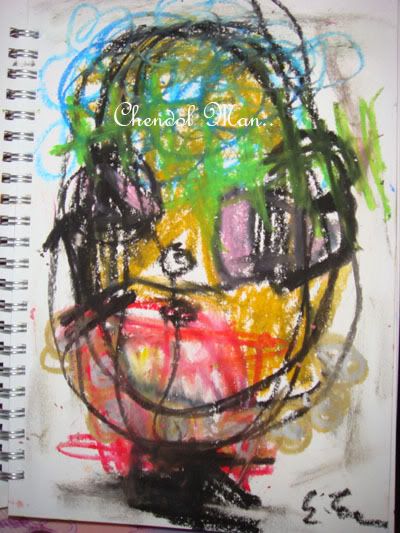 "Rubbish" by Te Rong..
A day's diary entry..
Te Rong's dedicates to Valentine's Day..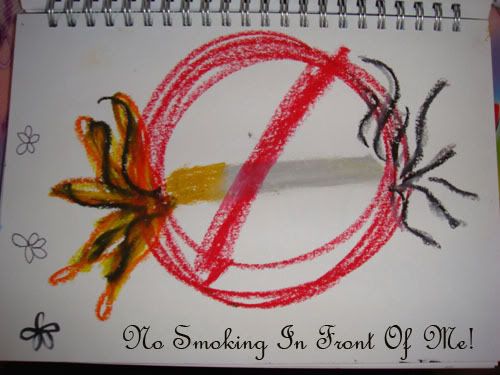 Hate smokers..
Guest page..
When I asked Te Rong to sign, he started drawing again.. Hahaz..
Actually he can draw very decent portraits de.. But he dun allow me to post.. Anyway, the drawings above are up for sale! Email me for more details! Hahaz..
That's the end of the short, lots of pics post.. Cheers.. =)
New tutorials section under "Beloved Darling"..