Last week met up with ZH after work and we went walk walk around Orchard before heading for Prata at Jalan Kayu (initially)! We saw this cute M&M candyhouse out Shawhouse and it's a big attraction for lovely photographers..
Inside sells mon colour M&M like purple, white and pink coloured each in individual box..
ZH: "Den what flavours are they?"
Me: -.-"
Hahaz.. M&M of cos is juz chocolate inside la! Maybe they should try changing it into white chocolate? Hehez..
We went FEP to walk and saw this dance event going on with loud cheers and tons of ppl! Mostly non chinese and they were so high! When we finally found a space to squeeze in the crowd like a 5year old.. The thing ended! =(
ZH: Maybe we can try travelling up and down to watch!
Me: We can juz press the stop button..
Ok.. That's not very funny but there's aso once where an auntie were 3cm behind him saying excuse mi rushing to dunno where.. I' sure you always met up with these ppl on the streets..
ZH: Hey, we walk behind her sae EXCUSE ME! EXCUSE MI! lahz.. lolx.. =P
This is call yi ya huan ya..
I was craving for Sundae and we went to buy it for Mac.. And do u noe they change their uniform to the infamous jailbird strips?
I cant believe myself wearing that.. Admires!
He was hungry so he had Mac..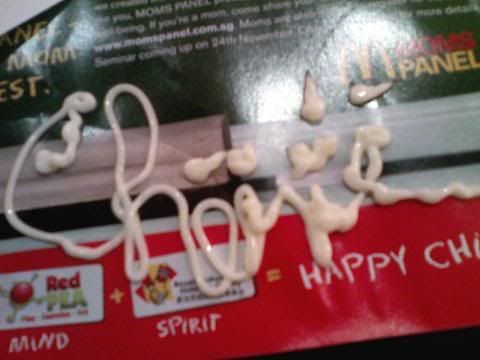 We were trying to compete see who squeeze the nicer mayo and his "shit" failed.. Hahaz..
We went across to borders for dunno wat reasons and we saw the slimest psp there..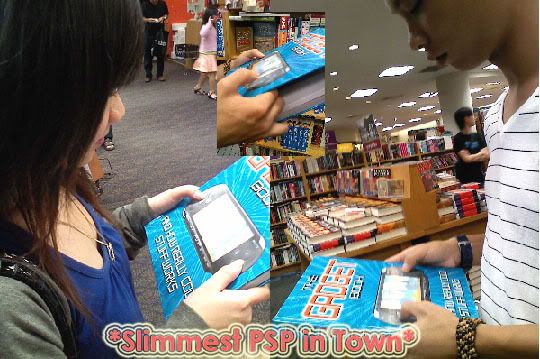 Hehez.. So cute right?
The whole night from 6.35pm.. We travelled to FEP to Borders, to Somerset and all the way to Esplanade! Along the way we experienced many beautiful Chrismas lightings.. I wan a Christmas gathering!! FRIENDS WHERE ARE YOU!!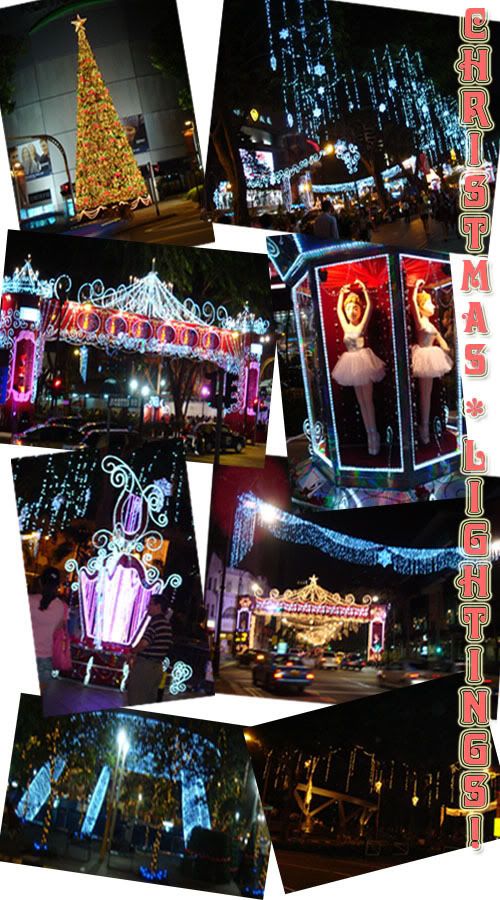 I saw a super turn off gers insulting the decor lo.. I know I'm evil and ugly..
When we were on our way to Esplanade, we came across Suntec which have very hig ceiling so he started tossing the lemon tea in bought from 7-11..
The red circle indicates the height of the bottle and he managed to catch it every throw even with his hand on the back.. Hahaz.. Not tt I'm proud abt it but I tik quite li hai.. Can be bartender le.. Hahaz..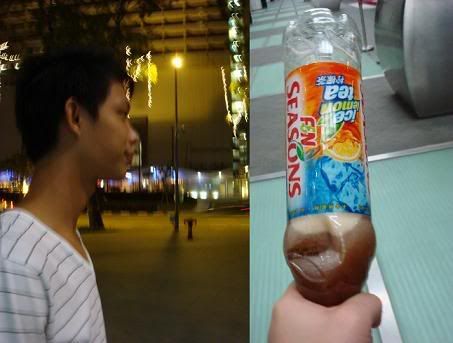 The guilty torturer and victim lemon tea after tossing..
Disgusting little frog on our way..
We finally reached Esplanade sweaty and sticky and to our disappointed, we saw the ugliest Esplanade!
Half eaten durian? I rather they switch the whole thing off..
We sat down at the Merlion Park and shared alot of things.. I like ppl who are willing to share his rebelious life in the past, tt shows how much a person have grown and still growing.. He tok abt his fights, how he defy the teacher and stay at top 10 and how gers approach guys juz for drinks.. Hahaz..
We chatted till 5+am till we were quite tired and he sent mi home in cab.. Thankz.. I accompanied him till 6+am for his bus and the dae juz ended with mi waking up at 8am for my work.. Expectedly, I woke up at 8am, plucked out my hp charger sand slept straight till Simin called mi at 10.25am for my 10am work.. =(
My Houskeeper: I noe u will be late when I saw u make up yest le! I last itme aso always like tt and got many warning letters.. Hahaz..
Me: No more next time le!
I promised!
ZH in webcam.. He sae dun betray him but I dun tik he rmb to read my blog too! Hahaz..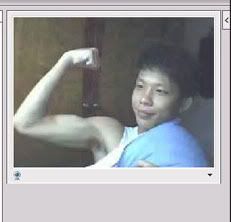 Sum randoms pics during work..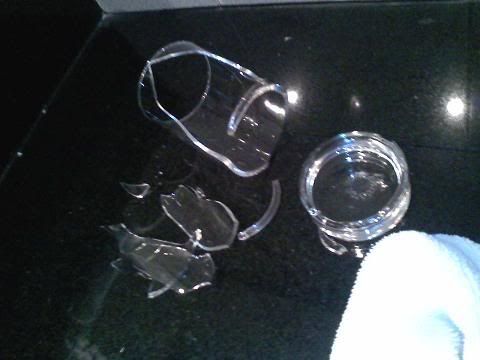 Simin and I are really good working partners.. We even broke glasses the same way at the same place without each other around.. Hahaz..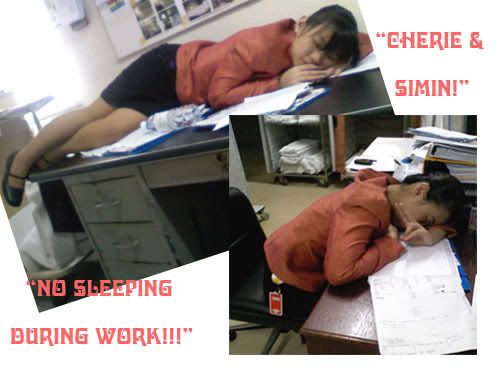 The nap we had during work at 4+pm and we finishing at 6pm.. (Fiction)
The things i squeezed in my tiny pocket of my skirt..
Simin helped mi changed my uniforms 1 dae (top S, skirt M)the auntie gave her S & S instead and I can fit in! I'm so happy.. I tik Simin and I are officially S & S now! Hahaz..
Satisfying cheese prata during midnight with a fren.. =)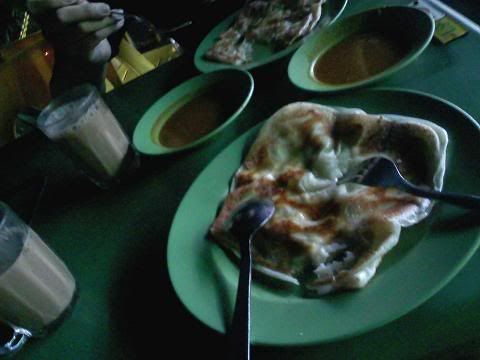 Cousin Jenny invited mi for her 21st b'dae dinner on eve of eve of Christmas! =)
Finally saw the recent Ade Laopo on webcam.. She's both happy and sad over there.. Hope she wont come back if she really find happiness.. Hahaz..
Tml is Saturday and I'm finishing work at 4pm.. HOW!! I wanna spend my Saturday fruitfully!! Sobx..