*Meritus Mandarin Fire Drill*
(I risked my life to type this entry!)
Dear Guest,
We are sorry to inform you that we are having a fire drill on 7th Novemember between 3 to 4pm for our staffs. We apologise for any inconvenience caused.
Mgnt of MM
(Faked by Cherie)
So on that day itself, we were prepared for the fire drill but no clear information about the whole procedures were briefed.. So alot of room stewards had already planned to "cheat" by meeting their frens at 5th floor so that they wont have to climb down the stairs all the way from their respective floors which might be from 9th to the 36th floor..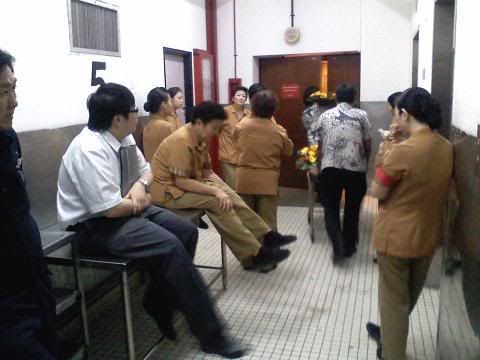 Den there was a last min call frm hsekeeper to Simin to make the r.s go back to their floors so tt they could make a call trug the emergency fone when the first bell rings.. Simin & I travelled to & fro to send the r.s using guests' lift and they misunderstood the procedures and pick up the call before the bell rang and rush down again..
Finally the bell rang twice and we went down..
Yan Wan claimed that this is 1/4 of MM staffs..
Everyone was very excited and angry cos they couldn't go home hafta squeez under the scorching sun with thousands of passer-bys looking at them.. And me being me, I enjoyed the trip! Hahaz.. After attendance taking, we were put back to the hotel.. Yan Wan & Sandy's even help them buy ice cream for them to eat on the way back..
Housekeeping staffs..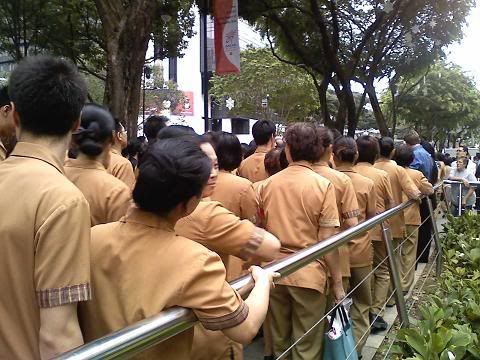 Well, the results.. The hotel failed sand we are having another 1 2 weeks later..
OMG!! I got damn lots of pics to blog about.. YOU SHALL WAIT!!!