On 8th Sep, which is appox 1 month agao and the day after Wei Lun's Chef's competition.. Stella, Wei Lun, Calvin, Ivan, Laopo and I went over to Party World Orchard to Sing..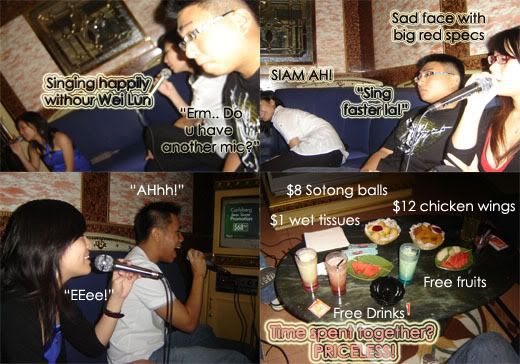 I tried to post the pics one by one but I'm juz too lazy and prefer to lump them tgt.. Hahaz.. Each dun have a specific things to mention anyway, and personally I prefer pics to crap in blog.. Hahaz.. =P
My contacts lens was tore by my eyes few daes b4 this and I hafta bring my duper red specs to allow mi to see the lyrics clearer.. Hahaz..
Special emphasis on this 2 pics cos I juz love the faces on them.. Hahaz..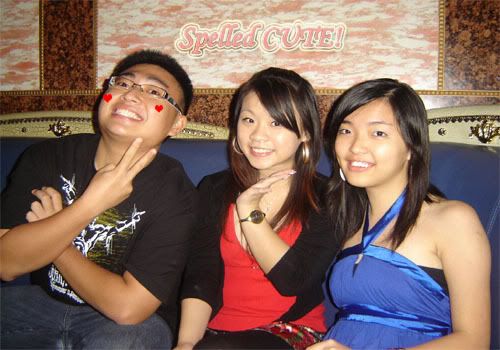 I dunno what's up with his spastic face.. Again and again de lo..
The sweeties.. Last dae with them b4 they head to Beijing for internship the following Monday.. Sobz..
One more emphasis!!!!
You see lahz!! We kept teasing him about this lohz.. And when ppl is singing, he refused to join in but like to make body languages over those lyrics.. Mr Cockster Ngai!
After that, WL, Stella and Calvin those SA committee members have to meet the rest of them at Raffles City for dinner.. So we walked all the way to City Hall and bypass this eDonuts across to Dolby Ghoat..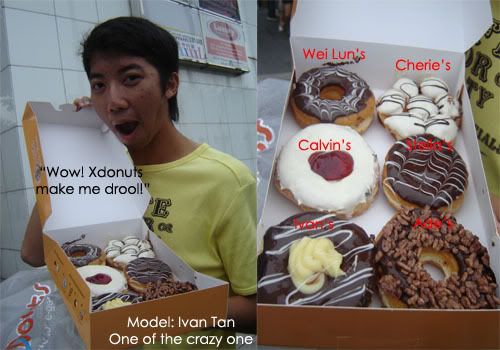 Tadah.. Tt's it for the expired update and the hot chef competition have a hell lots of pics so till den..
Lastest update of my internship..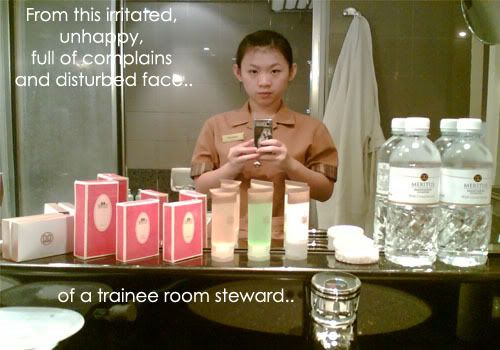 .
.
.
.
.
.
.
.
.
.
.
.
.
.
.
.
.
Basically I'm holding a mobitalk, a pair of scissors and elect key cards and clipboard walking from 9 to 22 floors checking vacant rooms.. Sounds easy? It;s a lonely job seriously.. My best awaited times will be during meal times.. Hahaz.. I miss ya alL!! Call mi out for shopping!!!!!!!!!!
I need to spend sum money! HAhaz.. Muackiez..