I told u I will make this wait worthwhile ok? I want you to refresh this page eveytime u cm here and surprise urself with my update on of ur tries ok?
1st up!
Overdue pic of us making sushi at Wei Long hse with his sis and his cousin (w/o him of cos) at ine of the thurs wen I'm off!
2nd!
1 of the rule in Meritus is, not getting drunk during work but Simin and I wont get drunk so easily, so we finished up the small bottle of white wine I got in a check out room on the previous dae.. (pic taken by my lousy ex N3230)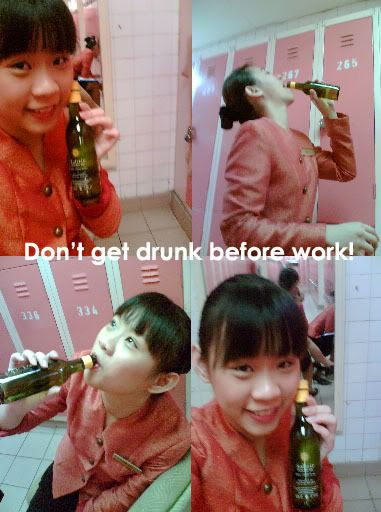 I was swaying and whining in the office and Simin reli gave up on mi.. Hahaz.. We had fun times working tgt! =) I noe she doesn't read my blog but still wanna sae thanks to her! Hahaz..
So after much waiting for a new change of fone, I finally got myself a LG Shine woth my $100 Starhub voucher!
The rest of the entry's pics were taken by it! Enjoy! =D
Last Fridae 19 Oct was the 1st trainee meeting in Meritus and I gt a very last minute off and was quite pissed with it.. So anyway, I got out of my hse late and arrived 15mins after 3.30pm.. I was so rushed tt I couldn't make up at home so I used tt 7mins walk frm my hse to MRT station journey for my make-up! Which includes foundation, blusher and mascara! I add on my eyeliner on the train, tell u, I'm becoming an expert in mobile makeup-ing ok! I can draw eyeliner in moving vehicles.. Hahaz..
After the trainee meeting I was left alone whining for not being able to work with my Darling Simin and the cutie PRCs.. I forced myself to shop around Orchard by myself.. I went to Wisma topshop, FEP and Causeway Pt to shop and in total I spent abt $100.. But I guess it was worth it la.. Imagine no 1 with u= impulse buyings.. Hahaz..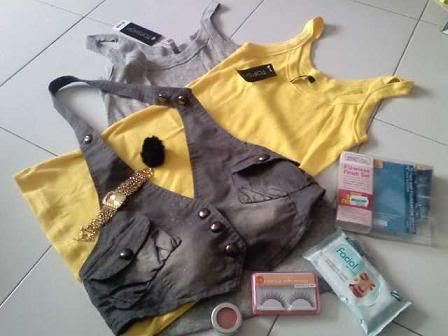 Met up with JB at 10plus for "Halloween" and we weren't sure abt the story so we asked the tickt-er.. She showed us a booklet of movies description and tt idiot read aloud the story outline..
It goes:
From acclaimed musician and filmmaker Rob Zombie (The Devils Rejects, House of 1000 Corpses) comes an entirely new take on the highly successful film and
terrifying Halloween legacy
that began in 1978. While revealing a new chapter in the established Michael Myers saga, the film will surprise both classic and modern
horror fans
with a departure from prior films in the Halloween franchise. Audiences should brace themselves for unprecendented fear
as Zombie turns back time
to uncover the making of a pathologically disturbed, even cursed child named Michael Myers.
So we assumed the show is abt Zombie and we bought the tickets.. Although I dun like show abt Zombie, I agreed to watch it.. It;s abt a young cruel serial killers and we were tiking wth he's the Zombie and after 1hr 45min if the show, we finally saw the Zombie we were waiting for..
Ok, u get wat I mean?? Call US stupid! And in the middle of the show I was luffing cos I tot of sumthing funny suring the trainee meeting and JB tot I was mocking at the director and insulted the show.. But hey! We reli did insult the show by tiking it was abt ZOMBIE!! Hehez..
After which, I went over to his hse to slack and I was excited abt my new fone so no matter how bad the camera quality is, I still took pics with my new tops on! Hahaz..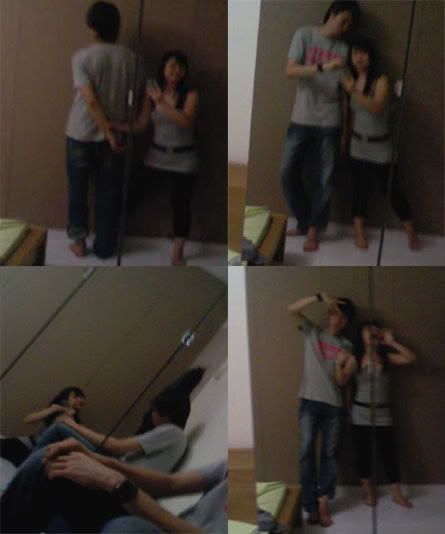 Juz nice he was wearing Grey tt dae!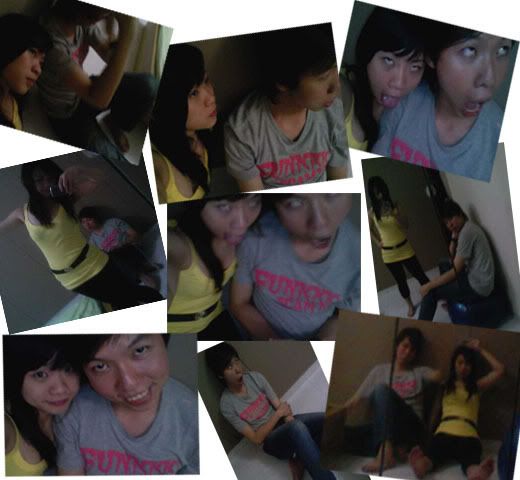 Hahaz.. I like the horror faces.. In the pics which the 2 of us were smiling sweetly was an accident.. I wanted to make him look stupid by smiling tt way hoping tt he will cont to act horrified face by trug the corner of his eye, tt stupid boy knew wat I was doing and smiled even sweeter than mi! Kaoz.. Hahaz.. But anyway, it was funny.. =P
PS. After the trainee meeting, I was complaining to my Asst Executive Hsekeeper tt the hsekeeper nv inform mi of my last min HRP holiday off so she said she will ask him to apologise ( in the end he didn't!) So I jokingly said tt I like roses.. And the very next dae, she presented mi with a fresh lovely rose!
So nice! But the stupid mi place it at my window ledge and I tik the big wind blew it away wen I went out to work the next dae! Hahaz.. And I aso received the 2nd box of cookies Karel baked himself! (An intern from Indonesia.. But starting to dislike him nowades)Hahaz..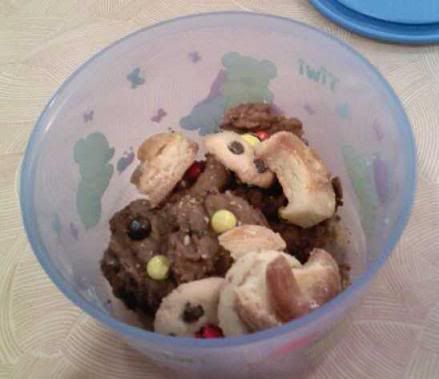 I forgotten which dae was it, but I jus happened to take pic with my lovely and sweet brother.. One who dun mind making Milo and preparing breakfast for mi, hanging up my towel, opening and locking the door for mi! =) Not a maid la, so awful..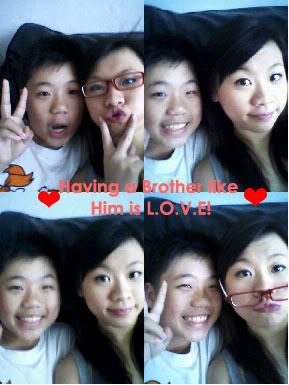 Sweet! =D
On Sundae morning, JB and I went to Party World at Civic Centre for early bird b4 my work and I'm reli at loss of wat to sing!
So tt's abt it.. Hahaz..
The following Monday was my off again and I met up with Dearie (like FINALLY!) at Bugis after her work at 5.30pm and we went shopping for her DND themed gold and black.. And she got mi a necklace from Diva! Hehez.. Thanks! (Although she does't tik it's nice.. But I love and treasured it!) Hehez..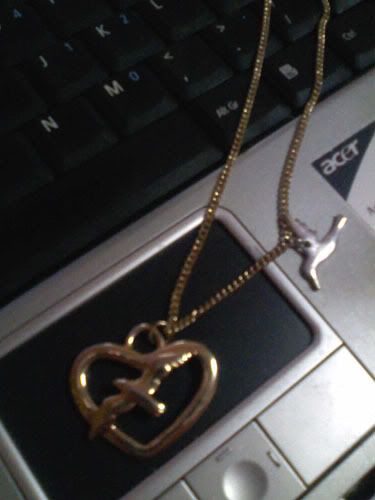 Den we went to Bugis street, my fav place and she got herself a watch and myself a cardigan again! Hehez..
The shopping period was short cos we were both hungry by 6+ and we went to wanton mee stall she recommended and the menu shows..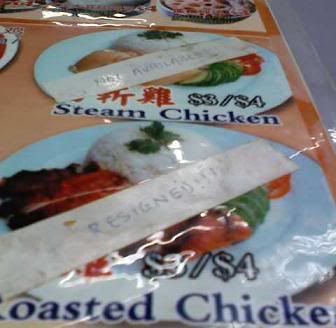 Hers showed "retired".. Hehez..
US!
Her candid pics are always nice.. Cos I'm a gd photographer!Hehez..
Well mine is juz fattening! =X
Love the mee! It's reli nice and since I gt a necklace frm her, I treated her the meal and she is the 1 who lose out but I noe she doesn't care! Hehez.. =)
After meal, she took pics with mi as promised from the previous toilet trip and onli 1 turned out okay..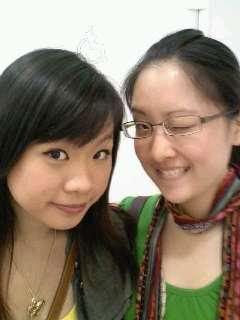 Conservative Dearie said sumthing tt shocked mi tt dae..
Dearie: Hey! Same colour! (refering to bra)
You wanna see mine? (Trying to show)
Well, in the end I didnt get to see it la.. But still.. Shocking to mi.. And she told mi abt her going out with a PRC guy at her working place and tt shocked mi too.. Although I might be gg for a tattoo with 1 tml aso.. MIGHT! Cos I will feel awkward de ok! Hehez.. And Yeah, I'm getting a tatto with my Dad's permission.. Hehez..
Met up with JB awhile after the trip and I finally saw cute!!!! Janelle! She's so cute and the way she touch my hand, hug mi, call mi jie jie reli makes my heart melt and touched mi to tears.. =(
So lovely right?! Ohhhh.. I so wanna have a baby.. In the future.. Hahaz..
Oh, b4 tt, we went for Mac meal and I got myself this!
Tonight, which mean juz now, I met up with Collin after work and he wasn't sure how to drive frm Cine to My place and we ended up driving to Wdls Checkpoint cos of a road accident.. The police came to us and asked if we were gg to JB.. After Collin explained, the police opened the gate for us to U-turn.. Collin said he felt liek an VIP! Hahaz.. I said he could use the same reason again to be a VIP next time round.. Hehez.. =P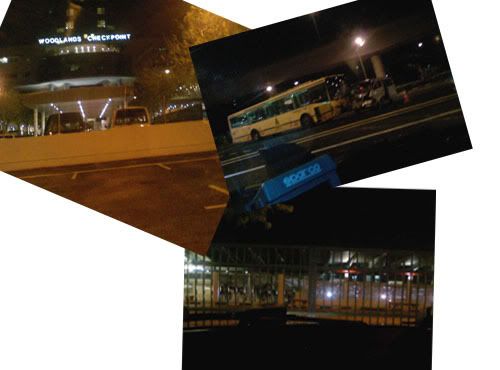 I tik we might be caught as illegal trepassing ba.. Hahaz..
When the drove until 2 blks away from my hse, I suggested prata and It was my treat! Hehez.. To thanks him for the unique experience way hm.. And he's crazy abt HSM too! YW! BL! He got HSM notebook, file and pen too! Wan mi intro? Hahaz.. And he have a lovely car.. Although I'm afraid tt he might mind tt I show his car here but I still wanna put up risking of being sued! Hahaz.. See the things I do for my blog.. Hahaz..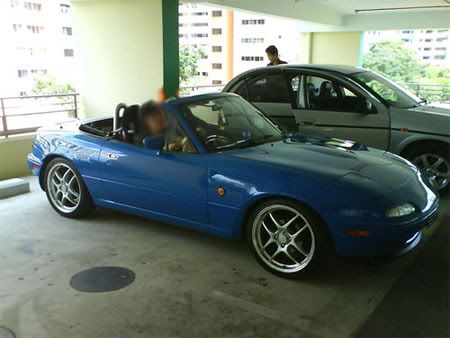 Btw, I'm single now.. So no words like scandalous or fling from u all ah.. Especially Wei Lun!
Next up.. Working In Meritus and Hunks there! Hahaz..