Last Friday was my off Day! Although I didn't get to go out with my Dearie for shopping yet, I invited my sis out for night trips to ikea and mustafa after "she" knock off..
After so long, I finally get to cam whore at the back of the bus! Hehez.. So fun..
Saw that bag? I love it so much, I bought it within 3 mins of looing at bags and initially I wanted to be a filial ger and buy it for my mum.. But so many days didnt see her at home so I jus tested it out tt dae.. But she still loves it a lot now. Hahaz..
When we reached Ikea, it was already 8.30pm.. Although I was late wen I met him, he was the 1 hu knock off late.. So I blamed him.. Hehez.. Had our dinner there of cos not forgetting their favourites, meatballs! It was so so so crowded..
I know this pic not v cinvincing, but reli a lot of ppl there lo.. Quite for sum time.. Finally can eat le!!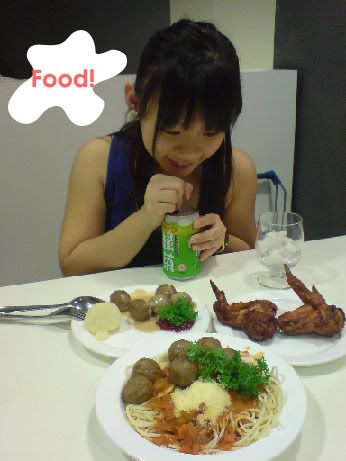 It feels good to have a big jie jie or kor kor accompanying u out.. Cos they are earning money.. Hehez.. Btw, he's Jie Bin.. You noe? Frozen in chinese. Hahaz..
We left the place at 10pm and left to take bus to Mustafa! An excuse to cam whore again..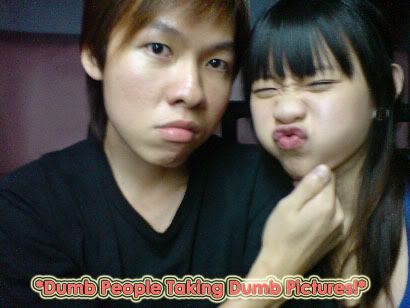 .
.
.
It was quite crowded cos it's like weekend already and I'm reali afraid about the crowd there..
I love to buy a DKNY watch from there!! And no matter how hard I tried, still didnt find my Adidas spray..
In the end, I bought a hair mask and a body scrub.. I forgotten to take the pics of the cookies we've bought! I left my half eaten packets of biscuits in school the following dae.. SObz..
Anyway, found a few interesting items there.. We dun right? Hahaz..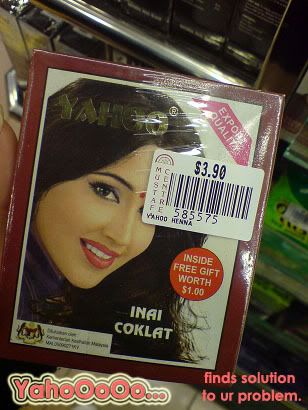 Can Yahoo sue them?
We were so shocked and amuse when we saw the duper big Axe oil but we open up and saw inside was packs of smaller bottles.. Hahaz..
And I wonder wth she used to be a he.. Opps!
Are u guys suckers for sundae syrup?
So updated!
Not all things are cheaper there, but sum Loreal and Maybelline and Revlon Cosmestics are a few dollars cheaper.. Gd bargain..
Yawn.. And we reached home around 3+am.. Woke up at 7.05am juz nice after Beibei given up calling mi and went to bath.. Initially meeting them for Mac, but I was late.. Forget it den.. Beibei wont take pics without mi, see, her blog no pics of mac breakfast right? Hahaz..
When I stepped into the classroom of SIP session, I immediately told Mr Zainal, good morning! I am Cherie.. I tik Beibei and YW tot I was introducing myself so they laughed! But I was trying to inform him that I am the ger who cant get into the forum.. And he replied: "I noe, you are the lollipop!" (My email add) Hahaz..
When he told the class to cherish their weekend off as a few of us including mi are working after the session.. He said: "Go meet up with you loved ones, go.." And I merely mumbled "Go and die.." And the class burst out laughing without mi noeing that they actually heard that.. Even Mr Zainal laughed.. Hahaz..
So Beibei's clinque, WL and I went to City Link Thai Express for lunch..
My face look so nice in the camera but it sucks here.. Hahaz..
WL and I shared a plate of Phat Thai cos we wanted to enjoy Meritus dinner later but we end up getting more from teh rest if them.. Hahaz.. Cos there were 4 plates of Phat thai we ordered..
Took a few pics while listening to Yu Xia abot her Yan Yu in Conrad Golden Peony restaurant..
Beibei sae she's my victim for cam whoring.. She Lied! Can see she enjoyed it lo.. It's called partner my darling.. Hahaz..
Sum of us!!
You noe, I was trying to put my face into every pic beibei wanna snap and U noe how she teach mi a lesson?
And she called this the funny pic of the dae.. Why not call it the UGLIEST!!!! >=( But I prove tt I do put ugly pic of mi in y blog lo.. Hahaz..
I love my expression.. So natural right? Hahaz..
Beibei sae this is the best pic if the dae, obviously she didnt care how I look.. My eyes look so small here! Hahaz..
WL and Serene rushed for work and I rushed mine half an hour later than them.. HAiz.. I might not want to have off this Thurs.. Which mean I might be working 3 to 11 16 days straight.. Await a new heroine! =D
Sum obsence things to end the post..
Few weeks ago, I finally bought my donuts from factory and I queued for onli 5 mins or less I tik..
I noe this is not obsence..
But this is..
Raspberry chocolate.. Kenny refused to suck from there.. Well, who will want to try that? Hahaz..
MSN logs long time ago when YW is bored in her reservation dept.. And see how WL welcome her? Disgusted..
We were joking about YW and Shaun and we started ask her give us pointers abt tt matter in the future and I tik I said sumthing like do where aso the same ans WL wanted to parachute and.. Hahaz..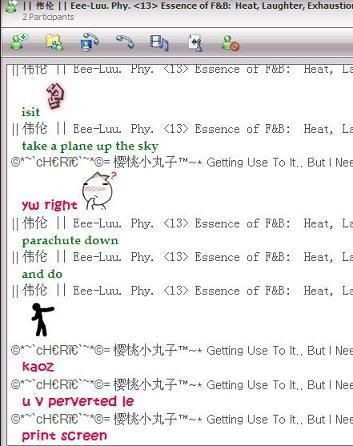 That's abt it.. Hehez.. Simin and I were gossiping and chatting about our dept daily in the canteen and we can see that the fron office ppl and reservation envy our position and the amt of fun things we do and the amt of break time we give ourselves.. Starting to feel glad that I'm in hskp.. Housekeeping rocks! =)