Oh, did I mention abt hunks? Let's gove mi a chance for a short update and push the work items to the next entry k?
Hehez.. Todae supposed to be my off day and planned (1/2 of mi didnt want to go)to go tattoo with the PRC guy but due to the stupid phoney session with Mr Policeman until 7am, I ended up slping till 3+pm and didn't meet up with Lin Nan.. So half a dae gone..
After dinner, I went to bath after decided to meet up with Mr P.M and sneaked out while dad is having a nap at 7pm.. Hehez..
So we went for pool cos I super long nv touch it and he was kind enuff to accompany me and paid for it.. =) Well, of cos I kept losing and he kept missing balls.. So it was reli a fun session.. Hahaz..
After that, we went across from some Muslim food.. Cant sae prata cos we didnt order any.. =X 2 daes in a row I treated guys to meal and it's a reli new thing to mi.. Hahaz.. Getting generous after my payday.. Hehez.. =P
This is the Uncle face during his chit chat with other mei mei.. But seriously, he look much younger in real life and compared to his age.. You noe secret snapshot dun always get a gd angle.. Hahaz..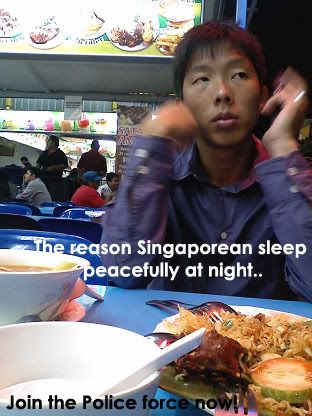 When I first ask him..
Me: u working as wat?
Him: i am the reason y singaporean sleep peacefully at nite
(extracted from genuine msn chatlog ok!)
Hahaz.. And I became the sacrificer to accompany him last night so tt other Singaporeans can slp peacefully.. Made mi so slpy todae.. Hahaz.. But dunno y I'm still here at 3+am.. =P
When he sent mi till my blk, he was amused by the "hill" behind my blk so he wanted to explore it and seriously, it was physically demanding for the fat and old mi.. Hahaz.. We went up and round and down and he still wanna sit there for a short chat b4 letting mi go at 11+pm.. Funny guy.. Hahaz..
Oh Ya! Why no pic of mi sia.. Sad.. ='( Sobx..
I want to go ZOO!!!!! Mr Policeman made mi feel safe.. Hahaz..
PS: He said he wont want a gf with tattoo.. Den I started thinking, I'm still so young, what if my future guy dun like as well? Wat would my children tik if their mum have a tattoo? Oh shit.. Considerations start frm zero again.. Sobz..