Advance Birthdae with Darling 307!!
I went Vivo City trice this week.. 1st & 3rd dae for Service Ambaasadors and 2nd for 307 gathering..
We were suppossed to have kbox session, movie and dinner for the out.. But thanks to YW, Sarah and WL.. We were onli able to have dinner tgt at 7pm tt dae.. Late sum more..
YW: Chalet with SHAUN..
Sarah: Dun wanna support local movie 881 which YW can onli redeem with her complimentary pass..
WL: Chef competition practice in the morning.. This 1 I dun blame him.. Hehez..
Everyone said they were not reli hungry but WL is damn famished.. So we tot of having cakes at Secret Recipe and were mingling outside the restaurant looking at the menu while Ayuni told the wait staff we needed sa table for 6 so the staffs went to make a table out for us promptly.. But onli at this time, YW sae their food are microwaved.. So being a grp of youngsters without much consicious, we left and change to Whitedog Cafe.. Wesley's ex work place..
I volunteered to pour the ice water.. Like tt den can be in the pic ma.. Hahaz..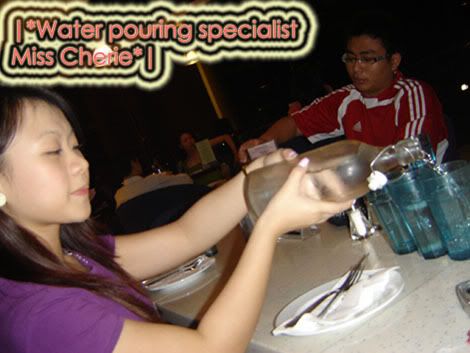 Wei LUn is very generous to let us share his calamari rings.. Thanks! =D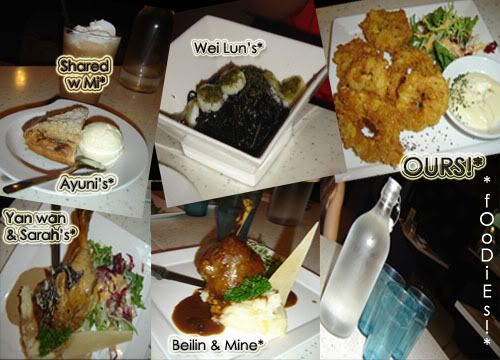 Throughout the dinner I acted tt I was damn pissed with YW cosof the pang sehed k session.. So I told WL and Sarah to cover her in the pic..
Hahaz..
Wei Lun ordered squid ink pasta and his mouth is ful of blackie.. He wouldn't let mi take any pics or tok to us!!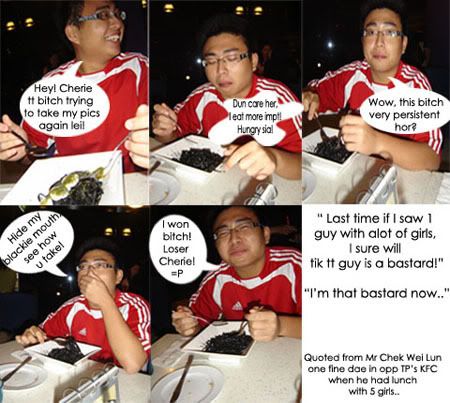 While waiting for our food, I'm bored again.. BL loves to ans to my call for help in taking pics.. Hehez..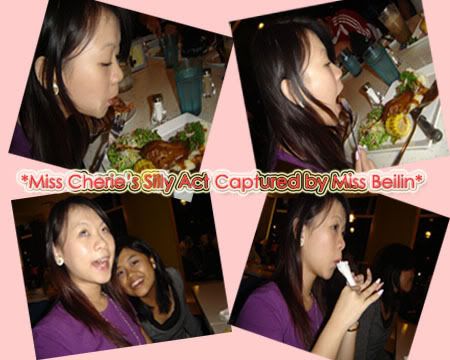 Sarah saw BL and I could cut the corn neatly with our knife, she tried to follow suit but it flew off the plate and tried to scapegoat YW..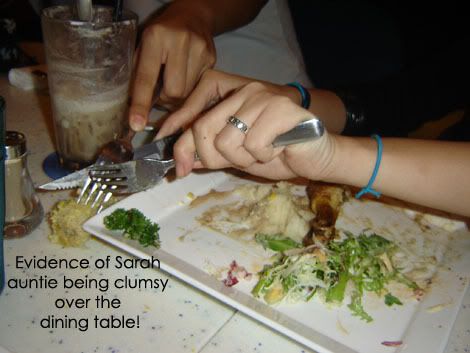 As usual, Sarah paid with her card and we return her in cash.. (Sarah, dbs cant transfer $10 lei, I haven return u.. I transfer le tell u again k? Sorry..)
After that we went to the top level "garden" and they wanted to find a place to sit down and tok.. So in the end, we found 2 benches and sat on the floor.. Sarah wasnted to visit Daiso s BL and I followed.. YW left Ayuni and WL also, claiming tt she need to collect her pay from GV..
When we came out from Daiso, I saw Wei Lun sitting on the floor, I still mock tt he look ike a begger, den I notice candle light behind his head..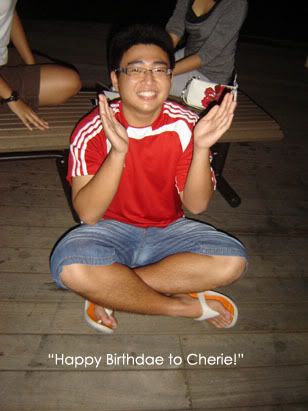 I was S-U-R-P-R-I-S-E-D!!
I was busy acting shy and missed out the enjoyment of them singing the B'dae song for mi.. =( Den BL took a pic of mi being T-O-U-C-H-E-D!
Needless to sae, they aso tried to play the smash face game but of cos they weren't serious expect for that EVIL SARAH AUNTIE!!
See what she did to mi!
Another close-up!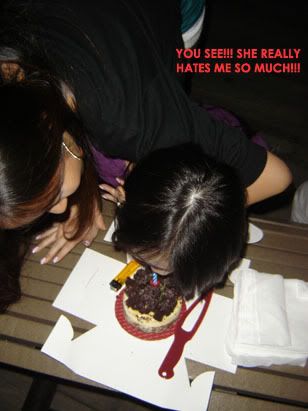 The hatred btw us..
I started cutting the cakes for everyone and I was a messy kid.. All the brownies on top of the cake dropped..
BL changed wth I will be exposed b4 she took the full length pic, exposing my fatness to the whole world.. (at least to ppl who read this!)
Wanna see wat happened to the cake after mi cutting it? Hahaz.. Cos I ate straight from the box..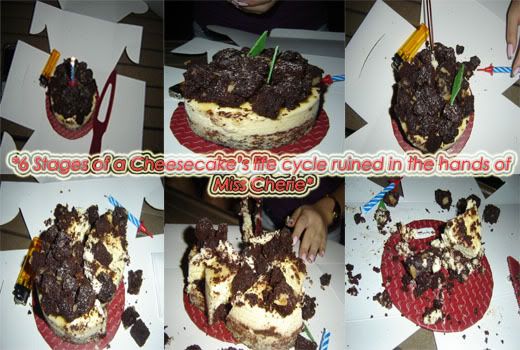 It was a nice brownie cheesecake! Thanks guys.. Sorry la YW.. Hehez..
I always try to post ugly pic of tt evil auntie but she seems like she's posing even in the background lo.. Hahaz..
See what I mean?
The messy kids eating!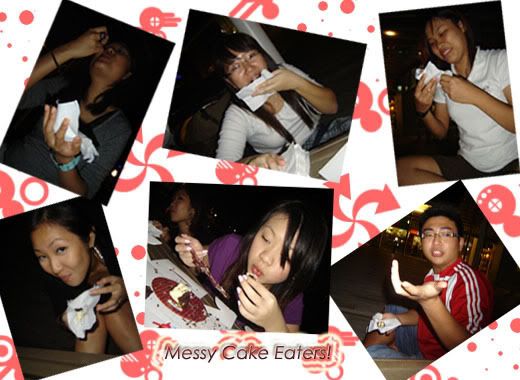 Other randoms..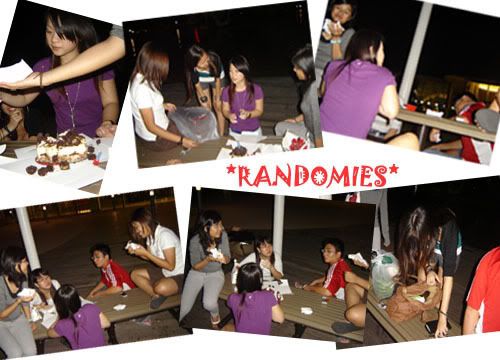 Memorable surprise from 307, I tik it's the 1t surprise b'dae from freinds.. Hehez..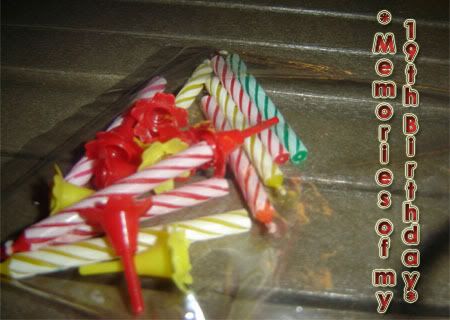 This post is rush out due to BL's complaint.. But I hope it has got quality as well.. Hehez..
2 weeks ago, Dearie and I went to Bugis for manicure and we shop around Bugis for 2 hrs after tt without touching anything.. Hahaz.. Cos not dried yet..
My camera no batt so onli gt these..
Randoms..
Scary woman..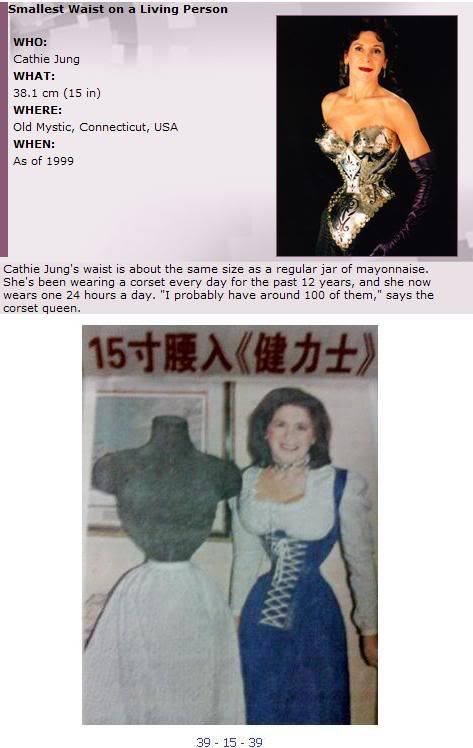 What I draw few weeks ago after reading Xiao Gui's blog..
Starting internship tml.. Nervous and excited.. For friends gg to overseas internship muz reli take care ok? Especially Laopo, Stella, Wesley, Dennis and many more.. Muackiez..
Good luck and Jia you to all of us!