Cherie's production of "Polytechnic Life 2!"
Sorry for the lack of happy posts!
Here I'll bring to you "polytechniclife2!"
It happens on 20 July 2007 a Friday after 2pm.. The day when I woke up at 10.10am for my 11am class.. Consequences=absent + warning letter! Thus, an undesirable behavious will be reduced with the presence of negative consequences.. Ok.. Whatever..
Enjoy..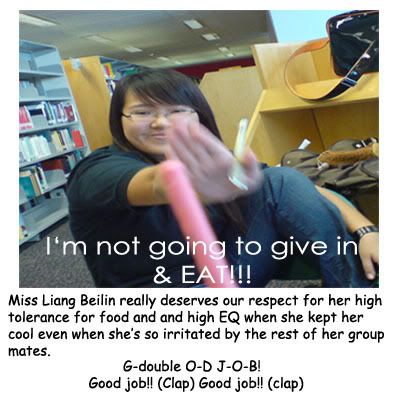 Concluding that Glutton Chek succeeded in influencing his group mates using referent power but the group failed to influence Miss Liang due to her high EI & EQ although the group possess high cohesiveness and cooperation.. =P
That's the end of issue no.2..
I know it's short.. But 1 pic more than the previous issue le ma.. Hahaz.. Also see the other interesting pics of the day..
Alright.. Maybe I'm not so interesting..
Promise more updates tomorrow, including post on
YAN WAN'S 19TH BIRTHDAE!!!
Tadah..
Nights..