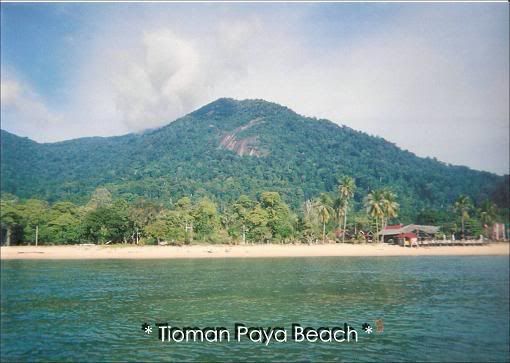 Finally edited cosolidated my Tioman trip's pictures and edited them into 51 pics excluding pics which are not yet developed that contain my snorkelling and canoe trip... Hahaz..
Eve of trip..
1st time to Tioman and I'm reli clueless on how much clothes to bring and I tik I reli overdid it! Hahaz..
Yes, I realised tt's a tat too much.. Hahaz..
1st day..
I stayed over at dear's hse and we slept at 1+am and woke up abt 5am to prepare to go out.. And the cab fare to Golden Mile is $26++ early in the morning! =(
Reach the place before 6am and met up with Soon Keat and Wanru..
We haven got our tix yet so we waited outside the travel agency..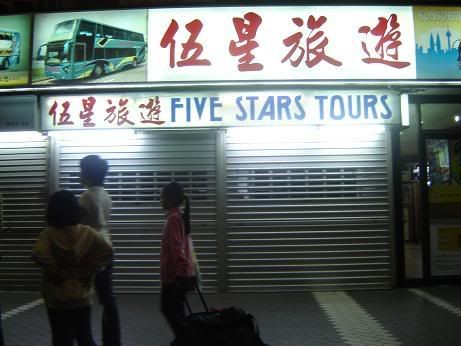 I bought bao and eat and dear with already in his MP3 world.. Hahaz..
While the other couple is busy with dunno what and the crowd is getting crowdier.. Hahaz..
The one in blue jacket is Soon Keat.. Hehez..
The bus arrived and we got up..
Dear started to play Stepen Chow's movie on his MP3..
I wanted to continue watching la, but tik he's too tired and to make sure the batt is enuff for songs, we stop it.. Hahaz..
Cam-whoring!
We travelled on rocky roads with dear almost crushing mi to death cos he is slping and I'm angry at him for some stupid things so I didn't reli ask his to slp properly.. Juz kept pushing him to sit near the wall.. (I was sitting outside) Luckily, if not I would have to pull him up from the floor.. Hahaz.. Finally we reached the jetty around 12 noon..
Our tickets!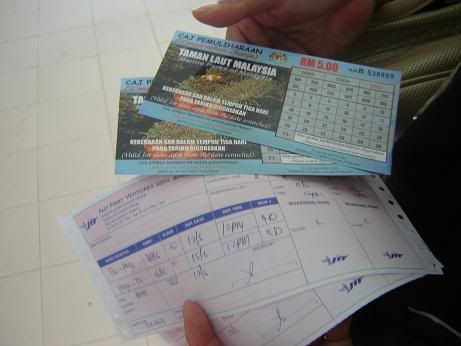 After yet another 1 and a half hour of travelling on sea, we finally reached PAYA!!
I thought tt was smoke and amazingly, I was told tt was clouds.. Nice isn't it? Hahaz.. =P
Actually Paya is a very small island.. The area that we are able to walk around is about us walking from Wisma to Heeren.. Or shorter than that.. Hahaz..
The 4 of us were so hungry and settle down at a "coffeeshop" for lunch..
My maggie goreng was not bad.. Hahaz.. The rest had fried rice and ramly burger..
After lunch we went back to the room and dear cleverily bought his cable wire to play movie on the tv using his MP3.. Hahaz..
The room was different as showed in the website lahz.. You see!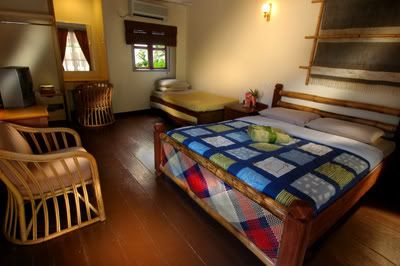 So similiar yet so different.. Hahaz.. But I'm happy as long as dear is around.. Hahaz..
The outer of the "chalet" look like that.. I got it from the website as I forgotten to take a pic during the trip.. Kekez..
So we slacked in the room watching movies as the other couple rest and we went out to look at the gift shop and played pool.. Lousy table and balls and my skill for RM3.. Hahaz..
I love the slippers pic and dear like his slipper alot which he bought at the shop there.. Hahaz.. I tik he like skulls.. Hehez.. =X
And it's time for food again.. We try dinner at another "shop"..
The forgotten my order and I ate my Mee goreng only when the rest finished their food and I was already full and didn't finish my mee.. Hahaz.. =X
After dinner was back to watching movies in the room again, the couple came to our room to watch awhile back they were tired and went back halfway.. 1st day was so boring.. Haiz..
2nd day..
Woke up around 8am for the breakfast buffet..
The food was ok lahz, except that we have to kept chasing housefiles away while we eat.. So irritating lahz.. Hahaz..
After that we went back to prepare for the snorkelling trip at 9am..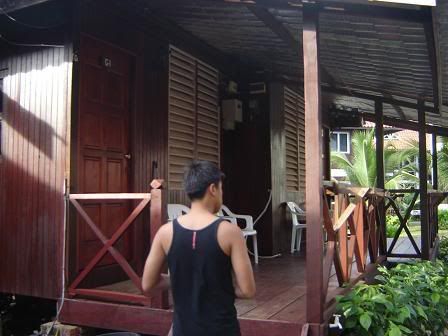 The waterproof camera we bought for Rm50+ i tik.. Forgotten, it is reusable with film.. Hahaz..
Cam whore awhile b4 we head out..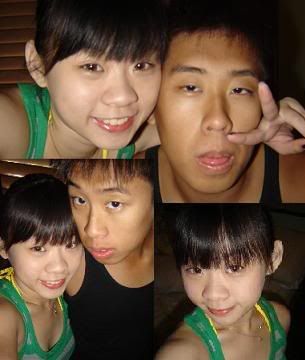 Dear look like an innocent kid in the 2nd pic.. No wonder girls nowadays like tt posture.. Hahaz.. Hearts him.. =P
The man side of dear.. Hahaz.. Holding the masks and life jacket..
We didn't brought the digi cam out, tot no place to store it so I dun have any pics of snorkel till Dear get them developed.. Hahaz..
Snorkelling!!
My hand in the water!! =)
After snorkelling, we went back to room to slack..
For lunch, we ordered this..
This their ice kachang! With milo powder and peanut and Dearde didn't wan to try it at all.. Hahaz.. He hate milo..
I forgotten what I ate.. Hahaz.. Fried bee hoon I tik.. Dunno where's the pic.. Hahaz..
Dear and Soon Keat have a sudden urge to fish and they went to buy the fishing stuff while I watch movie in the room..
The guys preparing their fishing rod..
Yeah! My first time going on a fishing trip! The rod quite heavy lohz..
Wanru and I juz bought a roll of fishing line to fish.. Hahaz..
Dearde preparing the sotong bait for mi.. =)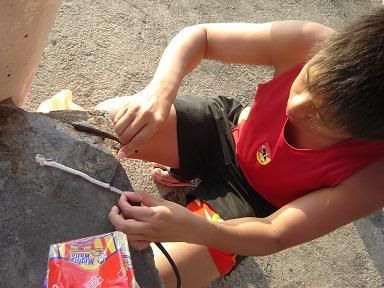 The sunset is quite beautiful and they have no sunrise there.. Dearde fishing against the sunset background.. Hahaz..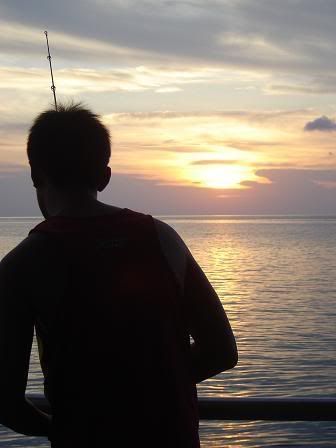 First fish caught by Soon Keat..
And the funniest pic of the year would be this when Dearde help Soon Keat to "fish" while he went for dinner and he caught a coral.. ( I tik it's the remains of the coral) Hahaz..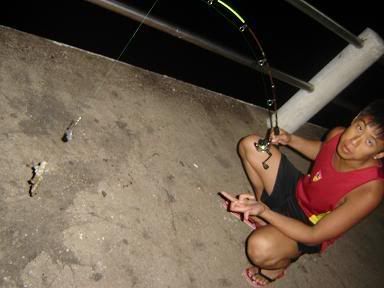 Isn't his expression super funny and stupid.. Hahaz.. Funniest reaction I have seen from him.. Everytime I see this I wanna Laugh.. Hahaz..
And I caught a fish too!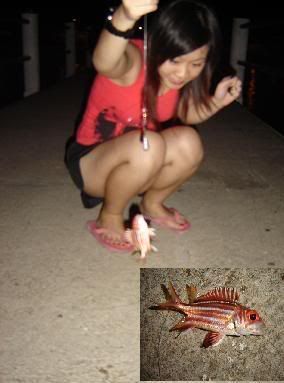 Mins ltr, we aso caught a identical one using Wanru's fishing line.. Hahaz.. Dumb fish..
When they came back from dinner, dearde and I went for ours.. Before tt, show u the tidbits dearde bought for the trip..
Alot right? And we didnt eat the cup noodles at all.. Hahaz..
Our dinner! Quite nice and I love my Dearde.. Hahaz.. Random..
After some time, we ended our day..
3rd Day..
Breakfast.. Hahaz.. After resting in the room till afternoon, we went to fish again and this time I reli got tanned! Hehez.. Very uneven cos I wearing tank top and didnt know will get tanned..
Dearde finally caught his 1st fish aft 2 days and it was ermm.. small.. Hahaz. Normal size there la..
You know, the water is so clean even it is deeper than 2m I tik..
Amazing isn't it?
After fishing, we went back to change and prepare to go CANOEING!! Yeah.. My first time and we had alot of fun!
Canoeing!!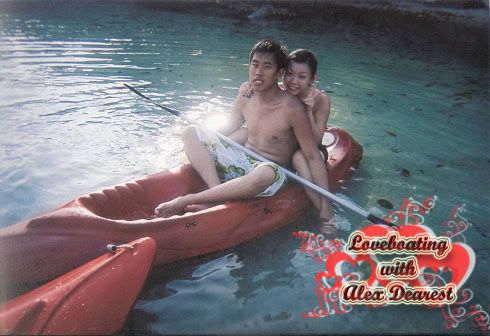 I hide my fat body behind him so that I look smaller.. Hahaz..
Having fun.. !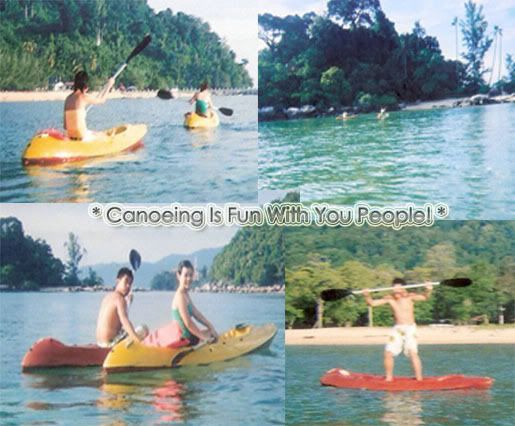 Return the things after an hour..
Tot of snorkeling by renting the mask and life jacket but they were too tired, so we juz sat at the beach and end up burying Soon Keat..
Lovely gays..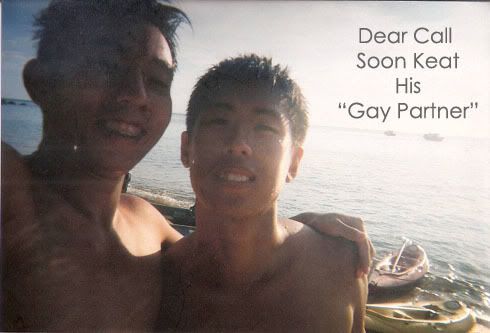 The sunset there is beautiful.. No sunrise there..
Ended off the trip and went for the last dinner feast!
We went to eat seafood at the resort's lounge.. Dunno wat we can call it..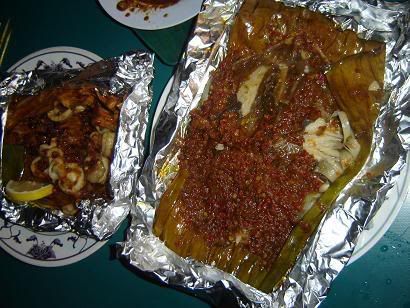 The bill came up to RM70++ which I tik quite cheap for 2 stingrays, a plate of sotong, vege, rice, 20 satays and drinks.. Hahaz..
4th Day..
Last meal at Tioman..
We went back to packed our bags and leaving the coral Wanru & I picked behind.. Sad..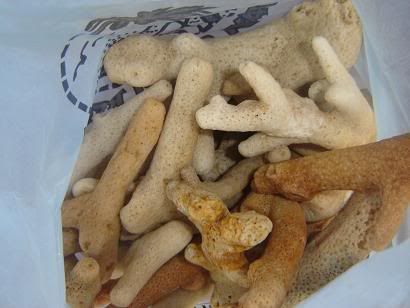 We checked out at 10am and went to slack at one of the coffeeshop where the couple have their ice kachang till 11.30am..
Dearde engrossed with his MP3 again..
Not forgetting mi taking pics.. Hahaz..

Leaving..
And Wanru saw them selling iceball and she bought 1 while taking pics and playing with the kids..
This is the thing I wanted to make from the coral I picked.. Hahaz.. Maybe next time..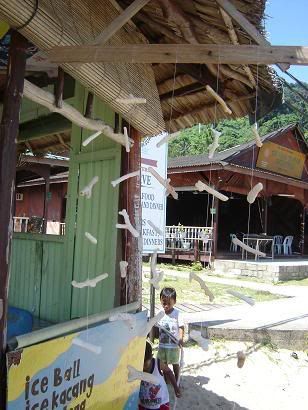 Last pic with the beautiful sea with 3 shades of blue..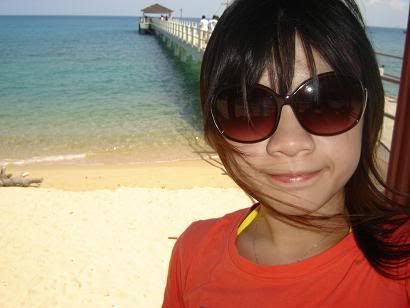 I tik Dearde could not bear the island.. Look so emo.. Hahaz..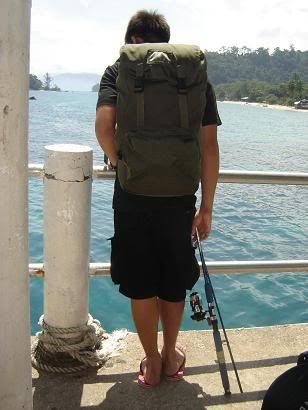 Soon Keat and him..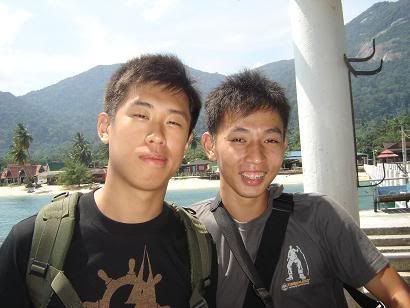 '
Wanru and I..
The four of us!
Bye bye Paya beach Tioman.. =D
The ferry came at 12+pm and we said farewell to the beautiful small Paya.. Hahaz..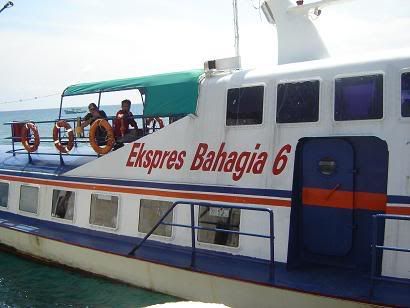 Bye Bye Tioman!! =)