I know I've been lazy to blog, photos are ready but it's my mood which is not ready to blog.. Hahaz.. Well, receive these from a fren last Wed.. Super long ago.. Hahaz.. Double chocolate chip.. I want normal chocolate chip de lo.. Hahaz..
Later in the night was durian after dinner.. No wonder I'm becoming so heaty.. Hahaz.. This is my brother btw.. Hahaz..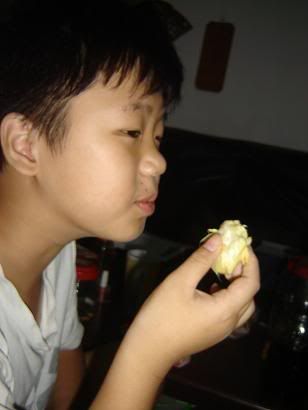 Den it was Ayuni's Birthday Celebration on Thursday!! =)
Yes, u r right, Sugarloaf again.. Hehez.. Free smoothie for the b'dae ger.. So we are tiking of cheating for free drinks everytime we go there for "celebration".. Hahaz..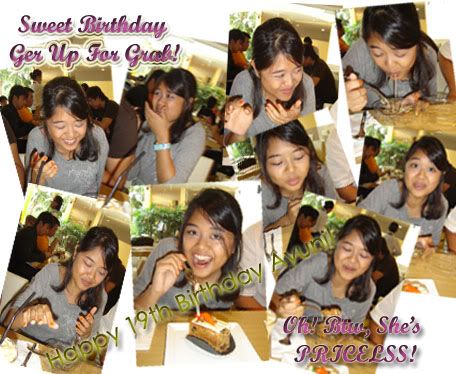 Oh ya, we asked her to pose her expression after eating her soba.. How did you guess?
Yan Wan and I spent merely $4.50 each to try out the crab bisque, bread & butter pudding, sushi and beef pot pie.. All were nice! Hahaz..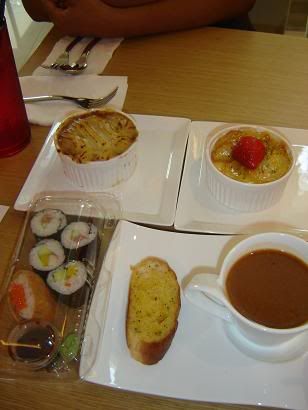 Food of others..
Sarah & Qiuting was late so Sarah jiejie treat us these! Hehez, Yan Wan & I chose this.. Hehez.. Cheese cake and cheese danish.. So CHEESY.. =p
We went in about 11+am after lecture and we slacked around until 1.. And see what happens..
Yes, we wont forget abt work although we always successfully escaped the topic on Destination proj which I didnt realise we did.. Hahaz..
In OB, we learnt abt cohensiveness.. And "Tadahhhh!"
I love my group 307! Hahaz.. Group 3, 7 people.. Ad tt's the time when we decided the name.. 3.07pm in the library.. Hehez..
We will visit Top Table one dae when everyone of us is not in sleeveless, shorts and slippers.. Hehez..
3 siao white men walking so fast ahead dunno for wat.. Some more this is a zoomed pic lohz.. Hahaz..
I was with Dear for the whole fri, sat & sun.. Ya, I nv go hm for 3 daes.. Hahaz.. And he finally brought mi out again! All because of his movie.. Hehez..
We went to Vivo to watch Die Hard 4.0 on Sat!! Super nice.. Rating: ******************** Hehez.. Alot of stars.. The fat black man, 4gt what he's called, the super lihai hackers reminds mi of the guy gd in computer in Transformers.. Hahaz..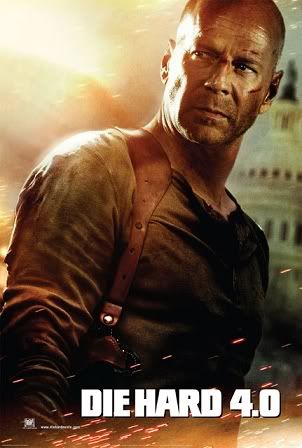 We leave his around 5+pm and went over to Shell without having our dinner at home..
Pumping the air..
After that went over to Bukit Panjang Plaze to rent 7 vcds! Hahaz.. Didnt finish all of cos.. Waste money, he burnt every disc except Saw 2! Dumb.. Wasted $2, have to rent again.. Hahaz..
Mi boliaoing, trying to be artistic with the lites.. Hahaz..
After tt was 6+pm, he figured out we shld go hm have dinner first den go out.. So we went back.. Hahaz.. He watched Spawn on vcd and I went in to use com till 9pm.. And I didnt get to reli enjoy the window shop wen we reach the mall at 9.30 and the show starts at 10pm! Hahaz..
Leaving Vivo.. Love the greeny combi.. Hahaz.. Xiao Mua Ji sending us back home!
Lame.. Ok.. Hahaz.. Ah.. Meiyou lahz.. Quoted for "Quek Qiu Tin" Hehez..
Saw this cool car on the way back.. I not nth unusual but since he bought the car for attention, I'll give him some attention loh.. Hehez..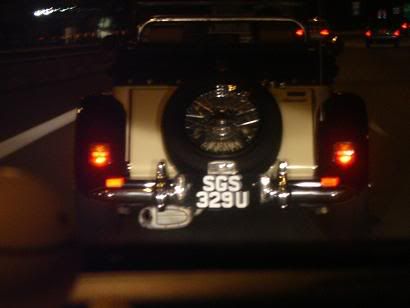 Den we found a lovey dovey couple also.. So sweet.. Hahaz..
After that, what really disgust us was the ugly ger in the car.. *Pukes*
Finally I bought my Ds Lite after school on MONDAY..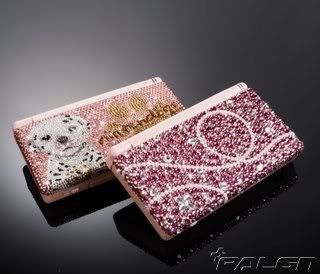 Hahaz.. Not this la, but I aspired to be the pink 1 loh.. So nice.. Hahaz..
I bought it for $310 at Simei Eastpoint with the game console, screen protector, r4 and 1 gb memory and 3 mths warranty.. I didnt noe tt was impt.. Hehez.. But quite cheap I tik.. Hehez..
The guy fitting the screen protector meticulously..
Yest Wei Lun, Ayuni, Yan Wan, Qiu Tin and I went to play badminton and my hand hurts within an hour! Hahaz.. Lousy.. I left 2 hours later and the rest played for 4 hours.. I can sae that I'm half paralysed lo.. Right arm, butt and thigh muscle aches.. Hahaz.. Tell u guys to exercise more u all dun wan! Hehez..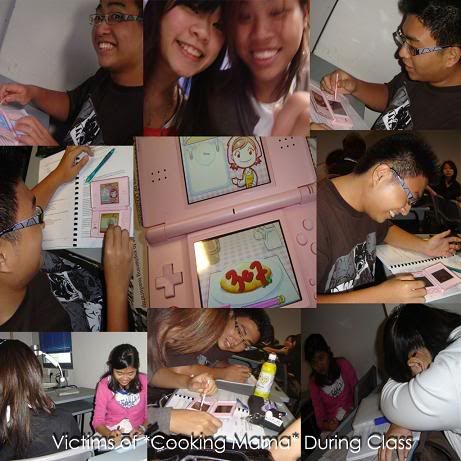 Beilin sae we were crazy ppl, and indeed Wei Lun is crazy abt the game, the lecturer went missing for abt 30mins in the mid of tut looking weird when she comes back and meanwhile was gaming time! Hahaz.. They took the ds from my bag and took the camera out to take pics of Wei Lun without my permisson!!! I'm angry u noe!!! Hahaz.. No more next time ah! Naughty bois and gers and jiejie.. Hehez..
You see, how I love my life now.. Muackiz.. <3 Love you all!!
Next up... Tioman trip post wen Yan Wan scanned my pics.. Hehez.. Thanks Yan Wan jiejie! =D