After the craze over my DS Lite last week, Yan Wan bought Cooking Mama for her sis's DS and Wei Lun is happy even playing with the old Gameboy.. Hahaz..
Well, introducing my DS Lite after packaging..
Crystalited and pretty..
With DIY wallpaper.. The background and the character have to be slowly photoshopped in de ok! Hahaz..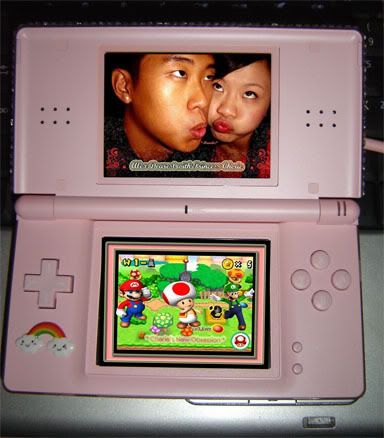 New added heart using Swarovski crystals.. =P Made tt mins ago.. Hahaz.. Not perfected yet..
Ok.. Happyily ended my introduction.. The main part of the blog entry is the following..
WEI LUN"S NEW HOBBY!! ( I meant our grp juz found out tt!) Hahaz..
Other than be crazy over DS Lite, Wei Lun is found being a GLUTTON this week! On Tues, he was so hungry tt he bought his plate of vegetarian rice after 3mins we reach the canteen when the rest of us is still queueing for our western food.. We asked him to wait for us before he start eating.. You know wat?! He requested us to help him ordered a plate of spagetti..
The evidence..
Being a caring and kind-hearted team mate I am, I have interviewed some of our friends their opinions on our dear Mr Glutton..
Well well well, Wei Lun you popularity "ke xiang er zhi".. Haiz..
On tues, Sarah show the grp our floor plan and Wei Lun drew us on top.. At night, Yan Wan scanned it and sent to everyone in email titled "(Proj name) Emergency".. I didnt realised it after everyone gt so angry wit it.. Hahaz.. She made them so anxiuos! Hahaz..
These is it..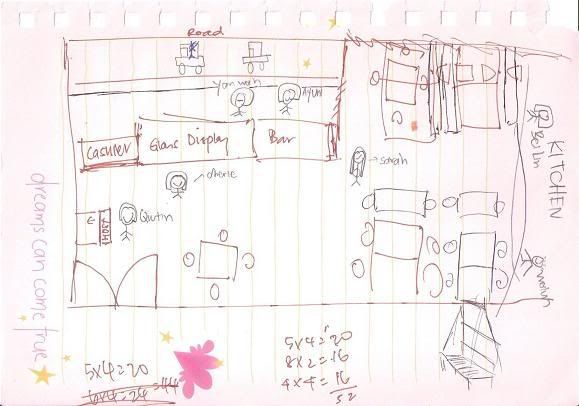 Another..
Computers do wonder, so let's see..
After much editing.. Tadah..
Tomorrow is the submission le, I dun tik my grp will mind mi showing our proj stuff ba.. Hahaz..
The rest designed by Yours Truely..
Nice ba.. Hahaz.. Tml is the submission le.. Wei Lun & Beilin +++ the rest of us the so stress now!! Jia you!!! =) Going to finsih soon le..
I was a very blur ger yest..
1st, wen I was abt to go out, it started to rain very heavily.. Thus, it results me boarding 168 late and I was going to be late for school.. When I alight at Safra to change bus, I saw bus 8 approaching, and in front of it was 28.. So I boarded the bus.. But after I sat down, I realised that the bus turn towards Bedok direction.. I was like OMG!!!!
Quickly alighted and realised that I boared 28 unknowingly.. Till now, I dun understand what have I done.. Sobx.. And I'm stucked at the bus for at least 7 mins waiting for 69..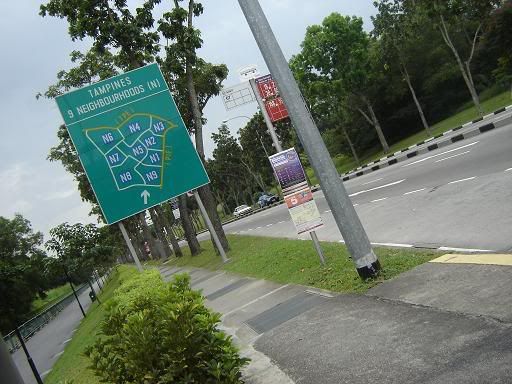 Sobx..
I went to Marina Square last week in search for a good location for the proj.. And I finally saw the temporary performing stage for NDP!! Hope I can watch it lo.. Haiz.. I saw sum stupid rehearsal by the ns guys.. Quite funny.. They uses something like cardboard at the puppets and they started jumping with the music.. Hahaz..
Nice..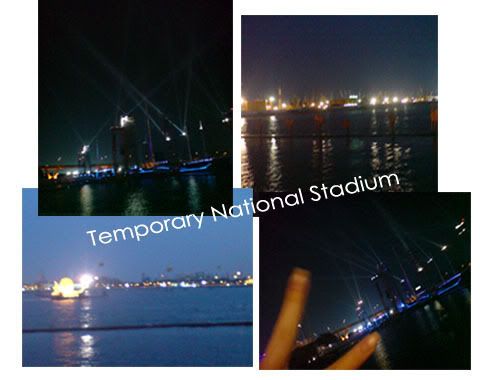 I was there looking at it from 6.50pm to 8.00pm.. Hahaz..
See the sky.. Hahaz.. Changes so nicely.. =)
Saw these 2 cutie astro at the display window of Action City at Marina Square.. Tik many ppl saw it b4 le ba..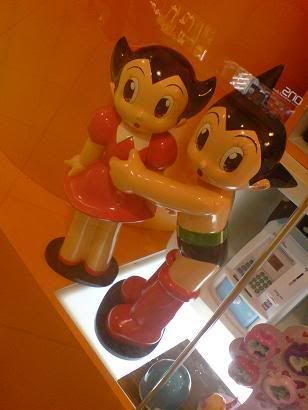 See wat they doing..
Fren: "He so se loh, touch her breasts..!"
Me: "Erm.. She don't even have breasts loh.. Hahaz.."
=P
p/s: Sorry Wei Lun, those "glutton story" are all fritional.. But the amt of things he had eaten is true!