Visit to Paulaner Brauhaus!
It a restaurant with its beer brewery.. Hahaz..
We reached there around 12+pm and this is part of the 12 of us..
This is the menu!
Wei Lun they all heard the waiter say top up $2 and ordered 1 beer to replace the soft drinks so most of us did tt except Wei Lun and I who didnt ordered the beer.. But they still served to us, so we juz drink it loh.. Thought $2 onli.. In the end, the waiter want us to pay $8 for 2 beer and we were reli pissed!
My beer, ice tea and new painted nails! =P
The decor..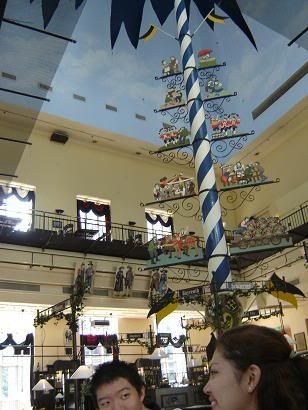 And Wei Lun on top of flowers..
Anyway, what I had was reli v not popular cos onli I order the cheese soup and risotto rice and regretted.. Hahaz..
''
I didnt know that veal jus is a sauce and end up Stella and Dearie donated their chicken and lamb sausages to top up my pathetic main course.. The meal end up to $27 when it is supposed to be $18++.. Haiz.. BROKE!
Dearie and I.. My new style of editing pics.. Hahaz..
In between the meal, we visited their little brewery..
The tap tt serve fresh beer to the customers..
This is where the fermentation take place i tik..
Types of malt they use.. Hahaz.. Super alot right? All from Germany..
This is Stella outside the washroom door.. Look like those doors tt hide waterpipes in building.. Hahaz..
That's us in the washroom.. Hehez.. Love these pics..
At the bar "enjoying" our drinks after the meal and I tik we are the onli customers left after lunch at 2+.. Hahaz..
Dearie gt proj meeting at 3pm at City Hall and we (Wei Lun, Stella, Calvin and I) went to Cine to sing while Eunice went to get her hair extension done..
The Kbox pics is with Calvin as my cam died during the visit.. Hahaz.. Will update on it soon.. Hahaz.. And I bought new lashes again! Hope can wear on next wed.. Ladies' night! Finally after 3 mths I can go back to club.. Hahaz..
Dearde bought this for his car a mth ago and it reli surprised mi.. It is so cute.. Hahaz.. It's hang at the window besides mi eveytime I travel with him now..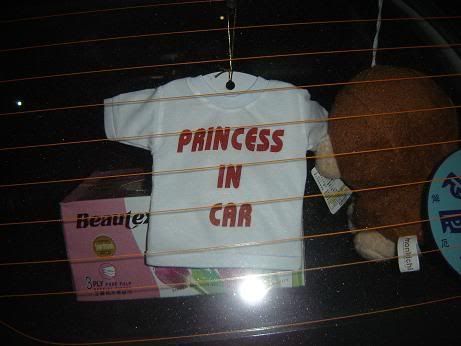 Till then.. =) Misses Fion like hell..