Yeah, I have been a gd girl recently, helping mama to wash and hang clothes, folding them and put them in the wardrobe.. Not forgetting sweeping and mopping the floor and polishing the stove.. Of course these efforts didnt go to waste when recently I want a ds lite so much!!! Bro told mama abt it today and mum sae since I've been a gd girl, she's very touched and didn't dote for waste.. So she decided to give mi the $200 she got from GST rebate.. =)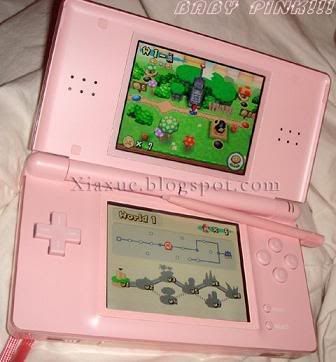 Pretty in pinK! Hahaz..
But I found out tat there's reli alot of cost involved lo.. Haiz.. R4+memory abt $100 liao, the game console cheapest aso $220.. Wait loh.. haiz..
I guess it's last Monday wen the 168 I board broke down in the middle of the road.. It stopped at the traffic light and nv move again.. Hahaz..
Last Wed, Sarah, Qiuting, Anna and I went Sugarloaf again.. Hahaz..
Saw Wei Lun and his gf on the way.. Such a coincidence.. And I acted like a paparazzi and followed them..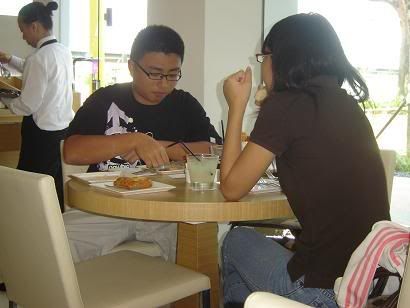 Caught them eating!
The 3 of us (w/o Anna) went to check out them nice toilet..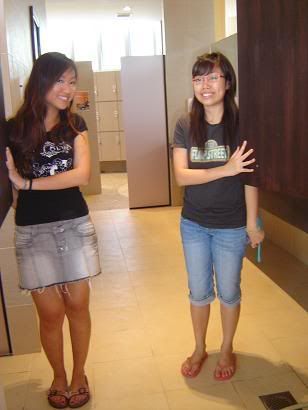 Nice doors..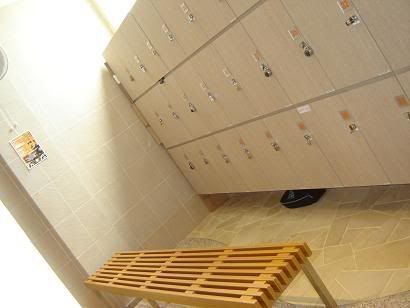 Neat and tody lockers.. Unlike ours in TAS!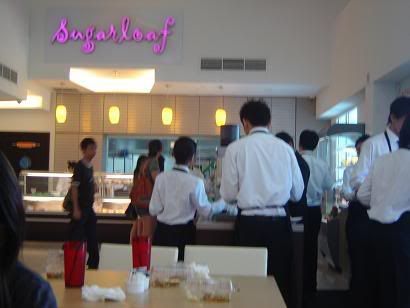 The cafe and their pretty lightings..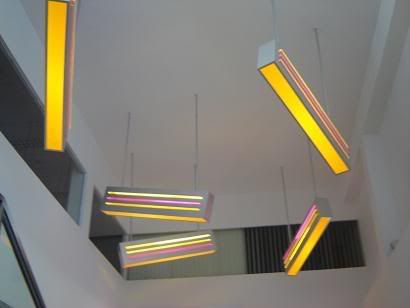 Cool right? I like that place.. Hopefully can visit it on Thurs with the grp for Ayuni's b'dae.. Hahaz..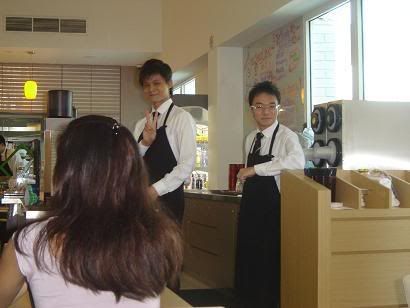 Mingen and Tat Yi..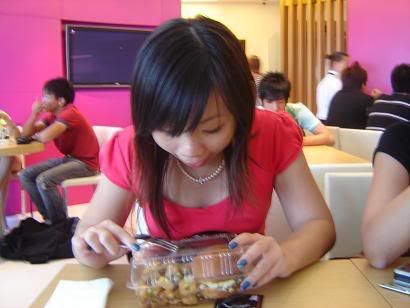 Me and my sandwich and strawberry smootie (tasteless) made by mingen.. Hahaz.. Saw the video he made on youtube.. So funny and touching.. Hehez..
This is Mingen, he walk to our table when Mr Neo left the cafe and he picked up my camera and took a shot of himself.. Are all old guys ridiculous like him? Wahaha..\
When we were about to left, Mingen came with this and said it was a cake.. When I was abt to ask him for forks, he said it was the "coffee powder thingy" left in the coffee machine.. >=( BAH!!
The door was locked so we took the lift up.. And of cos.. Took pic..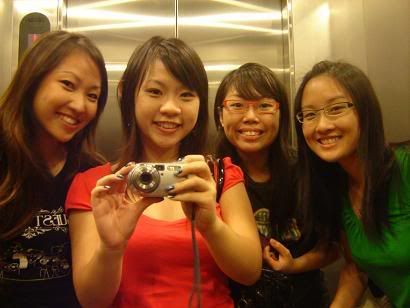 We walked past the TCC toilet and found out tt it has reli huge mirror.. Hope all TP toilet had them.. Hahaz..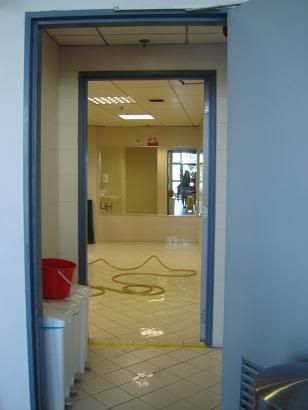 Qiuting found out that Anna was very Christmasty when she wore green and I wore hot pink, but she is worst cos she wore a pair of red shoes.. Hahaz..
I left them and met the long lost FION!! She's back for a week! And by the time is post is typed, she is already back to China with her chef.. Hahaz..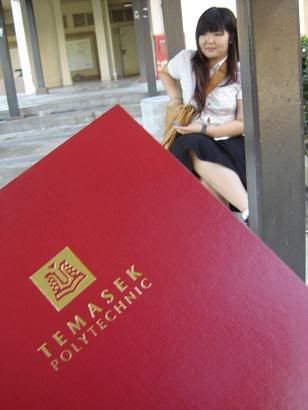 She's back in school to take her diploma and have lunch.. Tt bad ger stil smoking.. Hahaz..
Went to her hse and followed her mum and her to Loyang Pt.. We walked there! It was like so hot! Hahaz.. Luckily I had a tee with her so I changed..
Tada! This is Fion with her ginger..
We went to Mac to get drink and look at tt cute thing in the bag.. Hehez..
On the way back, we saw 2 kids playing on top of the shelter.. So dangerous lahz!
Went back to her hse and took a rest..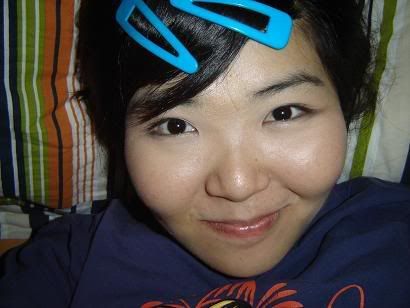 Her FACE!!
And mine! With Ginger's tongue sticking out.. So cute.. Hehez..
Her mum cooked porridge with cuttlefish and minced meat.. So nice loh! Hahaz..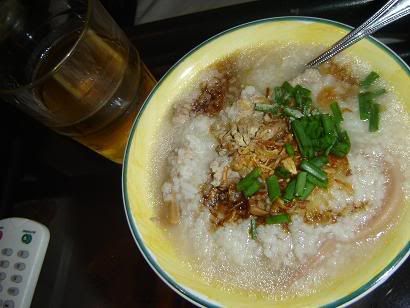 She lended mi her ds and I played cooking mama! So cute.. I wanna play it on MINE!!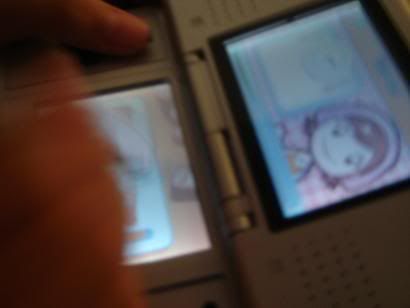 After that we met Jasmine and surprise Belinda at MOS with Fion to celebrate her b'dae! Hahaz.. Fion will send mi the pics and I will update abt it.. Hahaz..
Reached her hse around 4am and Fion and I ate bread with spicy tuna instead of pasta.. But still happy..
Didn't reli had any heart to heart tok with her tt night, I supposed it was a distance formed btw us or was it tt she's juz tired.. But I'm happy to hear tt she'll be back by August.. =)
I had this for lunch on Thurs..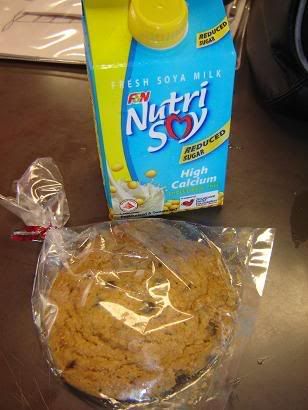 Fri was Khalil Fong Da Tong concert in school and I waited forfew hrs before Anna acc mi for lunch..
The amt of tix she has.. In the end, her bf n fren wasn't allowed to enter cos they were not from TP.. Bullshit!! We saw Meridian JC ppl inside! And the production crew attitude suck! She said something like.. "There was a grp of ppl who nv even bring their ez link, we juz send them home!".. Who does she tik she is?! Send home? Cant they go out for dinner while cursing you on the way and watch a movie? Get a life! She's even the 1 who presented flowers to Khalil..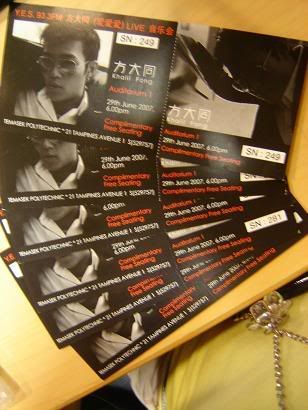 After lunch, we went to somewhere near the reservoir and found out a outdoor stage! We didn't noe tt it existed.. Hahaz..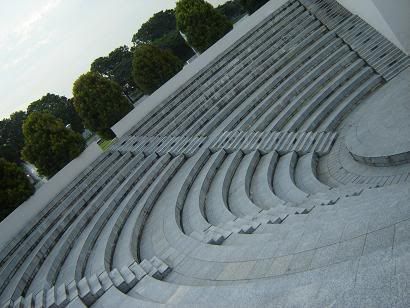 Us..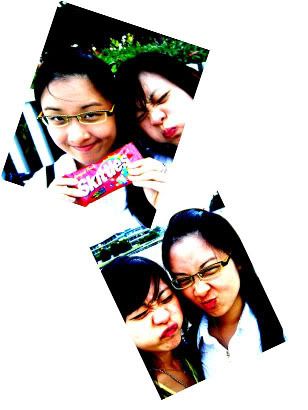 Stella met us and we went to the Auditorium at 6pm..
Stella and I! She looks abit like Wei Long's sis.. Hahaz..
During the concert..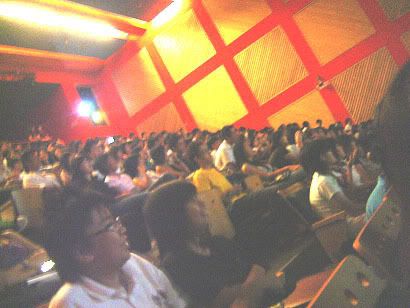 Khalil and Pei Fen form Yes 933..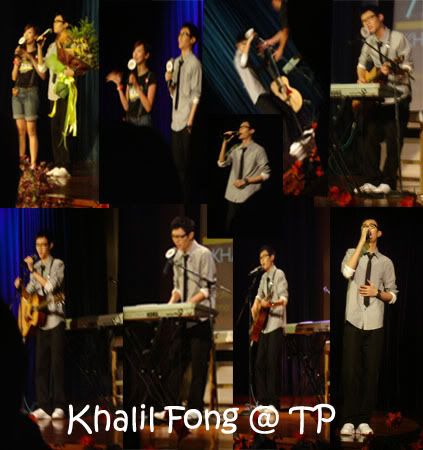 He was kinda late and the concert didn't last longer than half an hr but I tik she's cut and talented and he's from China I tik.. Hehez.. We left around 7.40pm..
Met dear on Sat! He came to stay over at my hse though we had a quarrel.. Hahaz.. Decided to watch Transformers, so he went online to book the tixs at Lot 1.. At least it's not tt crowed there..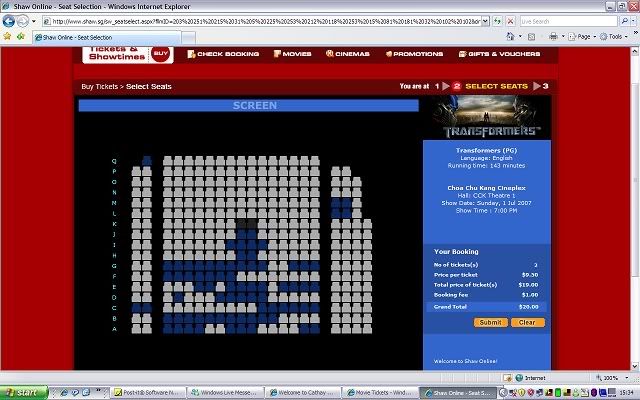 After tt, we went to his hse to slack.. Finally we took the film to develop as well.. It another week b4 I get to see the pics.. Hahaz.. So excited.. Scare I'll be disappointed.. Hehez..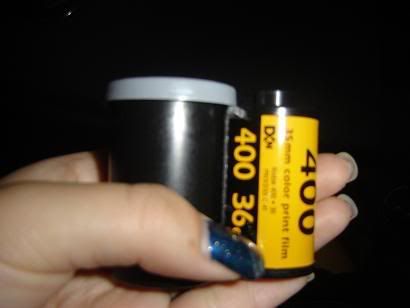 His hse onli have fried bee hoon so I tried to fry sum decent egg for him..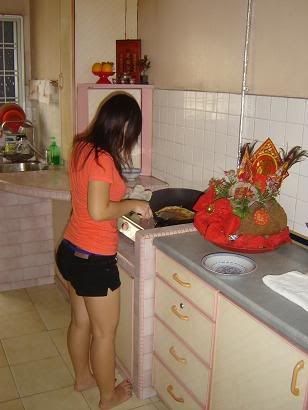 See..
My hand..
His hand..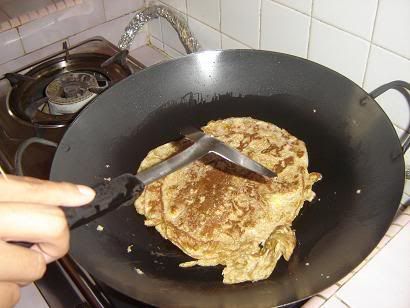 It didn't reli turn out well.. Sob.. Hahaz..
Transformers! It was so nice I love its funny and incredibility! Hahaz.. Love it! Heart it! Muackiez! Hahaz.. So nice tt I've to find their pics and edit them.. Hahaz.. I wanna watch again.. Hehez..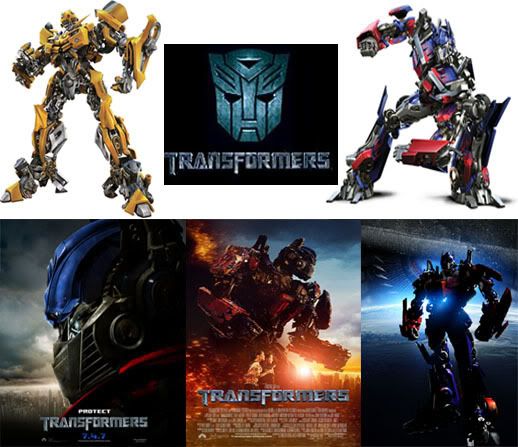 It was almost 10pm after the movie..
I waited for dear to top up his cash card and took this..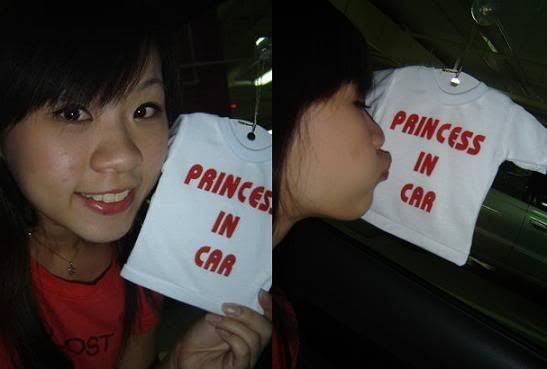 I still love the strawberry..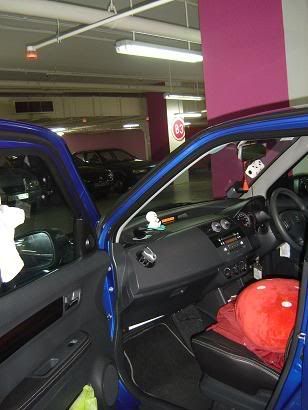 And of cos love dear as well.. Hahaz..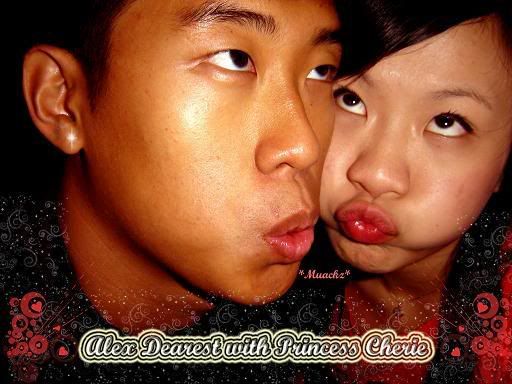 Interacial love..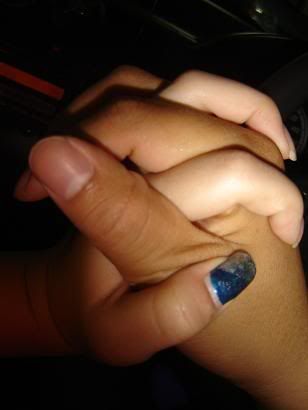 No la.. He's juz dark and I'm alot fairer.. Hahaz.. I wanna go bleach lei.. Hehez..
Back home, dear was still hungry and we cooked 3 packets of instant I tik dear ate 2 1/2 of them.. Hahaz..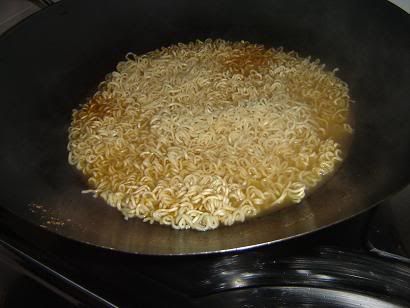 They like to use this wok for everything.. Hahaz..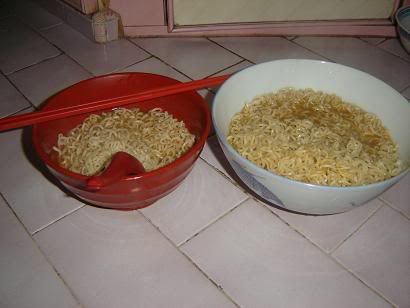 Well.. Home sweet home in the morning!
Caught Joel doing this in class this morning.. Shh..
He was using the hp behind the lecturer besides him.. Smart ah..
My grp presented a skit during Apel todae and it was fun.. I sent the whole class a friendship kinda sms and it was meant to match our skit.. And it's supposed to be mysterious.. Yet I got sum funny reply asking hu I m and said "the sms was quite sweet, may I noe hu r u?" "This is abit cheesy, but I'm happy to get it occassionally, but hu are u?"
Had a lot of fun presenting it but sorry for forgetting Qiuting roles and laugh out loud when Ayuni said the wrg thing.. She was laughing wen she said "You need a kidney transplant".. Well, what can I sae.. I love my grp! Hahaz..
KFC with the grp (w/o Beilin) for lunch!
Anna pang sei mi for acc mi to Simei to see my ds lite.. Angry.. Pissed at the "dun give mi tt face!".. Haiz.. But she juz smsed mi to apologize and treating mi lunch tml! Hahaz.. So pardon the Anna instead of Dearie for the whole post.. I was pissed den.. See! I can be so petty.. Hahaz.. Sorry Dearie..
Reached home around 5pm..
The amazing dices dear's sis gave mi..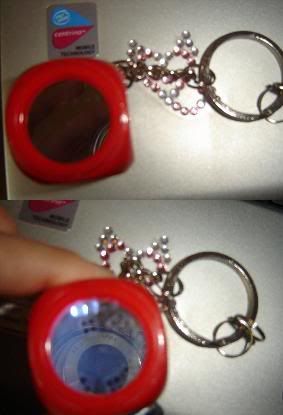 Till den..