Chocolatety Birthday of Beibei June!
My fren intro mi to PPLIVE and anytime of the day I can juz click it and watch my fav Taiwanese variety shows! Hahaz..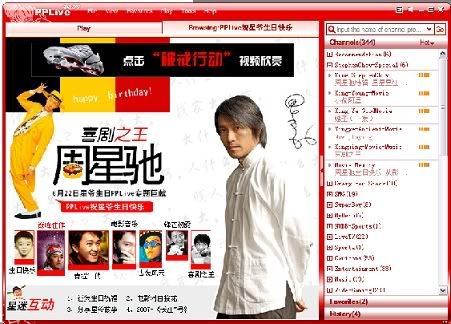 Last night had a huge downpour since 12+am when I was still teaching my bro maths in my room..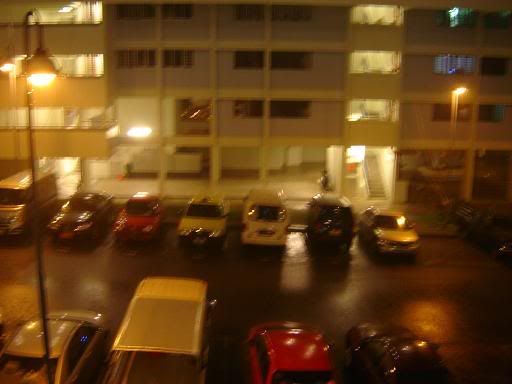 Unexpexctedly, todae I had the most fun day of my days in yr 3.. Hahaz..
First we have out destination consultation at 12pm and when we left, we saw a man pasted this at the classroom door..
It's Basic of Entrepreneur my dear, not BASIN! Wahaha.. I cant hold myself back to take the pic..
Beilin's b'dae!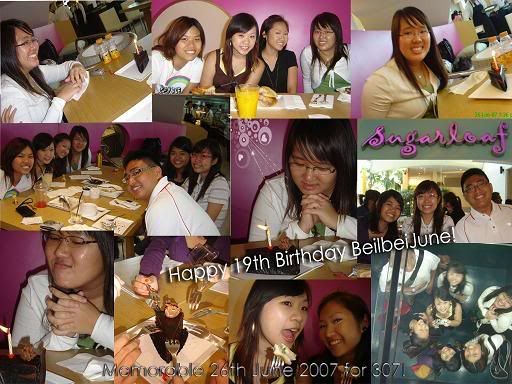 Actually we already reserved seats at the restaurant in TP and I even wore a dress.. But we forgotten tt it has dresscode and everyone of us failed! Even mi! I was in dress but sleeveless are not allowed too! I didnt noe tt, well, the rest of them were mostly in slippers and shorts..
But it's ok! We went to sugarloaf which serve nice food in a pretty environment which are in hot pink!!!
Look at the nice colours of the seats and the colourful clock! I wan my room to be like tt! Hahaz..
The stall front or whatever u call that..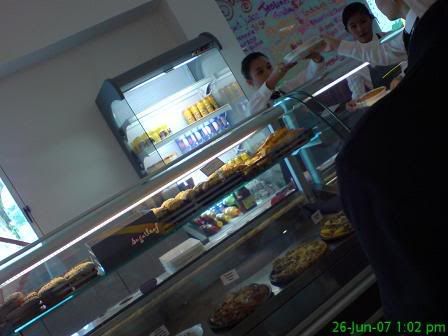 So tempting.. I cant resist going there again! Hahaz..
Sarah and I bought beef sandwiches each and I shared my peach smootie with Yan Wan..
Sarah took the camera and wanted to take the pic of the 2 of us but Beilin exclaimed suddenly to tell Sarah tt the camera strap is in her drink and I was shocked.. And I swear the following pic is candid and it look so not candid.. Hahaz.. I was scaring Sarah abt dirtying the strap but Beilin is scaring her of the contaminated mango juice.. Hahaz..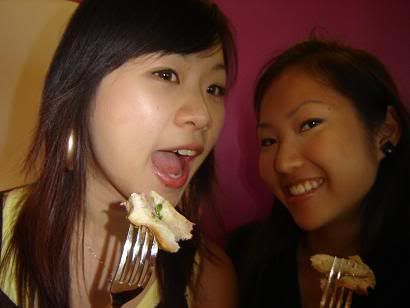 Our food! I noe the table look empty.. Hahaz..
After that we went for class at 2pm.. Wei Lun, Beilin and I helped Hui Ying in her presentation by playing black jack with her to illustrate networking and I sabo Beilin and tell HY tt todae is her b'dae.. So everyone sang her a b'dae song.. So sweet! Hahaz..
And we got many chocolate from todae's presentation! Beilin gave mi the pyramid and the rest by the presenters.. =)
The class finished off 45mins b4 the next class so the group went dw to Bizpark for a drink.. I didnt noe guava juice was tt nice.. Hahaz..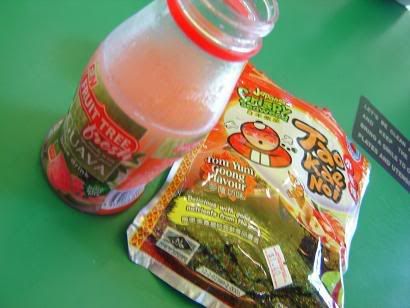 Apel class was quite fun but can see Beilin is dozing off after the last class.. I tik the celebration drunk her.. Hahaz..
The grp teaching us on how to be green! Next week;s is my grp's turn to lecture our class on "Next stop".. What we are going to do after diploma.. I tik Ayuni will be going to jail and I'll be getting married.. The ideas tt was set.. Hahaz..
When I got back to CWP, I went to John Little to get my mascara and Loreal is not having 20% anymore, so I bought Maybelin instead and a Adidas spray tt might be useful in the future.. It;s cheap anyway.. Hahaz.. I went to Watsons and saw the whitening Lux cheap and bought it too! I wanna get fairer.. Any tips? Hahaz..
Well.. Till den guys and gals.. I need to get down to serious work for ChocoCofFeel now.. Hahaz..
=D
Happy Happy!