I'm A Happy Ger! 38 Pics..
Long unpost period again.. I'm surprised tt even Wei Long will ask Ade what happened to mi tt I didn't contact him for so long and didn't even update my blog.. So here I am.. Hahaz.. Been tired out by sch and didn't even haf the mood to upload pics, so a few pics to summarise last few weeks b4 last SAT.
A Lovely Kiss With Dear.. =X Hehez..
Weird bananas at Dear's hse..
Mummy Spotted at TP Design school.. Hahaz.. There were ppl "delivering" him from upstairs by the lift and ppl pushing hima round and "taupoking" him and push him (on a computer chair-i dunno wat chair is it called lahz!) to the canteen and sang a Birthday Song to him.. Design students indeed.. So creative.. Hahaz.. =P
Been playing this Naruto PS2 game with Dear for 2 nights in a row last week or so.. Hahaz.. And I kept winning w/o him giving in to mi ok! I gave in to him.. Wahaha.. =P
My black ugly nails, I dun haf it anymore.. It's back to red! Hahaz.. Gonna find out where's my blue nail polish! Hehez.. =P
Egg with sausage in the Microwave, dun look appetising but it's sure appealing.. Hahaz.. Wat crap is tt? Lolx..
Accompanied Dearie to cut her hair 2 inches shorter at the salon opp TP.. Tell mi! Who will spend $12 to make her hair shorter by 2 inches and look indifferent.. Ya! That's Anna.. Hahaz.. Know she will kill mi! =(
Mother's Day Eve!
Went to eat a RC dinner at Admiratly with my family and mum's frens (it was paid by her fren) to celebrate Mother's Day and mum wasn't free on Sunday..
The place.. With lampost in the tent..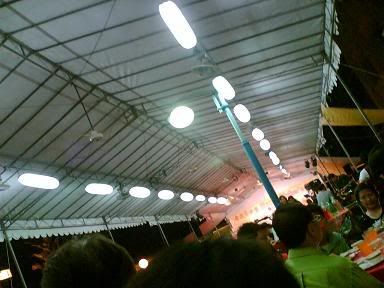 My dad & bro acting.. Erm.. Weird? Hahaz.. Yeah, I have a humourous dad, mum, bro and myself.. Hahaz..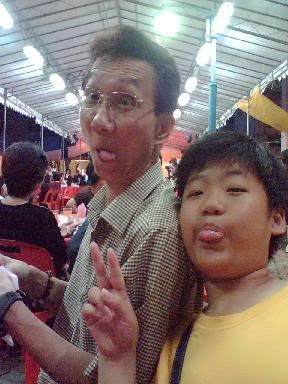 My mum and her fren for 30 yrs.. Her fren claimed tt my mum knew her longer than she knew my mum.. Weird? Hahaz..
She came to my last week to help my mum clear and tidy the living room and "accidently" broke the handle of my Precious Moments cup tt Dearie broke for mi.. When I reached and saw the cup, I angrily shouted! " MA, U BROKE MY CUP?!" and the auntie immediately apologised and say she will buy another 1 for mi.. As if it's the same.. Sob.. Amazingly, she reli bought mi a cup to compensate, not the same one of cos but I was quite pai seh to accept the cup.. Hahaz.. Cos I was reli mad tt dae.. =X
We were hungrily waiting for the first course..
Tada.. My favourite cos..
Followed by the shark fins which Dad offered to serve and I asked him to pose.. Hahaz..
We (females) received Carnations! Auntie gave mi hers and we have 3 diff colours altogether.. Hahaz.. Red, Pink and Yellow with red sides.. Pretty.. =D *hint* I never receive flowers from anyone b4 lohz.. =(
RUBBISH!
So we went home and I await the morning tt calls for Dear return.. 1st time part with him for so long since I got tgt with him.. Hahaz.. 1 week never meet and I did not throw any tatrum at him! A great improvement right? Hehez.. Or should it be that way in normal cirsumstances? Hahaz..
Oh! B4 tt, I played UNO Stacko with bro in the afternoon b4 the dinner.. Hahaz.. And I won! Hahaz..
If onli he put his heart into creating results rather than the stacko.. Haiz.. =(
SUNDAY!! =D A day with Dear by my side..
He came my hse at 9am and slack till ermm.. 11+am? And we went over to his hse.. I was having serious cramps tt I hafta rest until 3pm and we went out.. ='(
We went Bugis, I 4gt where we went b4 tt and why we go Bugis.. OMG!! Anyway, Dear finally bought his wallet.. Hahaz.. A Renoma wallet.. He bought it cos I like the design and I was trying to make him buy it like a salesgirl.. Hahaz..
OH! I rmb.. I wanna buy my plastic shoe.. Hahaz.. Bought the black one..
So this is Dear's wallet.. With a free Renoma cardholer.. It's actually keyholder lahz.. Hahaz..
And free tons of waster paper too! Branded stuff or rather nice packaging stuff should stop asting paper.. >=(
After tt went back his hse to wait for his mum to be back at 9+pm for dinner.. Hahaz.. Celebrate
Mother's Day and I'm invited! Hahaz.. =X
FEAST! Hahaz..
His bro and dad..
His sis and Mum..
Saw them so many times but it's the first time having dinner tgt with them.. Hope Dear wont mind mi posting their pics up, it's blur anyway.. Hahaz..
Monday!
Dear's leave was approved and I skipped school, partly cos of me feeling unwell and sch will last till 4pm.. Den I tot will have less time to pei Dear, in the end aso 4pm den go out! =( And I skipped ticketing you noe! Haiz.. Sob..
My preparation..
Dear's preparation..
Nice right.. Who else can take the pic at tt angle.. Hahaz..
So we went to pay bills b4 meeting his fren and (his) gf.. We went to Beach road for the guys to buy their Army stuff.. Dear is gg Tekong for outfield again.. Next meeting? : Sunday again.. I'm an understanding ger! Haiz..
After which, we cross over the Golden Mile, quite a scary place I tot and we booked our Tioman trip there.. Four of us going.. Wonder wat will happen if the gers gg there have their period.. Haiz.. Wanru (the gf) said we can flood the sea with our blood.. Hahaz.. But I'm scare of sharks chasing after mi.. Hahaz.. And ya, she's Wanru, I'm Wanlin.. Hahaz.. Didn't speak much to her though.. Will improve the situation b4 the trip.. Hahaz.. =D Excited abt the trip..
It's a 4 days 3 nights trip in June we are going.. And I'm afraid tt my project grp will be angry with mi.. =(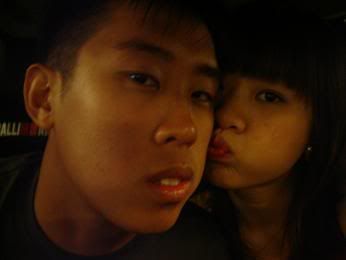 We went to Bukit Timah for dinner as I was craving for Prata and in the end I had Maggie Goreng.. Hahaz..
Food!
Usually ppl ordered drinks like Teh Bing when they eat Indian food right.. Hahaz.. Dear ordered Sprite with his Nasi Pattaya.. And I gave him a nasty look which everyone tiks it's ugly.. Hahaz..
BTW, the green pillow is Dear's new toy which he caught at the arcade using $20.. Hahaz.. So dumb.. It's call Xiao Mua Ji.. Rmb his camp mate's joke? Hahaz.. Nvm..
So much greenery in the blur car.. Hahaz..
I love those pics.. Hahaz..
We went Fairprice at Bukit Panjang Plaza to stock up for Dear's outfield..
My man in the market.. Hahaz..
And all we bought is this.. ( and 2 packets of waffle biscuits.. Wonder where the pic gone to.. ) Tot the pizza if for mi! And he put it in his fridge instead.. Hahaz.. Nvm, maybe Sunday can eat if his mum didn't cook.. Hahaz..
5 bottles of drinks for a person for a 4 days outfield in Tekong? Dear is CRAZY!! No! He's INSANE!! Dun understand him! It's so unhealthy and he juz wont listen to mi! That's his flaw! Else, he will be perfect! Hahaz.. I tik he's getting cuter by day.. I said I TIK! Hahaz.. =D I Love Him la.. Hahaz..
Before we went to Fairprice saw the dog training gathering by Patrick Wong at the "Concourse?"..
The dogs are all so cute, especially the small whit 1.. It's reli v petite.. Hahaz.. There's Husky too! I wanna haf a dog in the future.. Dear love dogs too! Hahaz..
Milky Kelise..
Back to his hse, before I bath..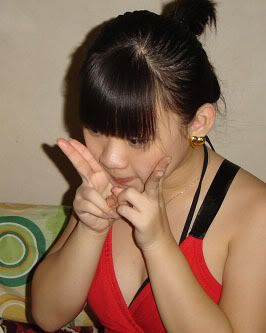 His sis ask mi to act cute.. Hahaz.. I know it isn't cute.. Hehez.. =X
My make up smurged and I was in oversized ITE tee and I looked ugly and she's helping mi to comb my hair so I could tie 2 plaits.. Hahaz..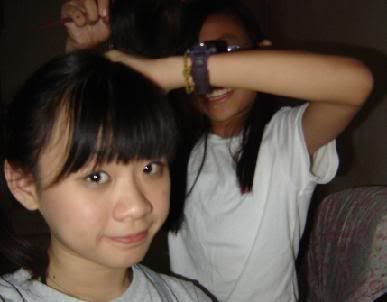 She heard techno and we played with these..
Anyway, Friday (11th May) was our 3rd month!
HAPPY 3rd MONTH DEAR!
Hahaz..
I made him these.. With the lyrics of "That's when I love you" at the back.. It says actually what I feel for him.. Hahaz.. =D
Gotta prepare for school soon.. Hahaz.. Hope you enjoy and patiently wat for the next entry.. School aren't interesting so no entries.. Sorry.. =D