Juz went supper with dear at Woodgrove with pratas ans super spicy mee goreng.. Hahaz.. That stupid cum caring boy bought mi sleeping aid aka "sleeping pills" to aid mi in falling aslp better cos he want mi to stop slping at 6am in the morning.. Haha..
Cost $40+ lohz.. I rather use tt money to buy bag, shoes or clothes.. Hahaz.. Guy doesn't noe tt.. Hehez.. Anyway, saw xiao gui on yu le bai fen bai wearing wat dear bought yest.. Hahaz..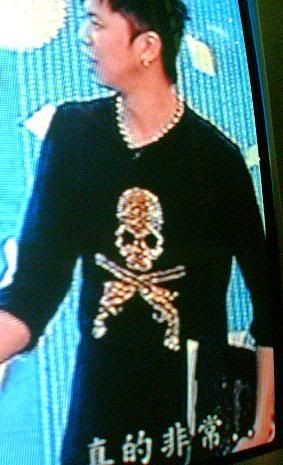 Identical, I tik except dear's is the skull bigger and the guns smaller.. Hahaz.. =)
**************************************************************************
Seems like every week there's a clubbing session with the varieties.. Hahaz. Juz last Thursday we went MOS again.. Free party of cos.. Hahaz..
I hearts tt party.. We were so so so high.. Saw Fion and Jas's primary schmate (Edwin), and he and his frens so called "protected" us and made us have a lot of laughs..
There was this bastard guy who kept BANGING into us purposefully to make us angry while dancing with 1 of his slutty g-f.. Den i was really angry and took his pic!!! I told Edwin's fren and he went over to make fun of the ger by singing and gesturing the song played.. Hahaz..
When his grp went off, I said BYE very loudly, (did i sounded very bitchy?) Oh well, and Edwin's tot I LIKE HIM, den i told him tt i hate him so much and wanted to kill him cos he kept BANGING into us! BASTARD!
After the grp went off, there was another couple tt disgust us.. I noe smooching and behaving like you are very horny in clubs is very common, but the sweaty body of the guy juz nuce was my ex's fren (SHUAN) who owe mi 80 bucks or more if he cheated mi.. When Fion told mi it was him, I scream so loudly and didnt dare to look at him.. Cowardly I noe, but it was so embarrassing to have someone u noe behaving so horny and tik he had been whispering " I wanna fuck you" to the ger.. Who i tik is not his gf.. (Juz feeling angry and tot maybe he jzu noe the ger outside the club) Hahaz.. And he act as though he didnt noe us wen he saw us outside the club.. WHATEVER bastard! And u haven transfer mi the money on SAT as promised! Loser!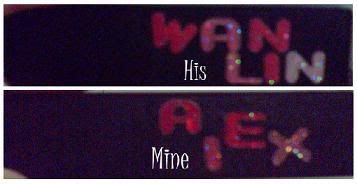 Oh! Will I be sued if I post his pic here? I'm not trying to embarrass him, jus wanna remind him to pay mi back my $.. Well, he wont read this anyway.. Hahaz..
Well, was very happy in whole, cabbed back to Fion's again and used her mum's i squeeze after shower.. So comfy!! =D
And we arranged a KBox session the following day with Edwin and Chloe, her pri sch mates.. Hahaz.. Waking up at 9.30am!!
Happy happy!
Went to Jalan Kayu to slack after K Lunch and after which took the LRT (Fion's 1st trip) to Compass Pt' Mac to tok cock till 9pm.. I was their PRCPS gathering, wonder why I still can listen to their lovely memories so happily.. Hahaz.. Nice people altogether! =D
My love bought mi my precious red Pierre Cardin wallet last Sat and it was so precious to mi! Hahaz..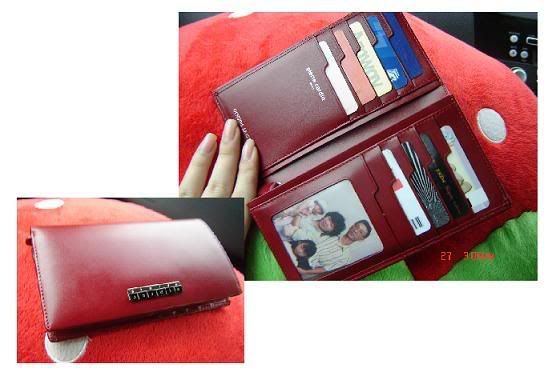 With my lovely strawberry in his car.. Sweets.. =D
Went to Bugis yest and we bought 3 tees for him, 2 tees and 2 dresses for mi!! Hahaz... So happy.. I told him to spend less money on food and more money on enjoyment.. Hahaz.. Brainwashing him! =D So that he can start beautifying his car.. ^_^