Long Post Of Few Events..
What is it like to end a loving r.s?
Or a quarrelsome r.s?
Or a cold-war r.s?
I dun wish to experience any of them anymore..
It juz hurts and make u lose faith..
Alright, I feel v happy being with Alex and he is sum hu I can count on..
Count myself lucky..
Some ppl might be chanting "Baby, I will love you forever!" "Dear, I will nv leave you!" during the first few mths of courtship, even years, but what happen in the end?
Things change, feelings change, r.s change.. No one can predict what will happen.. So I rather tell you (DEAR), I dunno how long will I love you or would be able to love you, butI will try to love you the best I could whenever I can..
No promises made ah, so u canot sae I break promises.. Hehez.. Isn't this better? So that the other party will be crying after the break up groaning tt u broke the promise.. Hahaz.. (choy to mi n dear..) Hahaz.. =p
Although boring life nuaing at hm make mi feel tt life suckz, but looking forward to reopening of sch and weekend to see him will be enuff for mi.. Thanks Dear.. Alex=Motivation.. =D
I know u r reading my blog, hope u treasure the right person in ur life ok? I wish to befriend with u.. Can I? Pls?
Blog will start off with a surprise night out of dear dear on last Wed wen he told mi tt he cant booked out but surprise mi with a box of sushi when I sneaked out of the hse during dad's shower and leaving my room's lights on and door locked the whole night..
I live on the 2nd row of the blk, 3rd floor.. I haf to climb up to 5th floor and ran to the 4th row of the blk door to meet his car.. Exciting or coward's act? Wahaha.. =P
Went to his hse for my sushi! Hahaz.. So cheap.. Onli $4.40 at giant! It was on half price.. =D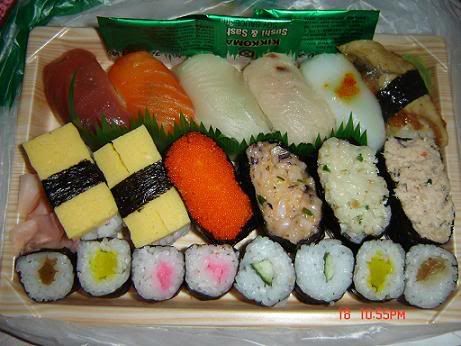 After tt is the game!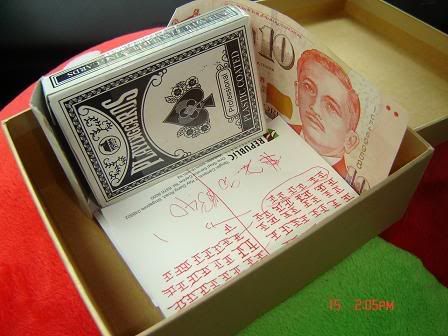 Proper pic taken of tt stupid game.. Hahaz.. =X
Erm.. What happen next.. Oh ya..
On Friday, was supposed to meet Fion & frens out cos Fion leaving for work trip to hk n china till July ='(.. But she gt last min briefing and I met Dearie Anna instead..
Main thing is to pass mi the dinner tix for Shatec's dinner but we had alot of fun too! Hahaz.. =P
Lonely trip on the train frm Wdls standing! So long nv take public transport le, especially the MRT! I hate it..!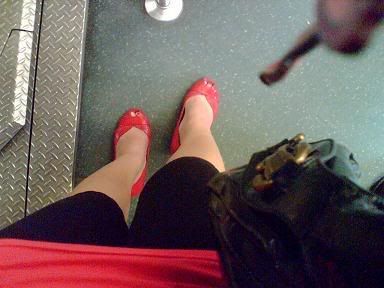 Meet her at 2pm at Orchard and it was tough to locate her if I'm late, cos my line gt suspended again.. Hahaz.. =p So I wasn't late and we head off to Taka.. I was tiking of a proper lunch and Dearie dragged mi to the "food selling place" at basement and we bought Tako balls and fruit juice.. -.-''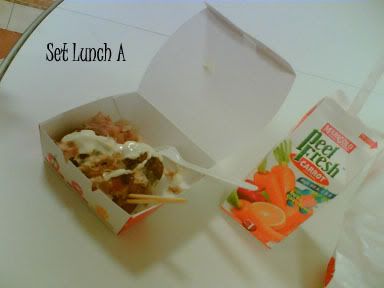 Stupid mi want her to take pic and she refused! Den y still posed?! Hahaz..
Wahaha..
Den start to cam whore le, she kept refusing and kept flirting with the hp cam.. WTH! Hahaz.. That's y she's cute ma.. Hahaz.. =X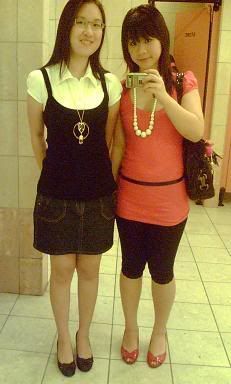 In the toilet! I tot she left the toilet wen I purposely try to touched up since she refused to take pics,hu noes, she is standing by at the mirror.. hehez.. Shh!! Ltr she sae I bao toe her.. Hahaz..
(She wont understamd what is bao toe..) =P
Den the face & face pic..
Went to shop at Arts fren for sum materials and Far east for.. Nth! Hahaz.. Saw a black jumper so nice, but wanna save money.. Sob.. Wanna get a suspenders aso.. Haiz.. MUZ WORK!!
Went we shopped at I.P zone on the way to Far East, a sales ger in yellow tee gt stupid attitude.. After Dearie put aside a tee tt she was holding on top of a pile of clothes, the ger asked: "Want or don't want?"
Sum1 tell mi!!!! Does she haf to get a retail mgnt dip in order to noe hw to speak to a cust! Fuck! And she even scare her colleague will steal her commisson away wen he tried to walk into the cashier and she rush over there to do the cashiering leaving us behind! Oh GOD! She dun even deserve the salary let alone commission.. A disgrace to the service industry in Singapore.. This is juz a small case.. >=(
Nvm, after shopping, we haf sum "food" at level One.. Sum fried carrot cake in egg with pork floss.. (1g inside i tik.. cant even see!) Hahaz.. And milk tea. Dearie heard the ger calling our order (large milk tea) as "DA NAI!" And Dearie was amused.. They should replace it be calling "ANNA!" Hahaz.. Private joke.. =X
After tt, Ade reach Orchard without her fone at 7+pm and juz nice Dearie have to leave to mit her boy at Bugis, so like a two timer, I went on a date with 2 darlings to the same place.. Hahaz.. Ya! Dearie and I walk to Ngee Ann City with my painful feet and meet Ade and we walk back to Far East Plaza again after sending off Dearie.. -.-" Hahaz.. =p
Dear came to fetch us at 8+pm miraclously cos he supposed to end his camp's bbq at 10+pm and we drove off to PS to slack cos Ade haf to meet her fren at 11+pm so she need to kill time.. So they accompanied mi to LJS to eat till the place closes and I the last to leave.. Hahaz.. =P
Went up to the arcade to play King of Fighter before the movie start at 11.30pm.. He changed $2 into tokens and he onli used 1 token throughout the fight with mi (yes! I used up the rest of the tokens) and he still could fight with the com for like 10mins or even more! WTH! Sob..
Anyway, catch "The Hills Have Eyes 2"
I watched R21 show ok! Hahaz.. No la, dear didn't noe it's R21 til we were abt to go in, lucky the guy nv check.. Hahaz.. Last time I watch M18 aso like tt.. Hahaz..
I was expecting sum "you noe" scene but all I get is bloddy scene and a hell lot of vulgarities.. Hahaz.. Quite nice lahz, not very gruesome.. Hahaz.. I can take it.. Wanna see the part 1 though.. =D
After movie, I forced dear to play pool with mi at Bukit Timah till 3+am and we went back to his hse, after he bath, I merely said:
"If u tired, u rest first loh.."
Within 2 mins, I heard the familiar snoring.. -.-""""""""
And I was online doing nth, finding pics of baby tazmania (his fav character) and trying to learn how to draw them till his bro came back at 5+.. 4gtten what happened also.. Haiz.. Anyway..
Went home in the afternoon on Sat to change into a dress for the Shatec's "It's About Taste" dinner tt Dearie introduced.. So off we go!
As if we were happy lohz, my dad was having fever at home, and I'm having fever outside hm! How lovely is that hur?! That dumb boy drove 1hr+ and hit back to Bukit Panjang again to take another route.. Of cos I was angry la!
When we finally reached late at tt place, he started to despise tt place.. (Whatever!) Hahaz.. Become I sha jiao, he heck care le.. Hahaz..
The tickets..
The menu..
The decor..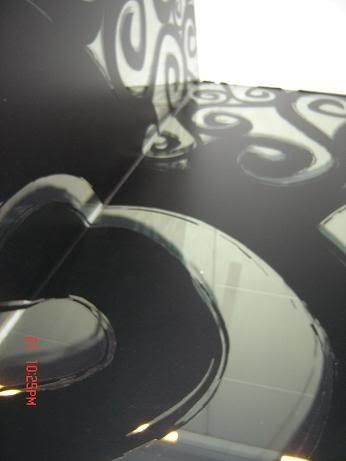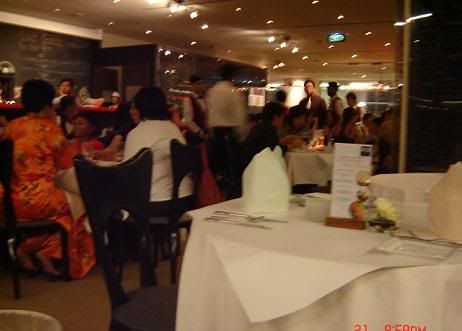 Yes! It's call "wu ying shuo!" Hahaz.. =p Not edited..
I was taking pics using his cam happily and when I passed it to him, the batteries dead.. And he haf to run to the nearest guardian to buy the batteries.. Thanks Dear.. Muackiez.. =D
Now you see him..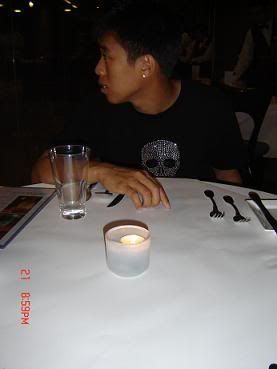 Now you dun! (using my hp cam)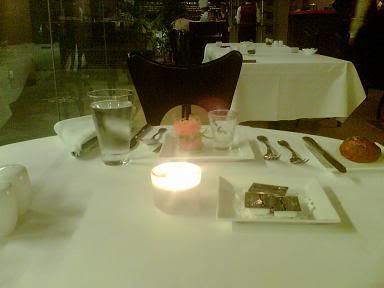 The appetizer came before he's back but of cos I waited! =)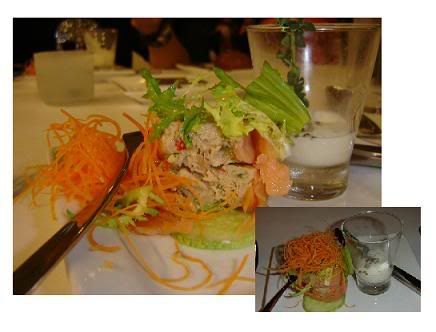 Not bad lahz.. But Dear was complaining though..
And the hard wholemeal bread! Dear was so angry with it.. I taught him to use hand (the right way) to eat but he refused and tried to used fork n knife and couldn't cut it up.. Needless to say, neither could my hands..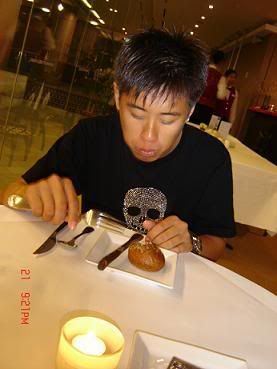 Plate in the middle sum more.. -.-'
Oh ya! And their butter knife is their appetizer knife. Or shld I say, their appetitzer knife is ALSO their butter knife.. Hahaz.. =P
Well, here comes the soup..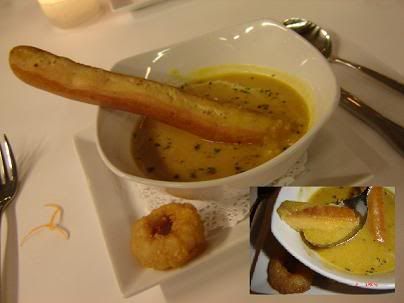 You know the taste of indian prata curry without the spicyness and abit of ingredients inside? Ah, taste exactly like tt.. Even the bread stick is hard and calamari is awful.. I didn't finish the whole thing though..
Third came Dear's fav.. The Sorbet..
Not bad, too small a portion.. Hahaz.. Whew! Finally the main..
Dear's chicken main..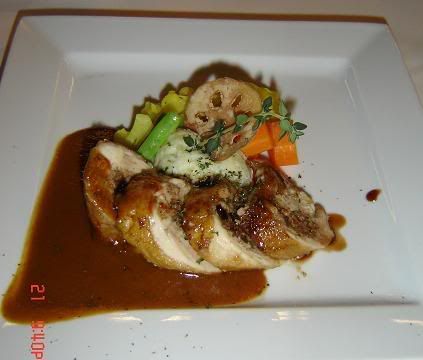 My seafood platter.. Didn't noe he allergic to prawns so I tooked it back and gave him more fish to make him smarter.. Hahaz.. And he did became smarter! Hahaz..
The deep fried mussels..
Dear's v cute, when I said I wanna try his mashed potato (pointing to it), he claiimed tt he dun haf any and tt was rice.. =.=''''''''' Hahahaz...
Mi praying to "Hai Long Wang" before eating.. (Of cos it's lame)!
Finally, after much effort.. Can say the portions quite food lahz.. Not too stomach bursting and juz enuff.. Hahaz..
Dessert and Story-Telling Time!
Story telling? You will noe ltr.. Hahaz..
Nicest Dish of all! Hahaz.. Really like it alot.. =)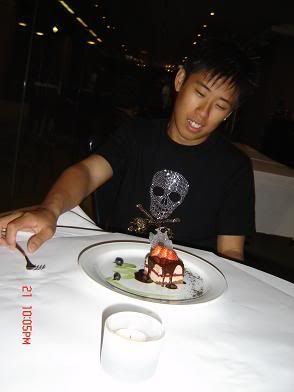 "I dun like sweet stuff!".. Act onli..
My story..
Yayaya, not funny I noe, wanna haf a feel of lame collage canot ah?! =p
Here comes the comments form..
Long comments right? Hahaz.. When I ask dear for an expression for the restaurant, he gave mi this..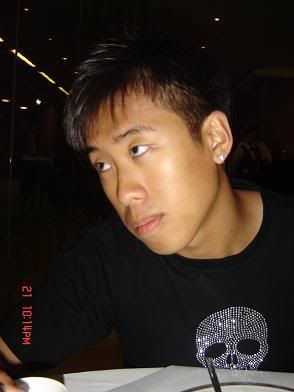 In case u r wondering y he onli gt tt black tee to wear.. Tell u, COS I LIKE OT CANOT AH!!!!
=X
In the menu, per person shld be served with petite four.. Which looks sumthing like this o Wikipedia..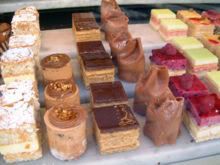 Should be like a cake or chocolate and maybe cm in even no. for the 2 of us? Guess what came?
:
:
:
:
:
:
:
:
:
PATHETIC THREE came!!
Wouldn't this be a better name? Hahaz.. Dun understand the quantity of it.. Does it mean every guest is served 1 n a 1/2 of it? The comments card shld came ltr.. =(
Dear doesn't like it but I appreciated it though.. Hahaz..
Nice restaurant with normal toilet.. =.=""
Afterall, it's who you came with that counts, isn't it? Hahaz.. Thanks Alex Dearest! Muackz.. Happy 2 mth! =D Treat it as I treat u ok? Hahaz.. Love ya!! Long long.. Hahaz..
He forced mi to stay at his hse cos it's the last night so I went and we slept at 6am+ after watch an old vampire vcd which he fell aslp at.. Hahaz..
Woke up at 3pm the next day and slack.. Helped his sis with her art work and she still complaied! ANGRY!! Hahaz.. For awhile onli lahz.. And the art piece!
Hahaz.. Around 9pm when Bukit Panjang Plaza and after tt Timah with Jason for pool at 11+pm.. And as we waited for him at his void deck, I saw Snow White.. Haha.. REALLY!!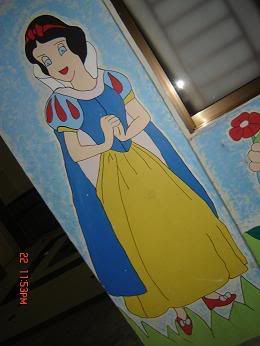 I told you le mahz.. You dun believe.. Hahaz..
When Jason closed to car door, I acted as "gou zai" and make he feel like a star.. Ya lahz.. I lame can?!@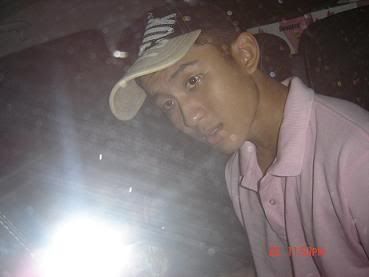 Luckily the place wasn't fully occupied.. So we take turns to play.. Jason din;t even lose 1 round.. WTF!! >=(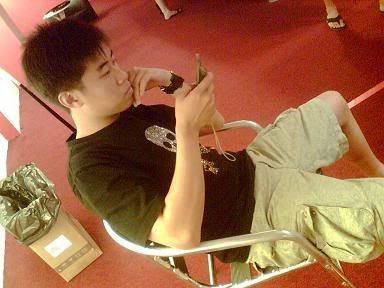 Slacker reading my hp smses!!!
Brother at work! Hahaz..
And I reached hm at 3+am and sleepless till now!!! (7.23pm) Hahaz.. Of cos tired lahz.. Tml start sch le scare ltr cant slp mahz.. Hahaz.. I muz tune back to normal sleeping hrs!
The cars I saw on our 2nd mth-sary.. At lot 1 and PS..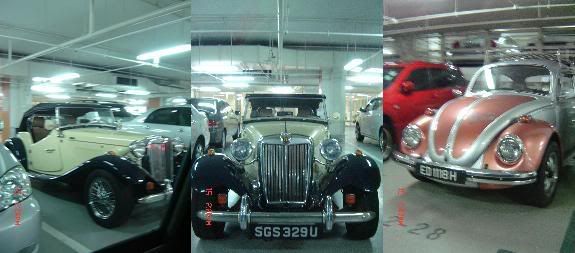 Vintage car lei.. Hahaz.. Nice sia.. =D
Couldn't see dear till Sat! I will endure! Trust mi dear.. I will contact u trug web sms (so pathetic!) =D Love ya.. Muackz.. Hahaz..
And that's 40 pics and 1990 words for you (using 2hrs) ! Hahaz.. Slp early alrights? =D
Ya u! The one hu juz started sch.. Better stop having sleepless nights and make lesser ppl worry abt u k? Hahaz.. Be fren? You noe hu u r right? =D