THE 2 OF US!!!!
I spent 2hrs on this blog entry and the thing hanged and shut dw and here i m to re-blog.. BAH!!!!!!
Well, so yest was 2nd month after 11th Feb and the day before he gt gold for his IPPT thus having a day off.. And I found a replacement for work on 6am and whew.. Time for fun.. =)
So he came my hse on Tues night at 2+am and we played black jack.. (Since few weeks ago in his car to kill time b4 he send mi home and rush for camp at 5+am sum morning..) And we have turn the game into gambling cum money saving game..
Here's the bet..
The balance of us winnings will be saved up.. Hahaz.. Up to date is $13++.. Hahaz.. For 3 days..
I was hooked on to the game and didnt reli let him have a good rest until 8+am till 1+pm and we went to look for my mum..
I wore my fav skirt.. =D
After which, we went back to his hse for him to change and to eat lunch and we headed to Cine to buy my lashes.. Hahaz..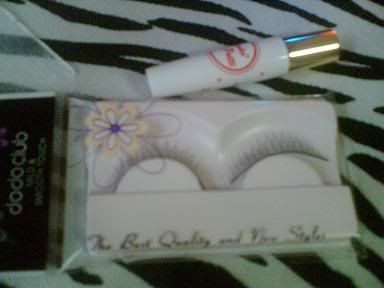 That cashier told mi there's no glue (THERE IS!) when I ask and dumbo mi didnt check the package and bought the glue at Far East for $6.90!
So at Far East, something happened to mi for the 1st time.. We were traveling up th escalator when it suddenly stopped, luckily dear hold on to mi, if not i tik I'll be uglier now.. Hahaz.. Didnt tot of shopping as I wasn't short of anything and wanna save money but in the edn still bought 2 necklaces and a belt.. But it was cheap.. Hahaz..
And we went to check out Chippy!
The calamari which I dun intend to take any pics until I saw this!
Heart-shaped ring! Hahaz.. Gers love this kind of nonsenses rmb? =P
The fried mars bar we bought although dear dun feel like eating chocolate, so he ate most of the Vanilla ice cream.. Hahaz..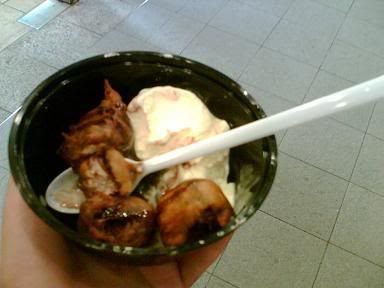 The 4 small balls lasted us till Tangs and I was so sick of it.. Hahaz.. Quite worth it cos it not usual when u pay for sumthing nice and yet u turn out feeling sick of it.. =X
We went off at 8+pm having the tot of playing pool but ended up gg his hse cos there wasn't any parking lots and I was tired.. But ended up helping his sis with her home econ proj.. Hahaz.. After finishing it, he tot mi to play CS and he went for a nap.. Hahaz.. And we slept till 5+am again and he send mi home and rush back to camp..
I feel so gulity.. He always take good care of me without asking for any returns and still can tahan my unreasonablity.. ='(
Two days ago was my mum's b'dae and I decided to cook soup for dinner but I woke up at 6pm and rushed of to buy ingredients and cake hm to cook but in the end mum gt back at 10+ and we ate without her.. ='(
But we still sang the b'dae song and cut the cake.. =)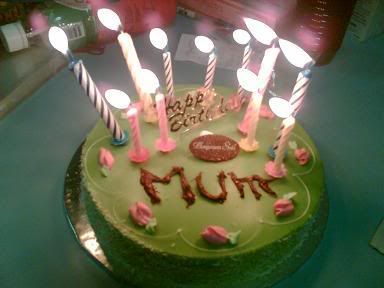 And the card I 4gtten to give her till Wed morning and luckily dear ask mi to read to him b4 I pass it to her.. In the "card" I told her tt dear started to work at the age of 13 but I wrote "da ren" (beat ppl up) instead of "da gong".. If i nv correct I tik my mum sure disapprove him de.. Hahaz.. =P
Some random pics..
The peacock I learnt to draw since the time I did my henna tatto at Little India few weeks ago..
From left clockwise: Dear and his sis's hand and my fat ankle.. =X
On the way to work last Friday with my tear frm yawning.. I was late for an hr due to the holiday jam.. Hahaz...
How differnent individual think and the different path ppl take in life.. Sum use it for leisure while others misuse it to take their lives..
How true..
Dear and his camp mates form a clan calling themselves "xiao mua ji".. Haiz.. Old guys who spent too much time in camp.. Hahaz.. =P