Didn't know what came to mi, on Sunday, Chip and I went to Cold storage to look for ingredients to make salad for the whole week.. Hahaz.. Yeah, I'm the1 hu need dieting, not him.. Hahaz.. I tik he aso head big during the trip cos I'm very stingy and very flickered minded.. Hahaz.. In the end, I bought butterhead lettuce, tomatoes, & lemon.. Hahaz..
I bought my salad to school on Monday..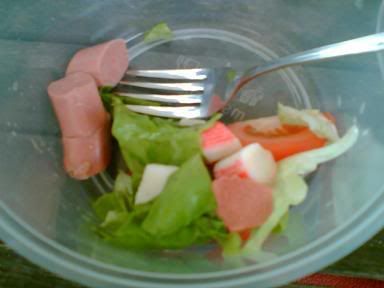 Hahaz.. 4gt to take pic b4 eating.. The crab stick and hotdog gt them in the fridge.. Hahaz.. And tt mean money

I know, very poor editing of pic, I was lazy early in the morning mahz.. Not much pics to add in aso.. Hahaz..

During the skyride, I kept screaming and shouting, cos I was reli scare lahz.. Hahaz.. Wesley kept laughing at mi lohz.. Sob.. Hahaz.. I was the last one on the lugh lo.. Everyone zoom off without mi.. Hahaz.. Ok lahz.. I'm the 1 hu is slow.. Hahaz..

After that, went back to sch for FBO.. Our restaurant finally made money in the virtual game.. Hahaz.. After sch, a function held in sch juz finish, and we took their leftovers.. Hahaz.. Illegally..




Went to Suntec with the grp to watch "Apocalypto" It was bloody, cruel and scary.. But quite nice lahz.. Hahaz.. Not for the faint hearted.. It was already 9+pm after the movie, they went to KFC for dinner and we all head back home.. Yawnn..




Wednesday was deployment day again!! Hahaz.. First thing we reached there, we ate lunch.. Compliment with my salad of cos.. Hahaz..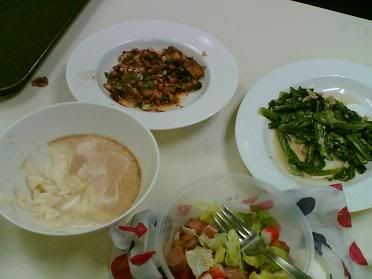 Ten mins we off "work" the guy there, dunno what is he position lahz, he seems quite friendly with us, but sum how, the way he talk, we felt sexually harrassed.. Cos he was askin mi & Ade wat we did tgt the night b4, she gd anot.. Whatever crap also lohz.. Haiz.. Eee..

We saw this huge car on the way out..



I woke up 1hr 15min late yest.. But still managed to bath and rush to take the train (rather than bus) and I reached juz on time for my lodging test! Hahaz.. Due to the lateness, I didnt't have any salad with mi, so Keng Kee offered mi apples for lunch.. And tt's his lunch too!! I half half of an apple.. Hungry Hungry.. Dinner was salad for mi again..

I dun tik this will work, but at least it saves mi sum money.. Hahaz.. Went to meet Chip after sch at Harbourfront.. And we went to Wdls's Fairprice to market again.. Hahaz.. Very fun choosing this an that, and after almost 2 hrs.. We onli bought things worth $5.50.. Hahaz..




Fish, Tofu, Lemon and mushrooms.. Hahaz.. The poor boy accompanying mi till the sky aso dark le..




Going to dental to get my retainer soon.. Gonna pay a bill of $507.. WTH!! So much right.. Hahaz.. Diana smsed mi and said she boght Onei Onei for mi.. But I nv go sch! Sobz.. I want.. Later I go buy.. Hahaz.. Thanks Diana!! Muackiez.. Hahaz..

Alex will be back tml!! Will there be Kbox? Hahaz..

Good day everyone.. I'm Hungry..