3 chocolates for A+ in mid-sem accounting.. Hahaz.. =P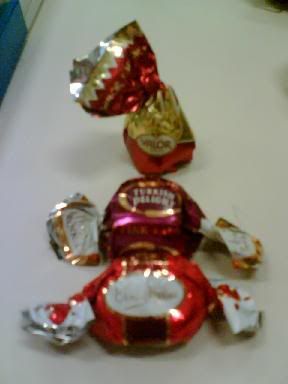 I tik I'm the lowest A+ 34.5/50.. Hahaz.. So sad..
On Wednesday, it;s finally our restaurant's execution!!
We have 2 cute mascots, Asterix & Obliex!!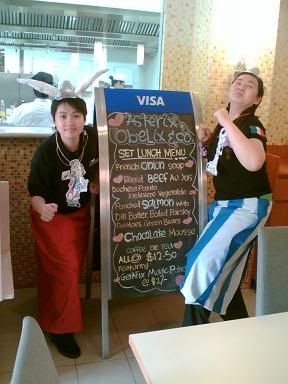 They are both so cute!! =P
Before the restaurant operation!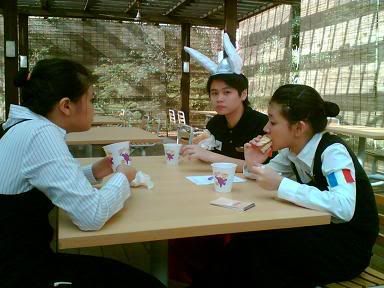 During the break..
Where I work at the Alfresco.. =D
Before the first guest came, Dennis was outside slacking with us..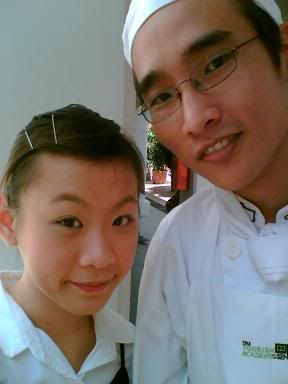 The 3 gers who survived outside..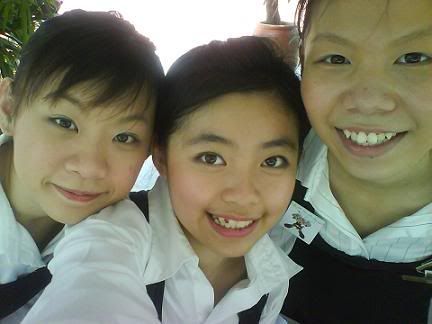 Obliex and MI!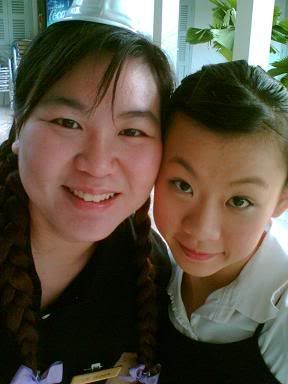 Was sweating outside, so hot and humid, running in and out of the restaurant to check food and drinks orders, going in and out of the kitchen to bring dirty dishes to stewarding area.. Missed a lot of things in the restaurant.. Like how the mocktail was spilled onto the guest and how service recovery was done.. Missed tt out.. ='( Not being evil or wat, juz wanna learn from tt incident mahz.. Hahaz..
After all the guests have left.. Relaxation!!
Juana happily with the bar cleaning..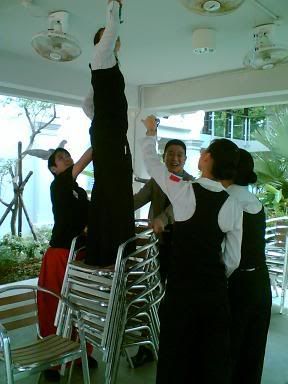 Before tt, she was helping the take the deco down frm the Alfresco too! Hahaz..
Headwaiteress and Captains writing down their ''speech'' for debrif.. Hehez..
All's buzy, well, and mi doing wat I'm always doing.. Taking pictures.. =P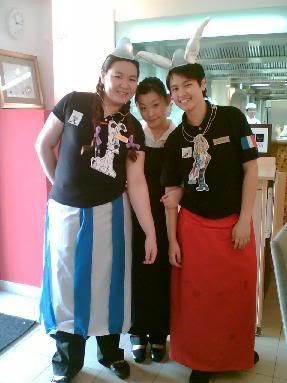 Thw whole restaurant served 57 pax that dae and we earned $751 excluding the unpaid 5pax.. Wasn't the highest among the 5 grps.. =( But nvm.. It's the process that counts.. =D
On thurs, it was project submission, thanks to Desmond who stayed near mi, who helped mi to colour printed my project and passed it to mi early in the morning causing mi to missed 2 bus and was late for sch.. Hahaz.. But nvm, thanks! =)
After Opera class, Dennis, Diana and I was planning to go or MICE lecture but end up slacking from 11am to 2am eating onli cheese prata as lunch.. We sat at BLOCK G, a place where Dennis could smoke in sch.. Hahaz..
The leg tt doesn;t look like his.. Hahaz..
While Ade was sleeping, Dennis, Diana tgt wih her 3 other gf, we started toking crap.. Since Diana startd to ask us, why do ppl like to give love bites.. Hahaz.. For the fun of it? Den they starte asking Dennis why guys like to squeeze breast.. All cock loh. Den her fren told us about how an artist went for lipo and she or he used the fats to make fats ball (meatball) and cooked for his or her frens to eat.. Gross.. =S
One last pic of the uncle (21yrs old) looking sei.. Quite funny i tik..
Hahaz..
It was rainging cats and dogs after sch.. Good timing ah, from our sch to thebus stop was a road unshelter and Hui Ying have to shelter us one by one (7gers) using her umbrealla resulting herself drenched in the end.. Noble sia.. Hahaz.. Sentosa facilities mgnt suckz.. Here leaked, there leaked, even inside the bus!! =C
We should be smarter and learn from them..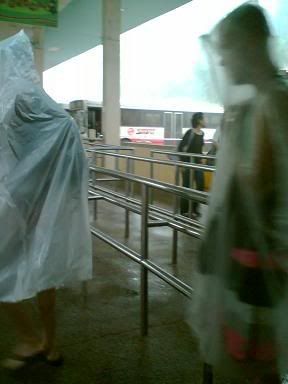 The ang mohs.. =D
Dennis, Diana, Ade and I went to HK cafe Kim Gary at Vivo, they wanted to try it for very long le.. Hahaz..
The decor..
The food..
The bill..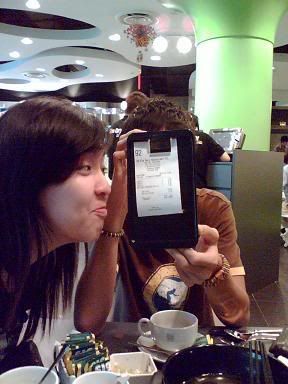 I ate the thick toast with peanut butter and condensed milk.. SWEET! Too sweet for mi.. Hahaz.. But $1.80 onli.. Without service charge and GST added.. The bill didnt have GST cos they are malaysian company and they haven adjusted to the system yet.. Hahaz.. Tml we are gg JB to try it out again.. Cos cheaper mahz.. Hope they service will be better.. Hahaz..
Yest went to help ou at the TP openhouse acting in the skit aS receptionist.. I'm onli in one show.. Hahaz.. =P
Before the start of the skit.. Taken from the stage..
It strange why everyone stared at mi when I didnt even asked them to posed.. Hahaz.. =P
The crowd on the second show which I didn't act..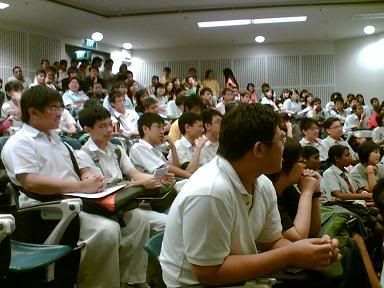 During the skit..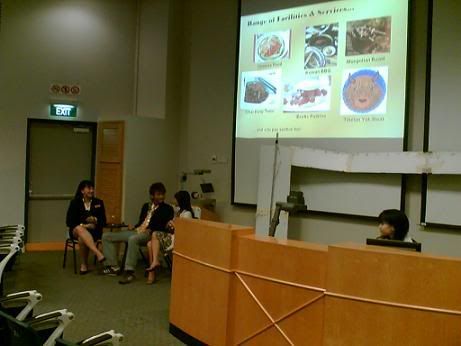 Hahaz.. The juniors was very enthu in their perfromances and they added in so much fun and laughter in the skit.. The seniors (us) feel so zhi bei.. Hahaz..
A cute cow which keep shaking it "neh" during the CMM skit.. Hahaz..
Went to have fun in the Mass Dance and TP sch song singing at 6+pm.. Had so much fun with Winnie and Wesley.. He was so high, unlike himself in TAS.. I think he's happier here.. Ppl here appreciate him more..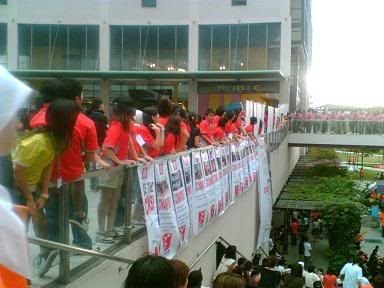 All the differnt colour grps.. Hahaz..
It was raining cats and dogs again after the mass dance finished.. And guess wat we saw.. In the middle of th rain.. A rainbow appears.. So beautiful.. I have to be in the rain juz to capture the pic..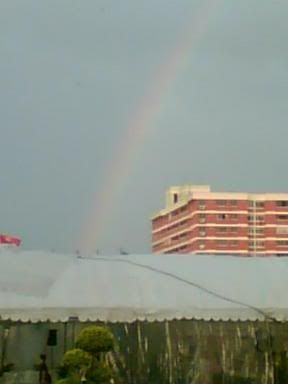 Went to meet Fion at TM starbucks after tt and.. Home Sweet Home.. Didn't went to DXO in the end.. Hahaz.. It was ladies night u noe.. Hahaz.. Well, clubbing is not my life anyway.. Hahaz.. REALLY!!
JB trip tml.. Wish mi luck.. Hahaz.. Tiring.. Yawn..