Dunno what came into me this week.. So Emo.. From Monday till Thurs, none of the day i woke up on time and by myself.. Must be too tired or reluctant to wake up ad face the world ba.. Sob.. Trying to get used to the life of being alone, sleep by myself and entertain myself when I'm bored.. Everyone learnt that long ago, I'm juz too new into it.. ='(
Went to Phuture with ET and his frens on Sat.. A last min decision, enjoying while dancing..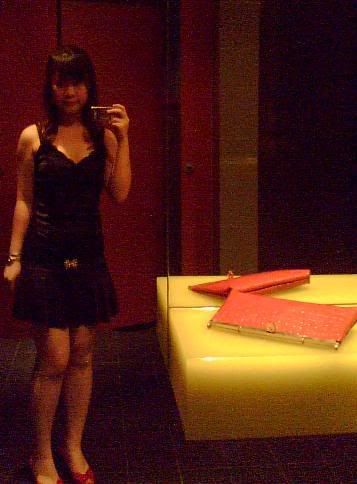 I wore tt shot skirt tt dae.. Hehez..
Coincidentally saw Ade in the toilet, really!! And we took a few quick pics cos her frens is having the JC contest at Zouk..
I dun look like mi in this pic.. Hahaz..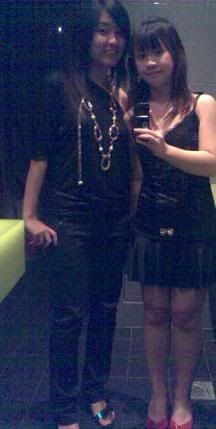 But after 1hr plus of fun in Phuture, he doesn't feel well and we (mi n him onli) left, wat a disappointment.. =( But no choice.. So we cabbed down to Pasir Ris S11 to meet Fion and her frens and she kept complaining on my skirt.. Hahaz.. Ya tt short skirt.. =X
After her frens left, we decided to play Scrabble at ET hse.. So..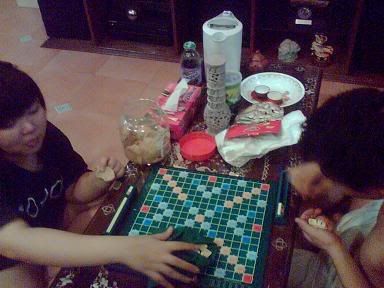 The game was accompanied by lots of snacks, snapple and tea.. Hehez..
She is so keen to make use of her new fone's cam..
Her turn to posed for the cam.. =P
We played from 3+am till 6am.. Damn tired and I have to compile my MICE 2 project in the library with Diana and Ade later on.. Yawn.. So I slept until 2 plus and rushed dw..
As my lappy wasn't with mi, I could onli sat beside Ade and we edit the thing tgt.. All the way till 9pm.. (Dinner in btw of cos.. :X)
Supposed to meet the gr at 9am in sch to finish up the proj and MICE interview was at 11am.. And the dumb dumb mi, who slept at 4am, woke up at 10.22am!! And was late for MICE for 1 1/2 hr.. Lucky, I'm still able to make it for the interview.. Had lunch at Tastes if Singapore in Sentosa.. The food was alright but with GREAT prices.. Chicken Rice for $8.. Wat do ya tik? =P
We (Diana, Ade, Wesley) celebrated Dennis birthday aft sch.. Went to Too Hot @ Vivo for dinner and had Achar Fish which was not bad.. But the rest of the guys complained abt the service, price and portion size.. Hahaz.. The waiter was singing and dancing while working and seems to be enjoying himself.. And he forgotten an order from Ivan totally.. Hahaz..
My food at $12.90++ and Mango Smoothie at $4.90.. =D
After tt, we need to found a place for a chat, so we went to Pacific Cafe alfresco which was non-smoking.. Too bad for Dennis.. Hahaz.. Wesley bought a piece of cake frm White Dog and lit a candle for him.. I lost tt pic whereby Dennis was took with the cake.. =( Hahaz.. But nvm.. So we chatted from 8+pm till 10pm when the staffs CHASED us.. Literally u noe.. They say they are closing and ask us to leave.. Nth nicer than tt.. And 1 of them ask Ivan to pas the cup to him to clear.. WTH!! Where's the service standard? Aiyo, I'm being bitchy now, aft all the service lesson in sch..Hahaz.. =P
So we went home after tt..
The week was boring.. Went to Rasa Sentosa for site visit whereby we didnt visit the site cos of time constraint and the rainy weather on tues, and i cut my hair.. Restaurant operation and the screwed up proficiency test.. Boring thurs for lectures which I fall asleep in and didnt know what I was copying.. Skipped school todae.. =( And I missed the deadline for CDS selection..
Always blooged abt the fun things tt happened, happy faces, cheerful smiles.. Too tired these few daes.. Tired of wat? Being alone again? Well, I'm adapting quite well to the life alone.. Waking up in mind for not being late for school.. Eat to enjoy the time with frens.. Slack after school to cherish the times with people, slept in the bus in hoping for time to pass faster and less time for wild thoughts.. Tried to reach home earlier to see the happy faces of my family.. Share jokes and thoughts with them and enjoyed being loved.. Tried to chat on msn but had no topic for no one and tried to fall asleep by myself.. Toss and turn without feeling as afraid as last time and woke up late fr the next day..
What a week!! FM test on Tues and Project submission on Thurs.. Restaurant execution on Wed.. Headache.. Onli hope was the fun I'm gonna get for the skit performances on Thurs, Fri and Sat during TP openhouse..
What's next? Dunno.. Arts Appreiciation history presentation and mosaic completion..
No.. I'm not depressed, not sad, not angry.. Juz not happy.. Juz not feeling high when I'm alone.. I'm not wearing a mask in front of others, juz smiled, cos they are there.. =)
I hope i wont feel emo anymore.. Maybe after next week ba.. Hope so..
Random pic..