Last last Saturday, 25th Nov, Ivan, Jo-Lynn, Veron, Ade & I went to work for Creative Eateries's CJC alumni dinner.. Well, means we are server that serve them English courses..
We were supposed to meet 1pm at Esplanade but due to bad time mgnt, I was late and reached there at 1.20pm.. Phew!! There were stil taking attendance.. I wear damn auntie tt dae.. Mum's oversized white long sleeved blouse and black pants.. (in the end, they provide us with uniforms) Hahaz..
We finally reach there at 2+pm and 3 of the gers began to fold napkins.. Hahaz.. Banquet job.. After tt, helped to set up the tables and changed into our uniforms.. I changed my zone with another ger in order to be with the same game as Veron.. Hahaz..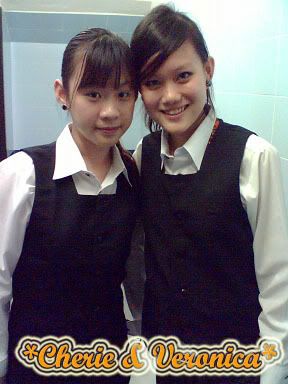 Tt's pur uniforms without bow toe.. And with bow tie..
I look kuku lahz.. But Ade sae the uniform contrast with the brick wall.. Hahaz.. Veron, Ade & I were assigned to do the cocktail reception and our hands are damn pain and tired.. Luckily both in-charge ask mi to clear away the glasses onli, which means 1/2 of the workload gone.. Hahaz..
Dinner started at 7.30pm and the MC was Tan Kheng Hua, ex CJC students.. Hahaz.. And i believe tt no one in the alumni was focusing on wat is happening on stage cos they were all busy catching up with each other.. Hahaz..
To add on, the balloons decorations were so cute.. =D Except for the blue colour which I hate.. Hahaz..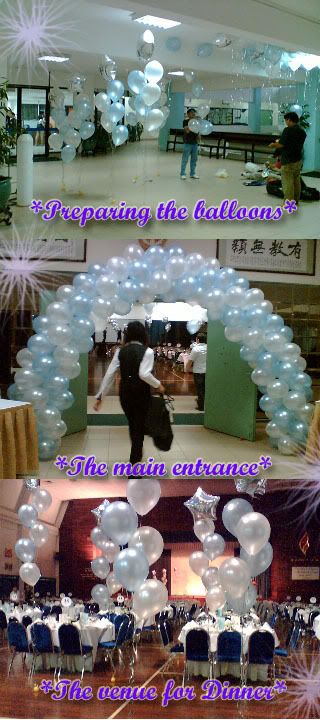 After the dinner, the 5 of us went to the "kitchen" to pinch on the main course and dessert.. Hahaz..
Happy gers.. =P
The day ended off at 12am which made us $60 and while waiting for the transport to come, we still hafta help to clear the rubbish, stack up the tables and chairs and ended at 1am eventually.. And I reach home at 2am.. Stupid mi didnt rest till 3+am and woke up early 10am in the morning on Sunday.. Another working dae.. ='(
I met my fren 5pm at Somerset to start work at 5.30pm in Holiday Inn Hotel..
Tada.. The uniforms.. I think I haf a fetish for uniforms.. Hahaz.. Always looking forward to see the design.. =X Maybe cos Poly is uniformless ba.. Hahaz..
I start the job by putting little couple bears keychain soveneirs on the individual plates and blah blah blah.. Help to refill drinks during dinner and drink 2 cups of red wine at the bar, and seriousy it's enuff to get my half-consious.. Hahaz.. Kua Zhang.. I tik my alcohol acceptance level had dropped tremendously.. hahaz..
The bar at the back of the house..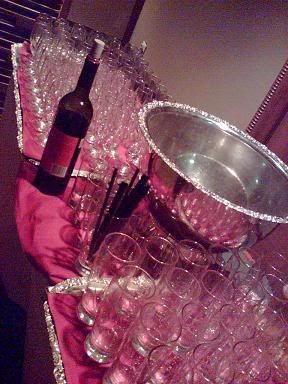 The ballroom..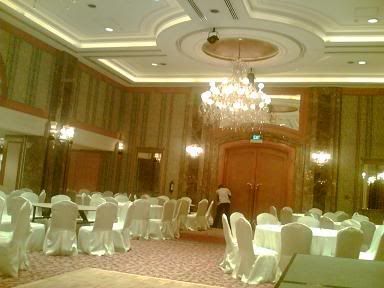 And till tt dae.. I realised tt this is fake.. Hahaz.. Foolish mi.. ='( Sobz..
Some ppl work till 11.30pm and I forced my fren to work OT with mi.. In the end we finish off at 2am.. And meanwhile, I was folding napkins again.. Hahaz..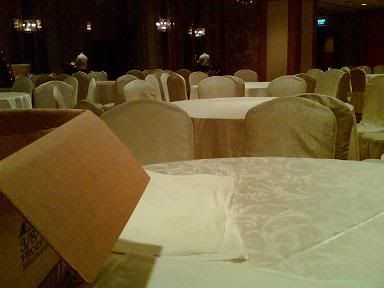 Finally gt changed and we had SUPPER!! That was unexpected.. Hahaz..
Fried noodles.. =D Hungry ger likes all food!..
Opps! Sorry was to hungry to rmb taking the pic of the noodles.. Hahaz..
And we cabbed at 3am and reached home at 3+am.. It was school at 10am the nexy morning! (I hafta wake up at 7am!) Haiz.. Hahaz..
Back to Saturday.. I finally gt rid of my dried permed hair.. Hahaz.. Not a sense of unwillingness.. And I felt more relax to get out of the hse without having the trouble to apply things on my hair.. Hahaz..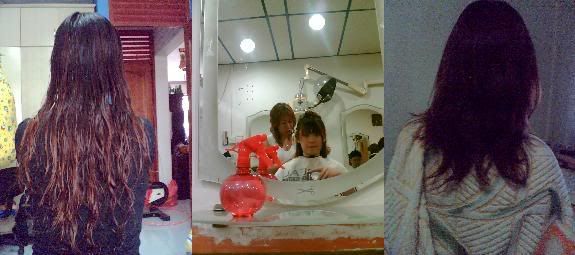 Too short? Hahaz.. Nah.. I wanted it to be shorter.. =X
Well, yest Jackson (sum1 from Creative eateries) called mi at 3pm and asked mi to work at 5pm at Esplanade.. Hahaz.. So crazy can.. Den I rush hm from Toa Payoh, bath and gt changed and reached at 5.35pm.. But he very gd.. Still count mi as start work at 5pm.. Hahaz.. Shh.. The restaurant very weird, it opens at 6pm and the kitchen os closed on Sundae and the serve Al Denta (restaurant's name) menu and there was onli mi and him working.. Hahaz.. So little ppl.. I wore exactly the same uniform as the CJC's event woth the bow tie.. Hahaz..
Not bad loh the restaurant.. But very bad 1st impression.. Hahaz.. When it open at 6pm, he asked mi to tend the restaurant by myself and he will be back in 20-30 mins time.. (in the end he came back 1hr+ ltr) Hahaz..
Den 3 ang mohs came and ordered 2 pizzas and 2 Hoe Gaarden & 1 grapefruit juice.. When I went in the restaurant, lucky a malay female bartender was there and she said onli left 1 Hoe Gaarden.. WTF!! So big and juz open and u onli gt 1 left?! All we left afterwards is juz the 1 for 1 Carlsberg.. Hahaz.. And we hafta made order to Al Dente kitchen to prepared to food for us.. And the 3 guests was already rushing us.. Some angry ppl..
Food served and they wanted the bill so as to catch their performances.. WTF again! He paid $100 for the $83.90 bill and the change was $16.10.. ( We didnt charge them the grapefruit juice and we charge the full pint beer as 1/2pint) When the malay ger open the cashier box, she was so shocked tt she almost shouted! Hahaz.. It was empty!! Hahaz..
So she had to rush to Al Dente again to get the change and the ang moh is reli angry I tik.. Hahaz..
I can count yest's guests seriously.. 3 ang mohs, 1 young couples, 2 old couples, 5 young performers, 3 ladies ang mohs, and lastly 2 ang moh who came at 10mins past our 10.30pm closing time.. Hahaz.. All in all.. I work till 11.30pm... Lucky the chef send mi to my place by cab.. I said send cos he didnt want mi to pay for the fare.. Maybe cos I noe Chef Ng and Chef Phua in TAS which he formally work with.. Hahaz.. He grad 2 yrs ago in Shatec btw.. Hahaz.. He's a Malaysian..
Yawn.. I went hoe and fell asleep soon after..
Todae FBO presentation was.. =X Dunno wat to sae..
FM presentation tml AT 9am!! And my grp meeting at 7am at Harbourfront.. Can u believe it? I cant.. Hahaz.. Till den.. I;, working at Esplanade on Wed again.. Feel free to drop by.. Hahaz.. Mauckiez..
cHeRiSh Mi..