Merry Belated Christmas!!
It's been almost a month since I last blogged and many things happened..
Zheng Kang's birthday celebrations at Kbox, MOS failed trip with Wei Long, Steamboat at Marina South with Wei Xian, failed trip for KL with Adeline, working at ARIA.. Hahaz..
ZK's b'dae..
On the way to MOS with Wei Long..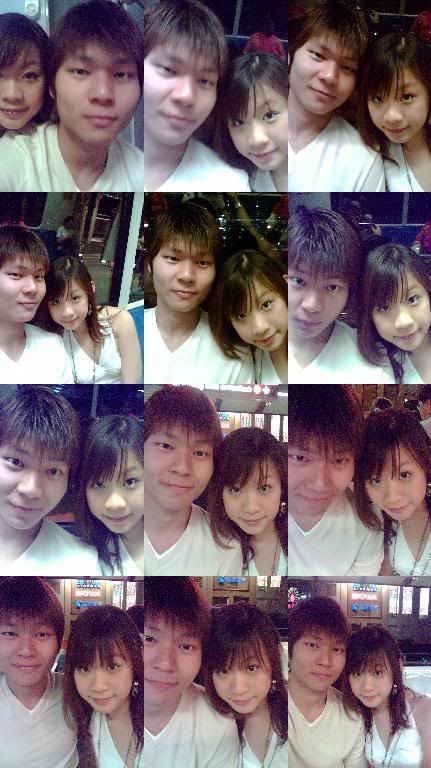 Steamboat with WX..
But I will past them all and blogged from Christmas EVE!! Hahaz.. Why dwell on the past.. Too many pics to show anyway.. =D
I bought a few present..
1. Braun Buffel cardholder for Eetien.. $83!! ='(
2. Renoma Boxers for Wei Xian..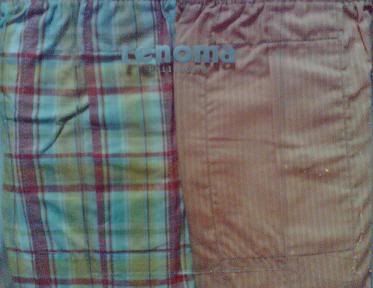 3. Hp holder softie for gift exchange.. (brown colour)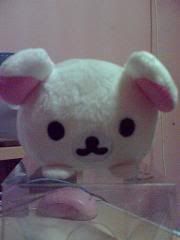 I noe very little lahz.. Didn't have big plans of giving out present mahz!!
1. I receive a big Doreamon Soup cup from gift exchange at Fion's hse.. (I received it from a guy who gt my hp holder as well.. Hahaz.. Coincidence do happen..)
2. Happy Feet's mumble from Melvin
3. Couple pigs from Wei Xian
(actually I dun like soft toys lahz, cos dunno wat to do with them aso.. Hahaz.. )
4. Liquor chocolates from Auntie
Hahaz.. Who cares about present.. It's how we celebrating it!!
Sunday morning woke up at 11.36am and prepared to go Wei Long's hse for small gathing with his poly frens and he sae he's treating mi Pizza! So i went over at 12.30pm..
Ended up that he came back at 1+pm with his sch mates "ated".. I'm the onli 1 bearing the hunger.. Hahaz.. His secondary school frens will be over only around evening, which means I'm already over at Fion's hse, so in the end, I didnt get to eat my Pizza.. Hahaz.. =(
Wei Long, 1 of his fren and mi start to play Black Jack while the 3 of his other frens concentrates on his PS2.. I invested 45 cents and in the end I got back $3.20.. Hahaz.. Next on was Mahjong, from the start I thought they are gambling (source of income).. And i dragged my leaving time from 3pm to 6pm and I kept winning ($4.90), in the end, they told mi it was juz a training round.. Sobz.. WTH.. Hahaz.. But I had fun though..
Set off to Fion's hse at 6pm and reached at almost 8pm, I was like the last to arrive.. Hahaz.. I'm supposed to be the first to help Fion out though.. =P
First to welcome mi is the food!! Hahaz..
I was supposed to bring fruit cocktail and I ended up wasting $10 on 4 canned fruits but in the end all gt dumped cos nobody eat.. Sobz.. ='(
And Eetien cooked his specialities.. Cheeze Omelette.. Hehez.. My fav, but the others were trying it for the first time and the guys gt so fansinated by the Mozzarella cheese..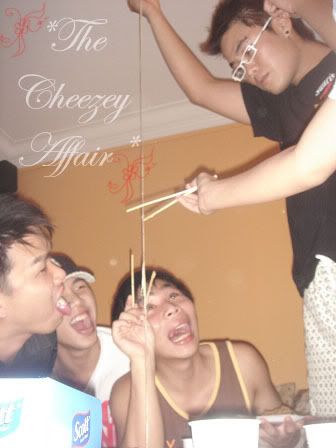 So cute right.. Hahaz..
While I was eating, Fion who sat behind mi gt funny ideas for my hair again, she decided to give mi the Taiwanese "Bing Lang Mei" image..
The group enjoying their food.. Including mi!! =D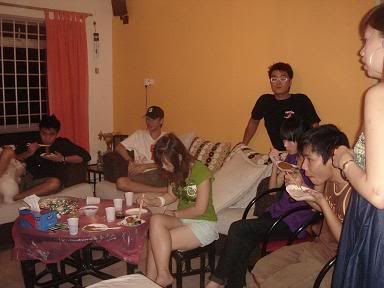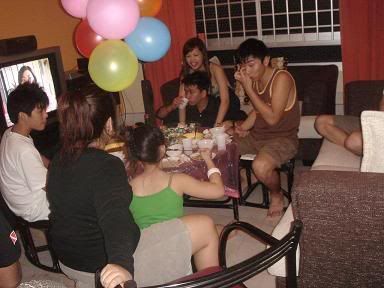 I changed 3 tops tt dae lohz.. My first tee was stained by the Ribena so i Changed to my spag tt was meant for the next dae, but cos my actions are too big and it was very inconvenient, I changed to Fion's long sleeve tee.. So comfortable.. Hahaz..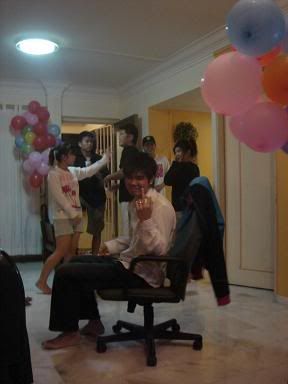 The main purpose of showing this pic is the background.. Hahaz.. I was pointing to the guy tt received my hp holder.. But i dun rmb myself toking to him like tt.. Maybe I'm drunk.. Hahaz..
Fion, her brother and I was playing stupid game like competeting see hu finishs the vodka Ribena last and would have to eat a small plate of leftover bee hoon.. Using 6 straws okay!! Hahaz.. I lost once, she lost once.. Hahaz.. Cos i simply gave up tt once cos it's freezing cold.. Hahaz.. =P
After tt, we gt into the room for stupid pics.. Hahaz..
Normal..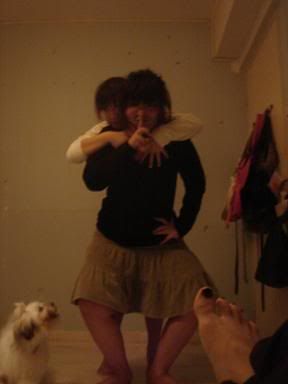 Crazy..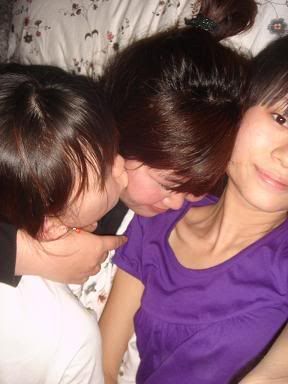 Crazier..
I was lying on top on Fion.. Hahaz.. And i gt thos funny expression.. Hahaz.. =X
But there's crazier things we did after the gift exchange.. There was 14 presents waiting to find its owners through drawing lots.. I took the last draw and got a gd present.. Lucky mi.. Hahaz.. =D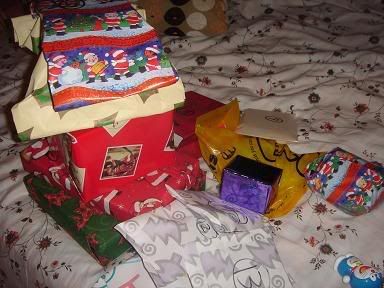 Fion suggested we do sum crazy stuff, so Jasmine and I did.. In the end, Belinda joined in.. Hahaz..
I looked the ugliest lahz!! I do care.. Hahaz..
Den Jasmine and I posed for the "studio-lookalike" pics.. Hahaz..

More to come..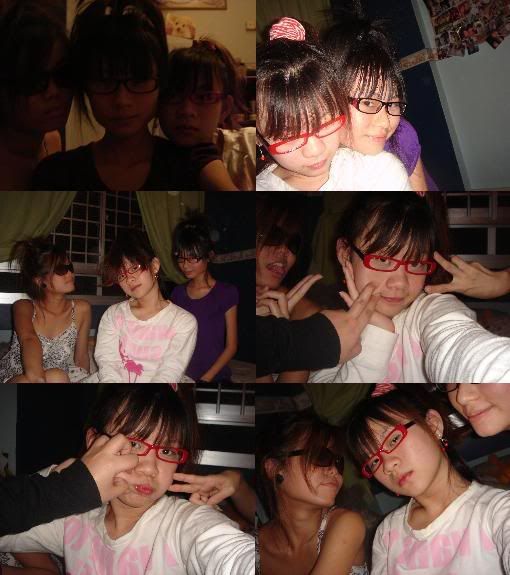 I was sexually harrassing Fion the whole night, not that I'm horny or wat.. Was juz fasinated by her b**bs.. Opps! That was a joke.. =X She didnt know I gave her 2 love bitez unknowingly and she gt her revenge..
FYI, the mark on my neck was taken by mi last night, which is 4nights after the bite and it is still so obvious.. I didn't even dare to tie my hair into a ponytail.. Hahaz..
Last Wu-Ha pic to show.. A bonus..
For us to noe, and for u guys to find out..
(I tik WX muz be damn pissed nw.. Hahaz..) =P
On Christmas dae, went to Marina Sq with WX and had Christmas Pizza meal for dinner!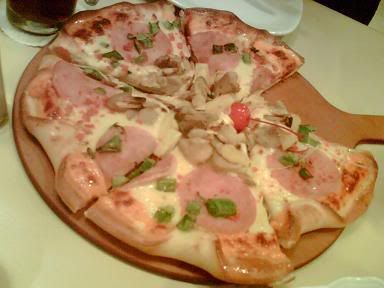 Tada.. That's all for now.. Nv blogged so fast before.. Hahaz.. Dunno where to go on New Year's Eve.. Hermm.. Deciding.. Hahaz..
Lazy to work these few daes, school reopen muz work hard le, both for results and money.. Hahaz..
Happy New Year In Advance!!
I miss ya Dearie, we haven been contacting for very long.. Hahaz.. =D Muackiez..