Tiring But Sleepless Nights..
Well, Monday met Melvin in the morning to check my hse's com.. Before he came to my hse, we met at CWP & went to Mac to fix my lappy's wireless connection prob.. That idiot wanted to finish his McSpicy 1st, so he handed mi his PSP with the game I wanna play.. =)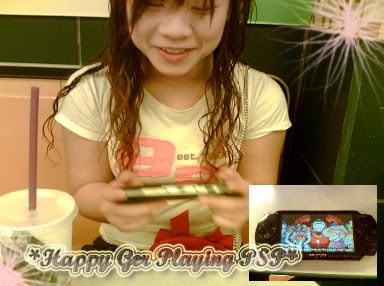 He stayed in my hse for quite awhile, and he even made my Mum smile by saying she look like Korean.. Hahaz..
Abt 3+pm, I met Wei Lun at CWP to catch Rob-B-Hood.. After the purchase of the tickets, i sat dw at Banquet to eat my Chicken Rice and tt stupid boi was doing stupid things..
Hahaz.. Stupid right?
The shows started at about 5.30pm.. Hahaz.. So funny and cute..
After tt, he juz send mi home..Boring.. Hahaz.. -.-"
Tuesday I've got work @ Singapore Expo.. With Anna Dearie.. Hahaz.. Reach there abt 2.30pm and the ppl onli came to brief us at abt 3pm and we sat there waiting to be slaughtered..
Dearie was assigned to a different zone but we still managed to took sum pics.. Hehez..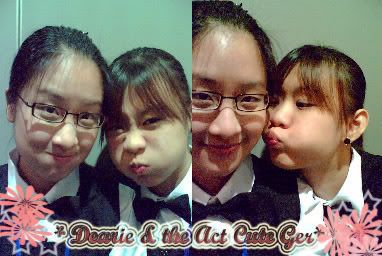 My name tag!!

Had dinner served to us at 5pm.. Wow.. Very nice worz.. Hehez..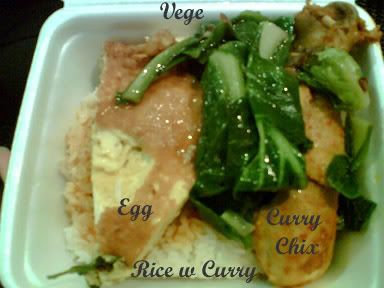 After that, we went in to see the settings of the "ballroom".. Very magnificence.. Hahaz.. Hope I describe it correctly..
Pur water, serve.. Blah Blah Blah..
After the dinner, during clear up, I broke about 6 glasses.. Hahaz.. Few mins ago I was still making fun of ppl hu broke the glasses b4 mi.. Hehez..
We knocked off at about 10.25pm.. Was paid $56 for tt dae.. Quite gd lahz.. Hahaz..
Aftermath, meet Eetien & Fion at Tanah Merah MRT platform and was deciding where to head to.. In the end, we went home.. As in Fion to her hse and mi to Et's hse.. I finished bathing and was already eating popcorn chicken et prepared, Fion's smsed Et tt she's very bored.. Hahaz..
In the end, Fion took her dad's key from the living room's table (like stealing like tt) Hehez.. And we drove to Cineleisure for Kboxing!!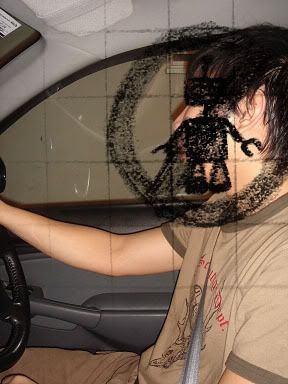 I tik Et dun wan anybody to see his face like the original pic, so i help him cover.. (Sorry if i offended u.. =P Sorry)
At Kbox.. I saw my Sec 1 & 2 classmate working there.. Hahaz.. Such a conincidence.. Hahaz.. =D
We were singing like crazy.. Three persons who are fallen out of love.. Three different moods and feelings.. Choosing different songs.. Hahaz.. Cheer up man!! Hahaz.. Hehez.. Hohoz..
One Fion..
Two happy gers..
Three crazy idiots.. Hahaz..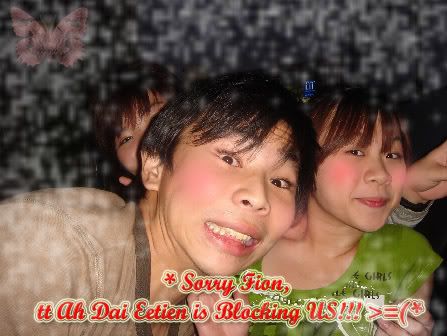 We spent about $20 per person.. Hahaz.. Leave that place at about 5.30am to rush to return the car to Pasir Ris.. carpark so tt Fion's dad can send her brother to school.. Before tt, we went to the petrol station.. Hahaz..
Reach his hse at abt 6am and bath and slept..
Tata..
Cherie..