Finally found an appropriate mood to blog but still very relunctant.. Hahaz..
After searching for so long, finally found Dearie who is free to pei mi eat Sakae sushi on Friday the 13th @ 3.20pm.. (She was late again!!!)Hahaz.. We ate teatime buffet at CWP..
I think in total, we onli ate 18plates.. Hahaz.. Includes the 2 bowls of tori chawamushi unfinished.. Hehez.. Tt's so disgusting loh.. And there's isn't chicken inside, Dearie's has 1 piece of uncooked chicken inside.. Yuckz! Hahaz..
A few changes in Sakae.. New Menu, Spoilt Monitor.. And New cup!!
Dearie saide she hate this cup.. Hahaz.. Coz very unbalanced, and it might topple anytime.. Hehez..
The picture below might make u lose appetite.. BEWARE!!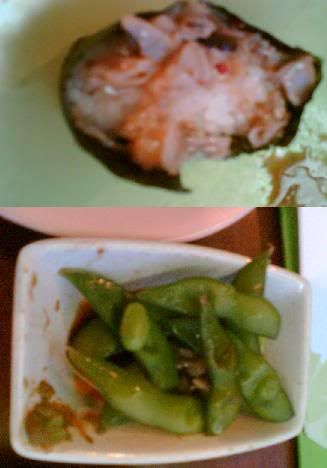 Anna ordered jellyfish and it came scallop, she so angry.. Hahaz.. So she stuck the unfinished scallop into to saucer in between the peas.. Hahaz..
About 4+pm, we were both very very full!! Hahaz..
So we ordered our "dessert" and fruits.. Well, Dearie sae she dun take watermelon outside cos she sae "Maybe they used the knife for garlic and they cut the watermelon".. Den i sae mango can mahz? She said, "Can, cos watermelon more absorbent to substance" -.-"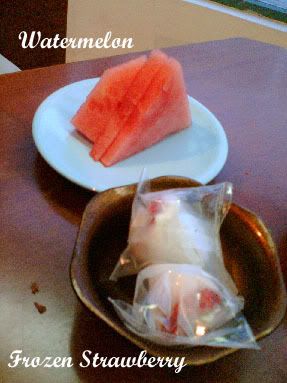 Hehez..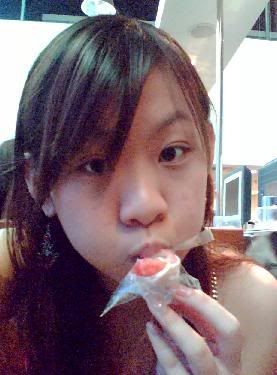 Sorry, this was one of my act cute pic.. Hahaz.. Check out Dearie's candid one!! Hehez..
Greedy Dearie!!!
Hahaz.. After tt, we went to the library and i saw this book!!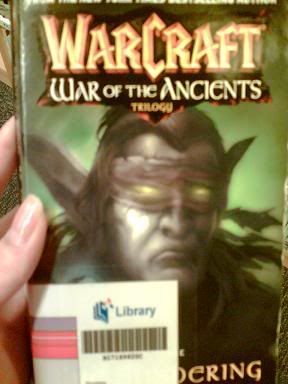 Never pay DOTA though.. But I play TD!! Tower denfense.. Hehez..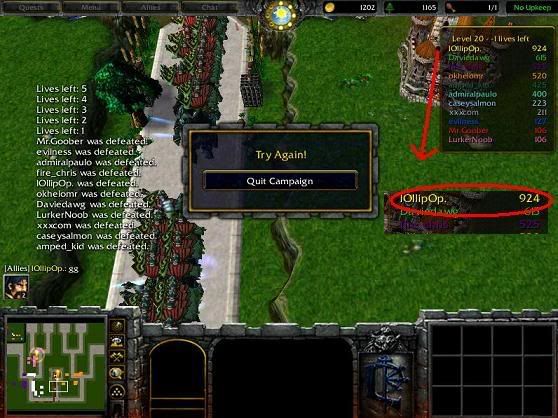 Although lose lahz.. But I did hang on to my 1st position from the very beggining.. Hahaz.. So proud of myself.. But it was an easy game to play.. Hahaz..
Around 3+am, Eetien came over to disturb me.. Hahaz.. Came here to slp, while I'm still engrossed in my game.. I didn't sleep until 6am..
Woke up about 1pm on Saturday, onli brother at home, so i asked him to bath and get change and we went coffee downstairs for lunch.. After tt, we went over to CWP to accompany my brother to Metro toys department.. Hahaz..
Oh Ya!! On the way to CWP.. At the sheltered walkway, we saw a dead sheep lying on the ground..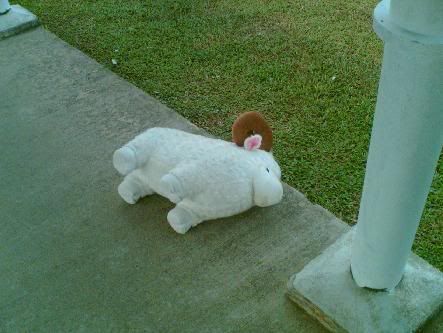 Hahaz.. Kinda shock loh! Hehez.. But quite cute right?? Hui Ting must haf felt very sad cos her fellow mate are dumped.. Hehez..
TOYS!!
1. The small Barbie doll so sweet looking, so cute.. Aww..
2. Super cute Eeyore.. "When baby shake the butterfly, Eeyore play 7 interactive game!"
And the game includes the famous "Peekaboo!" It uses its ears to cover the eyes.. Very cute can (reminds mi of Sak).. Hahaz..
3. The huge twins.. The light reflection resembles sumone with 2 eyes and 2 rows of teeth.. Can spot? Hahaz..
I found Superman!! Muackiez..
We left CWP at 4pm, ET & I took 168 to Tampines.. I'm gg Simei and he's going hm..
Still as act cute as ever, we posed for pics.. And finally found one tt is alright presentable.. Hahaz..
And while we were taking pics, "he's" sleeping.. Hahaz..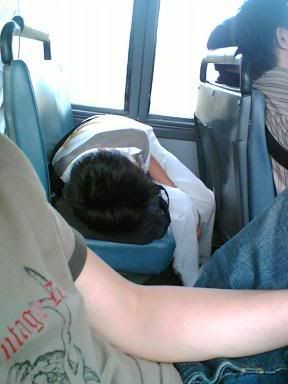 Reach Simei at 5.10pm and did sum shopping in Fairprice for the BBQ..
Mel's fren's house was awesome!! First time I step into a penthouse.. (Did i spelt it wrgly?) Hahaz.. So nice.. We bbq at the rooftop, adding on to the haze.. Hehez.. But all I did is ebtertain them with lame jokes and play cards.. Hahaz.. I once drank half a cup of Heniken when I lost Daidee.. Hehez..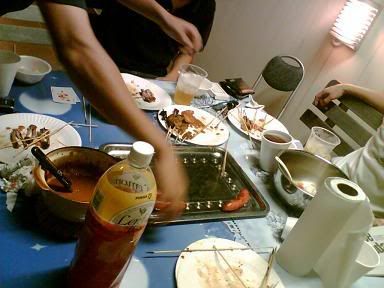 And we played heartattack tt makes my hp dropped a several times, hands dirty, and the pain tt impact on my hands.. Hahaz.. Quite fun.. Thanks Mel..
And 1 of his fren (Right) desperate (opps! =p) for ger frens.. Dun mind intro urself.. Hahaz.. He's 21 I tik.. Serving NS.. Lives in a condo (WOW!) 170cm and 62kg..
Hahaz.. You wan the left one aso can.. Melvin, 22 yrs old.. Hahaz.. The rest are confidential.. Hehez..
Reached home at 12+am to watch "Wo cai" and other programs until 3.30am and I start gaming again till 5+am and chatted till 6+am and ZZzzzzz.. I dozed off halfway on my bed.. !!
Hahaz.. Tt's all for nw.. Hahaz.. Gonna look for Et and Fion ltr.. It's gonna be his b'dae soon.. Any ideas?? Hehez..
Tata..
Cherie..